Will GMC Sierra Headlights Fit A Silverado?
This post may contain affiliate links. As an Amazon affiliate, I earn from qualifying purchases.
GM owns some of the most famous car brands like GMC and Chevy. This is why many drivers wonder whether GMC Sierra headlights will fit a Silverado.
If you want to save money, truck enthusiasts turn to exchanging parts from different trucks instead of buying new ones. While this technique is savvy, it is impossible with GMC Sierra headlights and Silverado ones.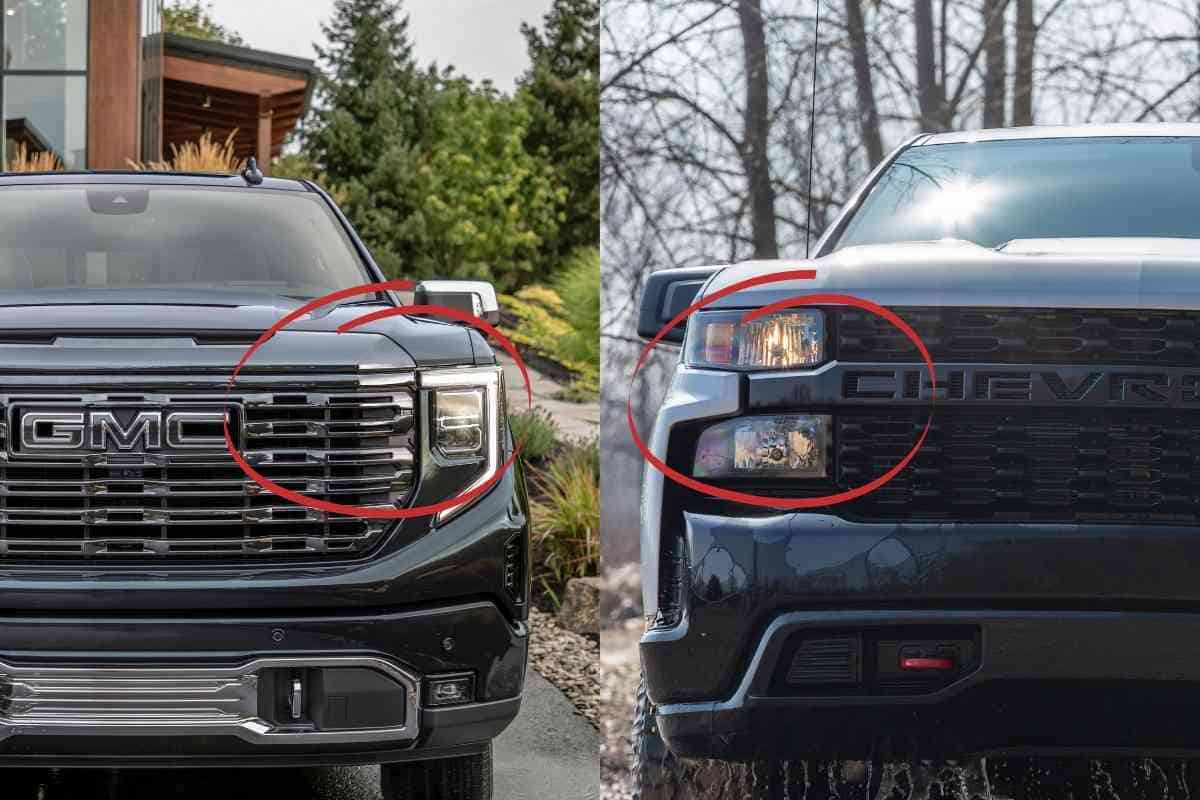 Table of Contents
Will GMC Sierra Headlights Fit A Silverado?
If you were to buy GMC Sierra headlights for your Silverado, they would not fit correctly. The GMC Sierra headlights will not work on a Silverado because they have a different mounting bracket location. The Silverado's grille is larger, too, so the sizing is uneven to interchange these headlights.
The GMC Sierra headlights are not designed to fit Chevy Silverado models. They differ from the average lens shape, mounting bracket size and type, and overall light size
The grille on the Silverado makes it almost impossible to interchange these two headlights. This guide includes whether GMC Sierra headlights fit a Silverado or not.
We tested under the hood with a Sierra and a Silverado to determine whether this experiment was possible. We deemed it unlikely without extremely complex customizations or modifications on the truck.
Will GMC Sierra Headlights Fit A Silverado?
If you own a Chevrolet Silverado, you might be wondering if the GMC Sierra headlights will fit on your vehicle. The short answer is no because of a sizing disparity and the different shapes of the headlight lenses.
Both of these trucks are considered full-size pickups with interchangeable parts. They have a similar body type design, and drivers tend to try and find ways to make easy modifications to save some money.
Unfortunately, you have less flexibility when it comes to headlights. There are many parts that need to fit perfectly, including the lens, mounting bracket, and light.
All modern models do not have interchangeable headlights. However, if you still own some of the classic models from 1988 to 1998, you may be able to use them this way.
These trucks all came with the same headlight type because the metal sheet was similar and the headlamp size and lens shape. You would need some expertise to make these modifications, though.
What Type Of Headlights Are On A Silverado?
The Silverado was equipped with H11-sized halogen low beam headlights for many years. It wasn't until 2016 that Chevy decided to upgrade to a D5S HID xenon low beam headlights set.
The most popular headlight on all newer Silverados is the Philips D5S OEM HID. Because the Silverado is so popular, there are multiple headlight options depending on the truck year, model type, and size.
What Type Of Headlights Are On A Sierra?
The GMC Sierra is known to have a similar body style and build to the Silverado, but the key differences occur on the front end. They use a single 9012 halogen bulb or a D5S high and low beam bulb.
They are mounted on the front of the vehicle and have a single headlight mounted in a vertical orientation. They also have LED and HID headlight options available with these bulb types.
We recommend sticking with the halogen bulbs on a Sierra. This is the factory headlight, and you can choose the LED option to ensure the best road coverage and headlight longevity.
Why Won't GMC Sierra Headlights Fit A Silverado?
These two trucks are highly eerily in their capabilities, but when looking at the vehicle's front end, you will not have trouble telling the two apart.
Dating back to the 1960s, you could easily spot the difference between the Sierra and the Silverado's headlights. The Sierra came with dual-headlights compared to the Silverado's quad-headlights. But this quickly changed as technology got better. 
While today's bulb type may be similar to some of the bulbs used on the Silverado, the key differences include the lens shape, light size, and mounting bracket type.
Lens Shape
The lens shape is a primary reason you cannot use your GMC Sierra headlights on a Chevy Silverado. It varies slightly on all new models after 2010, meaning you would need to modify the grille to get the perfect fit entirely.
Light Size
The sizing on the headlights for both of these trucks is different too. The halogen light type suits the Sierra best. At the same time, a reliable LED or HID headlight serves Silverado drivers better because of the more comprehensive frame design for optimal light and road coverage.
Mounting Bracket
You should always measure your mounting brackets and determine what type they are before making any changes. You can find both left and right-side brackets pretty quickly at affordable prices.
Are Vehicle Headlights Interchangeable?
Headlights are not interchangeable. This is because of the different types of headlight bulbs, their voltage, and how they are designed to work with your car.
You should always check with the manufacturer before using headlights interchangeably. The most significant difference between headlights is the bulb type.
Headlights with halogen bulbs are more common than those with xenon bulbs. Xenon lights also use a different filament type and have another wattage rating.
Halogen bulbs produce light that is broader in the center and narrower at the edges, while xenon lights produce light that is more focused in the center and wider at the edges.
The other factor that determines whether you can interchange headlights is vehicle condition. If you have an older car that has been in an accident, you should have your headlights checked by a professional before driving.
Types Of Sierra & Silverado Headlights
Both the Sierra and Silverado lead the industry and rank as top full-size pickup trucks. They also use similar headlights, but they won't fit together because of the front-end differences in the truck design.
However, it is still worth knowing the types of headlights used for each truck. This includes halogen, LED, and xenon or HID headlights.
Halogen
A halogen headlight used a bulb made of a tungsten filament in a glass capsule. Inside the capsule, halogen gas exists to provide temperature resistance to allow the bulbs to shine brightly without overheating.
This tends to be the most commonly used headlight type of factory GMC Sierras. It is seen on many Silverados too.
LED
The LED headlight is efficient and consists of diode headlights that create light through the emittance of photons. They do not have the same temperature resistance, but overall they operate much more efficiently by wasting less light when compared to halogens.
Xenon or HID
HID headlights are high-intensity discharge headlights that mix gas and metal to emit a bright bluish light on your truck. Most HIDs use electrodes to charge the xenon to improve the brightness and durability of the high beams.