4 Reasons GMC Sierras are Easy to Steal
This post may contain affiliate links. As an Amazon affiliate, I earn from qualifying purchases.
The GMC Sierra is one of the most popular trucks in the US.
Unfortunately, that popularity extends to thieves.
Why is the GMC Sierra so attractive to thieves, and what is it about this truck specifically that makes it so easy to steal?
Why are GMC Sierras easily and often stolen?
The four main reasons that make GMC Sierras so easily and frequently stolen are that they are popular vehicles with a large market, they are extremely valuable compared to other popular vehicles on the road, their parts are incredibly versatile and easy to use in other vehicles, and their Anti-Theft Systems are easily bypassed.
Essentially, for a knowledgeable (or even semi-knowledgeable) car thief, the GMC Sierra offers a potentially high reward with relatively low risk.
If you own a GMC Sierra, understanding some key details about each factor listed above can help you protect your car from theft.
Read on to learn more!
Why Is the GMC Sierra Easy to Steal?
The following factors all increase the overall likelihood of truck theft.
Popularity
GMC Sierras have been a best-selling truck for decades. Their market share consistently hovers around 10%, and they regularly sell upwards of 50,000 units per financial quarter.
Their high rate of theft is partially because GMC Sierras are found just about everywhere across the country.
The more Sierras available, the greater the opportunity for theft.
Value
A new model GMC Sierra costs around $60,000. Adding extras increases the price to $65,000 or higher.
The higher the vehicle's retail value, the more money thieves can make from stealing it.
Additionally, the Sierra is often considered easier to steal than many other vehicles in a similar price range, such as from Tesla and Lexus.
Parts
Many stolen trucks are stripped for parts, which are then sold individually.
Not only does it increase the profits for the thief but it also reduces the risk, as stolen parts are harder to track compared to whole vehicles.
One advantage for thieves here is that the parts from the Sierra are in high demand.
Both the Chevy Silverado and the GMC Sierra share a manufacturing platform, which means they have many similar components.
A thief who steals a Sierra then has parts to sell that will fit Sierras and Silverados.
Anti-Theft Systems
The GMC Sierra has several types of security systems:
A movement-based system is designed to detect the door opening or the window breaking. It helps prevent theft of items from inside the vehicle.
A Passlock electronic ignition system is designed to shut off the fuel supply if the use of an unauthorized key is detected. It's meant to halt the theft of the vehicle itself.
An OnStar tracking system that can help locate and recover stolen vehicles.
Some automotive experts (and many car thieves) believe the security systems are lacking.
For example, it's possible to replace the truck's computer with a new one and then disable the OnStar tracking system.
An experienced thief can swap out the Sierra's computer in under a minute.
Technology benefits modern vehicles in many ways, but it also increases opportunities for theft.
Instead of tools such as Slim Jims, a thief can use electronic methods to hijack your truck's computer systems, bypassing the alarm to unlock the door and start the engine.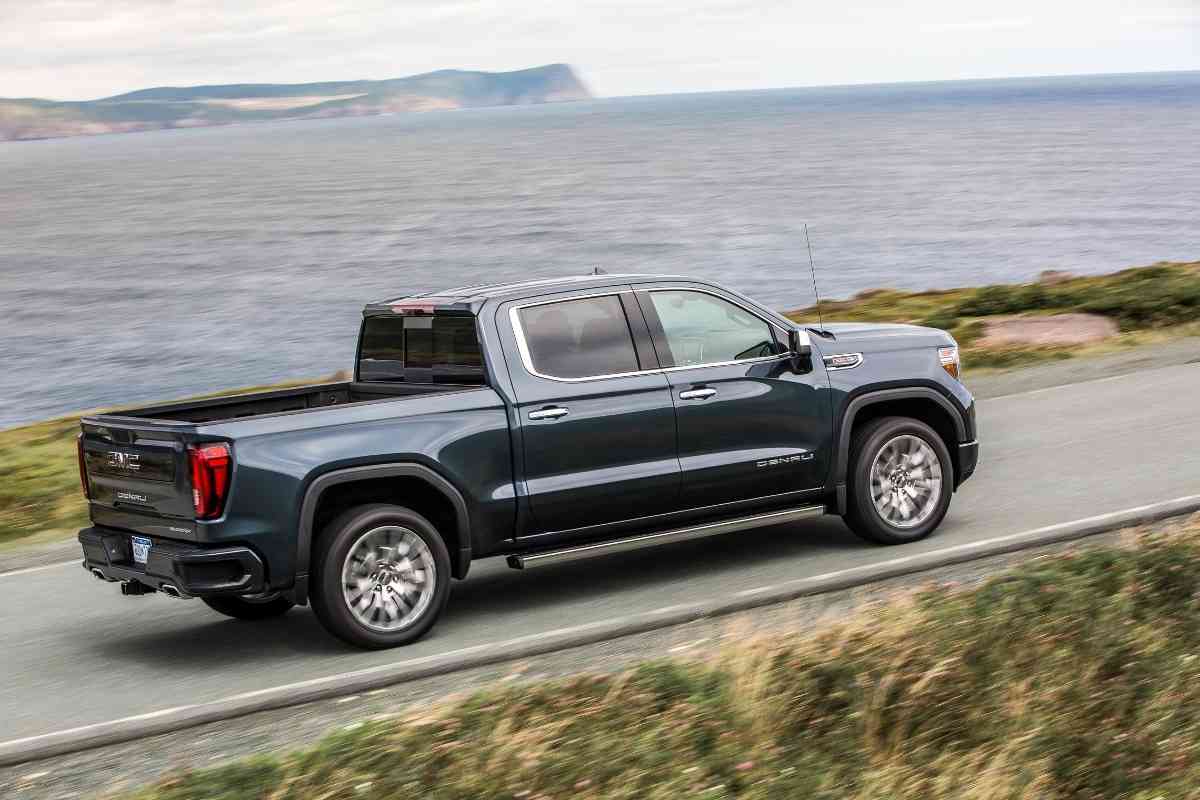 The Role OnStar Plays in Vehicle Theft
Newer Sierra and Silverados include the OnStar system, including communications systems, access to emergency services, GPS, diagnostic tools, and other features.
Unfortunately, the inclusion of OnStar had unintended consequences.
The system is simple to hack. Thieves don't need complicated gear, either.
Smartphone apps are available that can override OnStar.
Thieves follow a simple process:
They'll hack the OnStar system to disable the truck's alarm system.
They'll unlock the doors and open the hood.
They'll switch out the car's computer.
Disabling the computer means that the vehicle can't be tracked electronically.
The thief can drive away, and the only way they'll be detected is if they're physically spotted by law enforcement.
Plus, stealing a car by using technology is far less obvious than physical methods.
Instead of breaking a window, the thief only needs to pop the hood for about a minute, which looks far less suspicious.
How Often are GMC Sierras Stolen?
According to data collected by the Highway Loss Data Institute, pickup trucks from General Motors are among the top 20 most frequently stolen vehicles in the country.
More specifically, they found that the GMC Sierra 1500 crew cab had a theft claim frequency of 393, which means it's about four times more likely to get stolen than the average car.
Additionally, three of the vehicles within the top 20 most stolen vehicles are types of Silverados.
Because the Silverado and the Sierra are essentially the same builds, breaking into a Chevy or GMC truck is equally easy.
Making Your GMC Sierra Harder to Steal
Protecting your Sierra from theft involves a combination of high-tech protections and low-tech actions.
Security Systems
Adding a third-party security system can help protect your truck in ways the factory system cannot, especially regarding OnStar hacks.
There are three different general types of security systems you can add to your GMC Sierra.
Alarm – Alarm systems play siren noises, honk the horn, and flash the light when the truck rocks, a window breaks, or a locked door opens.
Tracking System – External tracking systems allow you (and law enforcement) to locate your car using GPS. LoJack is a popular brand.
Immobilization – These systems prevent the vehicle from operating if certain conditions occur, such as the alarm activates or the wrong type of electric key is used. Some systems let you stop the car remotely.
While adding security systems to your truck does cost money upfront, preventing theft is ultimately the wisest financial decision.
How to Identify a Potentially Stolen GMC Sierra
When a criminal sells a stolen vehicle, they typically don't sell it to another criminal.
Instead, they sell it to someone honest who doesn't know what they're buying.
Unfortunately, even if you're unaware that you purchased a stolen truck, you can wind up with a whole mess of problems if caught driving around in one.
Because GMC Sierras are so easy to steal, there's an increased chance you might encounter a stolen one when trying to buy used.
Here are the top warning signs:
An Unrealistic Deal
Be aware of anything that seems too good to be true.
A price far below market value, especially if the buyer seems in a rush to close the deal, can indicate they're in a rush to get rid of a stolen car.
Suspicious Seller
Aside from impatient sellers, also watch out for sellers who don't want you to know where they live.
If you aren't going to meet at their house, suggest the parking lot of your local police station.
Note the VIN
The first thing you want to do is ask the seller for the VIN number of the vehicle. It's a string of 17 characters unique to the specific car.
You'll find it on the dashboard, driver's side door, and elsewhere.
If the seller won't send you the VIN, end communication with them.
Check for Theft
Once you have the VIN, you can run it through the National Insurance Crime Bureau database, which can quickly tell you if the vehicle is stolen.
Other sources to check include your state's Department of Motor Vehicles and your insurance company (they often keep their own databases on stolen cars).
Don't Make Theft Easy
Small, minor actions can have a significant effect. Never park in dark, out-of-the-way locations.
When you're not in your truck, keep it locked with the windows rolled up.
All of these actions help deter crimes of opportunity.