33 Inch Tires On A Stock Chevy Silverado? Yes or No?
This post may contain affiliate links. As an Amazon affiliate, I earn from qualifying purchases.
A Silverado is an off-road truck, and changing its tires can improve its performance. Bigger tires give the truck a more aggressive look, raise it, and enhance its traction when you drive off the road. Can a Chevy Silverado's stock suspension fit 33-inch tires?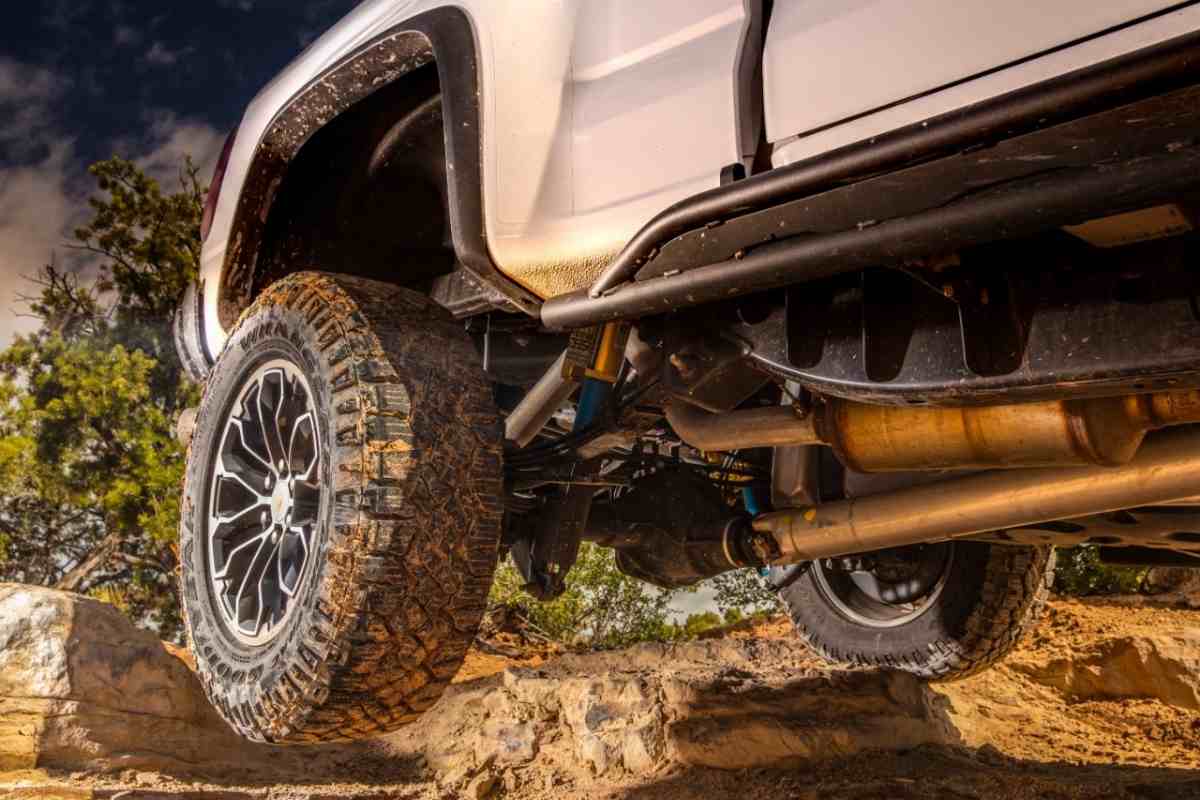 Can You Fit 33-Inch Tires on a Stock Chevrolet Silverado?
Yes, you can fit 33-inch wheels on a Silverado without lift up or major modification. The third and fourth generation of the Silverado 1500 can fit tires as big as 33.5 inches. Standard tires from Chevrolet are 31.6 inches, offered in the form 265/65/R18, and some are 33 inches, offered as 275/60/R20.
Truck owners who do not want to trim, cut, or do any modifications on their Silverado can stick with a 33-inch tire. Any bigger tire, and you will need to trim and cut for the tire to fit on the stock suspension.
Across the internet, Silverado owners claim to fit 33-inch tires on their trucks, and they perform exemplary. However, running tires bigger than 33-inches presents another problem altogether. With 33-inch tires, you can go for a leveling kit or pick wheel spacers.
The kit or the spacers will give enough clearance inside wheel arches. It also increases the clearance from the UCA so that the tire can run smoothly. A two-inch suspension upgrade can resolve any clearance issues that may occur when you fit a 33-inch tire on a Silverado.
If you make a two- or three-inch lift with aftermarkets rims, the tire will fit perfectly, but the process is more expensive.
If you do not want to make any major trimmings and modifications, 33-inch tires will run your Silverado efficiently. However, you might need to perform some wheel well modifications to ensure there are no issues.
There are different tire configurations to choose from. You can choose a tire depending on whether you need to venture off-road, or you need to improve the look of your Silverado. These tires can fit in 17-inch wheels, 18-inch wheels, or 20-inch wheels.
Drivers who choose aftermarket wheels will not have a problem fitting 33-inch tires. These aftermarket wheels offer more negative offset.
Do You Have to Cut and Trim Your Truck to Fit 33-Inch Wheels?
You have to cut and trim to adjust your truck if you install wider 33-inch tires or tires larger than 33 inches. The Silverado runs the Independent Front Suspension System, IFS. Such trucks pose a problem with wheel backspacing and clearance of the Upper Control Arm, UCA.
Although the Silverado 1500 looks like a large truck, Chevrolet limits the arch clearance. With a small arch clearance, a wider 33-inch tire or a tire larger than 33 inches will definitely rub.
If you have wide 33-inch tires and the stock rims rub, you need to modify the position of the mud flaps and the plastic fender insert. You can massage the plastic fenders to clear space using a heat gun. However, you need to be careful when doing so.
If you do not want to go through the hassle of cutting and trimming, you can go for narrower-than-stock tires. These tires are tall, 33 inches or more, but their thinness ensures they do not rub. The skinny tire will increase the ground clearance of your truck and allow you to go off-road, and you will have less to modify.
Most of these skinny tires are only 32.7 inches and come in the form 255/85R16. Sometimes they are available in the form 255/80 R17, which equates to 33×10. Such a tire will fit perfectly on your Silverado stock suspension, and you never have to do any major modifications or experience rubbing.
A thickness of 255 is ideal and efficient without negative offset rims and thick wheel spacers. Most of the skinny wheels are within the wheel well, but they may not enhance the look of your Silverado 1500. The skinny wheels may not look good on such a big truck, but they offer the easiest way to fit 33-inmch wheels without any major modifications.
Can a Wheel Spacer and a Leveling Kit Help Fit Wider 33-Inch Tires?
Yes, you can use wheel spacers to increase the backspacing of your truck to fit a wider tire. Most people do not take wheel spacers as a good idea, but these little units can be the cheapest way to fit wider 33-inch tires. Although these units do not fix all your wider tire problems, they will help you fit the tires for better truck aesthetics and improved ride height.
When fitting wheel spacers, it is important that you consider the wheel arch upper inside clearance. Although the spacers may offer an easy solution to increase backspacing, you do not want to be too much with them as they can affect the clearance of the upper inside of the wheel arch.
A spacer kit also offers another affordable way to increase backspacing. Install the spacer kit above front coil struts. With the spacer kit, the truck's body will sit slightly higher to fit wider and larger tires. The spacer kit will have no effect on the off-road performance of the truck, but it will enhance your approach angle.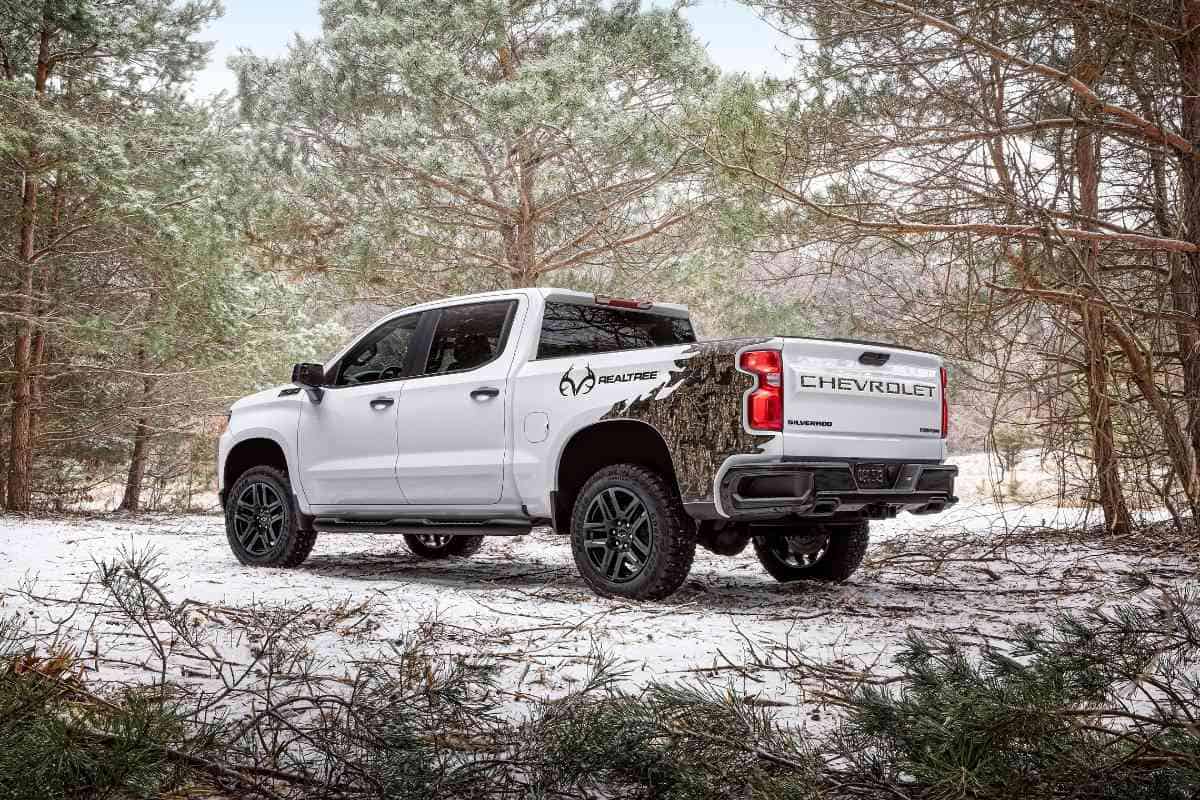 A leveling kit doesn't allow you to fit tires larger than 33 inches. However, it makes it easy for you to fit the tires without any wheel well modifications.
For you to fit a larger tire, say a 33.9-inch tire and your leveling kit is only two inches, you might have to trim and cut your Silverado's fender liner to fit the tire.
Do Bigger Wheels Mean Lesser Fuel Economy for a Silverado Truck?
Yes, the tires will see a reduced fuel economy. Wider and heavier tires enhance the look and the off-road capability of your Silverado, but these tires might see you spend a little more fuel during your trips. These wheels fit below the suspension and become part of the unsprang weight of the truck.
Increasing the trucks unsprang weight leads to an increase in fuel consumption. These tires are heavier, and when they pull off, they make the truck spend more fuel. If you do not want the increased fuel consumption, a tire upgrade may not be what you need.
Because these tires are heavier than stock tires, the pull-off performance of the truck might also reduce as the truck needs to pull the tires. The larger the tire, the more challenging it is to maintain the pull performance.
The tire may only add a few kilograms per tire, but the small weight makes an impact on the transfer of torque on truck wheels. If you choose tires larger than 33 inches, there will be a lot of strain on the differentials. In such a case, you may need to re-gear the differentials to minimize the strain and enhance the performance of the car.
Even the tires are too heavy for the car, you might also to need change other parts of the drivetrain.
The size of the tires also has other impacts on handling, noise levels, and ride comfort. The smaller tires offer smooth handling, but they are not good when you drive off-the-road. As such, you need a tire size that offers the best of small tires and big tires without compromising on truck performance.
Can Suspension Kits Help for Tires Larger Than 33 Inches?
You can use a suspension kit to make it easier to fit different widths and heights of tires. You can fit a 33-inch tire without any kits, but you are limited to thin tires only. These thin tires may look unsightly on such a large truck.
A suspension kit can help you fit wider and bigger tires. To fit 33-inch tires without the need to trim or cut any parts, you need a two-inch suspension kit.
If you need larger tires, you can go for a three-inch suspension kit. If you decide you need 35-inch tires, you might need to get a suspension kit and still do some trimming and cutting to fit the wheels.
Without a suspension kit, you will need to cut and trim. However, with a two- or three-inch leveling kit, you can fit the wheel without modifications.
Closing Thoughts
You can fit 33-inch tires on stock Silverado without any modifications or kits, but the tires have to be thin. If that is not an option, you can go for wheel spacers, which will increase the clearance you get to accommodate wider tires. If you do prefer spacers, you can go for the leveling kit for a two- or three-inch lift.
You can also fit wheels larger than 33 inches once you fit the suspension kit. A three-inch suspension kit combined with trimming and cutting will allow you to fit larger wheels.
Related Articles Picked Just For You
People who read this article has shown they also found the following three articles helpful. You mught want to give them a read too: