5 Reasons Why You Should Not Buy a Jeep Gladiator [Explained!]
This post may contain affiliate links. As an Amazon affiliate, I earn from qualifying purchases.
If you're like me and are looking to buy a midsize truck with off-road capabilities, you may be considering the new Jeep Gladiator. There are a few factors we should know before we decide. How does it measure up compared to other Jeep models?
Problematic steering and poor aerodynamics are just a few reasons we should not buy a Jeep Gladiator. And if you're expecting a smooth and quiet ride that handles like butter, you won't find it in a Gladiator.
That's not to say the Gladiator isn't for everyone. But, there are a lot of pros and cons with owning the off-road beast.
Keep reading for more information on why we could be turned off by this truck model.
Why Should You Not Buy a Gladiator?
Let's start by saying that the Jeep Gladiator gets pretty good ratings on JD Power. But this Jeep/truck combo isn't for everyone.
At the end of the day, if you're looking for a new truck purely for its unique build and style, you're going to be disappointed. The Jeep Gladiator is an off-road vehicle and that's exactly what you should use it for.
The Gladiator is not a casual commuter vehicle. The steering and gas mileage alone is pretty rough and it's not made for family travel. Now, if you're wanting to take the family adventuring in some off-road terrain, that's a different story. But it's definitely not a road-trip-friendly vehicle.
If these reasons are important to you, read on for more information before you decide whether to purchase a Jeep Gladiator. You'll learn some of the most common issues, the reasons the Jeep Gladiator might not be a great fit for you and your family, and finally whether it's worth buying.
1. The Gladiator Gets Terrible Gas Mileage
Don't expect the gas mileage to be great, or even good. In town, you'll be looking at getting around 15-17 mpg at best. On the highway, it'll get around 22 mpg.
Even if you opt for the diesel model, you'd be getting roughly 22 mpg in the city and 28 mpg on the highway.
This poor fuel economy is mostly because of the heaviness and box-like shape. The shape causes poor aerodynamics, making it work extra hard against the wind.
The weight also has a lot to do with fuel economy. The Jeep Gladiator weighs a whopping 4,650 – 5,050lbs.
2. The Steering is Not Great on Roads
The Jeep Gladiator is not designed to be your typical day-to-day car. This is an off-road truck and does best in that terrain. This is mostly because the truck is built with a solid axle.
There have also been an outstanding number of complaints regarding the steering. Many Jeep owners report that the steering is too loose causing the vehicle to drift into other lanes. The steering gets worse at highway speeds and has a lot of giving to the left and right by a few inches.
Keep in mind that 124 out of 183 complaints about the 2020 Jeep Gladiator have to do with steering issues. Steering quality is a serious matter, so you want to make sure you're testing driving a lot before you decide to drive. The Gladiator is known for problematic steering on pavement, especially going faster speeds.
3. Not Optimal Traveling with Kids
Although you can fit up to 5 people in the Gladiator, and it boasts the ability to fit an entire family, it doesn't give much leg room if you have car seats.
The Gladiator has less back seat legroom than other Jeep models like the JT.
The Jeep Gladiator has a nice latch system with easily accessible side latches. But the rear latch is anchored low behind the seat. This requires you to move the seat forward to latch it. This makes it very difficult to tighten once you put the seat back in place.
Although there are no issues fitting car seats in the back seat, if you have any average or tall adults in the family, they'll find that their knees will touch the dashboard to give the kids any legroom at all. Otherwise, their legs will touch the back seat. So all-in-all, it's pretty cramped.
4. Not as Good as Jeep Wrangler Off-road
Wrangler has always been one of the best off-road SUVs, and the Gladiator is the first to come close. And although the Gladiator is basically a Wrangler with a truck bed, there are quite a few other differences that make the distinction clear as well.
The added length and weight of the Gladiator cause problems in more rocky terrain. It bottoms out and requires more maneuvering, whereas the Wrangler is lighter and smaller so it can handle pretty much anything with no problem.
The Jeep Gladiator is still a beast off-road, but it doesn't top the Wrangler by a long shot.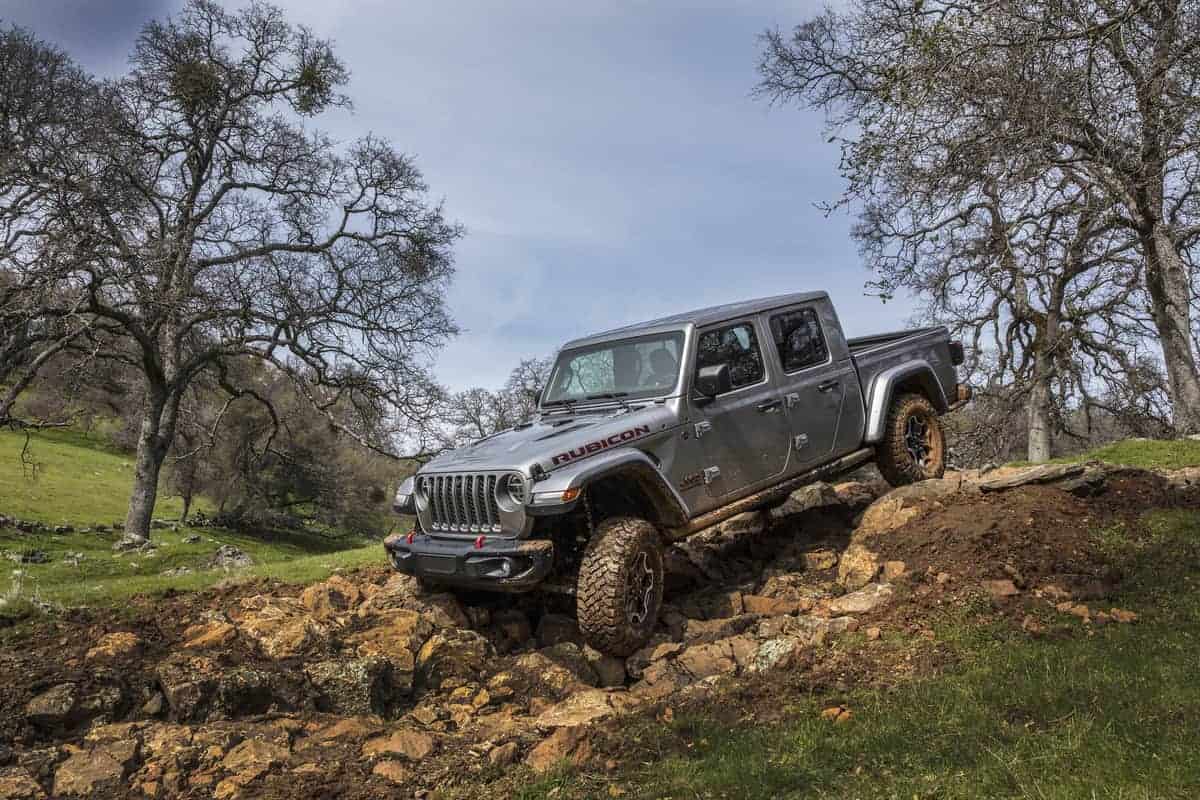 5. Jeep Gladiator is Not a Luxury Vehicle
One important thing you must keep in mind when considering buying a Jeep is that they are not luxury vehicles despite the steep price tag.
For example, by speeding down the highway at 65mph you'll notice a lot of wind noise. That's because the Gladiator is not like other vehicles in the same price point that is more luxurious and aerodynamic. The box-like shape of the front end of the truck is to account for a lot of the loud noise.
Is a Jeep Gladiator Worth the Money?
When you're looking at the price tag of the Jeep Gladiator, don't forget what kind of vehicle you're driving. It's built for heavy hauling and off-roading, so if that's what you have in mind, you won't be disappointed.
If you're not familiar with Jeeps and you're looking to buy a Gladiator because you think it looks cool, you'll probably be very disappointed. It doesn't steer or ride anything like a car, so if that is what you're used to you may want to look at a different model.
If you're looking for a truck to adventure in with friends and family, the Gladiator is worth it. Just be ready to pour some extra money into the steering if it is such an issue that it's hazardous.
How Long Will a Jeep Gladiator Last?
Knowing how long you can expect your Gladiator to last depends on how much you use it and how well you maintain it. To give you an idea, let's crunch some numbers.
The Jeep Gladiator is expected to last about 200,000 miles. You'll need to figure out how many miles you drive per year. The average is about 15,000 miles per year. So if you buy a Gladiator brand new, you can expect it to last about 13 years if you take care of it.
This estimate could be a few years less or more, of course.
Conclusion
The Jeep Gladiator is not for everyone. If we're looking for a unique style of truck to drive to and from work, this is not the truck for us. However, if we're looking for a powerful off-road and adventure truck, it's worth test driving a few to find the best model to fit our needs.