Are All Nissan SUVs Reliable?
This post may contain affiliate links. As an Amazon affiliate, I earn from qualifying purchases.
Many automobile manufacturers start making a new type of vehicle to meet demand without understanding how to deliver the quality consumers expect.
Enter Nissan SUVs. They are not all bad, but Nissan only makes one great SUV, the Murano. Most of the other models seem to lack self-awareness.
Are All Nissan SUVs Reliable?
Nissan offers five SUV lines, which mostly get mixed reviews. The Nissan Kicks is the smallest and resembles a car, and is unsurprisingly the best of Nissan's SUV lineup. As the other models like the Rogue and Armada start to look more like SUVs, Nissan's SUVs become less and less reliable.
Underpowered models compared to competitors, less luxury, and bad reviews for reliability plague Nissan. They have a long way to go in the SUV market.
The popularity of SUVs is here to stay, but Nissan is not tapping into consumer sentiment with their current efforts.
Major reliability complaints cause concern.
What Are Nissan SUVs and How Good Are They?
Nissan offers five SUV lines to accommodate potential customers who want luxury, off-road ability, some SUV benefits paired with solutions to urban challenges, and budget-friendly options.
The available SUV lines are:
Nissan Kicks
Nissan Rogue & Rogue Sport
Nissan Pathfinder
Nissan Murano
Nissan Armada
Most of these SUVs do not serve people who have true adventure SUV/truck-type needs. Needs such as heavy towing, hauling, and rugged off-roading are not the niche Nissan set out to fill.
Not offering rugged vehicles does not mean that these Nissans cannot go off-roading or haul loads around, but currently, Nissan is not trying to compete with Jeep Wrangler or Ford Bronco and similar SUVs.
Nissan's SUVs are for people and families who want some of what SUVs offer, more room, extra power, etc., without the intention or need to go rock crawling.
Nissan Kicks
Engine: 1.6L DOHC 16V 4
Horsepower: 122hp
MPG (City/Hwy): 31/36
Cargo Capacity: 25.3 ft3 – 32.3 ft3
Nissan designed the Kicks to fill a city driving niche and compete with small cars like the Mini Cooper.
The 122hp engine does not possess enough power to push over rough terrain effectively. People who want to do some aggressive SUV driving should look elsewhere.
Reliability
The most important reliability factor—owner satisfaction—rates the Nissan Kicks as reliable. The reliability means the Kicks keeps running without breaking down or needing repairs often, apart from proper maintenance.
The reliability does not mean owners took the compact SUV adventure-style trail riding and were amazed at its power and how well the Kicks held up.
Used in this way, the Kicks would not last long.
Reviews indicate that most owners understand why Nissan makes the kicks and usually do not put the engine through any more strain than going over a mountain on a properly paved road.
Used correctly, the Nissan Kicks offers good reliability with few complaints.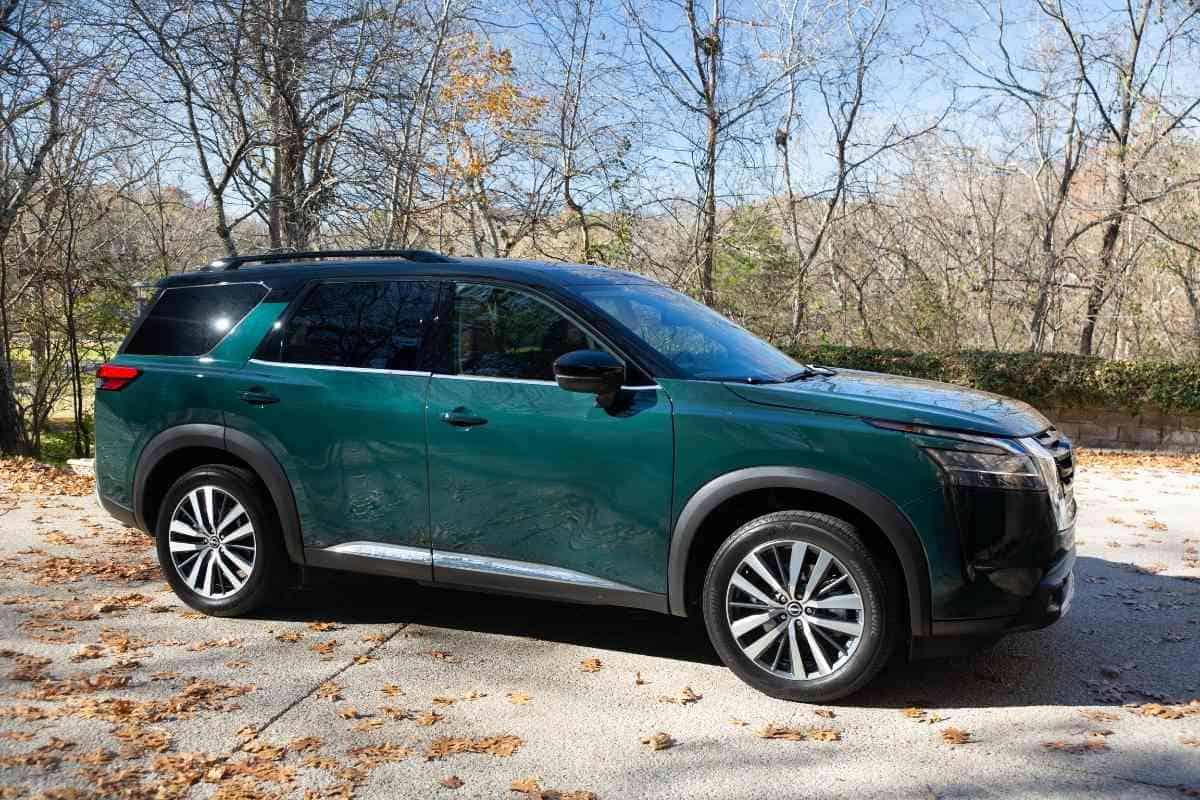 Nissan Rogue & Rogue Sport
Engine: 2.0L DOHC 16
Horsepower: 141hp
MPG (City/Hwy): 25/32
Cargo Capacity: 22.9 ft3 – 61.1 ft3
This model is the top seller for Nissan, and owners consider the SUV to be very safe.
The Rogue Sport is similar to the Nissan Kicks in many categories, but the Sport costs more.
Most experts agree that for a person who wants a Sport, a Kicks is cheaper and delivers comparable performance.
Reliability
When an SUV lacks power compared to direct competitors and has an expensive Sport model that gets out-competed by another Nissan, a clear sign emerges that signals problems.
The first review from edmunds says, "Great SUV…..WHEN NOT IN SHOP EVERY OTHER DAY!" The bloodbath continues, and the overall score manages to hold at 3.2 out of 5 stars.
1-star ratings make up 30% of all ratings.
Nissan Pathfinder
Engine: 3.5L DI V6
Horsepower: 284hp
MPG (City/Hwy): 20/27
Cargo Capacity: 16 ft3 – 78.9 ft3
Sadly, the low quality of the modern Pathfinder means Nissan is failing at something it used to get right. Pathfinders have been around since the 1980s, and people used to like the rugged SUV, not anymore.
The Pathfinder retains some of its predecessor's bulky size and ruggedness.
The Toyota Highlander caters to the same market that wants a capable SUV and serves families well in urban or rural environments.
Reliability
The Nissan Pathfinder walks through the valley of mixed reviews.
One criticism that does not come up often is needing lots of repairs. The worst criticism is customer service when something does go wrong.
In modern vehicles, a component such as the transmission should last for many years, but there are complaints of everything running smoothly for three years and then needing replacement or repairs.
The Pathfinder keeps its head above water and earns an average rating for reliability.
Nissan Murano
Engine: 3.5L DOHC 24
Horsepower: 260hp
MPG (City/Hwy): 20/28
Cargo Capacity: 32.1 ft3 – 67 ft3
Nissan scored its only real win with the Murano.
The reason is that based on options and price, the Jeep Grand Cherokee makes for the best comparison.
The Murano manages to slip under the radar and come in around $10,000 cheaper while offering AWD capability for urban, rural, and off-road ability.
Reliability
The reviews do not resemble the other Nissan SUVs. Reviews such as, "(5 stars) Saved my life," and "(5 stars) Loved the old Murano and now I love the new Murano," dominate customer sentiment.
Five-star reviews constitute 82% of edmunds reviews.
Nissan earns an enviable 4.6 out of 5-star rating overall.
There is no doubt Nissan captured lightning in a bottle with the Murano and needs to figure out how to replicate the success on the other models.
Nissan Armada
Engine: 5.6L Endurance V8
Horsepower: 400hp
MPG (City/Hwy): 14/19
Cargo Capacity: 16.5 ft3 – 95.4 ft3
The Nissan Armada serves two masters. Nissan named this SUV the Armada and went light on luxury. Infiniti has the same model named the QX80 and brings the features up to full luxury status, along with a hefty price.
The problem is Nissan's choice to make expensive models for Nissan and Infiniti. The net result is that the Armada does not compete well against similar models, while the Infiniti version does.
Reliability
The Armada does not score very high.
To make matters worse, owners usually love or hate the Armada. Around 37% of people give the Armada 5 stars, not much happens in the middle, and about 21% of owners give Armadas a one-star rating.
Common complaints say that the SUV will not start, and the electronics are a nightmare.
Which Nissan SUV Is the Best?
Hands down, the Murano has to take home the prize. This SUV is not Nissan's most luxurious or most able to drive in challenging cities.
Nissan managed to make the Murano good at almost everything.
The Murano easily garners the most satisfied customer reviews for Nissan SUVs. Any automobile company would be happy with a majority of 5 out of 5-star reviews.
Can I Afford a Murano?
For people who would love to have a Jeep Grand Cherokee, but can't afford one, the Murano may be a fit.
Nissan's best SUV, options pending, manages to come in thousands of dollars cheaper than its Jeep counterpart for many builds.
The Murano is Nissan's crowning achievement.
Growing families that need to save some money love this SUV.