Best 37 Inch Mud Tire (Solved!)
This post may contain affiliate links. As an Amazon affiliate, I earn from qualifying purchases.
A great outdoor vehicle needs tires that can keep up with where you want to go and consistently get you out of the stickiest of situations.
You need a high-quality mud tire to help navigate rough terrain and enable your vehicle to take you places you've never seen before.
When it comes to choosing the best mud tire for a 37-inch wheel, you have a variety of choices.
The best 37-inch mud tires have durable sidewalls, a high load rating, and a wear warranty that is worth the price. Each vehicle and driver has specific needs, but the Mickey Thompson Baja Boss M/T tires or Pro Comp Xtreme M/T 2 Radial tires are the best options for any off-roader.
Striking the right balance of quality within your budget can be difficult, but this article will detail which options will be best for your situation and needs.
Mud tires are important for anyone who loves off-roading or does heavy-duty work.
Important 37-Inch Mud Tire Specs
When shopping for a 37-inch mud tire, you need something serious that can withstand whatever adventures you are pursuing in your vehicle.
It is crucial to check for sidewall construction, load ratings, tread depth, and wear warranties.
Additionally, when you are looking at the size of tires to buy, make sure that they match what your vehicle recommends and be aware of that when you might want to upgrade to a lift.
Sidewalls
With sidewall construction, we're looking for something a lot tougher than the classic radial construction you find on most modern vehicles.
Radial construction helps vehicles that drive on pavement to last longer and ride more smoothly.
However, these lack the sidewall strength that an off-roading vehicle needs.
A bias-ply is better suited to vehicles that don't see much pavement use and are better suited to rougher terrain.
Specifically, three-ply sidewalls are going to be the best option for your mud tires.
Load Ratings
The load rating you want on your tires is going to depend a lot on what you plan to do with your vehicle.
If you like to haul heavy equipment to remote camp spots you're going to want a very high load rating.
If your vehicle is mainly used for quick fun trips off-road, then this criteria will likely not be as important to you.
A load range of D or E will get most people what they need, but choosing a tire with an F range will give you complete freedom on what you do with your vehicle, especially if you have a large model.
Tread
The aggressive tread pattern on mud tires instantly makes any setup look great.
Having large tread blocks and plenty of void space will help your vehicle navigate any rough terrain.
Having the tread come down onto the sidewalls is also an added bonus for better tire protection.
Looking at tread depth, getting tires with at least 20/32" is going to be best.
The aggressive treads that make your vehicle look and function great do tend to wear quickly, and a deeper tread will give you greater maneuverability and grip.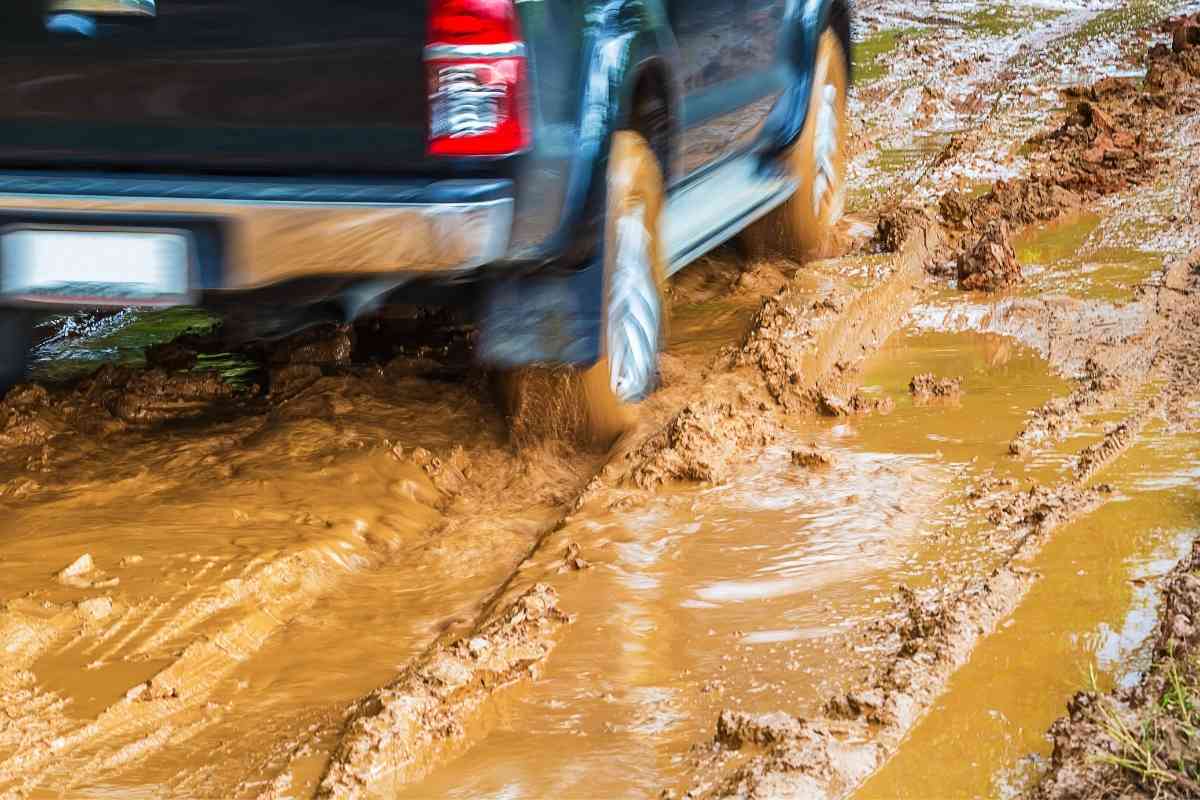 Wear Warranties
Since the tread does wear more quickly on mud tires than any other type, make sure you are paying attention to the manufacturer's wear warranty.
Especially for a more expensive set of tires, you want to make sure that the money you spent is going to be worth it.
Mickey Thompson Baja Boss
Last update on 2023-09-29 / If you click this affiliate link and make a purchase, we earn a commission at no additional cost to you.
The Mickey Thompson Baja Boss tires are one of the best options for mud tires.
Although they are on the pricier side, you're paying for the best tires possible.
The price depends on exact dimensions and specifications, but these tires are generally available for about $450-$700 per tire.
The 37×13.50R22LT is a great option with a load range of F, and it is currently going for $567 on 4wheelparts.com.
These tires have not only have a three-ply sidewall, but the third layer has a 50% heavier denier cord.
This of course makes the tires even more durable against punctures, and also contributes to better stability and more responsive steering.
Mickey Thompson Baja Boss tires have D, E, or F load ranges, depending on the exact model.
I would suggest getting something with an F load range.
This would be either the 37×13.50R22LT tire or the pricier but larger 37×14.50R24LT tire.
Of course, you don't need to get an F load tire if what you're doing with your vehicle doesn't require this type of load.
The Baja Boss tread is large and aggressive.
They give you great terrain handling but are also asymmetrical which helps you enjoy a quieter ride.
The tread also extends over part of the sidewall.
The tread depth looks great at 21/32" and you will definitely have all the tread you need out from a mud tire.
The wear warranty on these Mickey Thompson tires is 50,000 miles which is great for an off-roader who is serious about their sport.
Pro Comp Xtreme
Last update on 2023-09-29 / If you click this affiliate link and make a purchase, we earn a commission at no additional cost to you.
The Pro Comp Xtreme mud tires are significantly cheaper than Mickey Thompson.
While this does come with some sacrifices, the Pro Comp is an excellent, well-rounded option for those on a tighter budget.
With these tires, you're looking at paying somewhere around $250-$500 per tire.
The 37×12.50R18 is going to be a great mid-range option and it's currently going for $396 on 4wheelparts.com.
For sidewall construction, you are still completely covered with 3-ply sidewalls.
The tread is extended to offer extra protection and has really good specs.
The tread is large and open, advertizing self-cleaning performance in mud and snow.
With a depth of 23.2/32", the tread of this tire might even excel the tread on the Baja Boss.
One drawback is that the Pro Comp does not have any tires with an F load range. It does have multiple great options for D and E range though, which will likely be sufficient for the majority of drivers.
The treadwear warranty is slightly lower than Baja Boss but is still respectable for the price.
It also comes with a 40,000 mile guarantee.
If you are looking for something a little cheaper, without sacrificing quality, the Pro Comp Xtreme tires are a great choice for the casual adventurer.