Is Goodyear Duratrac a Mud Tire?
This post may contain affiliate links. As an Amazon affiliate, I earn from qualifying purchases.
You need a good tire when you want to get through the mud.
Trusting your tires forms a special kind of relationship.
Taking your mud tires seriously may seem ridiculous to your non-mudding friends, but you know better, and that's why you're here.
You may be considering picking up a set of Goodyear Duratrac tires for you next muddin' adventure, but are they any good?
Is Goodyear Duratrac a Mud Tire?
The Goodyear Duratrac is one of the best all-terrain tires on the market today, but it is not technically a mud tire. It's got deep tread depth and high voids, quickly making it a quality all-terrain option. While they do handle great in the mud, they are not technically a "mud tire."
It's a good feeling to have a quality tire.
The Goodyear Duratrac provides lateral stability that enhances performance and drivability.
It's got long-lasting tread life and excellent wet and winter traction, all good things to look for in a tire.
Mud Tires vs. All-Terrain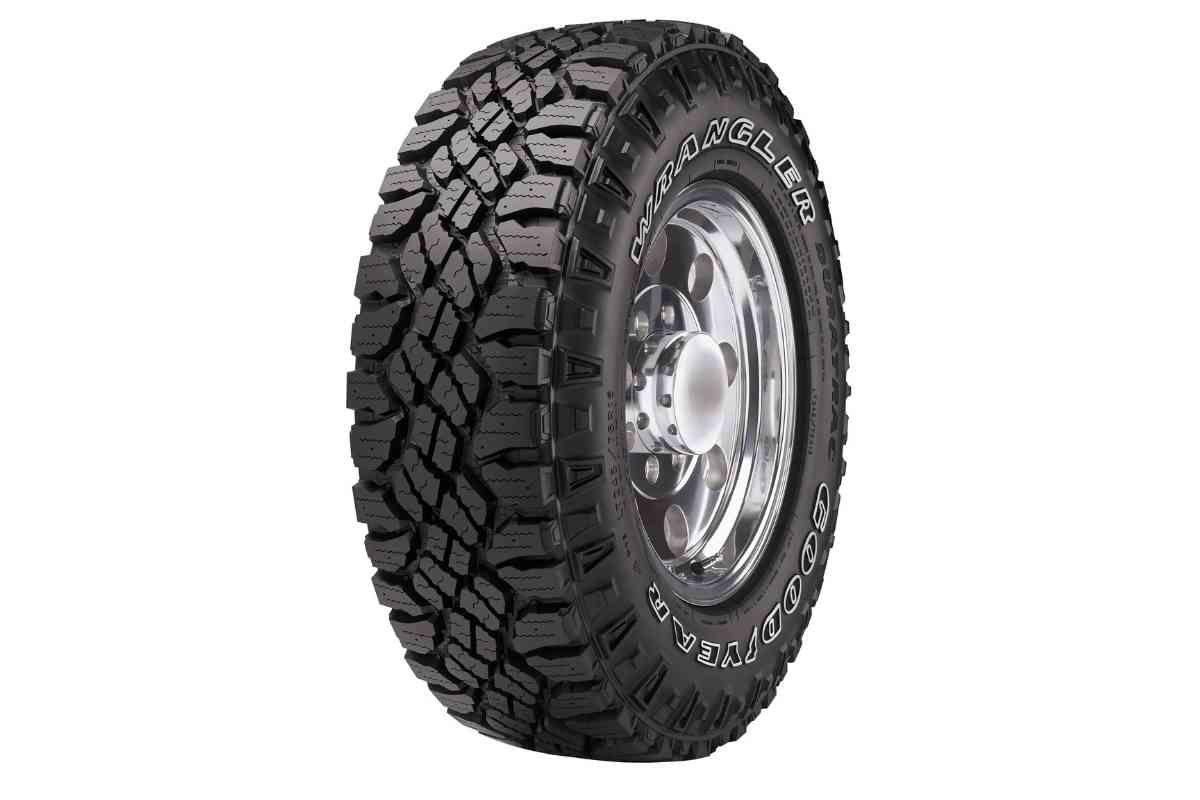 Knowing the facts before you make a big tire purchase is essential.
Understanding what makes a tire suitable or mud-worthy is critical to helping you make an informed decision.
Thicker sidewalls and better puncture protection usually define mud tires.
Since mud tires need to run well on lower air pressure for off-roading, the tires require more protection than regular road tires.
Mud tires should provide excellent traction in less than ideal situations — for instance, traversing across a muddy field.
In extreme circumstances, like deep mud or bad snow, a mud tire might provide better overall traction than an all-terrain tire.
The Goodyear Duratrac all-terrain tire is a quality tire that comes highly rated in harsh winter weather and off-roading.
While mud tires may offer more traction, all-terrain tires can get you where you need to go.
If you are constantly switching between bad terrain and regular roads, an all-terrain tire like the Goodyear Duratrac is probably a better option than a mud tire.
If you work in the city but live in the country off a gravel road, transitioning from gravel to pavement and back will likely be smoother with an all-terrain tire.
Why Do Mud Tires Matter?
Designers make mud tires to handle well in deep, oppressive mud.
The tread is curated to prevent chunking with sharp or heavy rocks, and the thicker sidewall prevents punctures and increases performance.
Mud tires are typically big, aggressive-looking tires with deep track and plenty of character.
They handle better bouncing through the pasture than driving into town.
Mud tires have a heavy block tread pattern that works well in off-road conditions.
All-terrain tires are helpful in many situations, especially in snow and ice.
The Goodyear Duratrac tires are primarily known for holding up in deep mud.
They don't quite keep up with mud tires, but they can do the job in a pinch.
The Goodyear Duratrac reputation blurs the line between all-terrain and mud-terrain.
They have the quality and stability of the all-terrain and the deep tread and endurance of the mud-terrain.
These qualities make it a great, versatile tire no matter where you find yourself driving.
How Long Do Mud Tires Last?
There is not a definite answer to the lifespan of a mud tire.
The terrain makes all the difference and the frequency of use.
Typically, you should get around 40,000 miles out of a good mud tire, assuming you drive a mix of pavement and off-road terrain.
Saving your mud tires exclusively for muddy, rocky, rough terrain will undoubtedly increase the lifespan. But it may also prove a hassle.
Despite their durability in the mud or on hard, rocky surfaces, mud tires will wear down quickly if you use them often on the pavement.
fThey simply aren't designed for a long life on pavement, and that is where all-terrain tires outshine them.
The Goodyear Duratrac is an excellent example of all-terrain tires picking up where mud tires leave off.
Not only do they have improved traction in off-road conditions like snow and rain, but they tend to have a longer tread life than mud tires.
And because they are made for pavement and off-roading, they have a longer lifespan.
Some of the longest-lasting all-terrain tires can go for over 50,000 miles.
Mud tires have a noise reputation, typically known for being loud and booming on the move.
All-terrain tires like Goodyear's Duratrac are quieter and sometimes even less expensive.
Is Goodyear Duratrac a Good Tire?
If you're looking for a high-quality, long-lasting, all-terrain tire that will handle sleet and snow as well as the pavement, look no further.
The Goodyear Duratrac tire is an excellent all-terrain option that gives you the security and stability you need.
One of the best features of the Duratrac tire is its reliability.
These tires are structured and durable, built to outlast and outperform their competition.
They handle exceptionally well in winter weather, something that not every all-terrain tire can boast.
As a reliable piece of equipment, the Duratrac is more than just another tire.
They are known for outstanding performance and a highly aggressive tread.
They provide stability in all weather, security on all-terrain, and peace of mind even as you travel thousands of miles.
It may not be a mud tire. But as far as all-terrain tires go, it's a solid option for the outdoorsy and the adventurous.
All-terrain tires can slip and slide in the mud just as severely as standard tires.
But the Goodyear Duratrac has a reputation for being a stable mud tire when needed.
FAQ
Do all-terrain tires affect gas mileage?
Yes, all-terrain tires are harder on gas mileage than regular tires on passenger cars. However, they aren't nearly as bad as mud tires.
How long do Goodyear Duratrac tires last?
These tires typically have a projected lifespan of around 40,000 miles, which is typical for all-terrain tires.
With proper care and cleaning, they may even last longer.
Are Goodyear Duratracs noisy?
Because of their more aggressive nature, all-terrain tires will always be noisier than regular road tires. There's simply no way around that.
But they don't have to sound like a thunderstorm under your vehicle as you drive down the highway.
All-terrain tires tend to be slightly quieter than mud tires. The Duratracs, in particular, are known for being less noisy than other tire brands.
As the tires age with use, they may become louder.
Are Goodyear Duratrac tires good on the highway?
These tires were specifically designed to handle well in off-road conditions and on the pavement.
It is widely considered one of the best tires for such transitions. Even if you're hauling a big load, these tires are made for riding smoothly.
How do Goodyear Duratrac tires handle in the rain?
Goodyear created a quality tire for driving in rainy conditions. They handle extreme ease and stability, even if the rain is more of a torrential downpour than a light sprinkling.
You won't find yourself slipping or sliding.
There's no reason why you shouldn't take your truck out for a spin in the rain with these tires.
Frankly, these tires handle well in rain, sleet, snow, and ice. So don't let the weather hold you back any longer.
Can you tow with Goodyear Duratracs?
The Duratrac tire can easily handle heavy loads. It's one of the better tires for towing that you'll find on the market.
With its heavy-duty, reliable traction, you can feel confident pulling trailers and other cargo.