Chevy Tahoe, Good Off-Road? (Revealed!)
Like most of today's SUVs, the 2021 Chevy Tahoe Z71 is big– really big. And it's pretty. It looks fantastic against a backdrop of skyscrapers at night. But can you take it four-wheeling without getting stuck?
The Chevy Tahoe is designed for basic to moderate trails and offroad use when properly equiped. Think of the Tahoe as a vehicle that will take your family camping in a remote location down an old logging trail or fire road.
Chevy built the 2021 Tahoe Z71 to go off-road but not too far off-road. Its engineers openly admit they designed it more for family-friendly outings. So, it's probably not the best for entering mud bogs on Saturdays.
Here, I uncover the many new features of the 2021 Tahoe Z71. Also, you'll get an idea of its strengths and weaknesses. Then, you can make your own decision about how far you want to take your Tahoe off-road.
2021 Tahoe features
The 2021 Tahoe has many of the features most large Chevy SUVs possess. Here are a few examples. Keep in mind, not all of these come standard.
Interior
Chevy primarily built the Tahoe for comfort. It readily seats up to eight passengers. And there's plenty of headroom, even for those over 6-feet tall.
The wide doors offer plenty of room to enter. The driver's seat has several comfort adjustments to accommodate most body types. Although visibility is generally good, it's hard to see obstacles closer than eight feet. That's because of the Tahoe's enormous front end.
The push-button shifter isn't very popular with a lot of drivers, either. Most people are used to a column shifter. However, the push-button variety frees up plenty of space for other features.
Accessories
It seems like there is an overabundance of bells and whistles on the new Tahoe. Dash controls are bunched together in tight clusters. And that makes the audio controls on the steering wheel redundant.
But the navigation system is pretty cool. It comes with a 10-inch touchscreen. It looks more like a mini-computer monitor rather than a backup camera device like you see in most vehicles. You can also plug your Apple or Android device into the interface for total compatibility.
The Tahoe comes complete with a wireless charging pad at the center console. There are also several convenient charging ports throughout the interior.
Driveability
The Tahoe's 5.3-liter V-8 engine accelerates well from 0–60 mph. But it falls short at speeds above that. So, you may need extra patience while passing.
Aside from having a soft brake pedal, city driving is a breeze. The Tahoe's light steering makes street corners easy to maneuver. And once you're ready for the highway again, the 10-speed automatic transmission accelerates nicely through every gear.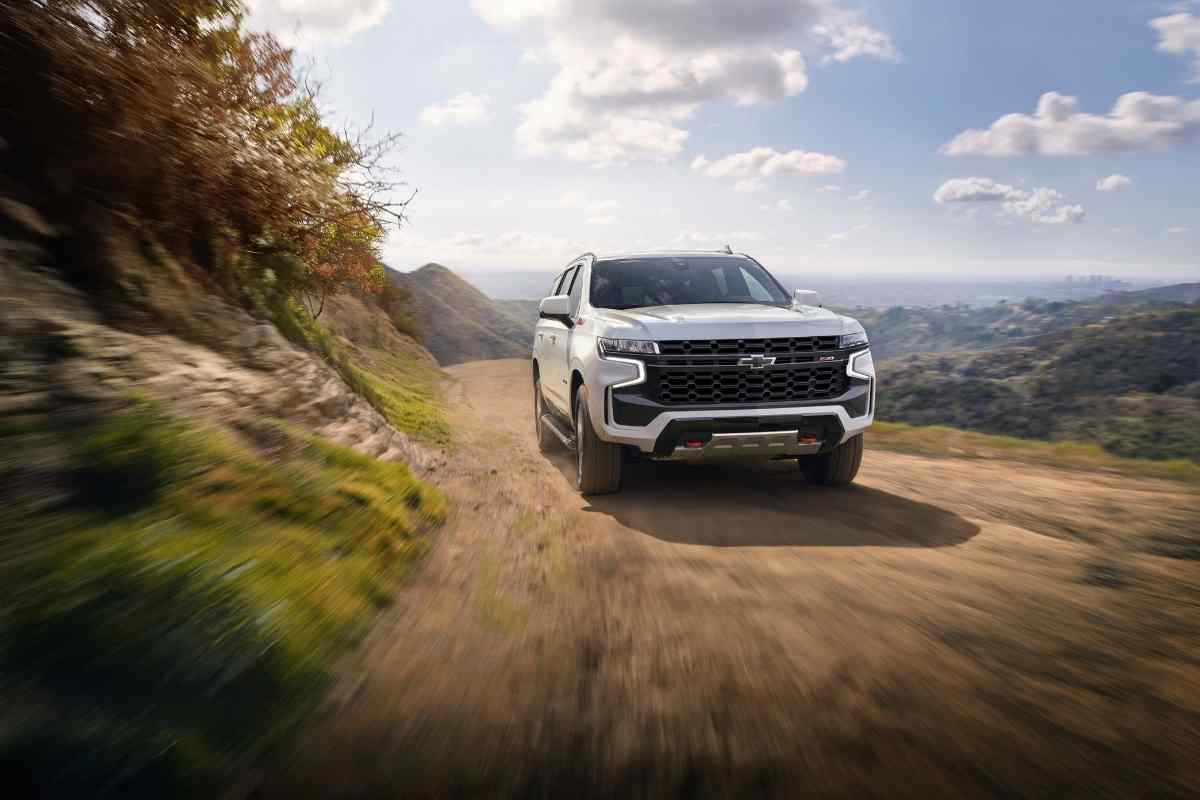 What does the Z71 package have?
For off-road driving, Chevy offers the optional Z71 package. It includes the following features:
Height-adjustable air suspension
The automatic air suspension height adjustment allows you to raise the vehicle to four separate settings. These are:
Lowest height (5-inch tire clearance) allows for easier exiting of the vehicle.
Normal height (6-inch tire clearance) for standard pavement driving.
Increased ground clearance (7-inch tire clearance) for medium offroading.
Maximum clearance (7 ¾-inch tire clearance) to navigate large terrain.
Four-wheel independent suspension
GM installed an independent suspension for the 2021 Tahoe. The result is better overall handling and grip over the bumps. You could argue that it loses articulation and ride performance. However, the longer wheelbase compensates for some of what's lost by not having a solid rear axle.
Multiple camera views
Something new for the 2021 Tahoe is its multiple cameras. There are several views to help you navigate tight spots. Here are a few examples:
Birdseye view
Backward
Forward
Side view
Trailer hitch view
These viewpoints are sent to the dashboard screen. They're especially helpful for navigating rough terrain. And they give the driver a second pair of eyes with one push of a button.
There is one flaw, however. Over 10 mph, the camera shuts off after 10 seconds. This can cause some frustration at times. Still, you probably won't be traversing jagged rock beds at speeds over 10 mph.
Upgraded tires
New for the 2021 Tahoe Z71 is the 33-inch Goodyear Wrangler TrailRunner AT tire. It features an aggressive tread design. And its puncture-resistant tread lasts longer than most tires in its class.
Last update on 2023-11-29 / If you click this affiliate link and make a purchase, we earn a commission at no additional cost to you.
Skid plates
The front plastic "skid plate" is off-putting, to say the least. That's because it's there strictly as a decoration.
However, the other two plates are metal. They protect the engine, tranny, and gas tank from rock damage. So, I can overlook the plasticky stuff this time.
Pros and cons of going off-road with the Tahoe
On a dirt or gravel road, the 2021 Tahoe Z71 does fine. But as you add terrain features, not so much. And although ground clearance is excellent, the ride becomes terrible at the maximum setting.
Because the Tahoe has no automatic locking differential installed, some terrain may not be obtainable. And with the vehicle so heavy, you may decide to forego most rock climbs.
Still, the automatic hill descent control is nice. It helps you stabilize the vehicle during steep descents. It utilizes four-wheel braking independently, reducing slippage.
It's similar to cruise control and works by limiting your speed while going downhill. The default speed is 1 mph, but you can manually control it using the cruise control knob.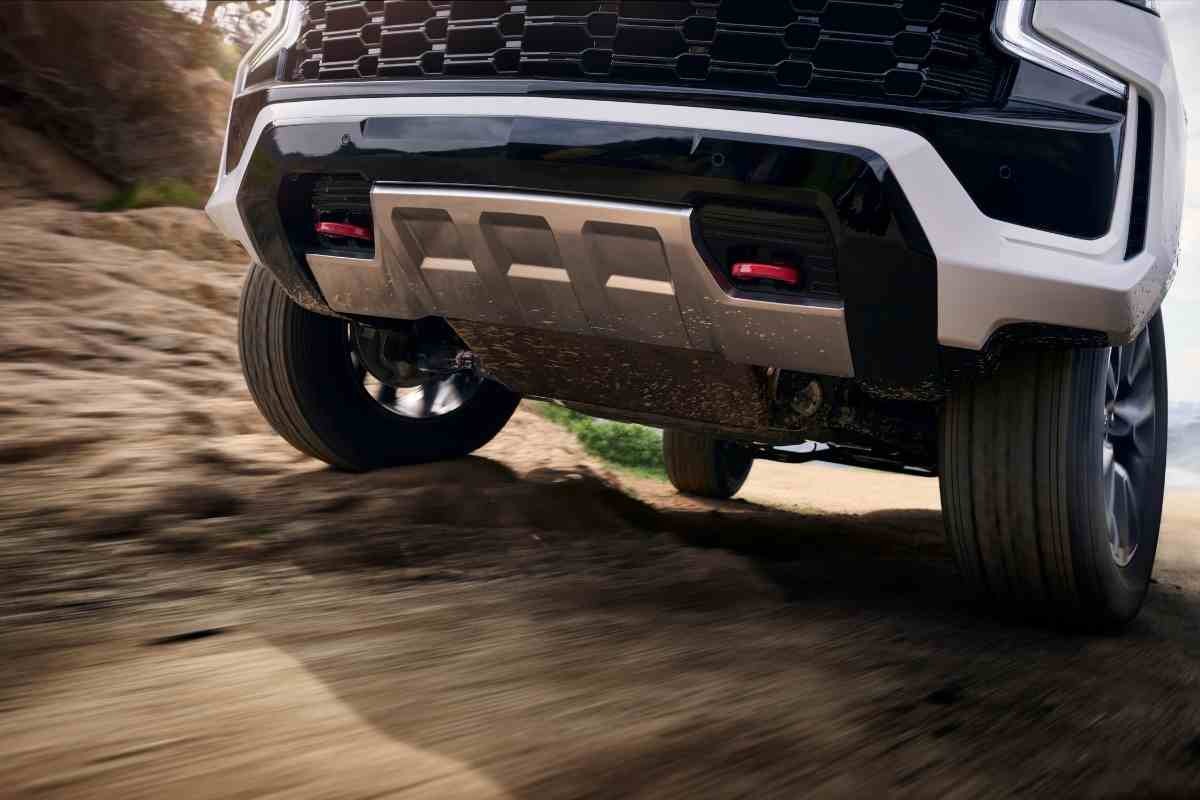 What about other Tahoe model years?
The 2010 Tahoe with the off-road package is one of my favorites. Many owners still have their original vehicles. And most are thrilled they bought them.
Chevy worked out most of the problems with the power windows and A/C systems by 2010. So, there are few things to complain about with this model year. Aside from a rare fuel pump problem, you're pretty safe in buying a 2010 Tahoe.
Not so much with the 2001 model. It had the most reported problems of any Tahoe after 2000.
Interior defects such as cracked dashboards and electrical issues were common. Blown gaskets and engine failures also topped the list of complaints. Sometimes, the power would cut out as you were pulling your trailer up a steep incline. Very dangerous.
Late-model used Tahoes
The best late-model years for the Tahoe are 2017–2020. Solid engine performance and lack of customer complaints make these model years a great buy. There are very few recalls for these solid performers, also.
Not only that, but consider Chevy's transferrable industry-leading warranty. It comes with a 5-year/60,000-mile limited powertrain protection plan. And you also get 24/7 roadside assistance. That's pretty decent for a used vehicle.
A final word about the Tahoe
For all its past failures, the Tahoe has come a long way. The 2021 Z71 is a prime example. It possesses both power and beauty wrapped up into one sturdy workhorse.
But when most reviewers look at the 2021 Tahoe Z71, they often use the word "adequate" or "reasonable" when describing its performance. It has a "fair" off-road capability, they say. Or it displays a "steady" climbing rate.
But is that enough to spend almost $70,000 for a base model without a tow package? Probably not. When searching for a Tahoe 4X4, it may be just as good to go back in time, at least a few years.