What Chevrolet trucks have LS engines?
This post may contain affiliate links. As an Amazon affiliate, I earn from qualifying purchases.
If you're into cars and trucks, then you've heard about the Chevrolet LS engine. It's powerful, reliable, and accessible. So much so that people swap LS engines into practically any car you can imagine. We'll discuss new and old cars and trucks that come with the LS, from the '90s up until today. This article is for you if you have a project in mind or want to buy a new car.
What Chevrolet Trucks have LS engines?
These Chevrolet trucks currently come with or came with LS engines: Avalanche, Colorado, Silverado, Tahoe, Trailblazer, and Suburban. The specific models vary throughout the years, and some, like the Avalanche, had the LS in only certain trim levels. These usually came with the 5.3L, 5.7L, or 6.0L displacements. While the LS's history is complex, we'll go into as much detail as possible for you to better understand this fascinating engine.
The LS first came into the market with the 1997 C5 Corvette, known as the Gen III small-block V8. But its commercial name was LS1. Now, keep in mind that this engine family has a thing with names; some don't even carry the initials LS.
So, before we get into why this engine is essential and which trucks have them, let's discuss its naming origins. First of all, LS doesn't really stand for something, even if some people say it refers to Luxury Sport. In reality, it's a name the automotive community gave to General Motor's family of Gen III and Gen IV small-block V8s.
As for numbers, they don't follow any particular order. For example, after the LS1 came the LS6, with the 2001 Z06 Corvette. These two engines were so popular, people started referring to the entire family simply as LS. And, once you understand a bit of the genealogy behind them, it makes perfect sense.
This V8 was so reliable, powerful, and versatile, Chevrolet started offering it in trucks and SUVs with great success. But the manufacturer used many names, such as Vortec, L33, L76, and others.
By the way, Chevrolet had used the LS name for other engines, as far back as the '70s. Yes, it's confusing. That's why we wrote this article. But, for the moment, we'll talk about Gen III and the following models. Next, we'll find out why it was such a successful engine.
What makes the LS engine such a good engine?
To understand why the LS is such a good engine, we need to talk about the construction. Chevrolet conceived this powerplant with a "Y" Block. This design increases the strength around essential areas like the cap and block.
To add to this rigidity, engineers also used extra-long bolts, which held the head and went deep into the block. But, surprisingly, the design was such that the engine wasn't massive.
LS engines are surprisingly light, with most weighing about 450 lbs. For comparison's sake, GM's Gen III 2.0L inline-4 Ecotec powerplant weights 331 lbs. Then, there's the size. It's not unusual to find LSs in cars like Miatas.
Truck LS engines came with either an iron or aluminum block. Car engines, on the other hand, mostly came with only aluminum blocks. By combining this size, weight, and versatility, Chevrolet produced a wide array of displacements, for example:
Iron-block truck LS engines have 4.8L and 5.3L displacements
Aluminum-block truck LS engines have a 6.0L displacement
All-aluminum car LS engines have 5.3L, 5.7L, 6.0L, 6.2L, and 7.0L displacements
Ironically, this size advantage is due to Chevrolet's traditional approach, using pushrod design. Modern engines with overhead cams yield better performance and economy. But they're larger, heavier, and not as strong.
So far, we've seen that the LS is reliable, strong, and small. But it doesn't stop there because it produces plenty of power and torque. The heads have excellent airflow, and the cams can take unusually severe punishment, so it makes for a great engine swap. And, we'll get to this topic later.
These traits have earned the LS a cult following, which has generated excellent aftermarket support. Pretty much every car fanatic has fiddled with an LS engine. So, parts are easy to find.
Plus, Chevrolet has made hundreds of thousands of these engines, so some are relatively cheap, and spares are affordable. No wonder people love them.
Current trucks with LS engines:
Let's say you're looking for a new truck that comes with an LS engine. Currently, you might be able to find some new cars with Gen IVs under the hood, but most come with the Gen V engine, available since 2013.
The Gen V engine still uses the traditional construction that made the LS famous. But, there's little interchangeability with the previous two models.
Chevrolet changed the intake and exhaust valve positioning. Other improvements include a longer camshaft, direct injection, variable valve timing. These also distance it from the older engines.
Most use an all-aluminum block and heads, with some using an iron block. But Chevrolet has yet to change the two-valve pushrod design.
These are the Chevrolet trucks that come with the latest LS engines:
| | | | | | |
| --- | --- | --- | --- | --- | --- |
| Year | Model | Engine | Displacement | Power | Torque |
| 2014-present | Suburban | L86 | 6.2L | 420 hp | 460 lb-ft |
| 2020-present | Silverado HD | L8T | 6.6L | 401 hp | 464 lb-ft |
| 2014-present | Tahoe | L83 | 5.3L | 355 hp | 383 lb-ft |
| 2014-present | Suburban | L83 | 5.3L | 355 hp | 383 lb-ft |
| 2014-present | Silverado | LV3* | 4.3L | 285 hp | 305 lb-ft |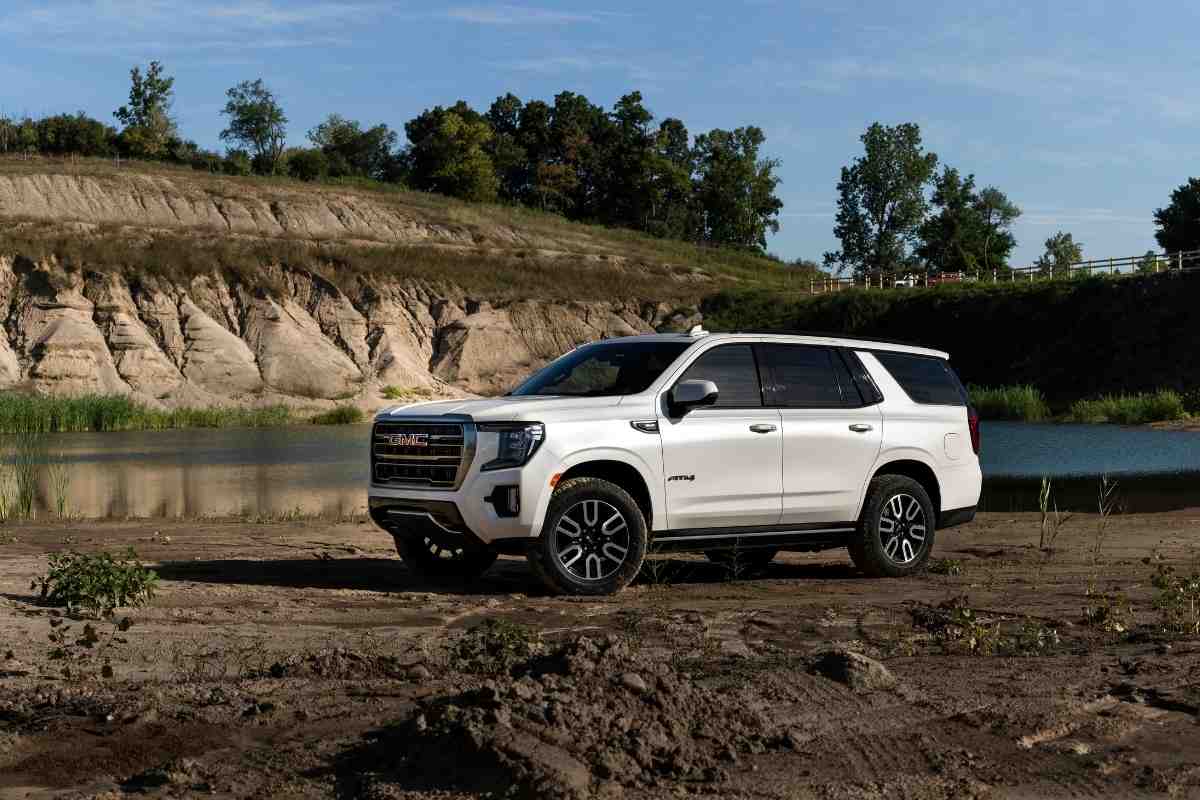 *The LV3 is a V6 engine based off the Gen V family, with two less cylinders, being the first of its kind in the LS family.
As you can see, the Gen V engines offer good performance in both the power and torque department. While the LV3 is a far departure in both figures, it's an economical alternative for those looking for better miles per gallon.
But, perhaps you're looking for an older truck, one that has seen better days. There's nothing more tempting than yanking out an LS engine and putting it into your project car. So, let's see some older, LS-powered Chevrolet trucks.
Older Chevrolet trucks with LS engines:
As we said before, the LS is a famous engine family, so it's difficult to put all of them on the list. So, we're naming the most important trucks. But remember, there are plenty of Corvettes and Camaros out there.
The following table includes Chevrolet models, years, and engine types. Other companies like GMC share platforms, so LS engines are available in their vehicles as well.
Chevrolet Model
Years
LS Engine
Avalanche
2002-06
5.3L Vortec LM7
2007-09
5.3L Vortec LY5
2007-11
5.3L Vortec LC9
2007-13
5.3L Vortec LMG
2007-09
6.0L L76
Avalanche Z71
2002-07
5.3L Vortec L59
Colorado
2009
5.3L LH8
2010-12
5.3L Vortec LH9
Silverado 1500
1999-06
4.8L LR4
1999-07
5.3L Vortec LM7
2002-07
5.3L Vortec L59
2007-09
4.8L LY2
2007-09
5.3L LH6
2007-09
5.3L Vortec LY5
2007-11
5.3L Vortec LC9
2007-13
5.3L Vortec LMG
2007-09
6.0L L76
2009-13
6.2L L92
2010-14
4.8L Vortec L20
Silverado 1500 Vortec H.O./Vortec Max (2007)
2004-07
6.0L Vortec LQ9
Silverado 1500 4WD
2005-07
5.3L L33
Silverado SS
2003-07
6.0L Vortec LQ9
Silverado 1500 HD
2001-07
6.0L Vortec LQ4
Silverado 2500
1999-04
6.0L Vortec LQ4
Silverado 2500 HD
2001-07
6.0L Vortec LQ4
Silverado 3500
2001-07
6.0L Vortec LQ4
Silverado 2500/3500 HD
2007-10
6.0L LY6
2010-17
6.0L L96
Silverado Hybrid
2008-09
6.0L LFA
2010-13
6.0L LZ1
Suburban
1999-06
5.3L Vortec LM7
1999-01
6.0L Vortec LQ4
2002-06
5.3L Vortec L59
2007-09
6.0L L76
Suburban 1500
2007-09
5.3L Vortec LY5
2007-11
5.3L Vortec LC9
2007-14
5.3L Vortec LMG
Suburban 2500
2007-09
6.0L LY6
2010-13
6.0L L96
Suburban 3500 HD
2016-17
6.0L L96
Tahoe
2000-06
4.8L LR4
2002-06
5.3L Vortec L59
2007-09
4.8L LY2
2007-09
5.3L Vortec LY5
2007-14
5.3L Vortec LMG
Tahoe Hybrid
2008-09
6.0L LFA
2010-13
6.0L LZ1
Tahoe LTZ
2008
6.0L Vortec L92
TrailBlazer EXT
2003-05
5.3L Vortec LM4
TrailBlazer & EXT
2005-08
5.3L LH6
TrailBlazer SS
2006-09
6.0L LS2
So, there you have it. These are the most important Chevrolet trucks that come with LS engines.
There are plenty to choose from for projects and swaps. But it's important to remember that the newer generations might not fit into older vehicles as easily.
Closing thoughts:
The LS engine is one of Chevrolet's most famous products. It's so popular for engine swaps that many people ask which trucks come with it.
Though it has older technology, the thinking behind the LS has made it reliable, robust, and small enough to fit into most cars, even small sportscars. Plus, spares are readily available, and most of them aren't very expensive (though LSA and LS7 models are rare and sought-after).
With such demand, we wanted to write this article to bring you a bit of history and summarize a lot of information. This article not only gave you the latest Chevy trucks with this engine but older models as well. We hope this makes it easier for you to find that LS engine you're looking for.
But, with the Gen V engines, changes came. Differences in its design reduced the compatibility with older models. So, one can't help but wonder what the future holds for Chevrolet's famous golden egg. Hopefully, the recipe lasts for a long time.