Can A Chevy Tahoe Pull A Camper?
This post may contain affiliate links. As an Amazon affiliate, I earn from qualifying purchases.
In times of a global pandemic, going camping with your family has become the best and safest way to enjoy some time away from home. It might be time to tow your camper with your Chevy Tahoe and go somewhere with your loved ones to enjoy nature for a bit.
Can A Chevy Tahoe Pull A Camper?
Can A Chevy Tahoe Pull A Camper? Yes, Chevy Tahoes can pull at least 7700 pounds, meaning that any camper with a total weight under that can be towed. You need to keep in mind the gross weight of your camper. Some Tahoes can even tow up to 8400 pounds but some campers are way too heavy for even the strongest Tahoe.
Tahoe's Towing Capacity
The standard Chevrolet Tahoe has a 5.3-liter V-8 engine with 355 horsepower and 383 lb.-feet of torque. If you have the Max Trailering Package, the Tahoe can tow up to 8400 pounds.
The larger Tahoe that has a V-8 engine with 6.2 liters, can tow up to 8300 pounds and has 420 horsepower. If you do not have the Max Trailering Package, the two-wheel drive option of the Tahoe can tow up 7900 pounds, while the four-wheel drive option can tow up to 7700 pounds.
Understanding Torque and Horsepower
When it comes to towing, horsepower and torque are both important. Torque is the vehicle's ability to do work, while horsepower represents a number of how fast you can do said work.
That means that if another vehicle has the same torque as yours, both can haul the same weight, but, if one has a lower horsepower, it will haul said weight at a lower speed.
Tahoe's Benefits
While full-size trucks are the best option when it comes to towing, since some can tow more than 10,000 pounds, there are a lot of benefits to having a Tahoe to tow a camper.
The SUV can hold more people than a full-size truck, which is great when taking the family camping or even to use on the daily. SUVs also have much better gas mileage, the standard Chevy Tahoe, for example, can do 14 MPG in the city and 23 MPG on the highway. Not to mention that SUVs are much easier to drive than big trucks.
Trailers A Tahoe Can Tow
When considering a camper to toe with your Tahoe, it is important to understand that a camper's empty weight and gross weight play a big role when towing.
For instance, if you get a camper that has an empty weight of 7,700 pounds for your standard four-wheel-drive Tahoe, you will not be able to store anything in the cargo of the camper. The gross weight is how much the camper weighs with cargo in it.
Campers also have different maximum load capabilities as well. The weight of your camper also plays a huge role on fuel efficiency. The heavier, and closer to the maximum capability of the SUV, the harder it will be for your Tahoe to accelerate and more fuel will be used.
Teardrop Trailer
For a person who likes to travel alone, the teardrop trailer is a good option. It is the smallest camper option with an empty weight of about 1,700 pounds and a gross weight of 2,000 to 4,000 pounds. Your Tahoe can easily tow this smaller and more affordable option for the lone wolves out there.
A-Frame Trailer
The a-frame trailer is another affordable option that can fit a small family. This camper has an empty weight of 1,700 pounds and a gross weight average of 2,500 to 3,600 pounds.
The a-frame camper gets its name from the "A" shape that the roof creates. Since the camper has hard walls on all sides, it can be used year-round for summer and even winter camping trips. These lighter campers are good because you will save up on gas quite a bit.
Pop Up Camper
Another light and affordable option is the pop up camper. With an empty weight of 2,300 pounds and a gross average of 2,700 to 4,000 pounds, this camper is another good option when going camp in any sites that have weight and length restrictions.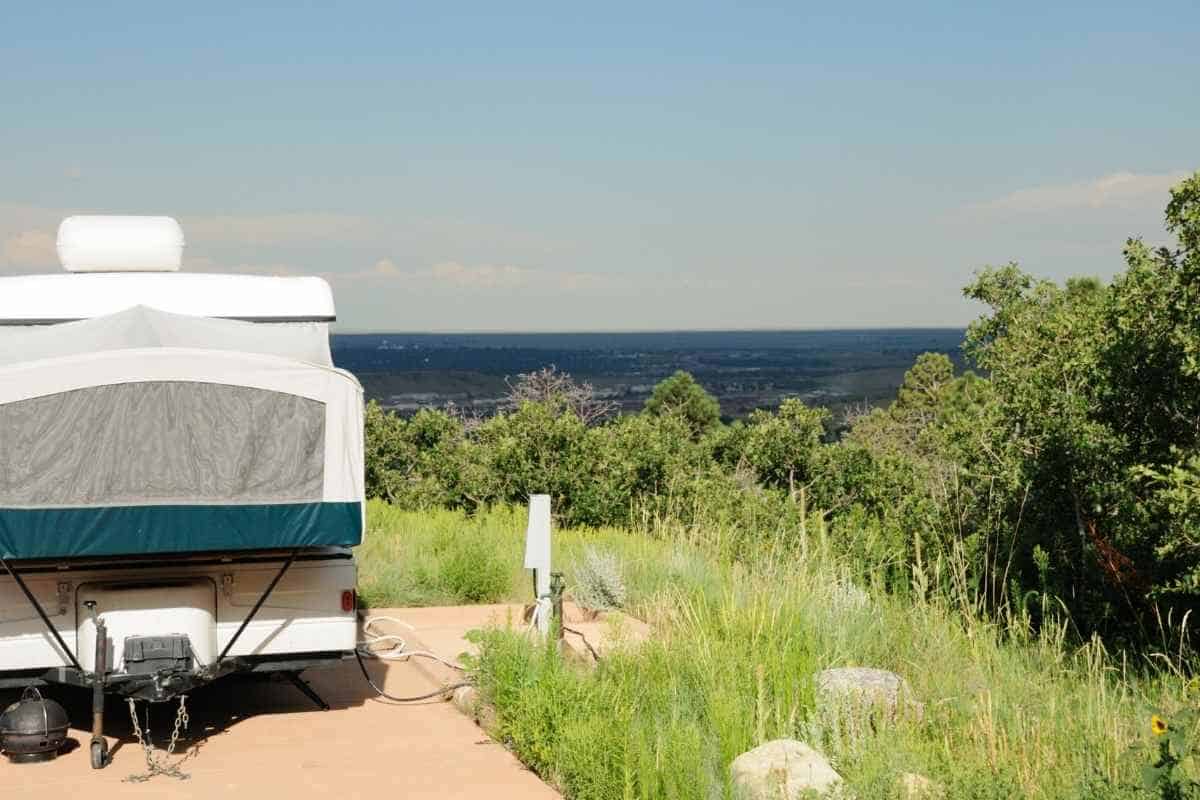 The only downside of the pop up camper is that the walls aren't made of a hardy material, making it only suitable for the warmer months of the year.
This camper works like a tent attached to your vehicle, which allows a lot of sleeping space for the family while saving up on gas.
Small Travel Trailer
Even though small travel trailers tend to only be able to carry about 800 pounds of cargo, they are light weight and have everything that a small family needs.
This smaller version of the larger RVs has an empty weight of 2,800 pounds and the gross weight averages between 1,900 to 4,500 pounds. 
When compared to larger camping trailers, this option is more affordable, easier to maneuver, easier to maintain, and the light weight will not use up too much gas either.  
Large Travel Trailer
For larger families, the large travel trailer has an empty weight of 6,700 pounds and a gross weight of 6,300 to 10,500 pounds. This is the largest camper a Tahoe can tow.
You have to be extremely careful to not use the full capacity of the camper's cargo space and weight before towing and hitting the road. While these campers require a lot more maintenance and experience driving while towing one, they are very spacious for bigger families and you will feel right at home while camping.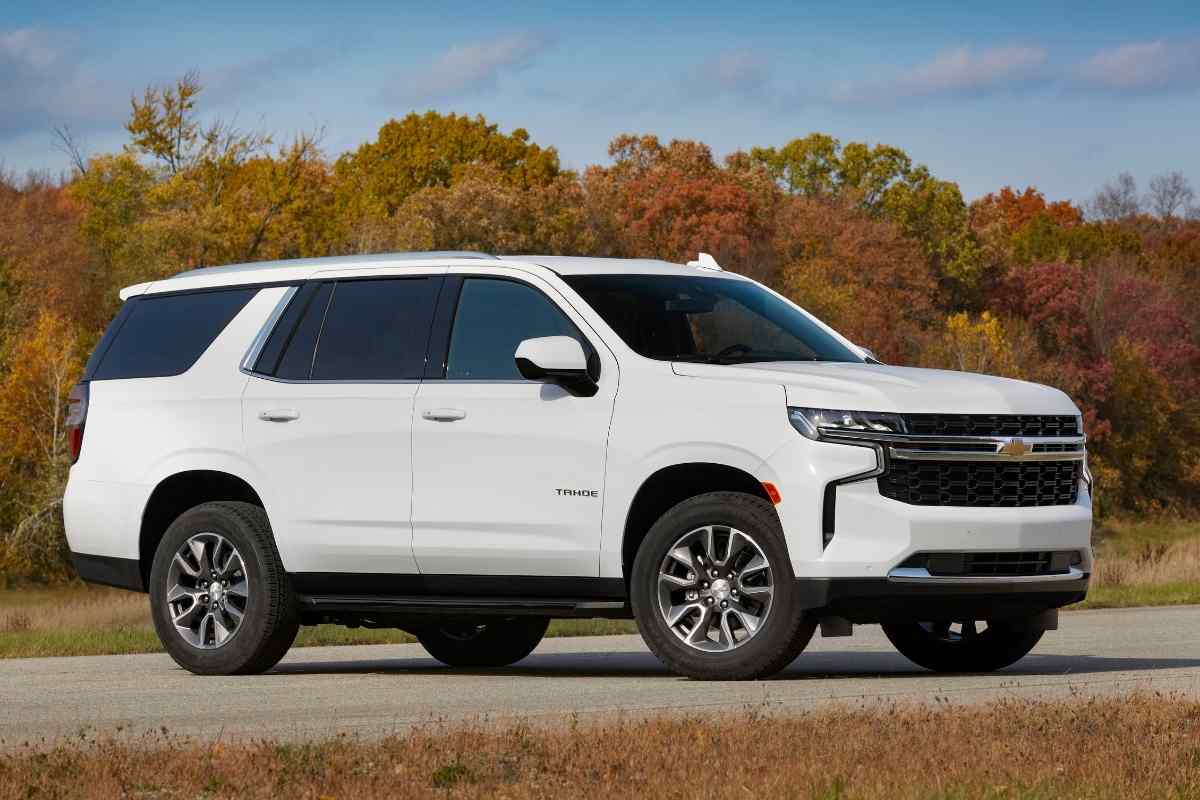 Whether you are looking into going on a solo trip or going camping with your loved ones, this pandemic has not been easy on anyone. It is good to enjoy nature for a bit to relax and spend quality time with your family.
Your Tahoe can tow a variety of campers and the best one depends only on your wants and needs. It is all about how you like to camp and the size of your family. Always research and look into reviews of campers that you are interested in to find the best price and option that best fits your lifestyle.