Did I Save My OEM Jeep Carpet Using RIT Color Remover?

Saving My OEM Jeep Carpet (I hope)
Several weeks ago I power washed my OEM Jeep carpet and it came really clean!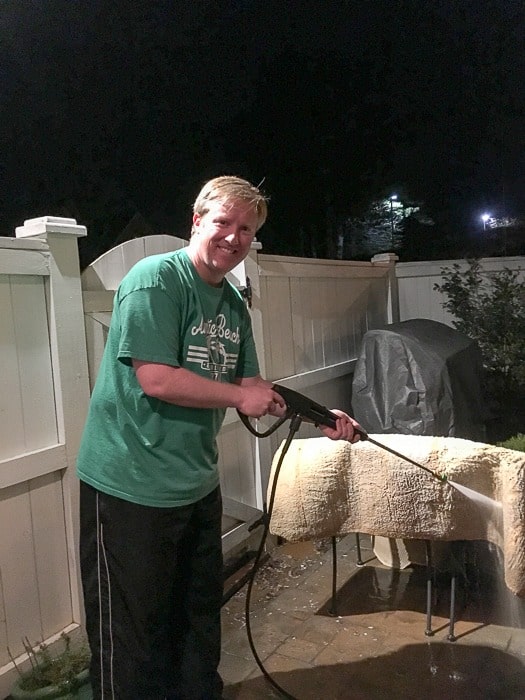 A few people have asked, what does OEM mean? It stands for Orginal Equipment Manufacturer. Basically, it's what came from the factory when the Jeep was new.
I recommend you try this if you have old dirty carpet in your vehicle. As an extra tip, spray some fabric softener on it after its clean and do a final rinse.
Saying this, I am NOT writing about power washing in this post. That project worked great. This article is about the fact I dyed my carpet using  Tan RIT Dye. It started out okay but didn't end so well.
Side note: (I didn't write a post about dying my carpet because I started the blog after these projects were complete. Since I wasn't happy with the results, I didn't write the post… with this said, when things are slow I may go back and create a post about it. It may give others some inspiration, and I can discuss what I did wrong, and what I would do if I had to do it over.)
Honestly, the first few pieces of dyed carpet turned out nice. It was a diluted tan, and I was pleased with the result, but then the chemical sprayer I was using had foam build up. The foam had too much dye in it, and it left darker more concentrated tan dye on the 30-year-old OEM Jeep Carpet!
Needless to say, I was not happy, but I proceeded to mix a darker dye and made the whole carpet darker. I just wasn't happy with the results. It was splotchy, and some spots were darker than others.
These pictures are from after I put the OEM Jeep carpet back in following the dying process. See how each piece of carpet is a slightly different shade.
Take a look for yourself…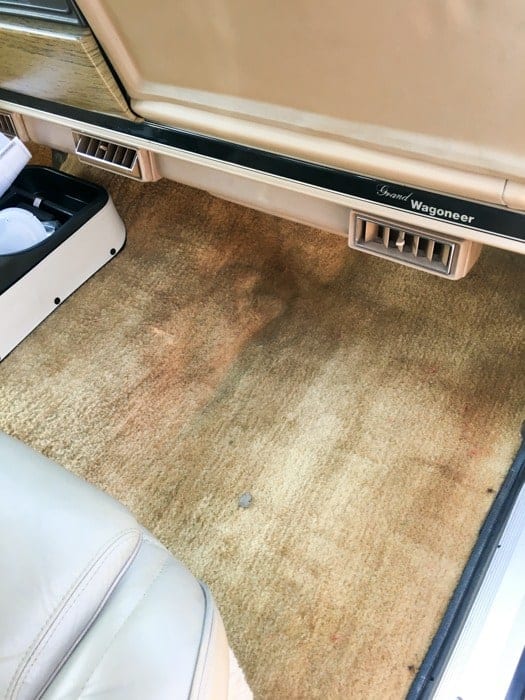 (See how each piece of carpet is a slightly different shade. You can see that the top three pieces of carpet are a darker shade of tan. Then the bottom piece of Jeep carpet has colored dots. This is because I ran out of the liquid dye and I used a box. The crystals did not fully dissolve and left those specks of color on the carpet)
I assumed I would be buying new replacement Jeep carpet, but they just don't make it like they did back in the 1970's and 1980's. Back then it had a thick shag look. Now it's just a heavy tight pile.
So I thought I would have to break down and spend $500 for new replacement Jeep carpet kit.
But then I had an idea…
What's the worst thing that could happen? (I was already planning to buy new carpet, right?)
To test my hypothesis (channeling my best scientific voice) I grabbed the rear tailgate panel carpet and the two rear tire well carpet pieces and headed to the laundry room… yes, the one in my house.
I know, many of you are asking in shock, "your wife let you do that?"
She wasn't home!
What was the worst that could happen?  (Yes you are correct, I could have been buying a new washing machine + new carpet for the Jeep + sleeping in the garage alone for months)
But it didn't go wrong. It worked great!
The first things I did was read the instructions. For all you ladies reading this, YES I read the directions. I have never used this stuff before, and I didn't want any of those bad things I mentioned above to actually come true.
Take a look…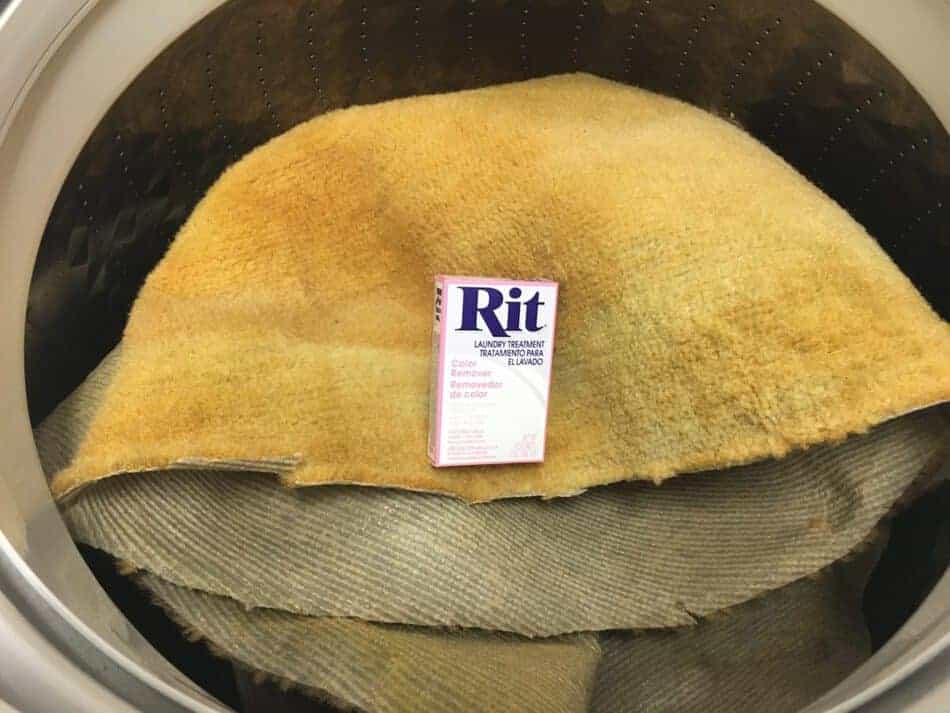 Here's the process I used, and it was very easy:
First, I wash the carpet on a normal cycle using warm water and detergent. I did not use fabric softener yet.
Then I ran another heavy duty wash cycle putting the RIT Color Remover into hot water along with the carpet.
As they say on tv, "kids don't try this at home." I used extra hot water through the sanitize setting on my washer because I didn't care if I messed the carpet up… it was already on track to be replaced.
Photo: OEM Jeep Carpet after RIT Color Remover
Photo: Photo of the same OEM Jeep carpet before staining and after power washing 
In talking to the great support team over at RitStudio.com (Thank you Ashley), they shared with me that the key to color removal is the agitation and not saturation.
Side Note: Ashley if you ever read this, I am sorry I didn't tell you the whole truth about the scope of my project. (I told her I was washing a rug). I was afraid if I said it was automotive carpet for a classic 30-year-old Jeep Grand Wagoneer she (or the companies legal staff) would just say not to do it. Just know your advice was spot on! Thanks.
Hopefully, this post has inspired you to upgrade your vehicle in some way. I am not the most mechanically inclined person and I am not overly crafty, but I am willing to give it a try… just make sure you know the risks and cost to fix whatever you might mess up. That's why in my head I already factored in the cost of new carpet for the Jeep Grand Wagoneer before tackling these projects. (But no, I didn't factor in a new washing machine. Good thing it didn't get to that point.)
I still have the two large sections of carpet yet to clean. It may not work out as well as these pieces did because of their size. So far I have come up with three ideas:
Use a kiddie pool or large plastic storage container that I can put the carpet in and use a broom handle to stir the water and carpet.
Take it to a laundromat since they often have larger washing machines (and I don't run the risk of messing up ours at home [my wife now knows about my little experiment] )
Build a frame out of 2×6 lumber and then line it with a tarp. That would allow me to lay the carpet flat. I just don't know if I can agitate the carpet enough using this approach.
I will post the results of that project at a later date. Right now, I am pleased with the results from this experiment. It took the carpet back to its original faded 30-year-old color, only much cleaner!
PS: If you found this article helpful, please use one of my links to Amazon to make your purchase. It doesn't cost you anything, but they give me credit so I can continue to write these posts. Thanks!
Products Discussed:
Keywords: OEM Jeep Carpet, Replacement Jeep Carpet, RIT Color Remover, #Jeep, #Wagoneer, #JeepLife, #GrandWagoneer