Does Walmart Gas Station Take Checks?
If you have been running errands all day and you forgot to cash your check, you might be wondering if you can use the check to buy gas. There are some businesses that accept personal checks. Is Walmart one of these businesses?
Does Walmart Take Checks as Payment?
Yes. You can use your check to pay for gas at any of the Walmart gas stations. The retail giant offers check cashing services as long as their machine can verify the pre-printed check, and you have the necessary identification documents.
Cashing the checks at the Walmart offices reduces the time that you have to spend running around and frees up more time for you to enjoy. Walmart has set some restrictions on the types of checks you can cash, the amount you are able to cash, and also the rules you have to follow to cash the checks.
In this article, you will learn more about using personal or any other checks to pay for gas at a Walmart station.
How do I Cash a Personal Check to Shop at a Walmart Gas Station?
The only challenge is that cashing out the check at Walmart will force you to visit the customer service desk or visit the Walmart MoneyCenter. These two areas are away from the checkout lane, so you will take a little bit longer to check out. However, you will still save more time and get your money faster than if you were to visit the bank.
The Walmart MoneyCenter works the same as a bank. These MoneyCenters are available in grocery stores, and they allow you to handle your check the same way you would in a bank. While there, you can open an account, deposit the check, withdraw money, cash your check, and then pay bills.
However, you can still cash your check even if you do not have an account with a Walmart Money Service Center. When you visit the center, ensure you bring the pre-printed paper check, sign at the back, and bring a valid ID.
When you present the ID, the Walmart attendant will run your check through a series of verification processes to rule out fraud. Once the check is approved as clean, you will receive your cash, and you can shop for anything around the store or gas station. You will pay a small fee when Walmart cashes your check.
Can I Cash All Types of Checks at a Walmart Gas Station?
Walmart accepts most checks if it can verify them using their machines and they are pre-printed. However, personal checks have to be less than $200 or you will have to take them to the bank. Whether the check is hand is printed, Walmart will cash it for you.
Some of the types of checks that you can cash with Walmart include:
Government checks
Insurance settlement check
Payroll checks
Cashier's checks
Pre-printed checks of all sorts
401(k)
Tax refunds
Two-party personal checks
MoneyGram Money Orders purchased at Walmart stores
Personal checks have to be under $200 or Walmart will not accept them and you have to go to the bank. There are some checks that Walmart will not accept and some instances where your check will be denied.
If your check is handwritten and more than $200, Walmart will not accept the check. Walmart has to pass all checks through electronic verification and any check that does not pass through such a test will not be accepted.
Other instances and checks not accepted at Walmart include:
Checks written for accounts that have insufficient funds will not be cashed
Any check of amount more than $5,000 unless during tax season when they can accept checks of up to $7,500
Starter checks
EFS checks
Post-dated checks and checks that are older than six months
Savings bond checks
Comdata checks
MoneyGram Money Order not issued by Walmart
All brands of money orders that are not from Walmart
Fraudulent checks or checks suspected to be fraudulent
Checks with two or more payees
If you are not sure whether Walmart can accept your check, talk to a customer service desk attendant, and they will look at your check and advise you further. Walmart offers more information online for their customers to understand more.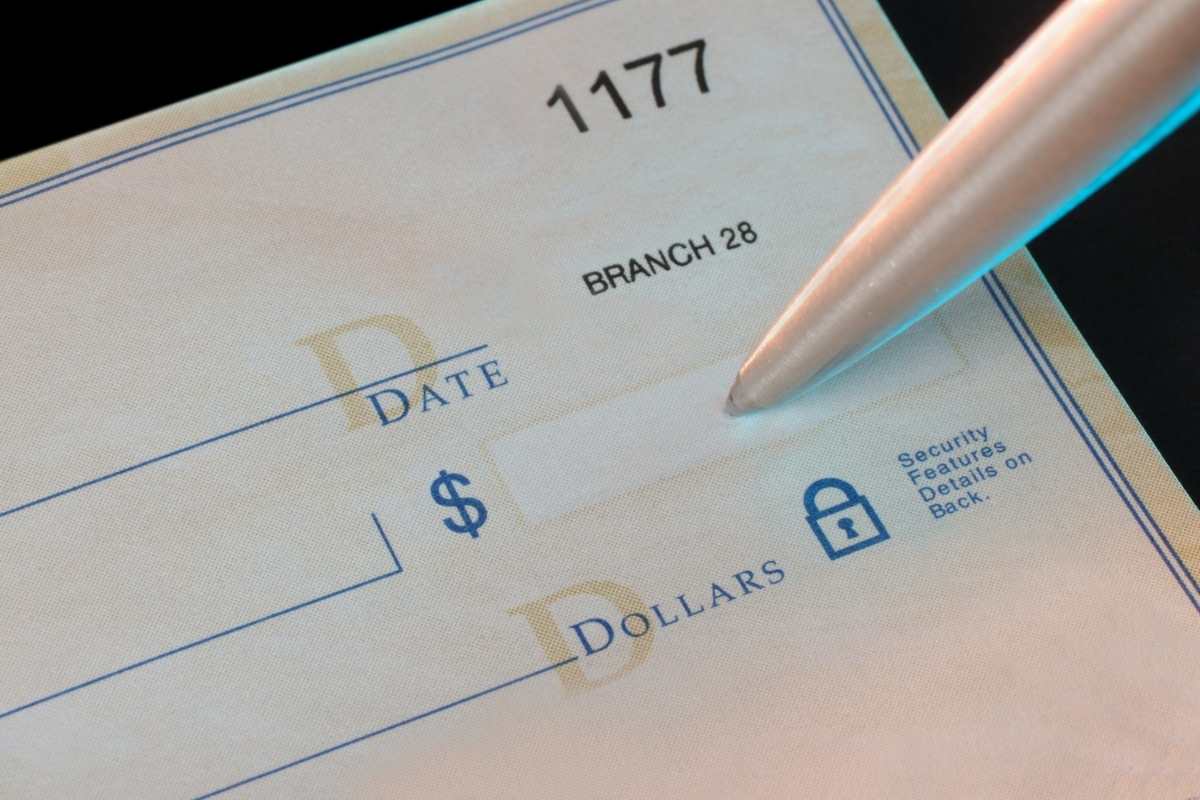 Do stores accept personal checks? Besides the gas station, you can also use the checks to shop at any of the Walmart stores or any other stores that accept checks.
How Much Will You Pay to Cash Your Check at Walmart?
You will pay a small check cash fee, which is dependent on the check amount.
Pre-printed checks come from the government, rebates, or from an employer. Checks up to $1,000 will cost you $4. For checks between $1,000 and $5,000, you will pay $8.
Between January and February, during the tax season, you can cash checks up to $7,500. For these checks, the fees vary and Walmart does not publish the amount. Walk to the customer service desk and ask what the fees are for such checks.
Two-party personal checks, as long as they are less than $200, will be cashed at a few of $6. However, the fee may vary depending on the state in which you cash the check.
Customers can choose to have their money deposited into a Walmart MoneyCard. If you choose this option, you will pay an extra $3 for setting up the card. This fee is charged for those who choose to pick the card in any of the Walmart stores, but those who choose to order the card online do not pay any fee.
Once you pay the processing fee, you will be able to load the card with money in the future without any extra fees.
What Are Cash Limits and Payout Options for Walmart Cash Checks?
Between January and April, you can cash out up to $7,500 as this is the tax season. The rest of the year, you can only cash checks up to $5,000. Tax refund checks make up the bulk of the large checks that people seek to cash out at the beginning of the year.
When you cash your check, you can choose to receive cash, or you can load the money into a card. If you choose to receive cash, Walmart will give you your money minus the fee.
If you choose to take a MoneyCard, you have two options. You can go apply for the card in-store, get approval, and then pick your card. Pay a $3 processing fee, and you can load money into that card as many times as you need in the future.
If you have no time to drive a Walmart MoneyCenter, apply for the card online at walmartmoneycard.com, and they will mail the card to you. Once the card comes to you, you can take it to the MoneyCenter, and they will add money into it from your check. This option helps you save $3, which you pay when you apply for the card in-store, but it will take a little longer to have the card.
If you have the Walmart MoneyCard, you can load money into it from different sources. Your employer can also deposit money directly into your card.
Closing Thoughts: Can I pay for gas with a check?
You will not pay directly with the check, but you can cash your check and then pay at Walmart. Cashing out your check is easy, and you will have the money on your hands or in a card within a short while. You can also use the check to pay for other products at the Walmart store after checking.