Is a Jeep Grand Cherokee Good in the Snow?
Have you thought about buying a Jeep Grand Cherokee to tackle those hard winters wherever you live?
The Grand Cherokee is a beautiful vehicle that out-performs a lot of cars in many areas – however does it stand up to the test when faced with snow and ice?
Jeeps are known for their durable vehicles as well as being known for their adventurous personality and off-roading capability. We're going to be looking at how those traits fare when put to the true test of winter driving.
You need a car that will deliver you safely from Point A to Point B even when the roads get icy, so let's break it down and figure it out.
Is a Jeep Grand Cherokee Good in the Snow?
Is a Jeep Grand Cherokee Good in the Snow? Yes, the Jeep Grand Cherokee does an amazing job of being a snow vehicle. Whether you're worried about the harsh reality of being outside in a cold winter setting or simply want the best performance and safety features in your Jeep; a Grand Cherokee is an excellent choice.
The Basics
While the Jeep Grand Cherokee model has been sold for a decade, the car still has a fresh feeling due to all of its features.
This is an SUV that carries 5 passengers that has 7 trim levels which we'll get to later. It's a sturdy and durable family model that also has the ability to pack some power, which makes it a perfect compromise for a family that is looking for an enjoyable ride.
Starting with the engine, you'll find a standard V6 engine but you also have the option to add some extra power and go to a few different V8 models.
Even though the Grand Cherokee is billed as a family SUV, you are definitely able to put a lot of power inside of it.
One downside pops up here, the V6 doesn't feel super powerful so most consumers probably will want to add on a V8 package which will obviously increase the base price that you'll be paying. You can get away without it, but it doesn't feel quite the same.
When you look at the off-road and towing stats, you should be impressed. It's got over 7,000 pounds of towing capability which is fantastic for an SUV like this.
It's got a few different 4WD options to choose from which should keep you safe whether you're on the road or off it and the traction feels nice when you're driving.
On the inside of the car, you've got some great comforts available to you. The driver safety aids are some of the best in the business and you have access to Apple Car Play and Android Auto systems which is becoming the norm in newer car models.
Everything looks great and is easy to use when it comes to the entertainment system and the center console.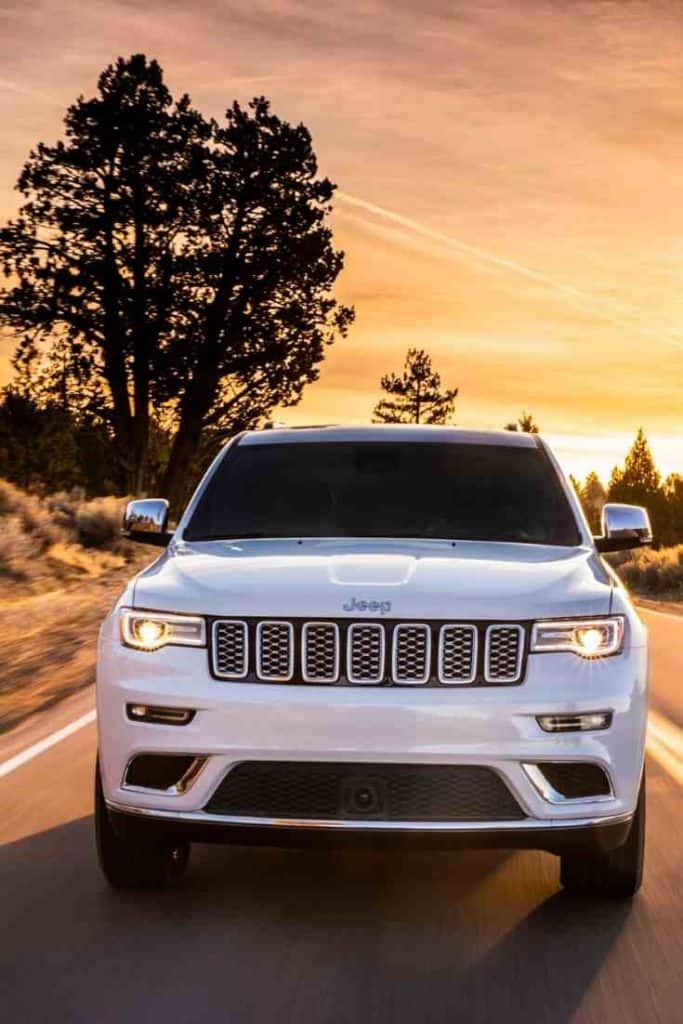 The Grand Cherokee has 7 trim levels:
Laredo
Limited
Trailhawk
Overland
Summit
SRT
Trackhawk
The Laredo is the base package and comes with a 3.6 liter V6 engine. It comes with all of the features listed up above in the general review but the biggest features focus on the touchscreen featuring Apple Car Play and Android Auto systems.
There is no option to upgrade to the V8 engine with the Laredo trim package. The Laredo will be best for budget-conscious consumers; however the higher models do offer some conveniences in a fair price range.
When upgrading to the Limited or any package above, you will have access to the V8 engine which adds a lot of power to your vehicle.
Especially when thinking about cold conditions, you get some great options with the Limited trim package. You can add a heated steering wheel and heated seats which are great for those cold Northern mornings.
There are also some smaller benefits like front power seats and some improved upholstery.
The Trailhawk is the 3rd package and it focuses on off-road performance. The styling of the outside of the car is a little bit different and you'll get off-road tires.
Most people aren't looking for this option for their day-to-day, however there are a ton of things to dig into here if you're looking for a primary off-road option.
The Overland is the 4th package and goes hand-in-hand with the Trailhawk. Basically, if you fit into this price range with your budget and you are looking for the "on-road" version of the Trailhawk, you would probably want the Overland.
It's a model that is very popular among shoppers who fall in that "middle" budget range because it really gives them a great car but consumers are able to deem the "best" features a bit unnecessary.
There's no right answer when it comes to finances on a new car; it's best to sit down and talk to your car dealership about your personal needs.
The Summit takes a bigger step up from the Overland and starts to add some luxury features. The Summit features an attractive self-parking feature and even more safety features. The audio system gets a boost as well as the leather upholstery.
The SRT is interesting when it comes to driving in the snow. It's got a high horsepower for driving power in any situation, but it also has a special all-wheel drive system that should keep your vehicle moving no matter what you face.
The all-wheel drive in the SRT is generally created to give you better performance as opposed to trying to go off-roading. You even get different performance modes depending on what kind of environment you're driving in which is perfect for Winter time.
At the top of the line, we have the Trackhawk. This takes the SRT's standard features and adds a ridiculously charged up engine (707 horsepower) along with an upgraded suspension, breaks, and 20-inch wheels with some excellent high-performance tires.
The Trackhawk is the best of the best and is great for customers who want excellent without too much of a worry about their budget.
Advantages In The Snow
Let's start with the interior comforts that will keep you warm during the Winter months.
For packages that are the Limited and above; you have the availability of heated seats and a heated steering wheel.
That's a huge win – especially when you combine that with the remote start features. The old days of waiting in a frozen car are over; and that should be important to a lot of buyers who value their comfort.
With the inside out of the way, we need to know how the Jeep Grand Cherokee performs in the snow.
With all of the power in the engine, the high towing capacity, and the 4-wheel drive functionality, the Grand Cherokee does a great job in snow, ice, or any mix of the sort.
While wintery roads often cause problems, other drivers can be a bigger factor when trying to safe driving on Winter roads. Thankfully, the Jeep Grand Cherokee packs in a bunch of features that keep you safe when dealing with other drivers as well.
They have Blind Spot and Cross-Path detection. This helps in a few ways. Regardless of whether you are feeling comfortable while driving, others may not be. These systems help you keep more space in the Winter time than you normally would.
Due to road conditions, you may come across a sudden stop situation. This is assisted by the Full-Speed Forward Collision Warning system found in the Grand Cherokee. When it's hard to see, you want every possible detection system helping you, even if the risk is front of you.
There is also a lane departure warning system that will help you understand your driving better if you are focused on someone else. For the times when you need to get out of a tough spot in the city, or simply out of your driveway you also have a Rear Back-Up Camera.
Those safety features can help out all the time, but really come into play more often when you face adverse weather conditions.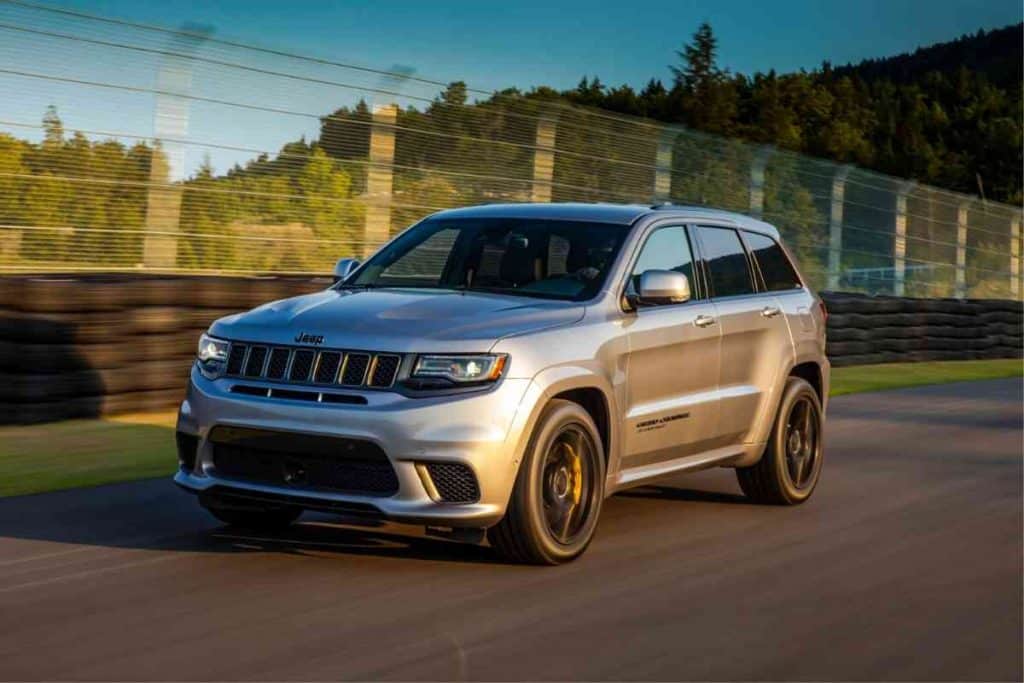 Summary
The Jeep Grand Cherokee does an amazing job of being a snow vehicle. Whether you're worried about the harsh reality of being outside in a cold winter setting or simply want the best performance and safety features in your Jeep; a Grand Cherokee is an excellent choice.
The Grand Cherokee has various trim packages that let you decide how much you're willing to pay and what you really need when it comes to the various upgrades for your car.
All the way from the basic Laredo package to the top of the line Trackhawk; there is something for everyone.
You'll be comfortable inside the Jeep Grand Cherokee because its got various systems in place to keep you warm.
The big factors in winter performance are tires, four-wheel drive, engine size, and towing capacity. The Jeep Grand Cherokee hits all of those stats on par for the course that will keep you safe.
When worrying about other drivers, Jeep has you covered. You are able to use their Blind Spot detection, Full-Speed Collision Warning system, and various others to make sure that no one else's bad driving will cause you harm.
At the end of the day, a Jeep Grand Cherokee is a great choice for when you want to go in the snow.