CarMax or Carvana: Which Is Better for Buying a Used Car?
This post may contain affiliate links. As an Amazon affiliate, I earn from qualifying purchases.
Ah, new car. Nothing can beat its smell, but we all know how the current models can break your bank. It is even worse when you have a bad credit score or an inconsistent income. This pushes you to opt for second-hand car dealers offering cars with the best value, which brings us to the question, between CarMax and Carvana, which one is better for buying a used car?
In a bid to answer this question, I thoroughly reviewed the two dealers alongside the ton of available customer reviews to help you choose the one that will work for you.
Which is Better for Buying a Used Car?
So, in a nutshell, which one is better for buying a second-hand car? Both. The two dealers are a great option for buying a used car. They offer a hassle-free experience, and they sell cars that are reconditioned to look new, each with an extended warranty and seven-day money-back guarantee. Regardless of the one you choose; the buying process is straightforward and user-friendly.
While that answer may seem sufficient to get you going, there are a few more things you need to know between the two car dealers. Read on to learn more about the two, as well as their differences and similarities.
CarMax
One of the best things about this dealer is that it makes a good choice for test-driving used cars. It has more than 225 physical locations across the US. You can visit any of these locations and take your desired car out for a spin to get a feel of how well it will perform.
With a massive collection of cars, you have a great chance of finding the right vehicle with great value and one that meets all your needs. From their official website, you can check and schedule an appointment or test drive the car you are looking to buy on the same web page.
The credentials you will need for the visit include:
• A valid driver's license
• Insurance proof (a requirement for all vehicle sales)
• Proof of your income
• Residence details
• A valid phone number
• Address variance (only required if the address on your credit application differs from what's in the credit report)
Payment Terms
If you are unable to pay for the car in full, worry not, the auto-financing option offered by the dealer is a choice you should consider. They might not haggle, but you can trust them to give you an offer that is quite attractive. If none of these are in your interest, you can always opt for outside financing.
I should remind you, however, that their financial offer is dependent on factors such as personal information on the application form, your credit score, the type of car you want – the make, the model, and the price – as well as how much of a down payment you can afford. Apart from their own financing option, you can also choose from Ally Financial, Inc. or Capital One Auto Finance among others.
Curbside and Home Delivery
To ensure that you spend the least amount of time at the store, this dealer introduced Curbside. With this option, the car dealer encouraged buyers to use the online option to find a car they love, choose it, and apply for auto-financing before moving on to the next step of booking a test drive. During the day of the appointment, you can meet at a designated parking area for a test drive and if you decided to buy the car, you can complete the whole paperwork process from the car with an associate of the dealer helping you.
This company also has the home delivery option, but it is only applicable for those living within a 60-mile radius from the purchase store. You can also reach out to the nearest store for more information on this. Delivery fees may apply.
Returns and Warranties
The company offers a 90-day or 4,000 miles limited warranty, dependent on whichever is achieved first. They also offer optional MaxCare Extended Service plans as well. This extended cover caters for round-the-clock roadside assistance only in the US and Canada. Meanwhile, you can also enjoy other benefits such as rental reimbursements and discount deductibles.
A Must-Watch Carmax Warranty Video [AMAZING!]
Note, however, that the MaxCare Extended Plans are only availed at the time of vehicle purchase. Of course, you can cancel it anytime and still be eligible for a refund. But depending on which plan you had opted for you may also be charged some cancellation fees. Better yet, these plans are transferrable. For full information on what is covered, you can visit their official website.
Apart from the attractive extended cover plans, you can also enjoy the seven-day return policy if the car doesn't meet your expectations. It doesn't matter the reason; you can receive your full down payment or transfer it to another vehicle from the same dealer. The policy is strict. If you return it on the 8th day, you won't be eligible for the refund, but you can always sell it back to the dealer to cover the initial costs if you wanted.
Carvana
This is another popular second-hand car dealer in the US. It is famed for its high-tech car vending machines with more than 20 of them spread across the states. They also have a wide selection of vehicles to choose from and the buying process is largely done online, unlike the previous dealer.
This dealer's website has been conveniently designed to ensure that you buy, sell, or trade in your vehicle without physically visiting their stores. After purchasing your desired vehicle, you can have it delivered to you, but you can also choose to collect it from the nearest vending machine in your region. Whichever option you choose, the process is seamless and quite efficient.
You can easily get low-mileage vehicles sold by this dealer, most of which have passed their 150-point inspection. On top of that, you will be given a free CarFax history report. And once you have settled on a specific model from the website, you will be prompted to create an account, authenticate it, sign in, and begin the buying process. Moreover, you will be required to submit copies of:
• Your driver's license
• Social security number
• Proof of insurance
• Proof of income
• Your bank account details
Financing Options
Before buying your car from this dealership, you should be aware that their prices are non-negotiable. The upside, however, is that they do not have a minimum credit rating requirement for them to approve your purchase. Better yet, through a soft credit inquiry, you can get vehicle financing offers that obligate you to a monthly commitment of 833 Dollars with no bankruptcies to pass. You must also be 18 years and above to qualify.
If your credit score is excellent, you can get offers for financing loans carrying low-interest rates. If your credit score isn't as great, you can still get the vehicle financing loans, but the interest rates will be a bit hefty. For these loans, the maximum term is 72 months. Of course, you can also use outside financing options for your vehicle or pay for it in cash.
Touchless Delivery
Considering that the dealer does most of the transactions online, you can be sure to have a seamless delivery method. And true to its word, the dealer's associates will visit your place to complete the buying process. Thereafter, your vehicle will be delivered to your doorstep by a hauler to ensure that it is safe and that the mileage is not running – some people conder high mileage vehicle a bad thing to buy. The vehicle will be brought alongside its papers for you to go through them and ensure that they are in order before delivering the necessary ones back.
Warranty and Returns
In terms of warranty and returns, you get a limited warranty that is valid for 100 days or 4,189 miles, depending on which comes first. When this complementary warranty expires, you can still choose one of their Care Plans. These plans, however, are available for a select number of vehicles and can only be bought after the seven-day money-back guarantee period is over. Their official website offers more information on vehicle protection warranties.
Like the first dealer we talked about, this company also offers a strict seven-day money-back guarantee. And since everything is done online, arrangements will be made for the vehicle to be collected and have you refunded the whole amount you paid, excluding any delivery fees, if any.
One of the biggest differences between the two is that the second option doesn't give you a chance to test drive the car of your choice before purchasing it. While this may sound like no big deal, other people will want to know how the vehicle handles the road before making such an investment. Also, the prices offered by the latter might be slightly higher than that of its counterpart.
Why the Two are Worth Considering
The process of purchasing a used car from the two dealers is incredibly similar. You can effortlessly go through their websites and browse a wide inventory of vehicles, depending on the price, body types, year of make, mileage, features, fuel economy, colors, cylinders, and transmission.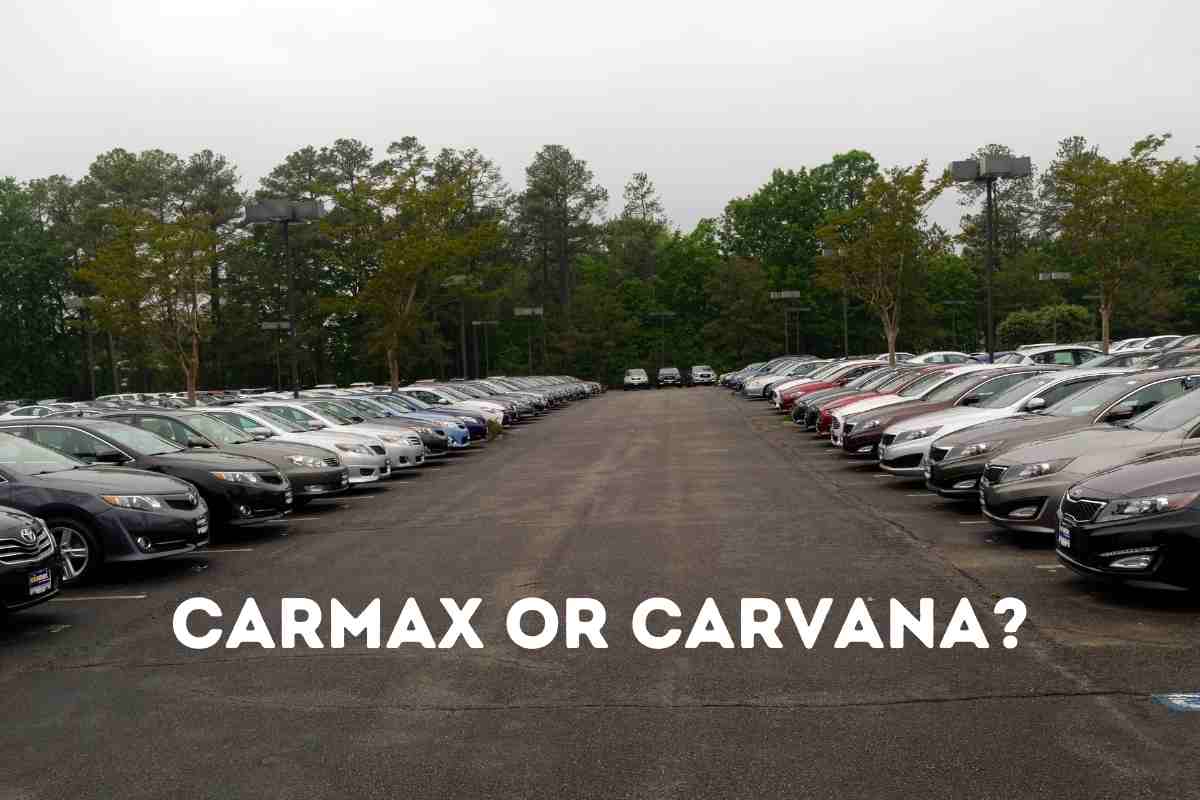 The two will also deliver to your doorstep, thanks to their efficient home delivery services. But for this, you might incur some delivery fees, especially if you are located far from the location of your purchase.
Closing Thoughts
In my experience, the two dealers offer anyone shopping for a used car a remarkably easy and straightforward process. Although they may have different but almost similar purchasing processes, they have made it easy for you to have a user-friendly experience.
The only thing that should be your concern is the availability and the price of the vehicle you want, be it one of the best-rated trucks or a family SUV, you are sure to get them in their inventory.
Their prices might vary by a small margin, but ultimately, with each offering an extended warranty, and hassle-free and no-haggle policies, they are the perfect go-to solution for finding a used car with great value.
If you are also looking to buy an SUV from any of the two dealers, you can read this guide on finding the safest second-hand SUV and the considerations to make before closing the deal.