How Much Do New Rims Cost for a Jeep Wrangler?
Jeep Wranglers are a beloved vehicle made and modeled by many across the globe.
The edgy look mixed with their off-road capabilities makes them a highly sought-after form of transportation.
While Jeep Wranglers are intended for functionality instead of flashy appearance, Wrangler enthusiasts make modifications to give their Jeep a variance from the original makeup.
One way modifications are made is by updating the Wrangler Rims.
The rims can give the Jeep a more rugged or flashy look depending on the style.
How Much Do New Rims Cost for a Jeep Wrangler?
While the type of rims determines the cost to get new wheels, you can expect to pay an average of $150 on a new wheel for a Jeep Wrangler, meaning you can expect to pay roughly $600 to replace all 4 rims on your Jeep Wrangler.
As previously stated, the cost of new rims for a Jeep Wrangler depends on the material, size, style, and functionality.
On average, the cost to replace four Jeep Wrangler rims is roughly $600.
This cost does not include labor which will add between $40 and $50.
This is the standard cost estimate which may vary depending on the mechanic shop that performs the labor, and the rims you are purchasing.
The functionality of the tires plays an integral role in the cost of the rims.
If your new rims are designed for the pavement, they may not be as expensive as wheels meant to withstand off-road elements.
Similarly, the size of the tire also changes the price tag. For instance, 20" wheels are more expensive than 15" wheels.
Jeep Wrangler Wheel Bolt Pattern
Consider the bolt pattern before making a new rim purchase.
While all Wranglers have a five-bolt design, the spacing between the bolts differs between models.
This means that you can't mix and match Jeep Wrangler rims from model to model.
Ensure you know what lug pattern your Jeep Wrangler has before making a new rim purchase.
Having this information on hand will help you save time and money and the hassle of trying to return wheels that don't fit.
Types of Jeep Wrangler Rims
The most common material used in Jeep Wrangler rims is 6+steel and aluminum.
The aluminum wheels are much lighter than steel wheels and take longer to create due to the fragile material.
Choosing the right wheels for your Jeep Wrangler will go a long way in giving you the performance you need and expect out of your Wrangler.
Don't just shop rims for looks; consider performance and functionality.
Strong, Flexible Wheels
Strong, flexible wheels are necessary for off-road purposes.
These wheels are typically made from steel and can withstand a beating on rough terrain.
The flexibility helps ensure a long life for your wheels when trekking over large rocks or deep ruts.
Bead Locked Wheels
Bead-locked wheels are designed strictly for off-road purposes. The unique design ensures the tire beads are clamped into place and won't allow the tire to pop off the wheel.
This is extremely important when climbing large rocks or loose dirt with your rig.
Bead-locked wheels also assist in tire tracking and keeping proper tire pressure.
This wheel style also comes in an aluminum option which is more expensive but ensures your Wrangler isn't weighed down by heavy wheels.
Alloy Wheels
Alloy wheels are an all-around solid option for Wrangler rims.
The sturdiness of the alloy ensures a durable and resilient wheel option that is perfect for both the pavement and the mud.
Due to the material and all-around toughness of alloy wheels, they come with a higher price tag than steel or cast alloy wheels.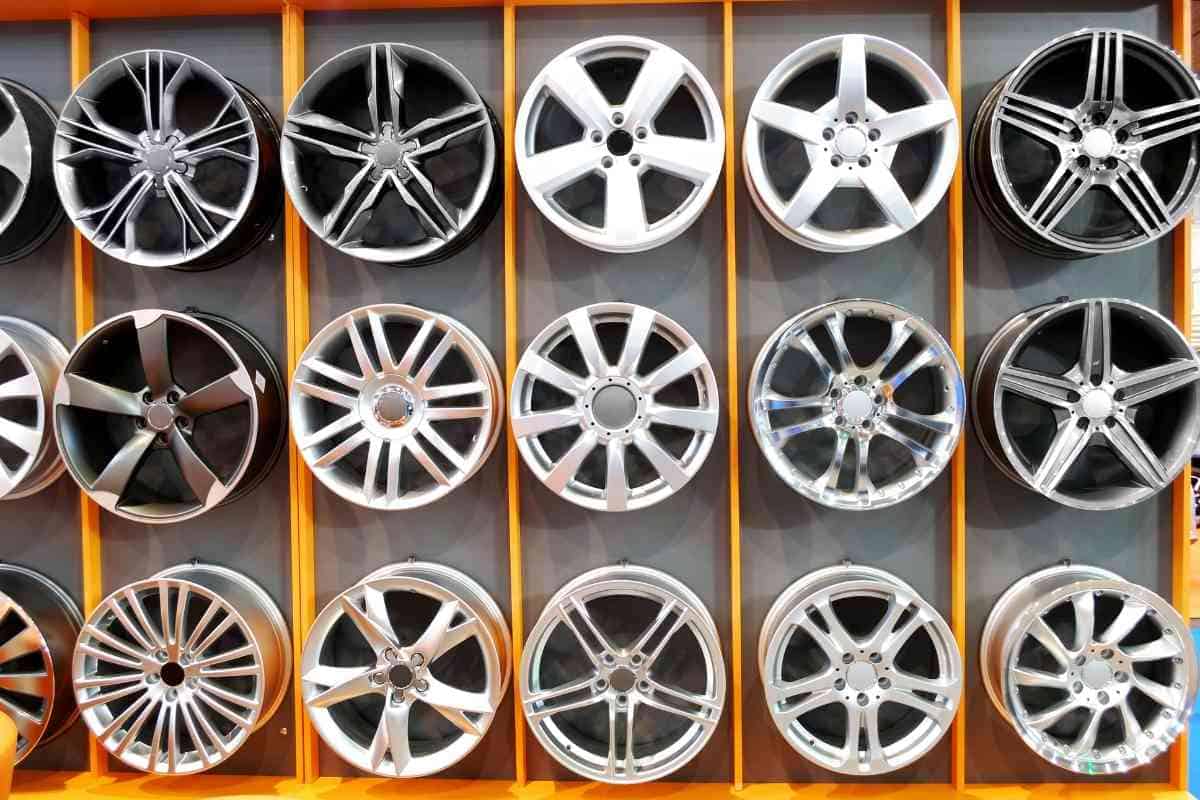 Do Jeep Wranglers Need a Lift With New Wheels?
Jeep Wranglers come stock with 17" and 18" wheels.
If you're going for a bigger and bolder look with your new rims and intend on installing 20" or 30" wheels, a lift is necessary.
If you install rims larger than the stock wheels, your tires will rub the wheel well and can poorly affect how the Jeep drives. The rubbing tires will also cause the tires to wear down quicker than normal and result in even worse fuel economy.
A lift is not included in the initial cost of new wheels.
Therefore, getting bigger wheels can significantly increase the cost of new rims as you are also paying for a lift and larger tires.
If you're looking for a cost-effective way to beef up the look of your Jeep Wrangler with different rims, consider getting 17" or 18" wheels.
Most Common Rims for Jeep Wrangler
Pro Comp Alloys Series 69
Some of the most popular 15-inch rims for a Jeep Wrangler are the Pro Comp Alloys Series 69.
These wheels offer the biggest bang for your buck and are best suited for traditional off-road Jeep styling.
These rims are made from high-grade aluminum alloy and have a 5-inch over-the-top bolt pattern.
The lightweight and efficient design makes them a top option!
RockTrix RT105 17 Inch
Compatible with most modern Jeep Wranglers and Gladiators, the RockTrix RT105 17-inch rims give a stylish look with a versatile finish.
The adaptability to aftermarket OEM Jeep lug nuts is a big selling point for these wheels.
The aggressive offset and maximum inner clearance increase the rugged look without the need for a lift.
Fuel D569 Vapor
The aggressive look of the Fuel D569 Vapor makes it a favorite among Wrangler enthusiasts.
These rims have an ideal lip depth and clearance and give off a sturdy and rugged look.
A clear matte finish and adaptable lug configuration make it a common Wrangler option.
Raceline Rims Street Lock
The Raceline Rims Street Lock is a heavy-duty rim design perfect for off-roading in your Jeep Wrangler.
It offers optimal bolt circles around the design and has ideal rim spacing for Wranglers.
These are alloy wheels built to withstand harsh elements.
Helo HE878 Wheel
These wheels have been on the rise in recent years for their sleek look and subtle, yet edgy design.
The unique bolt pattern gives it an uncommon look and is perfect for off-road or highway driving.
Choose between gloss black or plain chrome to cover the split eight-spoke design for the perfect fit for your Jeep Wrangler.
Pros and Cons of New Jeep Wrangler Rims
As with any appearance update to a vehicle, pros and cons ensue.
Ensure you consider both the positives and negatives of getting new Jeep Wrangler Rims before making a wheel purchase.
Pros
Fresh new look – adding new rims to your Jeep Wrangler will add a fresh new look that can enhance its rugged and edgy nature.
Added durability – replacing your current Wrangler rims with heavy-duty ones can increase durability and ensure your tires last longer.
Update tire size – if you're looking for an excuse to lift your Jeep Wrangler, updating your rims is an excellent place to start.
Better off-road capabilities – updating your Wrangler wheel is an excellent way to enhance its off-road capabilities.
Cons
May need new tires – while a new set of rims looks cool and gives a flashy update, it may require a new tire purchase which can add to the end cost.
It can be expensive – depending on the type of new rims you are putting on your Jeep Wrangler, the price tag may not be worth it. The material the rims are made from and their size factor into the cost.
Can require lift – adding new rims to your Wrangler may result in the need for a lift. Ensure you have the funding to add a lift if purchasing larger rims.