How Much Do New Jeep Wrangler Tires Cost? [Answered]
Finding ways to save money can be challenging when your Jeep Wrangler needs new tires. The costs can get quite steep, especially if you need a specific size or need them for a particular purpose.
The right pair of tires can completely change the look and feel of your vehicle and allow you to customize your driving experience further, making your driving experience truly authentic.
Table of Contents
How Much Do New Jeep Wrangler Tires Cost?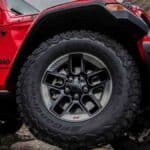 New Jeep Wrangler tires can cost anywhere from a few hundred dollars to a few thousand dollars, depending on your needs and specifications. The price can vary due to the place you buy them from, the dimensions of your tire, and the type of tread you will need.
It pays to shop around and look for the best deal; not only is it going to save you money in the long run, but it will make it easier to know what tires to look for and which tires to avoid in the future.
Just what tires are people buying? Which ones are the best price for your budget, and what benefits do they provide for your Jeep Wrangler?
Keep reading along, and I will illuminate the best new tires you will be happy to replace with the best prices in mind.
The Cost of Wrangler Tires
People have many considerations to pick candidates for the best tires for them. I have selected a few tires that appeal to different audiences so you can see how their prices compare with one another.
Goodyear Wrangler All-Terrain Adventure With Kevlar
Starting at $172 on the Goodyear, this all-terrain and all-season tire are one of the best deals available for Jeep Wrangler tires. It has a limited warranty for 60,000 miles.
Hailed as the best off-roading Jeep Wrangler tire, it is a versatile tire that performs well both on and off-road and is fortified with DuPont Kevlar, reinforcing the strength of the tire's sidewall. This reinforcement will increase the life of your tires by decreasing the chance of a sidewall blowout.
This toughness comes from 2 layers of Kevlar material from 30% extra steel content.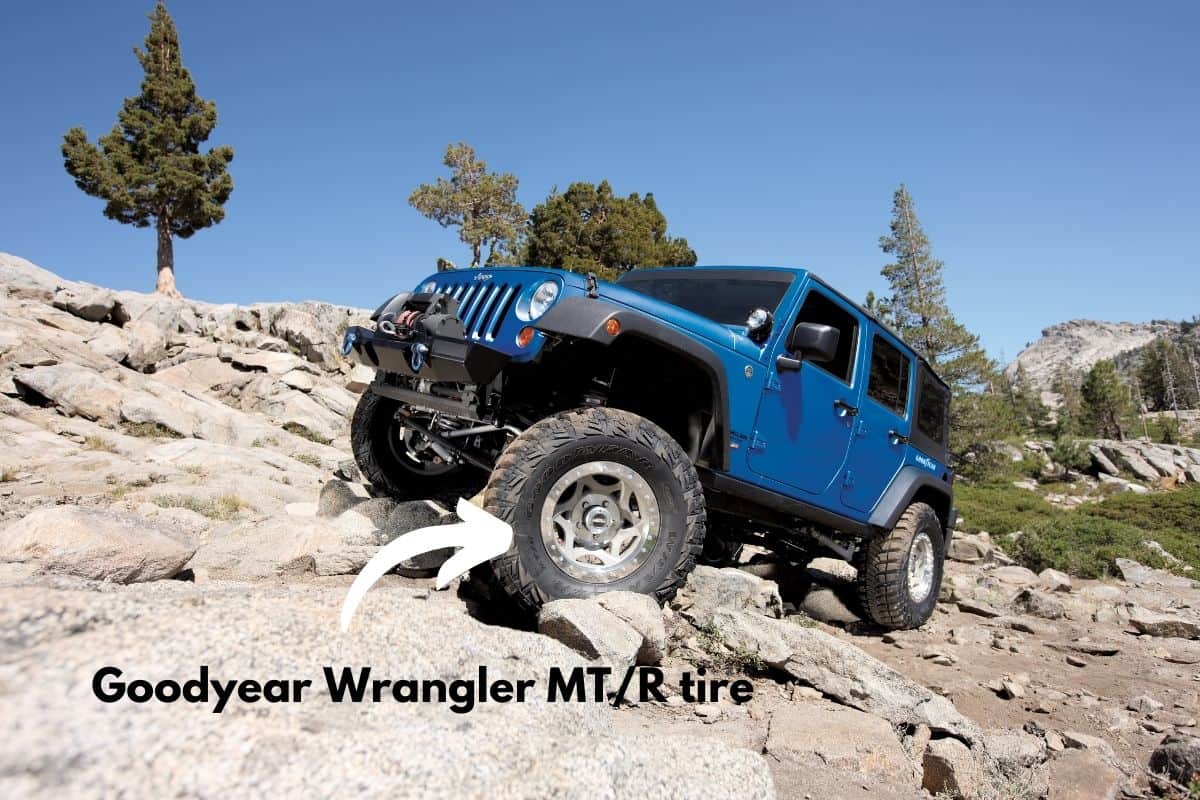 It is an excellent tire because of its great traction in rain and winter conditions, and it fairs pretty well in a muddy off-road environment.
Customer reviews are relatively well-received, earning an aggregate 4.4 rating on Goodyear's customer review site.
One customer review by User Vhjol7 pointed out that he took a four mpg fuel economy hit from these tires. The extra features of this tire might come at the cost of some of your fuel economy, so be careful about that.
It is essential to note it has an inexpensive upfront cost, but it might cost you some additional dollars in fuel economy in the long run.
It is also worth noting that the tread pattern of this tire is not rated for sand driving, so some of your off-roading adventures might be more difficult if you invest in this tire.
Still, it is one of the best off-roading tires on the market and excels at traversing rocks, earth, and muddy wet conditions and is the choice for customers looking for a tremendous off-roading performing tire that is versatile on-road as well.
COOPER DISCOVERER STT PRO
Discount Tire offers the Cooper Discoverer STT Pro for $252, although this price can differ based on the installation cost and the size of the tire you are looking for.
This tire is hailed as an offroad competitor to the Goodyear Wrangler tire and more off-road specialist tire. It is popular among Jeep owners and off-road lovers for this reason.
The Discoverer STT Pro features an ample shoulder tread with wider shoulder grooves that provide extra tire grip and alternating should lugs tread for that extra traction in off road situations.
The tire has built-in stone ejector ribs in the tire tread that will make it difficult for debris to get stuck and jam up your ride. It also has asymmetrical scallops that direct mud away from itself and into mud scoops that allow the tire to pull right through muddy situations.
It has a reputation to traverse some of the harshest terrains on earth while not taking a hit in its performance.
The Discoverer still has an excellent performance on pavement, but some owners complain that it is noisy during on-road trips. With these tires being so optimized for off-roading situations, it only makes sense that there would be some drawbacks.
This tire is for someone who thinks they will be spending most of their time in the vehicle going on off-roading adventures, which doesn't mind a noisy pavement ride across the highway.
Nitto Dune Grappler
Tire America lists the Nitto Dune Grappler tires at $335 each.
In contrast to the All-Terrain Adventure tires, the Nitto Dune Grappler tires are considered by some owners to be the best sand tires for the Jeep Wrangler. They have an excellent rating for sand traction and have built-in resistances to sinking and sliding.
It is one of only a few sand-specialized tires available for the Jeep Wrangler. This tire was made for drivers who love driving on the beach or through the desert and is the most popular choice out there for this purpose.
The Dune Grappler has a flamed tread block, which gives it its uniquely good performance in the sand and can avoid sinking.
The three-ply casing and sidewall lugs complement these features, giving them the rugged durability to stand up in other off-road environments. Owners report them being reasonably helpful in tackling mud and rock environments.
The drawback for these tires is that since they are so optimized for dry off-road environments, wet off-road environments will give them trouble.
User reviews described rain and wet traction in particular as areas where this tire particularly struggled to succeed.
Sand specialization also translates well to on-road conditions as it is reported as having a very smooth ride and doesn't make too much noise on the highway.
This tire is for an off-road enthusiast willing to spend a bit more for extra performance over dry off-roading environments and likes on-road performance as well.
Kumho Road Venture APT KL51
Amazon lists the Kumho Road Venture APT KL51 at $206 per tire.
This tire is an excellent choice for a Jeep Wrangler owner who doesn't do much off-roading. It is the cheapest tire available specializing in on-road performance and is still good at its job compared to more premium tires.
It delivers a comfortable and quiet ride with responsive control and stability. Despite being a budget tire, it is still quite at home on the road under adverse conditions, excelling under wet and snowy conditions as well as dry surfaces.
Its snow traction does leave something desired, but it does compete well for its price point.
This tire comes with a 60,000-mile treadwear warranty, and it wears its tread well, maintaining lots of grip and traction over its lifetime.
One big downside of the Road Venture tire is that it doesn't have an E load model available, which means it will not be doing much tractor towing.
Still, it is a solid tire for its price meant for a customer who favors on-road performance and likes to stretch their tire dollar far.