The Costs Of Owning A Toyota 4Runner Over Time
Toyota is a known brand for the reliability of its vehicles. But what is the actual cost of owning a Toyota 4Runner model vehicle?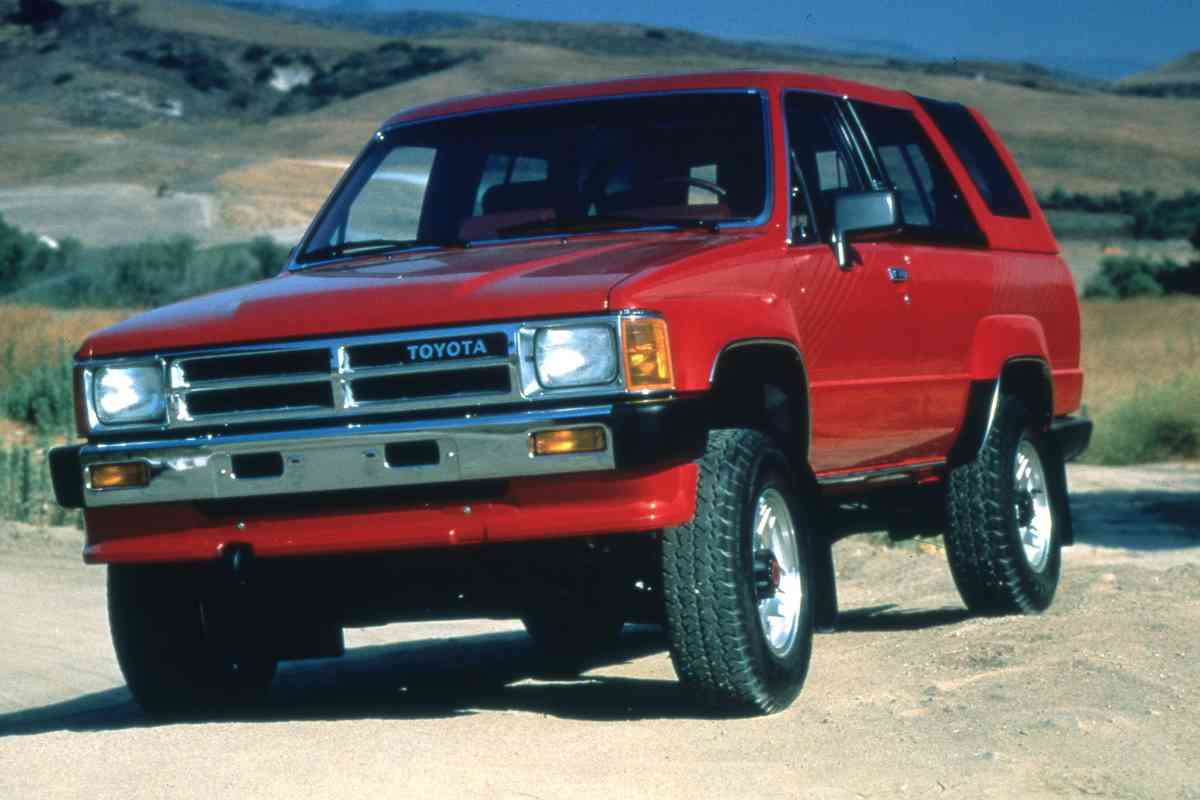 What are the yearly repair costs for a 4Runner?
Most owners report spending an average of $514 dollars annually on maintenance for their 4Runners, which is significantly less than comparable SUVs in this class.
The cost of owning a Toyota 4Runner doesn't end with its price tag, it also depends on fuel cost and economy, insurance fees, maintenance, and repair costs. Also, the vehicle's depreciation rate will affect the ownership cost.
We interviewed 4Runner owners to evaluate the Toyota 4Runner ownership costs over time. Also, we sourced data from insurance companies, automotive repairs, and our independent studies.
Toyota 4Runner Depreciation Over Time
If you take a keen interest in the roads, highways, or byways, SUVs are the most dominant as these vehicle categories have become more prevalent.
The explanation for these vehicle models' popularity is their off-road capabilities, rugged terrain performance, and body-on-frame for drivers who need a little more from their vehicles.
These vehicles' rough terrain and off road performance also boost their value retention. Though not all SUVs are equal in that regard.
The Toyota 4Runner is good at retaining its value to an extent where an old Toyota 4Runner model year resale value may exceed new models. Also, second-hand models don't stay on the market for long.
Toyota 4Runner models have an exciting minimalist approach, body-on-frame design, and powerful off-road capability. In addition, since its introduction, the Toyota 4Runner has been known to maintain a consistent quality product that has built a loyal following.
However, this doesn't mean the Toyota 4Runner is behind with recent improvements. Although, Toyota doesn't incorporate all simple tricks for its customers' interests.
It has unmatched reliability scores, four-wheel drive, and a spacious cargo compartment making it an excellent 4Runner for off-roading and all-terrain performance. These characteristics make Toyota SUVs a reliable and best-value maintenance model with an unmatchable resale value.
Specifically, the 2023 4Runner has a 58% resale value, higher than the 48.7% average value for SUVs. But what makes Toyota 4Runner a great deal at maintaining its value?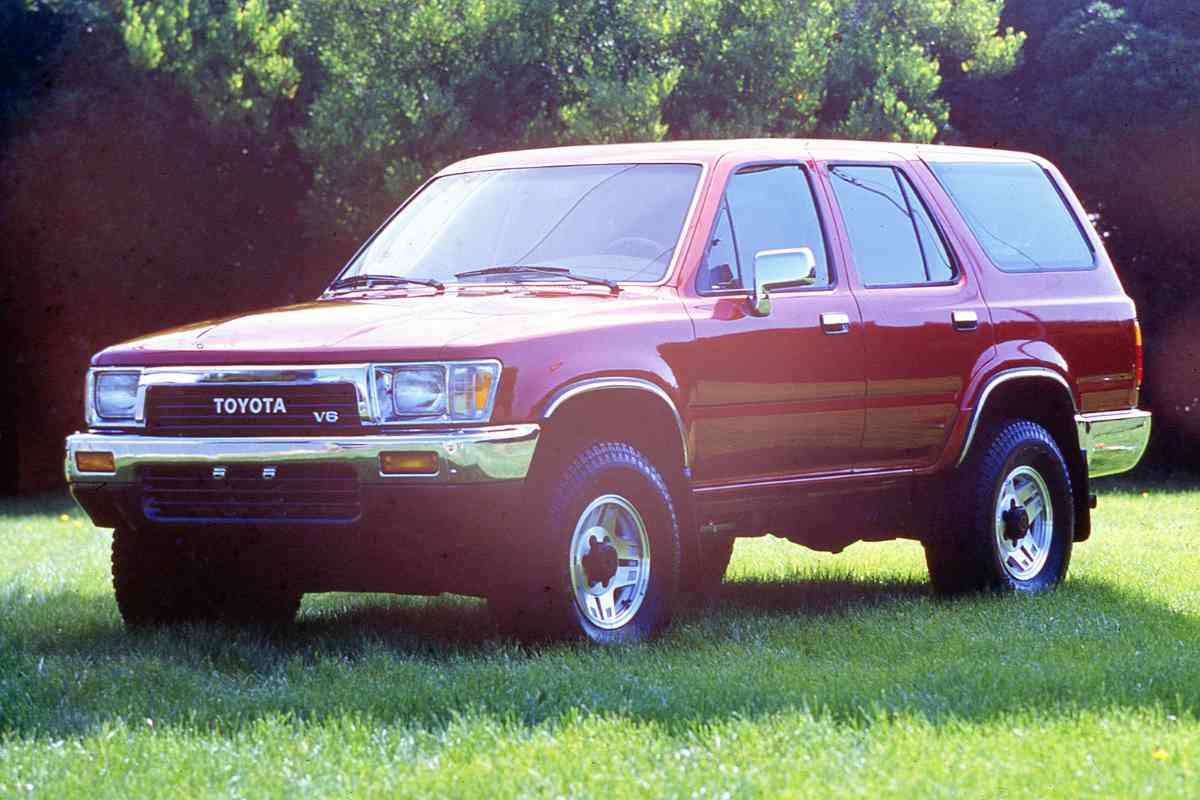 What Gives Toyota 4Runner a Low Depreciation Value?
Toyota 4Runner has come a long way dating back to 1984 since its existence. But the car is depreciation resistant with a good resale value compared to other vehicles in its range.
This value maintenance is a result of its:
Durability
During our interview with 4Runner owners, one of the owners appreciates that his Toyota 4Runner is older than him but runs better than he does. The car always offers an exciting performance in outdoor adventures or everyday commuting, emphasizing the vehicle's durability.
The 4Runner has a four-liter V8 engine pumping at 270 HP and 278 lb-ft torque, boosting performance. Also, the vehicle is comfortable with multi-level heating and leather seats.
Simple and Reliable
This Toyota 4Runner has a straightforward design. So owners don't have to deal with complicated technology and controls. But instead, get all that you require at a glance.
Since these vehicles have colorful lighting on all instruments for better night visibility, this car design will excite you if you are a minimalist.
In addition, the Toyota 4Runner will handle any terrain seamlessly. You can use it for camping, coast-to-coast, and even off-road trips.
Thanks to the vehicle's multi-terrain system. This system helps to regulate the brakes and throttle automatically, allowing you to concentrate on the road.
Moreover, it has downhill and start hill assist control, helping you to handle hilly terrains hassle-free. Also, it has a ground clearance of 9.6 inches, a 26-inch departure angle, and a 33 approach angle for easy traversing rugged terrains.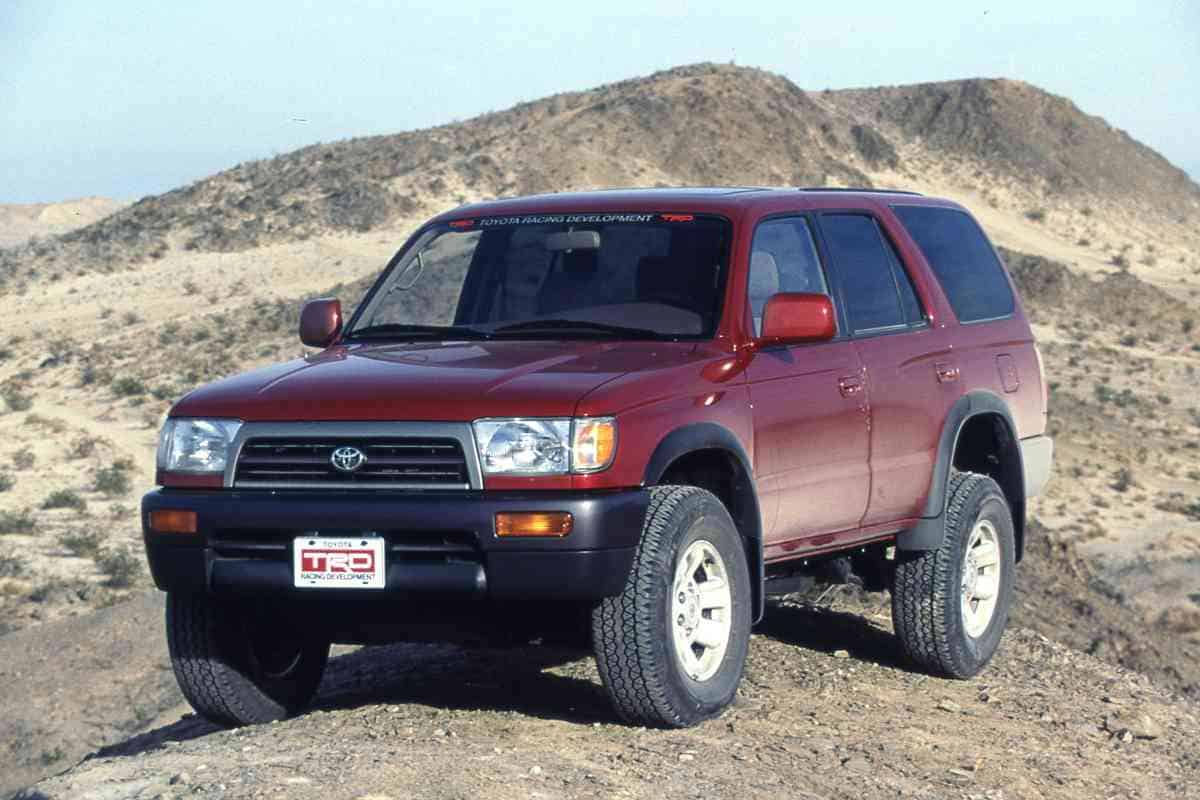 Spacious Cargo and Passenger Space
The Toyota 4Runner has a 5,000-pound holding capacity. So, you can pack your camping set, motor board, and jet ski, depending on your preference.
Also, this Toyota car has eight comfortable sitting capacities—enough for taking your friends and family on a trip.
Moreover, the cargo space is 46.7 cubic feet after folding the third set of seats. If you need more space, you can fold the second-row seats to get 89.7 cubic feet of storage space. Many 4-runner users agree this car is the best compared to other midsize SUVs.
With all this space, if you need extra cargo space, you can request a sliding cargo decker to hold up to 400-pound weight.
Outstanding Safety System
Toyota 4Runner cars have a high-quality safety system. The 2020 Toyota 4Runner has many safety precautions like vehicle stability control, innovative stop technology, android auto, traction control, automatic high-beam, brake assist, detection of pre-collision and pedestrian, anti-lock brake system, radar cruise control, electric brake-force distribution, and lane departure alert.
Outstanding Performance
Many Toyota 4Runners off-roaders appreciate these vehicles' reliability, versatility, and durability. In addition, these cars' capability is extraordinary in comparison to other vehicles.
For instance, comparing the 4Runner sr5 vs TRD off road performance.
Hence, think of a 4Runner the next time you visit your dealer. The vehicles are reliable, with a high resale value and excellent performance.
Toyota 4Runner Cost of Maintenance and Repair
The true cost of owning a Toyota 4Runner is much more than its price tag. When buying a vehicle, many people only consider its fuel consumption, insurance, and registration fees as part of their car's annual costs.
But some people tend to remember about time-to-time maintenance and repair costs. However, although some may consider it, they don't know how to estimate the costs.
Although the Toyota 4Runner tops in reliability costs of ownership, it may need some repairs. So, how much money will you spend on repairs and 4Runner maintenance??
According to our findings, people owning Toyota 4Runners will spend roughly $514 annually. In comparison, midsize SUVs cost about $573 for repairs and $652 for other vehicles, which are reasonably good.
How Often Does the Toyota 4Runner Need Maintenance?
We asked one mechanic who owns a Toyota 4Runner repair garage how often these vehicles need a major unscheduled repair in three years. In this case, a significant repair refers to a costly system breakage that needs repairs.
Please note that although we are handling the details on a vehicle model basis, other issues influence the cost of maintenance and repairs.
Some factors include; driving history, mileage, and the car's condition. Also, different vehicles need maintenance in different frequencies. In comparison, new cars don't require as much attention as old vehicles.
However, from our garage research, Toyota owners pay about 0.4 percent yearly for unscheduled repairs. In comparison with other mid-size SUVs, and other vehicle models, the 4Runner equals in terms of unscheduled repairs, which is also at 0.4 annually.
From the findings, 13% of the Toyota 4Runner's unscheduled maintenance is a significant issue. There is no difference compared to midsize SUVs, which are also at 13%. And 12% for average vehicles is almost the same for maintaining a 4Runner.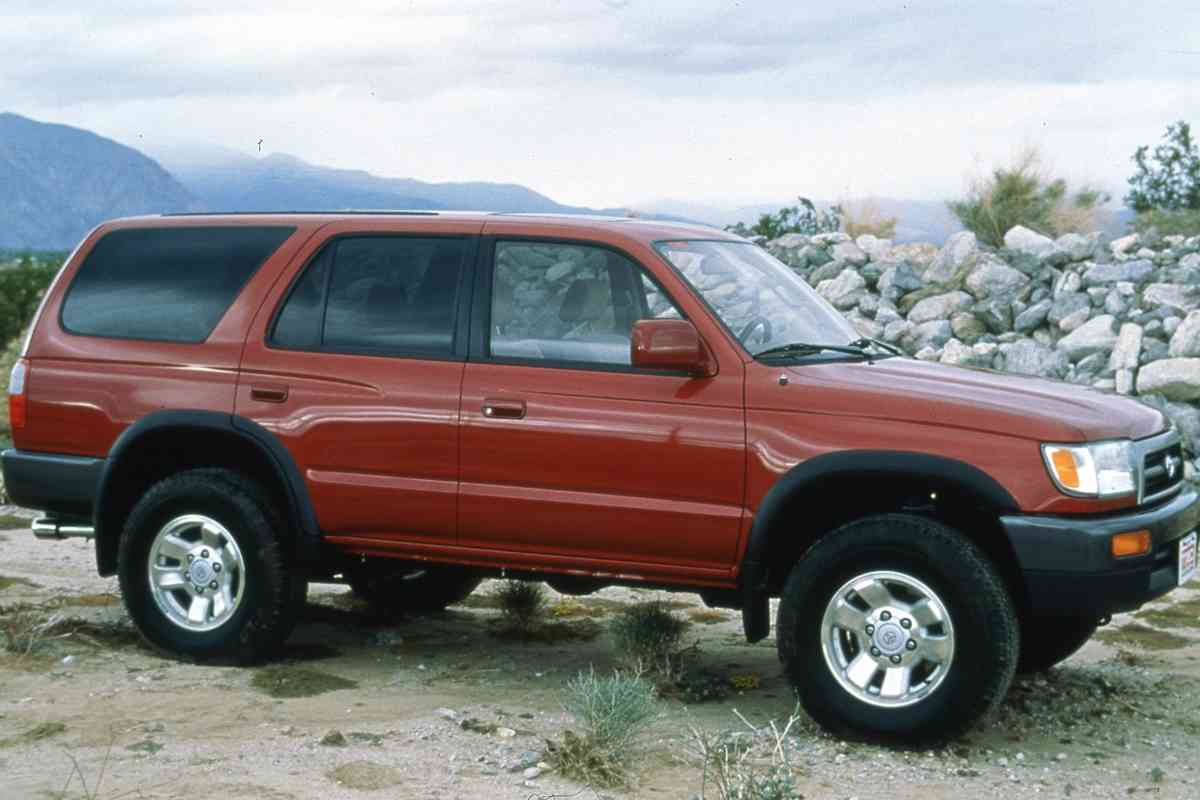 What Determines Toyota 4Runner Maintenance Costs?
There are a few things that determine your Toyota 4Runner annual maintenance cost. We have some of the factors into three categories.
Your geographical region location and vehicle driving condition the car is used in
Preventive car maintenance
Exact trim levels, transmission, configuration, packages, and options of the vehicles.
Geographical Region and Vehicle Driving Condition
Vehicle usage is among the top determinants of vehicle maintenance costs. Driving cars in harsh weather conditions translates to higher maintenance and repair costs.
For example, would you buy a one-owner grandma van in southern California only used for churchgoing or get a van in Boston for delivery services? Many people would instead go for the second option.
Some of the best driving conditions include;
Smooth and level roads
Warm temperatures weather
Unsalted roads
Continuous cruising commutes
On the other hand, some of the unfavorable conditions include;
Heavy potholes terrains
Extreme cold or hot weather
Salted roads
Short trips with stop-and-go traffic
Car Preventive Maintenance
The cost of scheduled maintenance and requirements depends on your vehicle's model. Luckily, maintenance repairs help you to avoid the high costs of unplanned repairs.
You often need to check your recommended vehicle maintenance schedule on the owners' menu to check which maintenance services you need and when to do them.
Though new vehicles need less maintenance than old ones, besides, there are general maintenance needs that every car needs. These include;
Oil change: Changing your vehicle's engine oil between 5,000 to 7,500 miles or after every three months is advisable.
Tire rotation: generally, a car's front tires carry the most weight of the vehicle. And because of this, tire rotation is recommendable to avoid overstressing by distributing the weight evenly to the rest of the tires. For best results, it is good to do tire rotation after every oil change.
Multipoint inspection: after every oil change, it is recommendable to check the following factors;
Inflation pressure
Fluid levels
Tire tread depth
Timing belt
Battery
Air filters
Hoses
However, some insurance companies offer their customers free inspections. Furthermore, your vehicle will require wearable parts like the tires. Whereby the wearable parts determine your ride quality and comfort.
Also, as your car models get older or if you get a used car, the replacement and repair costs start rising. For example, if you own a Toyota 4Runner, the replacement costs will rise as it ages.
In addition, the more expensive a car is, the more expensive its replacement parts are. The replacements and repairs charges include;
You need to check your Toyota 4Runner tires once a month for any tears and cracks.
Use the penny test for the tire tread depth
With time you can change the rubber of the wipers
Experts recommend their chance within 6 to 12 months.
Engine filters help to prevent debris and dust from clogging the engine
It is advisable to replace them 20,000 to 60 000 miles.
You need to change the brake pads every 30, 000 to 50,000miles
Exact Trim Levels, Transmission, Configuration, Packages, and Vehicles Options.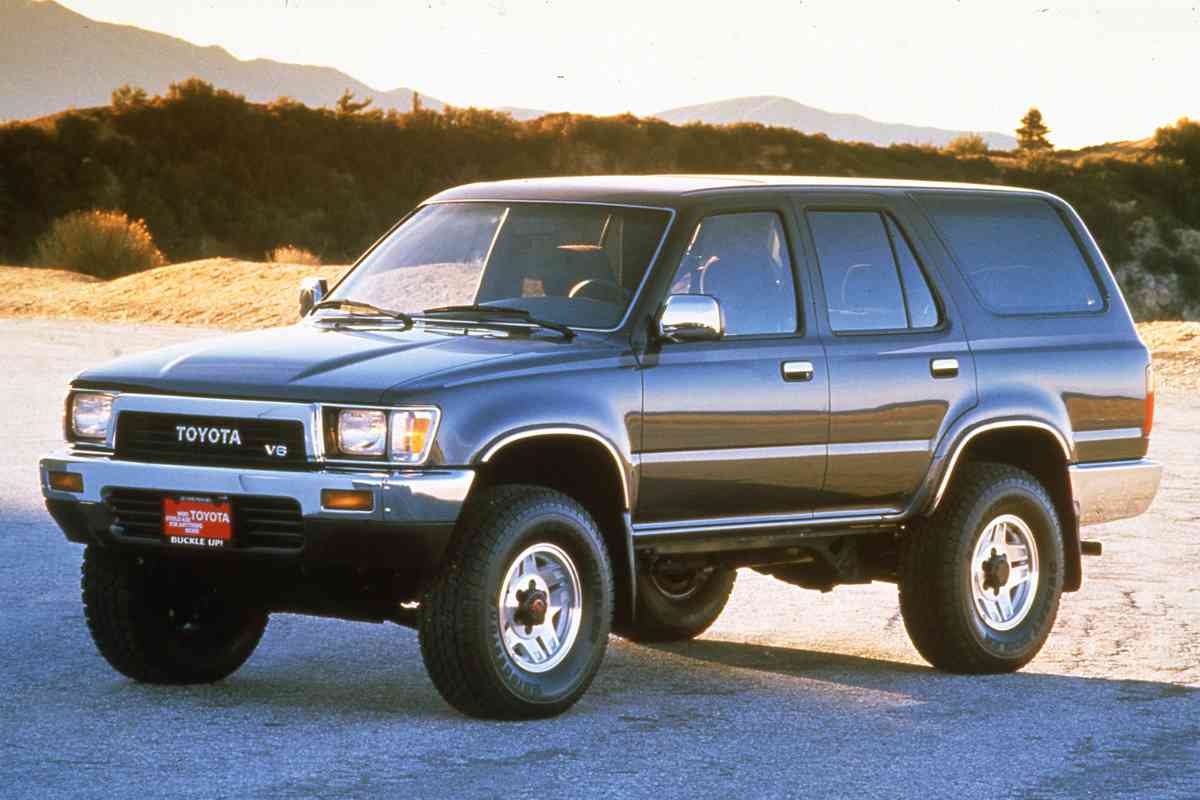 Although not a rule, the more moving parts, packages, or options your car has, the more maintenance and repair needs.
For example, a car with Apple car play, Bluetooth, a touch screen system, and a climate regulator, among other things, has more items to break. Compared to vehicles with a simple steering wheel and radio.
Also, you might face more challenges if you go for a four-wheel drive instead of either rear-wheel drive or front-wheel drive in terms of maintenance and repair.
Four-wheel drive is best when driving through uneven terrains. And using it all the time may strain the car driveline.
How Frequently Does a Toyota 4Runner Require Maintenance?
We have important information on the 4Runner care regarding mileage for better performance. In addition to the reduction of ownership costs
5,000 miles: inspect brake linings and pads, check wiper blades, check and adjust all fluid levels, and rotate the vehicle tires.
10,000 miles: replace engine oil and oil filters, rotate tires, replace cabin air filter, check brakes linings, inspect wiper blades, and adjust all fluid levels.
15,000: inspect wiper blades, adjust fluid levels, examine brake linings and pads, inspect ball joints and dust covers, examine drive shaft boots, examine brake hoses and lines, check the engine coolants, radiant and condenser, exhaust pipes and mountings, steering gear, rear differential oil, steering linkage, and boots.
20,000miles: rotate the tires, and replace the cabin air filter, engine oil, and filter. Also, inspect wiper blades, brake pads, and lining, and adjust all fluid levels.
25,000 miles: rotate the vehicle tires, inspect wiper blades, and adjust fluid levels, brake pads, and linings.
30,000miles: check and regulate all vehicle fluids, rotate tires, inspect wiper blades, brake pads, and lining, dust covers and ball joints, brake hoses and lines, engine coolant, drive shaft boots, exhaust mountings and pipes, condenser and radiator, steering linkage and boots, steering gear, transmission, and rear differential oil. In addition, replace the engine oil filters, cabin air filters, and examine the fuel lines.
35,000 miles: examine brake linings and pads, rotate tires, inspect wiper blades, and regulate all fluid levels.
40,000 miles: restore engine oil and filter, rotate the tires, adjust fluid levels, examine and regulate fluid levels, and inspect brake lining and pads.
45,000 miles: examine wiper blades, dust covers, and ball joints; adjust all fluid. Inspect brake lines and hoses, radiator and condenser, engine coolant, exhaust pipes and mountings, brake pads, steering gear, radiator and condenser, rear differential oil, steering linkages, and boots.
50,000 miles: inspect wiper blades, adjust fluid levels, brake pads and linings, and replace engine oil, engine filters, and cabin air filter.
55,000 miles: rotate tires, inspect wiper blades, brake pads and lining, and adjust fluid levels.
60,000 miles: examine wiper blades, adjust fluid levels, brake pads and linings, dust covers and ball joints, brake hoses and lines, engine coolant, drive shaft boots, exhaust pipes and mountings, condenser and radiator, steering linkage and boots, steering gear, transmission, rear differential oil, and replace engine oil and filter, engine air filter, cabin air filter, and spark plugs.
65,000 miles: rotate tires, examine and regulate fluid levels, brake linings and pads, wiper blades, and rotate tires.
70,000 miles: inspect the brake linings and pads, adjust fluid levels and wiper blades, and change engine oil, filter and cabin air filter.
75,000 miles: inspect engine coolant, drive shaft boots, wiper blades, brake pads and linings, dust covers and ball joints, exhaust pipes, mountings, brake lines and hoses, condenser and radiator, steering linkage and boots, steering gear, rear differential oil, drive shaft boots, and rotate tires.
80,000 miles: examine wiper blades, brake pads and linings, adjust fluid levels, rotate tires and change cabin air filters, engine oil filters and engine oil.
85,000 miles: rotate car tires, examine brake pads and linings, rotate tires, inspect wiper blades, and adjust fluid levels.
90,000miles: check drive shaft boots, exhaust pipes and mountings, brake lines, hoses, brake pads and linings, engine coolant, dust covers and ball joints, wiper blades, adjust fluid levels, radiator and condenser, steering linkage and boots, rotate tires, steering gear, transmission, rear differential oils, and fuel lines. Then change the engine air filter, cabin air filter, oil filter and engine oil.
95,000 miles: check the brake pads and linings, rotate tires, check wiper blades and adjust fluid levels.
100,000 miles: change engine oil, filter and cabin air filter. Then rotate the tire and check the wiper blades, fluid levels, brake pads and linings.
What is the Cost of Toyota 4Runner Insurance?
According to different insurance companies' findings, Toyota 4Runner insurance costs about $1,332 on average. Though this applies to typical insurance covers.
Several factors determine the true costs of your insurance coverage. The costs determinant includes; vehicle driver age, driving records, and location. Though, different insurance companies have different charges.
What is the Difference Between Toyota 4Runner Insurance and Other Toyota Models?
The Toyota 4Runner has different insurance rates in the Toyota portfolio, even with the same mileage. The difference may be a result of the following;
Toyota 4Runner has several safety features differences. Including lane departure warnings, the number of airbags, adaptive cruise control, traction control, electronic stability control, and anti-lock brakes, among others.
Repair and replacement cost difference
Vehicle size difference. For instance, a large car is more prone to damage than a small car.
Theft ease differences (anti-theft system and electronic keys)
How to Understand Your Insurance Charges?
Many times insurance premiums cover;
Liability Charges
This plan covers other persons and property damage resulting from the accident you encounter. If you encounter an accident with another vehicle head-on, it will cover both vehicles' occupants.
The occupants will get payment for property damage, bodily injury, medical bills, and other charges.
However, insurance companies many times underwrite these liability and medical bills payments. A standard Toyota 4Runner liability insurance costs $316 typically.
Collision Coverage
This insurance plan will cover your vehicle's physical damage in case of an accident. And it is vital if you are leasing your car or financing it.
The standard collision coverage of a Toyota 4Runner is $532.
Comprehensive Cover
comprehensive vehicle insurance cover will help you to replace, repair or pay for your car damage in case of any accident that isn't a collision. Sometimes people refer to it as "other than collision" insurance cover.
Similar to collision, your car will require this cover if it's leased or financed. In contrast, a standard Toyota 4Runner comprehensive cover costs $348.
Factors that Affect your Insurance Coverage Rates
Your insurance cover costs vary depending on several factors.
Age
The driver being insured age is one of the significant factors affecting these charges. Whereby people believe that age comes with experience. And the assumption is that the older the driver is, the more experience they have.
On the other hand, a young driver needs more experience hence the high insurance rates. Different insurance providers' data show that a 16-year-old teen driver's coverage can be as high as $4736.
Also, younger male drivers have a speeding tendency which sometimes results in faulty accidents, unlike female drivers who are more careful.
These charges stabilize as the drivers age between 30 to 60 years. It costs only $1332 for a 40-year-old, less than for teens. Similarly, as the drivers' age, the insurance rates increase.
State/ Where you Live
Generally, insurance costs depend on your region. The insurance financial analyzers weigh some factors depending on your residence or operation area. These factors include;
Probability rate of an accident in your area. The assumption is that densely populated areas are prone to accidents per mile. While the sparsely populated areas have a low probability of accidents.
The costs of repair where you live or operate. For instance, California's repair costs differ from those in Los Angeles.
How to Get the Best Toyota 4Runner Insurance Company?
Sometimes it takes work to get the best insurance company and rates. But you can consider the following factors to decide and compare available rates for your vehicle.
Some insurance providers will not give their quotes via comparison sites. In this case, you may need to go directly to the providers to get your car quote.
Compare insurance coverage costs. However, please remember that getting the cheapest provider is not the goal. The reason, the covers may omit necessary coverage. Before looking for the best cover, decide what you need to cover first, then compare the quotes with future benefits.
Consider the company's claim-free discounts offer. These discounts will be helpful if you are a careful driver, as you get some savings from your yearly costs.
Get an insurance agent with excellent customer service. And also someone who can handle any query before you sign the agreement. Before signing on those dots, ensure you commit to the best rates and the right coverage.
Finally, your driving history significantly determines your quote, as safe driving will save you money. Due to this, you need to confirm with your providers the discounts available for "good behavior."
What are Toyota 4Runner Financing Options?
There are several ways you can finance your Toyota 4Runner. These prices include the following;
Private seller price refers to the money you give a private seller when purchasing a car.
Dealer price: this is the amount you pay to a dealer for a Toyota 4Runner.
Trade-in value financing: trade-in is the amount of money you expect from a dealer for your Toyota 4Runner when selling it and getting another vehicle.
Private sale: this is where you sell and get money for your Toyota 4Runner privately from a buyer.
Loan: you can also get a loan to finance your car.
Which is the Most Reliable Used Toyota 4Runner?
If you are a car enthusiast, you know the Toyota 4Runner is reliable. The first car came into existence in the 1980s. Although the models are great, it would help to get a fourth or fifth-generation 4Runner used car, depending on your budget.
Though there are Toyota 4Runner years to avoid for some reasons. Here are some reliable models you can consider as second-hand.
Fourth Generation SUV
Toyota 4Runner's fourth generation starts from 2003 to 2009, and it's an excellent place to start. These cars have a V6 245hp 4.0 liter or a V8 265hp 4.7 liters. The vehicles in this category are reliable, though some are better in reliability.
If you need the most reliable among these cars, the Toyota 4Runner 2008 tops the list. This car won the J.D. power dependability award.
This vehicle boasts an 87/100 reliability score and is consumers' favorite SUV. In addition, the 2007 model came top among its competitors and won the number one SUV award for quality.
Moreover, the 2004 and 2005 4Runners also were given quality awards from J.D power. However, reports show that early-model cars are less reliable than after-2005 models.
These findings don't mean you should avoid early models if you need a used 4Runner. But instead, it means you will get a better one from 2005.
Fifth Generation SUVs
The Toyota 4Runners fifth-generation cars are also reliable off-road icons. Whereby vehicles in this category run from 2010 up to now. And the 2023 Toyota 4Runner models have similar designs to 2010, with a V6 4.0-litre engine.
But the models differ a bit, though. For instance, from 2010 to 2013, runners have great power and high reliability ratings.
The 2014 to 2016 4Runner models' rating was above average, with scores between 78 and 80 out of 100. On the other hand, the 2017 model is dependable, gaining a ranking of 88/100 from consumers.
With this, it's evident that Toyota 4Runners retain their values to the extent that used models are not always cheaper than new models. Thanks to their low depreciation rate.
Fuel Economy
Toyota 4Runner has 23 gallons of fuel capacity– an ideal size for a SUV. This capacity tank will hold enough gasoline for your trips. Hence you will spend less time at the gas station and more on the road.
On a full tank, a 2023 4Runner can go up to 500 miles which is favorable for a SUV. According to EPA estimates, one 4Runner gallon can cover 16 city miles and 19 on the highway giving an average of 17 mpg on their models.
Toyota 4Runner has a 4.0-liter V6 and 24 valves on all its models, with the perfect horsepower to traverse all terrains. In addition, it has 278 lb-ft torque and 270 hp for towing up to 5,000 pounds, setting standards for SUVs in their class.
Key Takeaways
Toyota 4Runner has a low depreciation rate.
Scheduled vehicle maintenance helps to avoid future unexpected repairs.
Some costs of owning a 4Runner include insurance, repairs and maintenance and fuel.
Toyota 4Runner is a reliable vehicle in terms of ownership costs.
Toyota 4Runner insurance costs also depend on the driver's age and state.