What Is the Difference Between TRD Off-Road and SR5 4Runner?
This post may contain affiliate links. As an Amazon affiliate, I earn from qualifying purchases.
The Toyota 4Runner is one of the most unique vehicles in the industry. It can seat seven people and get your family where you need it to go, but it also is awesome when it comes to off-roading and can actually tow a fair amount as well. That mixture between space on the inside of the vehicle as well as the ruggedness on the outside of the vehicle leads to some interesting situations for customers.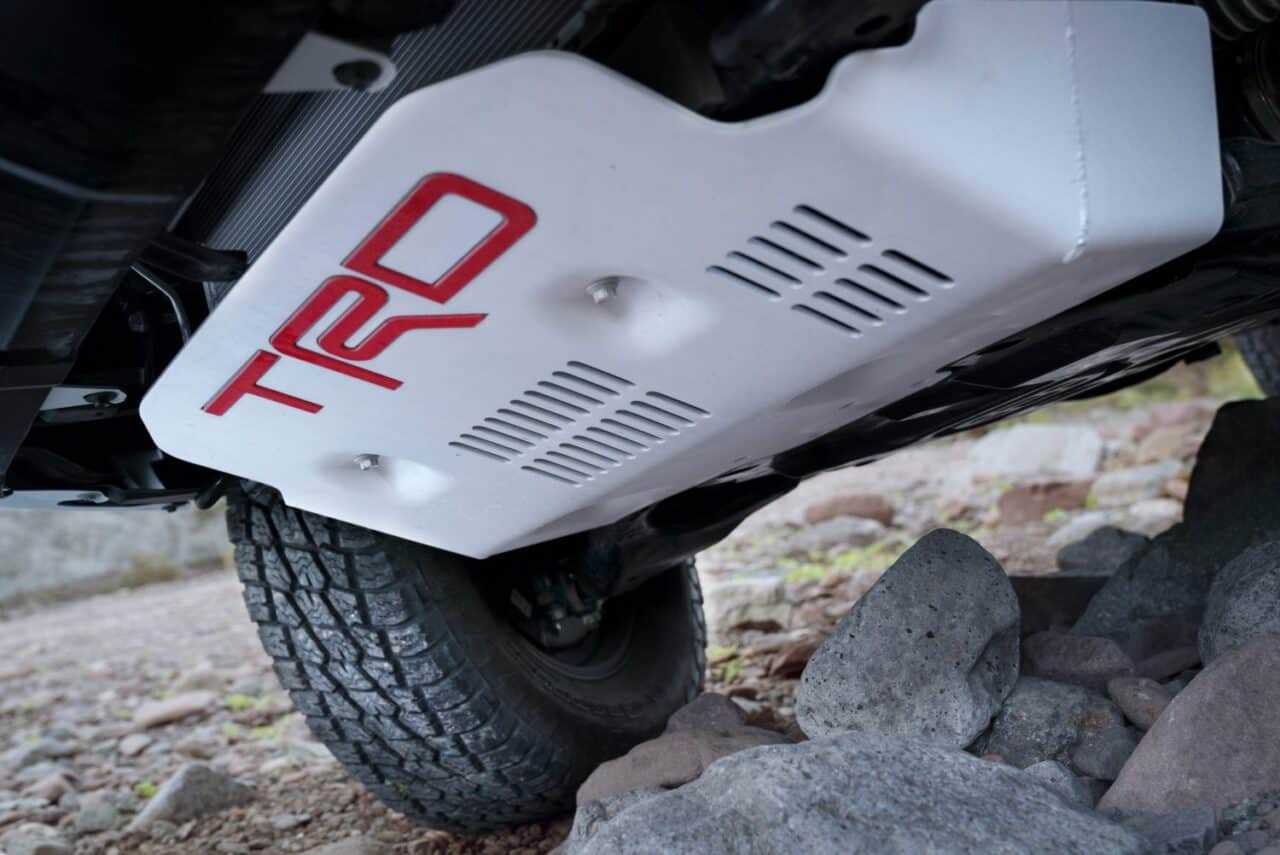 However, your choices do not end when you decide to pick a 4Runner over other vehicles. There are also many trim packages and optional upgrades that you may decide to pick between.
Obviously, a lot of people want to know what they are getting for their money. So today, we're taking a look at the SR5 model as well as the TRD Off Road to compare the differences and see where you really get your bang for your buck.
The Difference Between TRD Off Road and SR5 4Runner:
The SR5 is the base package for the Toyota 4Runner. The TRD Off Road Package adds a few things including a locking rear differential, a crawl control function, other off-road settings, as well as an optional dynamic suspension system.
While the SR5 is capable of hitting different trails, the TRD Off Road Package is specifically tuned for that job. That means you'll have even more off-road capabilities in the TRD.
Obviously, there is a slight increase in the money you'll pay for the package as well, so if your budget is an issue you will need to get specific quotes from your dealer.
Now, we're going to dive even deeper into these models to give you an idea of the real differences between the two packages as well as provide in-depth information about the 4Runner so you can make a purchasing decision that fits your exact needs correctly.
The SR5
While the SR5 is the base model of the Toyota 4Runner, it still has a lot of perks and features that other vehicles don't. With the SR5, you get the "Safety Sense" feature which is standard on all 4Runners which includes a pre-collision system that has pedestrian detection.
Obviously, pedestrians are becoming more of a hazard to drivers as cities get busier and people become less aware of their surroundings. This is a great way to keep your car under your control.
On top of the pedestrian detection system, the 4Runner also has lane departure warning. This system can be a bit touchy at times but it definitely helps drivers, especially new ones or people who are uncomfortable when driving to get things exactly right.
In line with their safety features, the SR5 also offers automatic high beams and adaptive cruise control.
Some people think that these items are conveniences, but they definitely belong in the safety category. With automatic high beams, you will never have a problem with blinding other drivers.
Many people think that high beams never will cause them any trouble, but if you are blinding another driver, that can actually put you into a very serious situation.
Adaptive cruise control definitely helps you drive and makes long road trips much easier to deal with, however it should make things safer as well as you don't need to worry about your speed as much and it can help you adjust to the traffic flow better than you would be able to on your own.
On top of that, your SR5 comes with some great features on the exterior of your vehicle as well. That includes skid plates, foglights, and a power outlet in the cargo area which is rarely thought about but the placement makes life a lot easier if you are out on a camping trip or something like that.
People who use the SR5 heavily for outdoor trips like adventures are going to love that, as well a power rear window that can be lowered that lets you feel like you're in the open air.
Both of those features give you a little bit more of a sense of freedom than you might have in other vehicles of this class.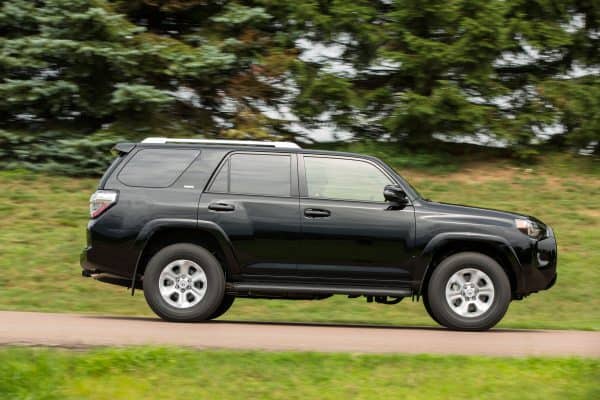 Of course, the 4Runner has upgraded so that even the SR5 finally has Apple Car Play and Android Auto.
These systems are fairly common on most new vehicles, so it isn't necessarily a bright spot that the SR5 has them, however it has wrapped up a long issue that people had with Toyota when their cars didn't come with this expected package.
Regardless of whether you have an Apple phone or an Android phone, these technologies definitely make it easier to use your phone when you are on trips so you aren't driving in a distracted manner.
Studies have shown that the importance of this outweighs a lot of other things, so it isn't something you should take lightly.
Stepping Up To the TRD Off Road
When you are stepping up to the TRD Off Road package, you should think about your needs as a consumer.
Are you actually someone who is going to be going on adventures often and hitting trails when you are going on camping trips? If your answer is no, you probably don't need to upgrade to this package because it is so fine tuned to give you exactly what you need in the outdoors.
If you are someone who is simply using the 4Runner as a basic daily driver, you may want to go for a different upgraded package, but you probably do not want the TRD Off Road.
This is because it doesn't really add a significant amount of luxury or comfort to your vehicle, it is simply all about making it better when it comes to the off road part. If you need a reminder, it is right in the name of the package.
Anyway, the TRD Off Road package adds a locking rear differential, which so many outdoor and trail enthusiasts will tell you is a huge deal when you are trying to tackle something that you may not think is possible.
On top of that, the multiple off-road settings that you get with the Multi-Terrain system come into play more often than not as well. A crawl control function helps you make it up some steep paths that may not seem as easy without that function.
One big upgrade to the TRD Off Road is its Kinetic Dynamic Suspension System, also known as the KDSS. The KDSS is an optional upgrade, however it is available on the TRD Off Road Package and it is not available with the SR5 package.
Having a more dynamic suspension system is going to allow your vehicle to adapt to its surrounding easier than it normally would.
Driving this model of vehicle is one that is solely built for off-roading purposes. Of course, the TRD Off Road package performs similarly to the SR5 when it comes to on-road performance.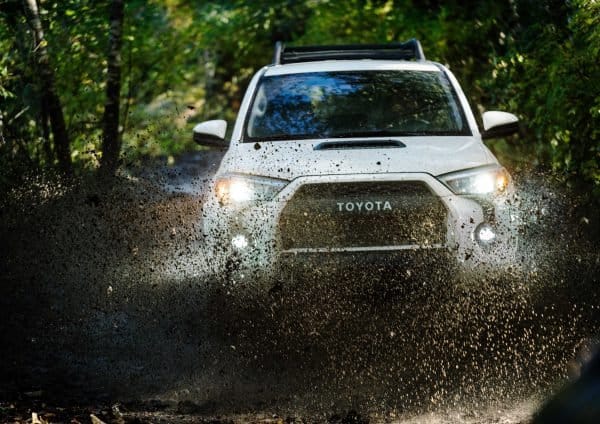 If anything, the SR5 may have a slight edge because of more performance being tuned to the "regular" driving of the day-to-day, but in practical application if you compare these two vehicles, you are not going to see much of a difference.
When it comes to the "Premium" version of these packages, that refers to more of the luxury and the comfort that you feel inside the vehicle.
If you are a big off-roading enthusiast, you do not need to try and spend more money for the "SR5 Premium" edition because you aren't even getting as much off-roading ability as the regular TRD Off Road Package would get you.
For those with a budget that doesn't matter, you could think about looking at the TRD Off Road Premium version which will combine both of the off-roading prowess along with the luxury of a premium interior vehicle.
Conclusion
Your choice between the SR5 and the TRD Off Road will basically be determined by what your plans are for your vehicle.
If you are driving solely in the city and the suburbs and need to take one "adventure" trip per year, you are probably going to be satisfied by the SR5 and what it can do.
If you frequently take camping trips and are hitting trails every single week, then you probably want to look into the TRD Off Road Package to see how it measures up to other models and what it can do for you.
More 4Runner Resources
If you enjoyed reading about the Toyota 4Runner, you will surely appreciate my other related articles. These articles delve deeper into specific aspects of the 4Runner such as its off-road capabilities, interior design and technology features. Additionally, I have compared the 4Runner to other popular SUVs in its class to help you make an informed decision about your next vehicle purchase. Give them a read; I am sure you will find them as interesting and informative as the first article.