The "Almost" Perfect Overland Rig (A Reader's Story)
Over the past few months, I have gotten to know Alex and Dmitri. As I learned more about their story, I asked if they would share their experiences and overland rig with everyone here at Four Wheel Trends. I was fascinated by their story and knew others would enjoy knowing more.
Alex and Dmitri are currently traveling the world in their Toyota Tacoma and run their business, Offroam (getoffroam.com) from the road.
If you would like to follow their adventures you can find them on Instagram and YouTube.
Here's their story…
The Almost Perfect Overland Rig
By Alex and Dmitri
Being an overlander calls for some compassion: we are consumed with the notion that our rigs must be 100% perfect before setting off on a journey.
Yet, when we dare to hit the road, we often find that it is the vehicles that are far from perfect, the ones that locals use to do the hard work, month after month carrying heavy loads to remote areas.
May 2020 – driving into Big Sur, we were a few minutes from our usual camping spot.
This was our Friday tradition: packing up our rig, stuffing it with delicious snacks and heading out to the greatest hits of camping in California, whether it's the coast, the tall ancient Redwoods, the Sierras or the desert. Partially for a reset, partially to get our rig ready for a world tour.
This build is our 4th. We made a living running an adventure rental company out of San Francisco which then transitioned into product business Offroam – and with certain confidence, we can say that there is no magic formula for building out a vehicle.
Every rig is a reflection of the owner's dreams of the kind of trip they want – and most importantly: every build is a compromise.
Knowing that, we set only one criteria for our build: the truck needs to be willing and able to go anywhere we want to go.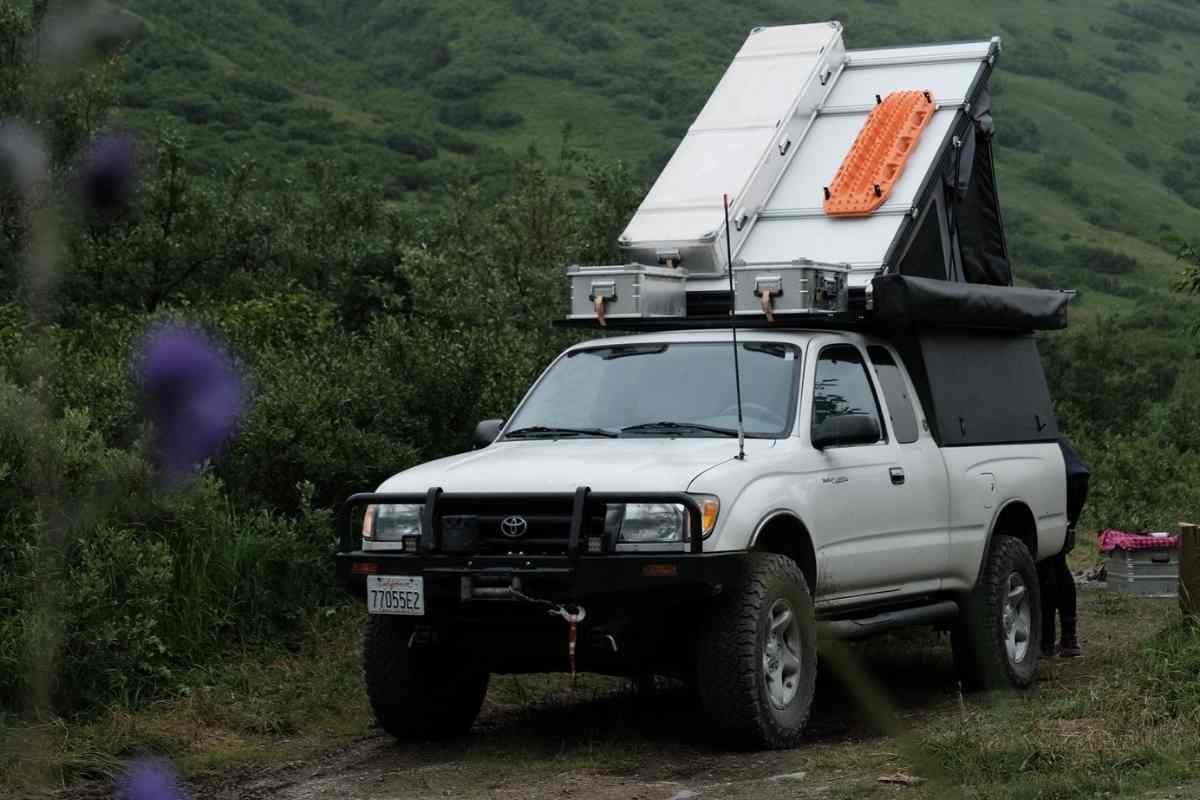 Willing to go anywhere
Willing to go anywhere is about having the freedom, and not the latest upper control arms or diff locks. This freedom of breaking out of the golden handcuffs and reprogramming ourselves.
We asked ourselves: how much of our current paycheck goes to generate the next one?
If it wasn't for the desk job, would we still live where we live? Would we wear the same clothes if it wasn't for the "status quo" that we were expected to maintain?
Willing to go anywhere is not about the rig at all; and that's the point – the rig needs to get out of the way of the trip.
We do not intend to spend the next two years glued to our truck – in fact, as we write this, we are planning to park our Taco, fly to Paris to meet our friends and spend 2-3 months on the road across Europe.
What we knew we didn't want was to spend a fortune building a dream overlanding vehicle, the one that would look the part and demand attention on the road, but also would cause us to overstretch ourselves financially and bend the trip to its ways. Or worse: not let the trip happen at all.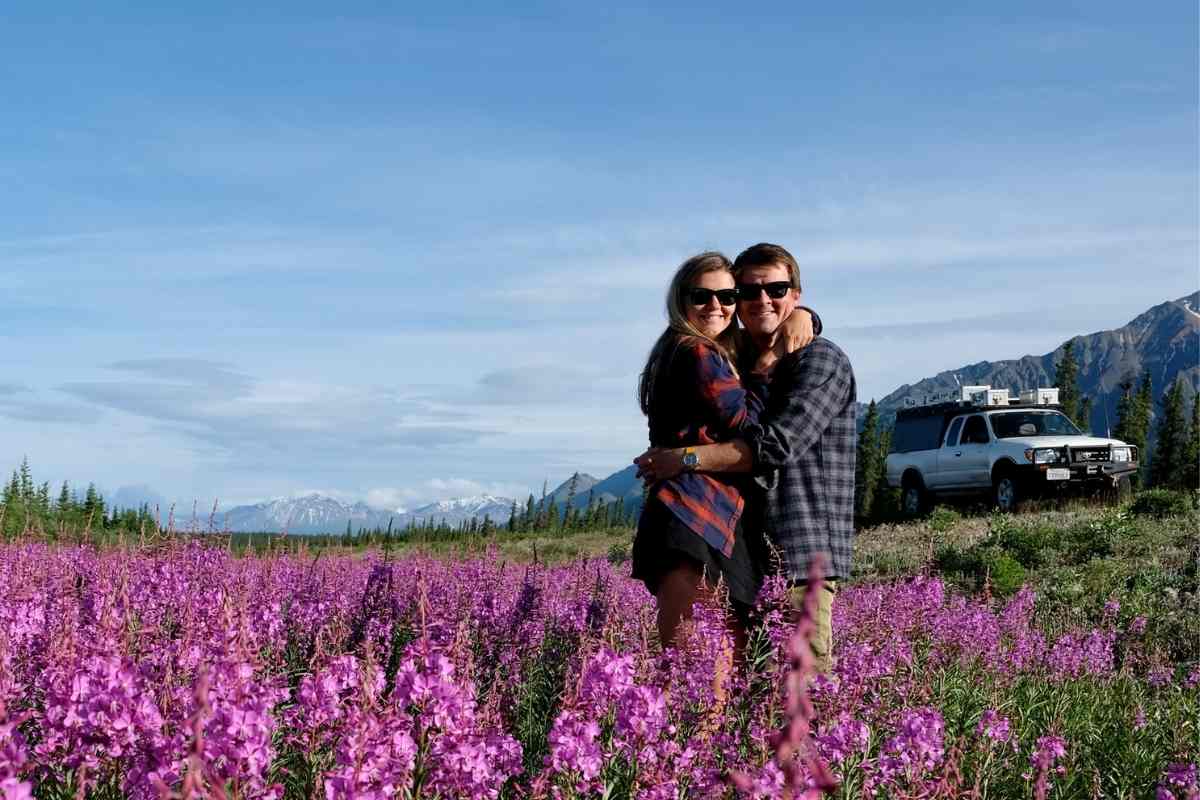 Able to go anywhere
Unless you have an 8×8 Amphibious Argo that can truly go where you point it, we are sticking to roads. Some paved, some gravel, some barely maintained – but still roads.
This logic steered us away from over-rotating on off-road capabilities in our rig. For the trip we wanted any simple 4×4 with a low-range, good amount of suspension down travel & and a decent amount of clearance will do the trick.
Any stock truck fits this bill.
Able to go anywhere is about leaving the trip as unscheduled as possible: not forcing us to stick to campgrounds, or to seek out electrical hookups, or detour towards water re-fill stations.
And once we got to where we wanted to spend a day, a night, or more: we wanted to experience what the place had to offer. And that meant we had to be outside as much as possible. If we wanted to be indoors, then indeed why leave in the first place?
This desire eliminated vans or enclosed campers – that force you to cook and therefore be inside. Instead, our rig forces us to be outside. Yes, we "miss out" on stealth camping in the Walmart parking lots – and that's by design.
The build
As of September 2021, we have traveled out of Taco full-time for almost 4 months and experienced many different sub climates and time zones, including Alaska and Yukon.
Our hunch to go with the build that would allow us to spend all our time outdoors paid off – we are, in fact, outdoors all the time. Let's get into the nitty-gritty of our build for a moment.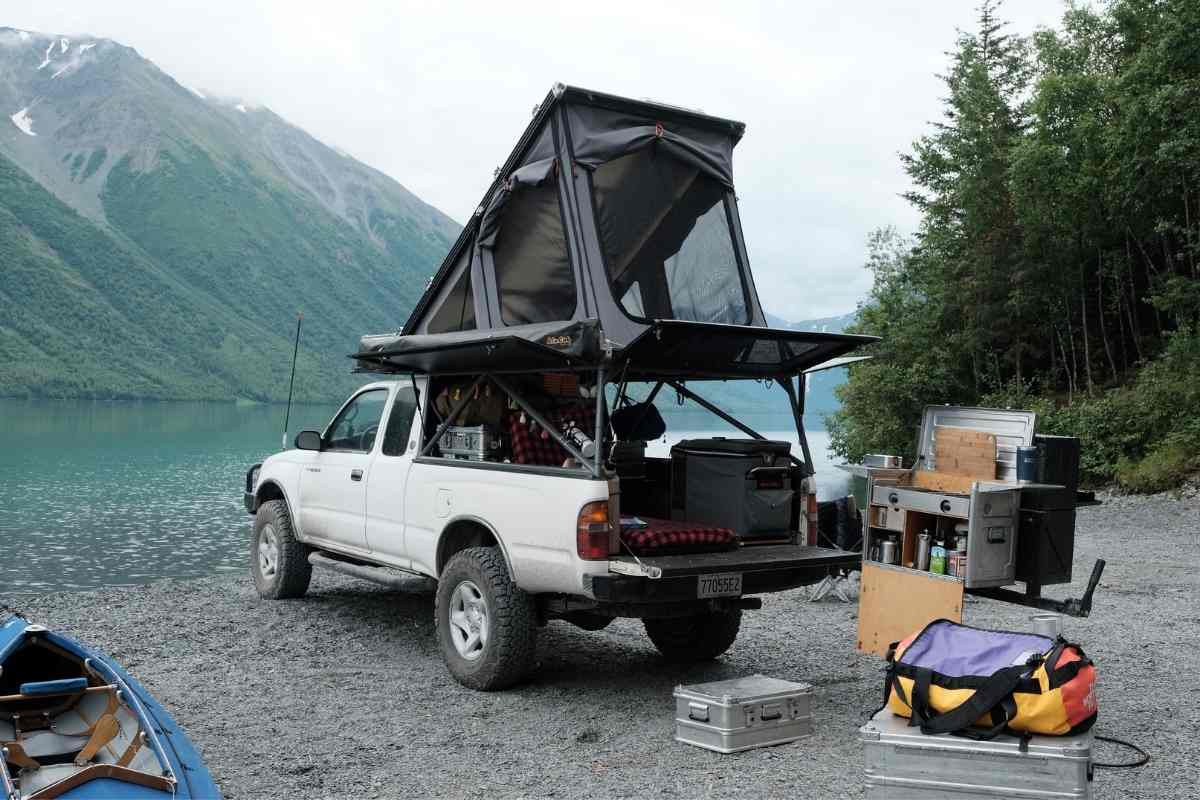 Modular or Built-in?
Right from the get-go we had a dilemma – should we build out the inside of the camper with dedicated furniture, or should we keep it modular and instead mount just the fridge and arrange the rest of our things into stackable aluminum boxes. In the end, we stuck to our principles.
The inside of our camper is fully modular, based on a stackable and weather-proof combination of Zarges & AluBox aluminum boxes. The modular approach works well for a small truck like ours – because we can reconfigure it based on the flavor of the day or the specific place where we are staying.
The boxes, when out of the truck, double as table surfaces or steps to get up into the camper. The only two things bolted down to the truck are the Engel 45L Fridge and a 6lb Worthington propane bottle.
Every inch counts: As our rig is not a full-sized truck, we knew we needed to make every square inch serve a purpose.
Power
The truck's fridge is powered by an auxiliary lead-acid marine BlueTop house battery that is mounted on its side inside the engine bay.
The battery is charged by the truck's alternator, once the voltage-sensitive relay joins it with the starting battery, after the latter gets sufficiently charged. It's simple. And it keeps our drinks cool for more than 3 days.
We are solar-ready but yet to find a reason to install the panels since we tend to move around enough to keep the house battery happily charged.
Other electronics consist of several CoolGear DC-DC converters that spit out 70W via USB-C Power Delivery to keep us working on the road and our electronics charged.
Water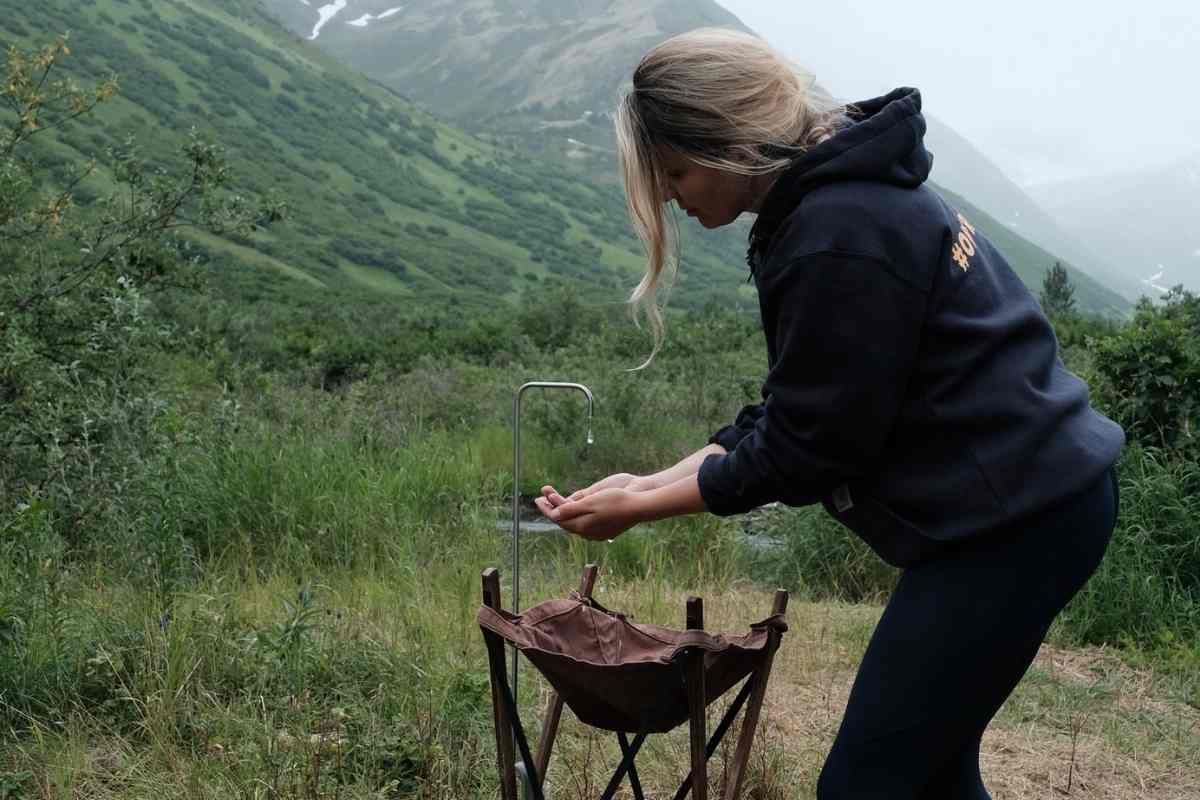 We have the ability to carry 60L of water, but usually end up carrying 40L. The water is stored in three Scepter jerry cans.
One is converted to work with a foot pump for a stand-alone wash station and the second is manually pumped for drinking water for tea & coffee. The third Scepter is equipped with a strap – so we can hang it from the camper or a tree – turning it into an instant shower.
Scepters are modular, which means we can carry them inside any cafe or a local's house to fill up. It's also easy to keep them clean and they do not rely on electricity to pump or filter water.
This is how we avoid campgrounds & water re-fill facilities and find enough power in a small house battery.
Kitchen
It's our camp kitchen that deserves the biggest shoutout – as it's one of the few pieces of gear that has served us since our 4×4 rental days, without ever giving us issues.
The Kanz Outdoors box that serves as our kitchen has a dual burner stove so we can cook elaborate meals not just for us, but also for a big group of friends, should we need to. For that reason, we have enough cutlery, plates and cups for at least 4 people.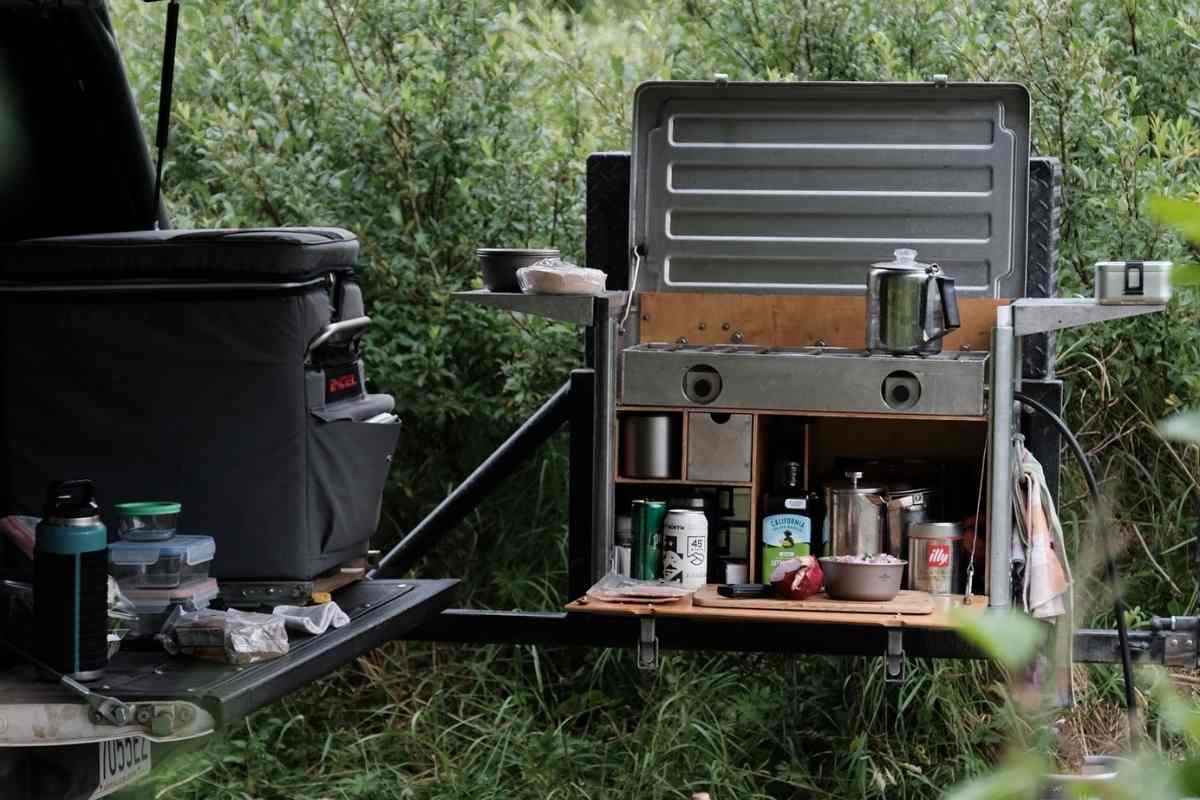 Whenever we camp with friends, our kitchen box becomes the centre of attention – everyone loves delicious meals cooked outside! We have made everything from borsch to crepes in that kitchen and we use it every single day, even if just to make coffee in our french press.
The beauty of that kitchen box is its versatility – it typically lives on our tailgate swing out but it also comes with 4 legs, so if we need to move it away from the truck, we can.
Camper
When it comes to choosing a camper, we went with something we already used in our previous rental fleet. Having had multiple builds, we had experienced everything from soft shell tents to hardshell tents to full-on truck campers.
One thing we know for sure: we love our tailgate and we weren't ready to commit to a full-sized camper that would get rid of the tailgate, even if we knew all the obvious benefits of having a sturdy, bulletproof camper like AluCab or 4WheelCamper solutions.
We ended up driving to Bozeman, Montana, and installing a Go Fast Camper – it's light and it let us keep our tailgate & force us to be outside, exactly as we wanted.
We designed around it's limitations – and have a dedicated spot in the truck bed for our bedding. We also had to upgrade the fabric to keep the Alaska mosquitoes out.
Being outside all the time requires some means to keep foul weather from getting to us. A 270 degree awning from AluCab was non-negotiable but we needed to design and build the mounting bracket for it to work with our GFC camper – so we did and we even sold it for a while. Now, rain or shine, we are outdoors.
One of our main goals with this build is to have a 99% outside living. Everything in this truck is designed around us hanging out in nature most of the time, even if it's raining.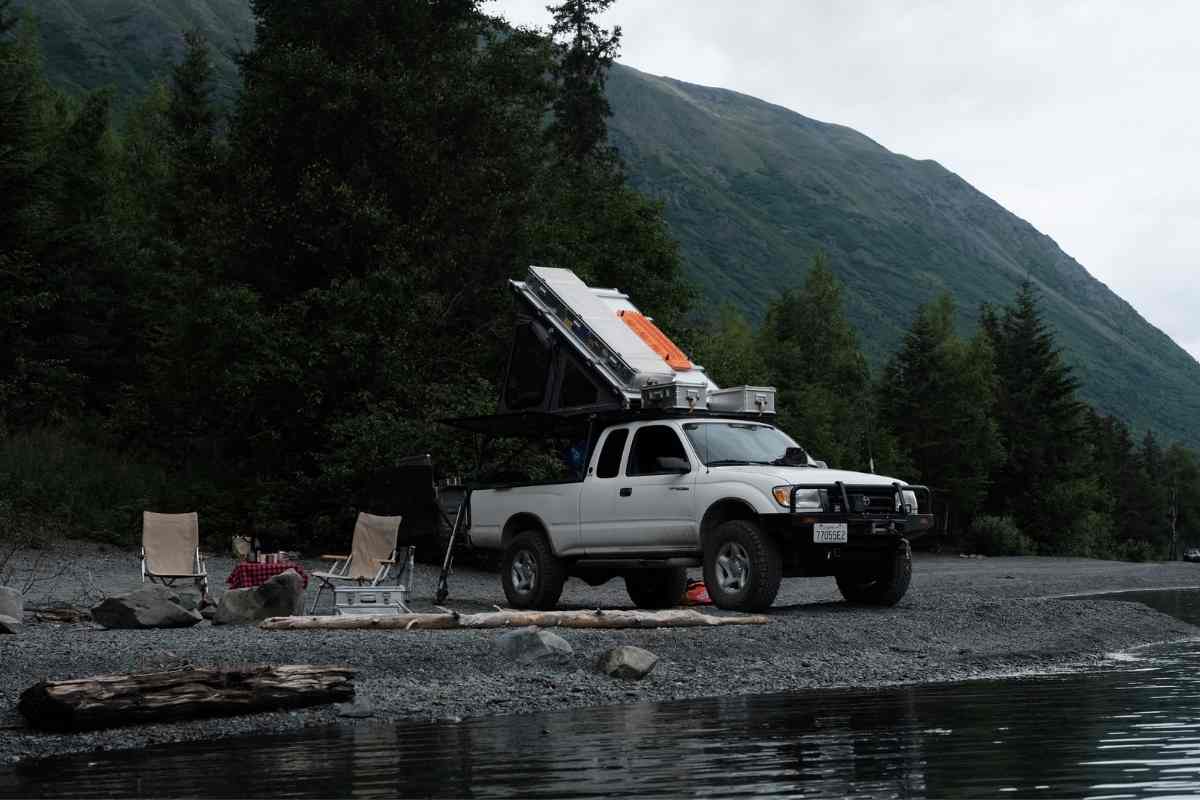 It's the reason why we got the camper that we got, so that all the boxes, including the kitchen box, can conveniently come out if needed, in order for us to spend more time outside.
Should the weather get too unpleasant to be outdoors, we take out all the boxes, climb inside the truck bed and hunker down there – we can even make a simple meal with our portable burner that we typically use for backpacking.
The biggest surprise!
The truck does get some attention on the road but the biggest surprise is that we managed to fit a 17ft two-person kayak inside.
Designed in 1902, the skin-on-frame Klepper Aerius has added an incredible new dimension to our trip – allowing us to take multi-day kayak adventures in Canada & Alaska.
So, is our 2000 Toyota Tacoma with ~250,000mi on it's 3rd odometer a perfect rig? Sure, in that it will take Alex and I wherever we are willing to go.
Is she flawed? Oh, yes – she's got at least as many flaws as her owners and maybe that's why it works for us.