What Should I Look For In A Used Toyota Tacoma? [Explained!]
This post may contain affiliate links. As an Amazon affiliate, I earn from qualifying purchases.
The Toyota Tacoma is a sporty pickup that can take you anywhere. Though it's not the most powerful truck in its segment, it can still put up a fight. Plus, it comes with Toyota's reputation for reliability. There have been three generations, starting in 1995. So, how does the famed Japanese pickup do over the years? In this article, we'll go through the aspects you should inspect when looking for a used Toyota Tacoma.
What should I look for in a used Toyota Tacoma?
The biggest issue to look for in early Toyota Tacoma pickups is rust. The second generation is also prone to rust. But, in this generation, you should also inspect the front differential and suspension. The latest generation has seen issues with transmission and throttle. While these issues seem problematic, it's important to highlight that Toyota is a brand known for reliability. Problems like those we mention aren't expected.
In fact, several studies show that Toyota is amongst the most reliable brands in the North American market. The 2020 iSeeCars study analyzed popular brands in the US across all segments to see which managed to reach the famed 200,000-mile marker. The Toyota Tacoma ranked third in the longest-lasting light-duty pickup trucks.
In this study, 2.5% of all Toyota Tacoma trucks have reached, or surpassed, 200,000 miles. Interestingly, the second place belongs to the Toyota Tundra, with 2.9%. Just ahead is the Honda Ridgeline, with 3.0% of its production reaching the famed marker.
Magazines like Consumer Reports have rated it with superior reliability across multiple model years. But that's not to say that the Tacoma is perfect. There have been some years that have had significant issues, which have led to recalls.
Buying a used car is exciting, but it can also be intimidating. You never really know what hides inside it, and past owners can be a lottery. The Toyota Tacoma is no exception. So, in this article, we'll give you as many tips as possible so that you make the best decision when buying your next used Tacoma.
What's the best year to buy a used Toyota Tacoma?
There have been three generations of Tacoma. This truck started as a replacement for the Toyota Pickup/HiLux, a successful vehicle in the US. But, it was rough and basic. The Tacoma promised to improve on this, offering more comfort while still handling hard work.
The first generation entered the US market in 1995. It offered three powerplants, RWD or 4WD, and either a manual or automatic transmission. The fact that this truck was a step above the competition made it a commercial success, increasing popularity and sales year after year.
The second generation came in 2005, and it came with only two engines but the same drivetrain options. As we'll discuss later in detail, the second generation aimed to fix significant rust issues present in the first. And it worked as many of the recommended Tacoma trucks come from this generation.
It lasted until 2015, when a significant redesign followed. The third generation included two engines, though you can only have the smaller 2.7L Inline-four in 2WD options. The 3.5L V6 has been the most powerful in all three iterations.
Having described how the Tacoma timeline evolved, the following table shows you which years are the best. Keep in mind that finding first-generation models that have few miles and haven't been put through the paces is difficult. Therefore, this table uses reliability scores from sources such as JD Power and Consumer Reports.
Best Toyota Tacoma by year (Third Generation. 2015-present):
The following table shows the recommended trucks within the third generation. It's important to highlight that the 2021 Tacoma has shown lower reliability results than expected.
| | | | |
| --- | --- | --- | --- |
| Year | 2020 | 2017 | 2016 |
| Reliability score | 5 of 5 | 5 of 5 | 5 of 5 |
This generation has shown its worth by improving on the interior while keeping the ruggedness and reliability. However, many reviews have highlighted that the ride isn't ideal in highway conditions. Also, the suspension can feel stiff over bumps and potholes.
Best Toyota Tacoma by year (Second Generation. 2005-2015):
The following table shows the recommended trucks within the second generation. This version lasted for ten years and has had exceptional results.
| | | | | | | | | |
| --- | --- | --- | --- | --- | --- | --- | --- | --- |
| Year | 2015 | 2014 | 2013 | 2012 | 2011 | 2009 | 2007 | 2006 |
| Reliability score | 5 of 5 | 5 of 5 | 5 of 5 | 5 of 5 | 5 of 5 | 5 of 5 | 5 of 5 | 5 of 5 |
As you can see, the second-generation Tacoma has many recommended years. These models hold their value surprisingly well, even if the ride is stiff, harsh, and bouncy.
Many reviews point to the basic interior and clumsy handling. However, they also praise off-roading ability.
Best Toyota Tacoma by year (First Generation. 1995-2005):
The first-generation Tacoma is as basic as it gets. While it promised to provide more comfort than the HiLux it replaced, that wasn't saying much. Still, there are a lot of years that are worth a look.
| | | | | |
| --- | --- | --- | --- | --- |
| Year | 2004 | 2003 | 2001 | 2000 |
| Reliability Score | 5 of 5 | 5 of 5 | 5 of 5 | 5 of 5 |
Reviews have highlighted that this generation of Tacoma is unsurprising but mightily reliable. Smooth roads are quick a challenge for it, as handling is rough and basic.
The interior is uncomfortable, but there's not much to expect from a workhorse. Unfortunately, finding these in good conditions is extremely hard.
Just as we've highlighted the best years to buy a Toyota Tacoma, it's time to talk about the other end of the spectrum. The following section discusses the years you should avoid.
What year Tacoma should you avoid?
While the Toyota Tacoma is reliable, there have been issues with rust and other problems, as we've mentioned. But, we must highlight that corrosion has been the most concerning issue.
Such was the problem that Toyota had to recall many vehicles and approve extended warranties. Having said that, let's see which are the years you should avoid, starting with the latest generation.
Worst Toyota Tacoma by year (Third Generation. 2015-present):
Interestingly enough, the latest generation Tacoma has seen average reliability and customer ratings. The earlier models with this generation had software issues involving transmission and acceleration.
The solution came with software updates.
| | | | |
| --- | --- | --- | --- |
| Year | 2021 | 2019 | 2018 |
| Reliability score | 3 of 5 | 3 of 5 | 3 of 5 |
As you can see, even if these models are the lower-ranked of the group, they still rank average or above average. It's important to note that these are the results from magazines and independent evaluators.
The lowest-ranked year by customer satisfaction in the third generation is the 2016 model with a surprisingly low 2 of 5.
Worst Toyota Tacoma by year (Second Generation. 2005-2015):
Interestingly, in this generation, it's hard to find low ratings from both reviews and customers. On the contrary, most of the trucks have had excellent ratings.
| | | |
| --- | --- | --- |
| Year | 2010 | 2008 |
| Reliability score | 4 of 5 | 4 of 5 |
These are the lowest rating second-generation Tacoma models. But, when it comes to customer satisfaction, the entire generation averages 3 of 5, with only the 2005 and 2006 models having a 4 of 5.
Worst Toyota Tacoma by year (First Generation. 1995-2004)*:
With the first generation, we face the issue that it's hard to find information on the earliest models. Since most magazines start rating them from 2000 on, we'll present you these scores.
It's also worth highlighting that the 2004 Toyota Tacoma has a customer satisfaction of 3 of 5, which is the lowest in the generation.
Is it worth buying a used Toyota Tacoma?
With so many vehicles available for the shopper right now, it's frequent that we ask ourselves whether buying a used truck is worth it. With the Toyota Tacoma, this also applies, but we must highlight some differences with this particular brand.
First of all, Toyota vehicles hold their resale value well. It's no surprise since their reputation for reliability, aided by quality and independent reviews. So many buyers look for them. Plus, since so many roll out of the factory, spare parts are available. That's not to say they're cheap, however.
This brand can be expensive to maintain. Many of its components and spares cost more than American brands. But, you have the certainty that these vehicles last for many miles.
This vehicle has consistently shown reliable results throughout the years. So, it's worth buying a used Toyota Tacoma if you want a rugged truck.
The Tacoma can tackle the most demanding terrain out there and can behave adequately on the highway. However, always remember that Tacoma trucks aren't built for comfort and that everyday driving can be tiring.
Having said that, that reliability comes at a cost. It's more expensive to buy used than other brands. So, before you dish out a pretty penny, it's worth knowing what can go wrong with the Tacoma. In the following section, we'll discuss some of the most frequent problems.
What problems do Toyota Tacoma trucks have?
As we've mentioned before, the Toyota Tacoma faced several issues. So, in this section, we'll go over the most common problems this truck has had throughout the years. Let's start with the most frequent, rust.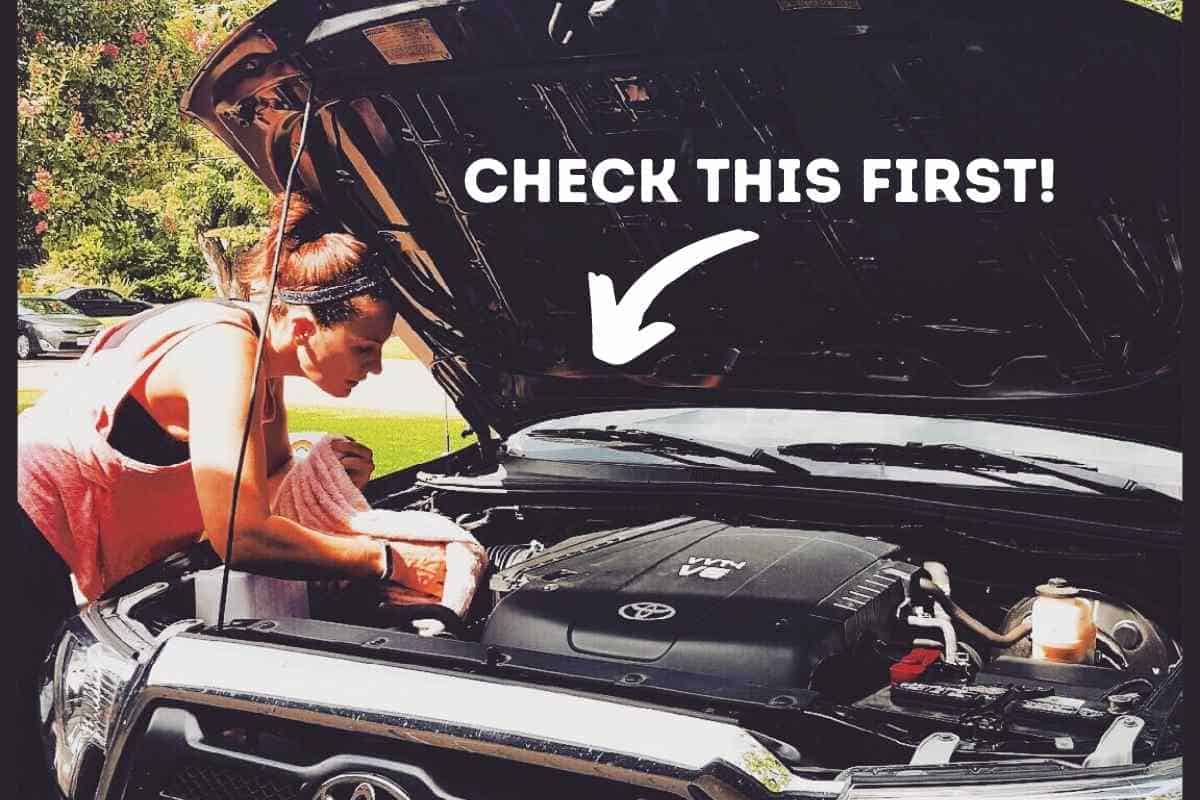 Toyota Tacoma rust issues
From the start, the Toyota Tacoma showed rust issues. The vulnerable locations included the frame and suspension points, especially the leaf springs.
These corrosion problems were prevalent in the first-generation Toyota Tacoma (1995-2004). In fact, there were so many cases that Toyota made several recalls throughout the years. But even that didn't fix the problem.
So, to solve the situation, Toyota extended a rush and corrosion warranty for 15 years, and unlimited miles, for 1995-2004 Tacoma trucks.
If you're buying a first-generation Tacoma, be sure to inspect the frame with a clinical eye. If it has lived many years in the Rust Belt (Northern United States), you should be extra cautious. Salt and snow can eat away at a frame, and there's not much to do once it starts.
Unfortunately, this problem is still prevalent in second-generation Tacoma trucks. But, it's less frequent. Though vehicles came out of the factory with a protective coating layer, they could wear out quickly, leading to corrosion.
The third-generation Tacoma doesn't have as many corrosion issues. But since it's a preferred truck for offroaders, it's always worth it to check the frame.
Sensor Issues
You can find sensor issues in the second and third-generation Tacoma trucks. Be on the lookout for the throttle and crank position sensor.
You will find these problems present with bad acceleration, the engine sputtering or stalling, and a lack of response. The best way to test these is to drive the truck in several conditions, such as stop-and-go traffic, highway speeds, and up a hill.
If you that the acceleration is lacking, or doesn't respond well, then you can have a certified mechanic run a diagnostic.
Pedal entrapment
This was a significant problem for Toyota during the early 2000s, as floor mats slipped and trapped the accelerator pedal.
Most of the issues revolved around the anchors that held the mats broke, causing the mat to shift and jam in the accelerator pedal.
There are improved mats that can fix this problem. Plus, Toyota can install a new pedal.
Differential Leak
As we mentioned before, the Toyota Tacoma can have differential issues, leaking in the front and rear differential. The first noticeable sign is that you find fluid on the ground. If this is the case, you should have a mechanic check the vehicle to spot the leak.
A leaking differential can eventually lead to improper lubrication, which can damage the gears. The issue's root cause was a gasket problem. Toyota issued a recall, mainly on the third-generation Tacoma.
If you feel that your Tacoma produces vibrations, chattering, or grinding, it's best to check the differential.
Automatic transmission problems
The third-generation Tacoma has shown to have transmission problems. Symptoms include delayed shifting, aggressive and noisy shifting between gears, and difficulty with the shifter.
If this is the situation, then there is an issue with transmission calibration. A certified Toyota mechanic can fix the problem by running a diagnostic and calibrating the transmission.
What is considered high mileage for a Toyota Tacoma?
As we've seen, Tacoma trucks can reach many miles. So, if you're looking to define high mileage, you might have to extend your definition.
With 2.8% of all Tacoma trucks reaching 200,000 miles, one can say that this is considered high mileage. Your vehicle may make it to this distance, but it won't stop there.
Some of these trucks have reached 300,000 miles, and few have reached 400,000 miles. These aren't as frequent, but it's still likely.
However, if you're looking for a low-mileage Tacoma, don't expect to find anything below 100,000 miles. These are working trucks, and their owners aren't afraid of taking them through the works.
Closing thoughts
The Toyota Tacoma has existed since 1995. It has had excellent reliability that makes up for a basic interior and average highway handling. Since it holds its value so much, it's become somewhat of a desired truck amongst those looking for a reliable offroader.
Reliability has been excellent through the generations. But there are some issues that you should look out for when dealing with used Tacoma trucks. The main problem in the first and second generations was rust.
Always check the frame with care when looking at a used Tacoma. Suspension and frame are the two main rust points. Also, when driving it, check for acceleration and transmission issues. Be sure it responds and shifts adequately.
But, though there are issues, this pickup is reliable and long-lasting. So, hopefully, this article provides you with enough information to make the right decision when buying a used Toyota Tacoma.