Visiting Hunting Island State Park in South Carolina
Everybody knows Jeep owners have an adventurous spirit. My family is no different. While I must admit, we didn't drive our current Jeep (classic 1991 Grand Wagoneer), we did see plenty of Jeeps in and around Hunting Island State Park in South Carolina.
In this article, I want to share a few highlights of a recent trip to Hunting Island State Park, what the campsites are like and a few must-do activities while you are on the Island.
Should You Visit Hunting Island State Park in South Carolina?
This is the question I get asked most often when people learn that my family and I went to Hunting Island State Park for spring break.
Should you visit Hunting Island State Park in South Carolina? If you and your family enjoy camping and the beach you should definitely visit and camp on Hunting Island State Park.
Full Travel Video Of Our Trip To Hunting Island State Park in South Carolina
Highlights From Hunting Island South Carolina
If you would like to learn more about our trip to Hunting Island State Park, keep reading and I will share with you some of the highlights regarding our RV camping trip to the park
Here are a few reasons why Hunting Island State Park is a must-visit camping location:
The Beach
The beach! Yes, the beach. If you are planning to visit Hunting Island State Park you will want to know about the beach. There are multiple places along the island where you can visit the beach as a daily visitor, but our focus is on the campground beach since we were RV camping on the island.
The beach was very large and plenty of room to spread out. We took a 10×10 tailgate tent, lots of chairs, kites, etc. We were able to spread out as a family and not get in the way of others.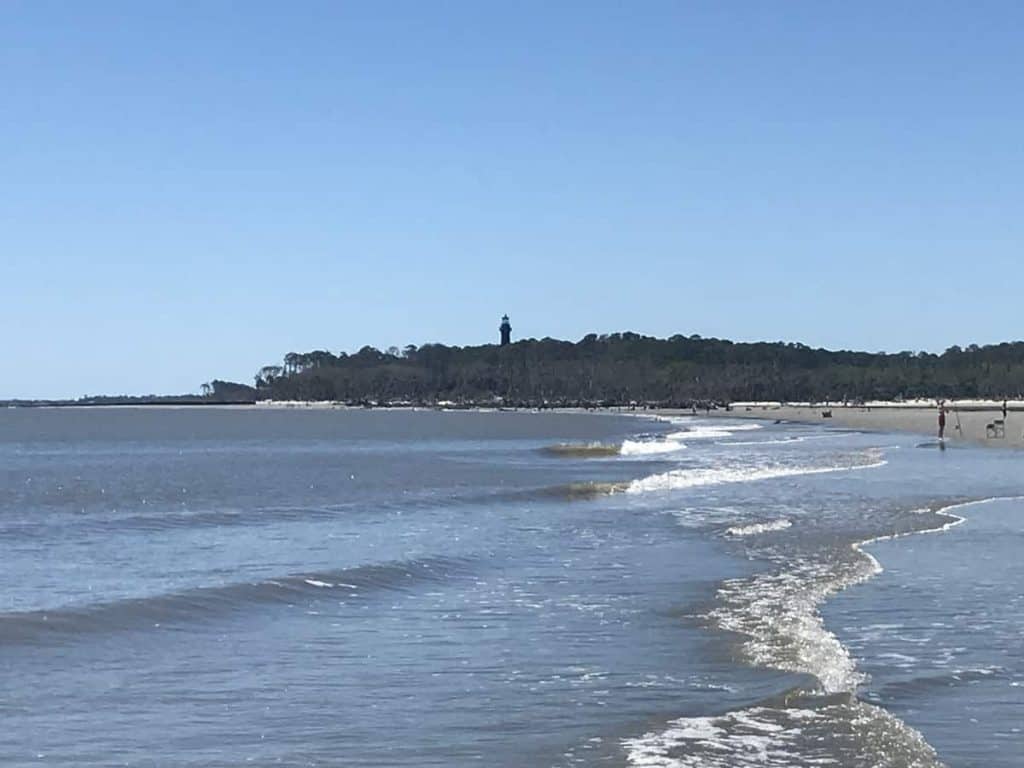 We were there in April so it was a little early in the season, but it was a great time.
Check out the full-length YouTube video where you can see our tent get crumpled up and broken in the wind! LOL
The Best South Carolina Sunset?
It has been said, Hunting Island has the prettiest sunset in South Carolina! While I cannot speak for other locations in SC, I can say that seeing the sunset from Hunting Island is amazing!
There is a boardwalk on the back of the island that you can go to in order to see the sunset. However, we found another location.
We went to the boat ramp located at the end of the Island just before the bridge heading over to Fripp Island. We chose the boat ramp area because my mother has had both hips replaced and we wanted to be able to drive out and see the sunset.
As a courtesy, if there is much boat traffic, I'd suggest going to the boardwalk because boats are likely to be using the boat ramp and you may be in the way.
Here are a few sunset photos:
Climbing The Lighthouse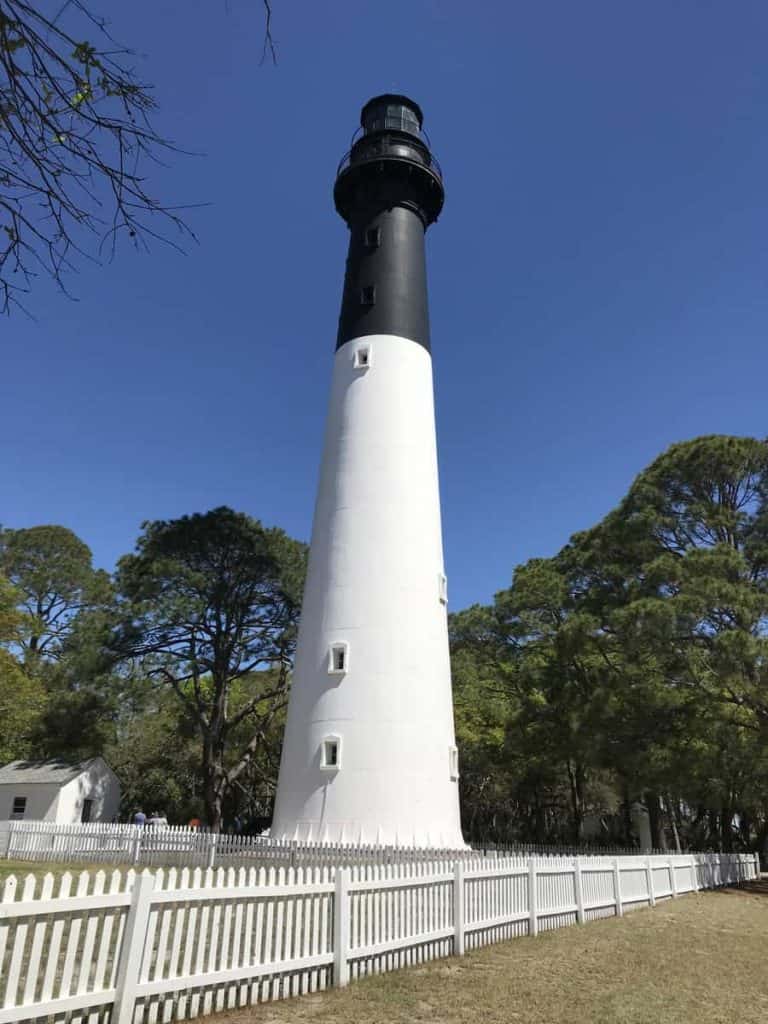 The reality is, I am scared of heights. I just don't like the sensation of standing on the edge of a cliff or in this case a lighthouse with railings that I assume were built generations ago!
Needless to say, my two daughters wanted to climb to the top and secretly I wanted to see the view too. I just didn't want to climb all the way up there mainly because I knew I would have to come back down.
For me, going down the stairs is usually the hardest part because I see how high I am from the bottom.
With this said, I only had an issue on the last 3 to 4 steps before getting to the very top because the handrailing goes away at this point.
Other than this, it really was a non-event when going up or down the stairs.
I will say, I was uncomfortable a few times getting close to the very edge when standing up on top of the lighthouse looking out. My father whistled up to us and asked that the girls and I come to the edge of the lighthouse so he could take a photo of us up at the top.
I'm glad I have the photo, but yes, I was feeling very uncomfortable.
Notice in this next video how the girls have their backs against the wall. If you have issues with heights, leaning back against the lighthouse is very comforting. I was filming at this time, so that is why I am turned away facing the camera and microphone that I am holding in my hand.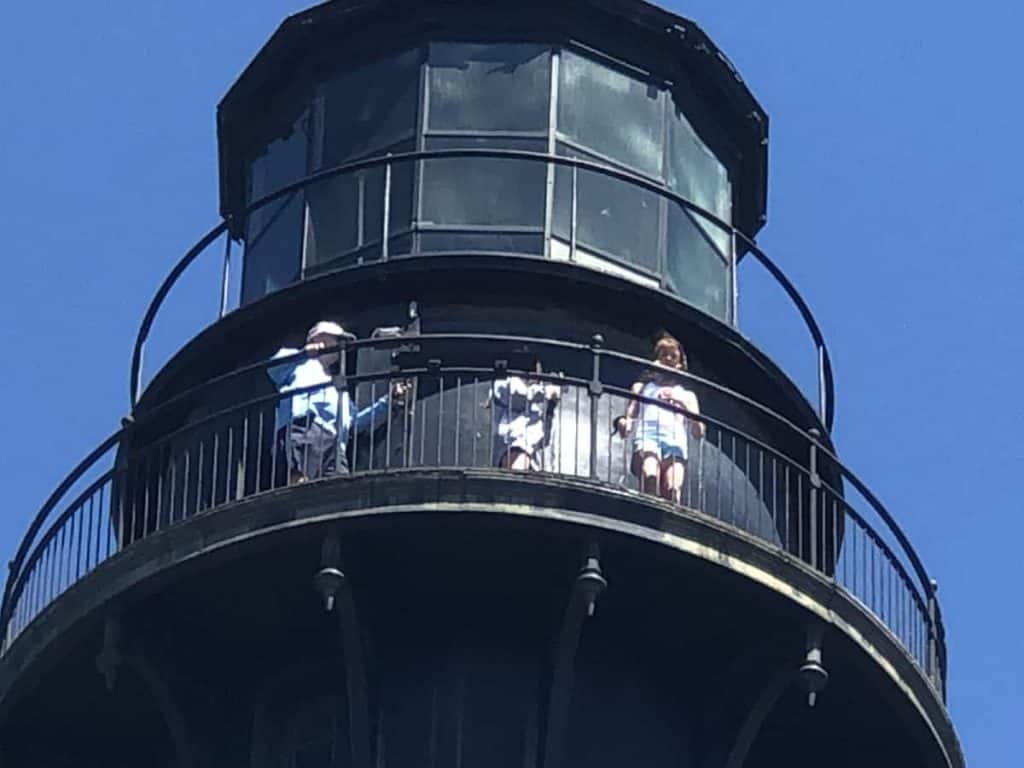 Here's a little lighthouse trivia for you…
How Many Steps Are In The Hunting Island Lighthouse?
How many steps in the Hunting Island lighthouse? There are 167 steps to the top of the Hunting Island lighthouse in South Carolina.
Campsites
There are many camping options and Hunting Island State Park and we found the location and convenience of the campground to be great.
Car/Tent Camping Sites
*In the full-length video, I show you the car camping locations if you want to see them. I realized I only took videos and no photos. The tent campsites are located on the beach under those palm trees in the background of this photo. It would be an amazing location because you could see the sunset from the door of your tent!
There is an entire section right on the beach for car campers. It was damaged during a recent hurricane and they were working on the car camping sites while we were there. Hopefully Hurricane Dorian did not hurt Hunting Island when it recently passed the area.
RV Campsites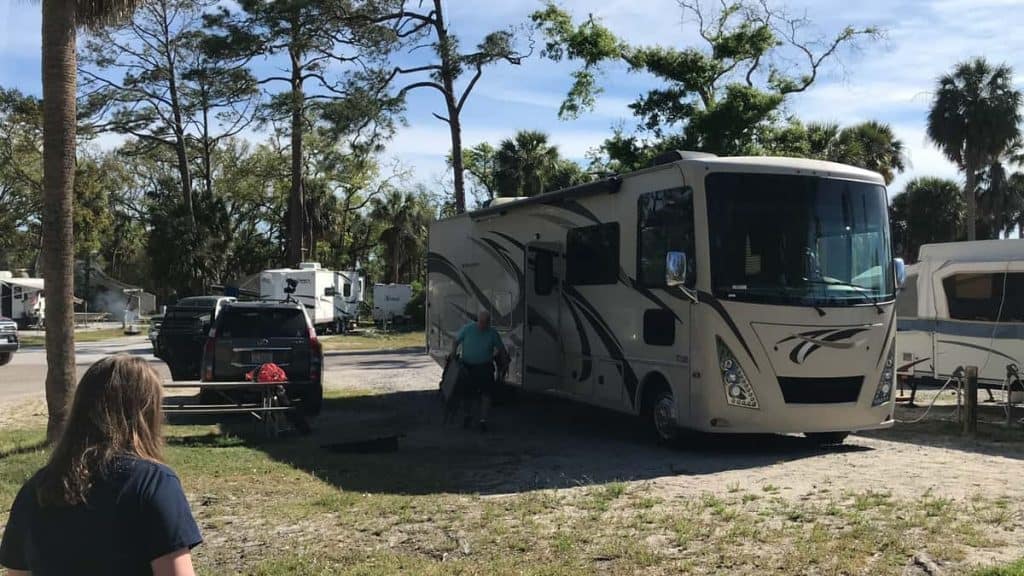 We were RV camping and the sites for RVs and Campers were excellent. They provided easy access and most had room for another vehicle.
We had both an RV and an SUV and we had plenty of space for our vehicles, our camping gear, and room to spread out tables and chairs on our campsite.
The RV campsites had full power and water but no sewer hookups. Not having sewer hookups never became an issue. We were there for a few days and there were multiple dump stations around the campground. These dump stations were also very easy to access.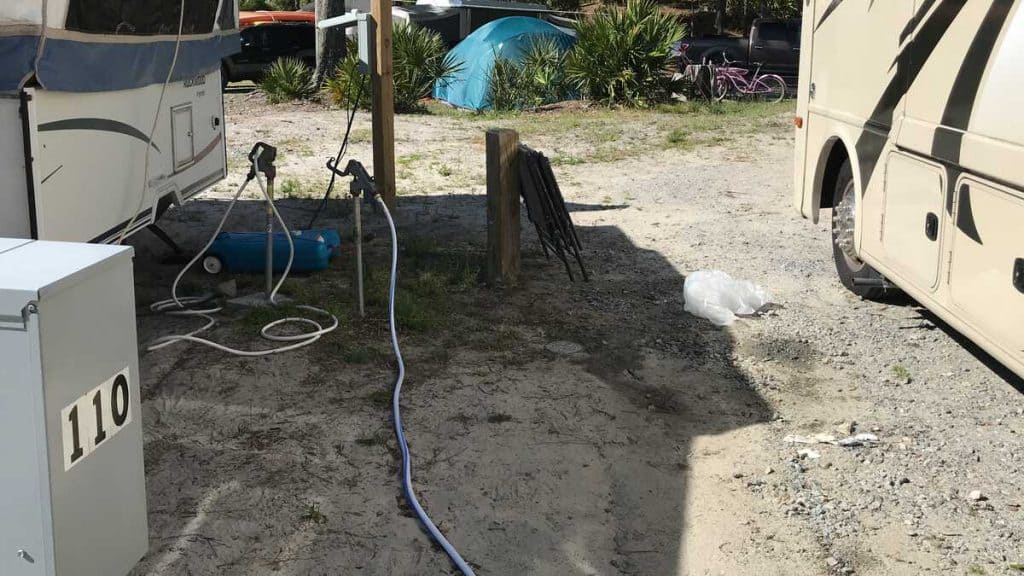 This is the dump station at the entrance to the campground and it also was the location for the trash cans to it made it very easy to leave the campgrounds once your stay was complete.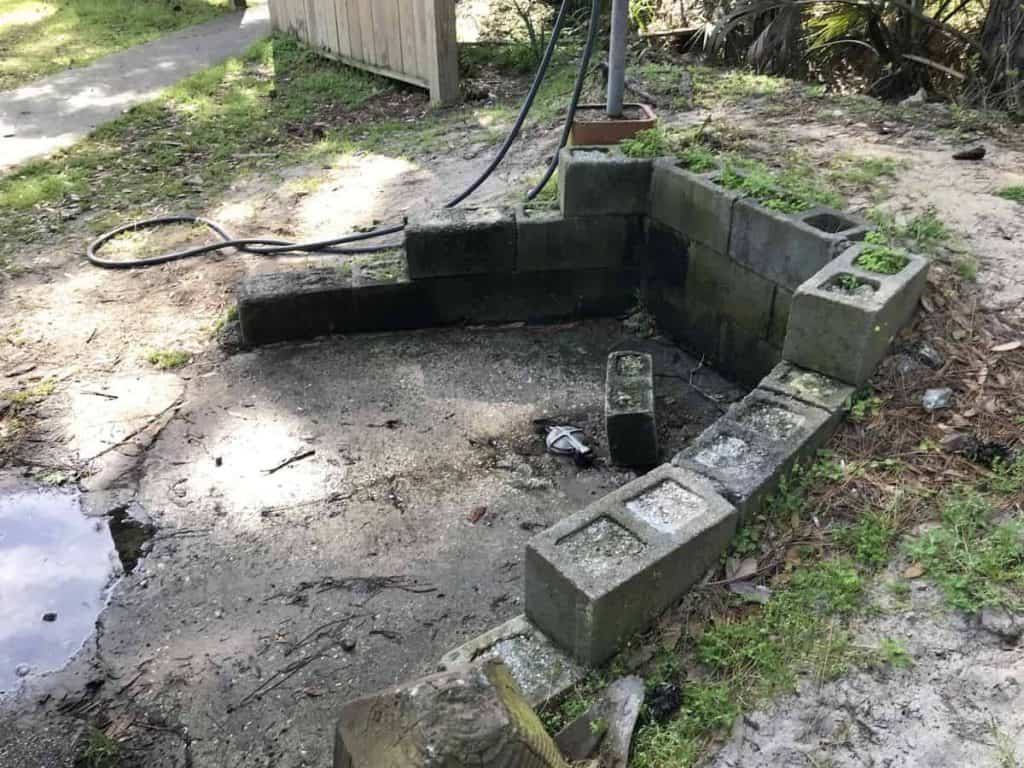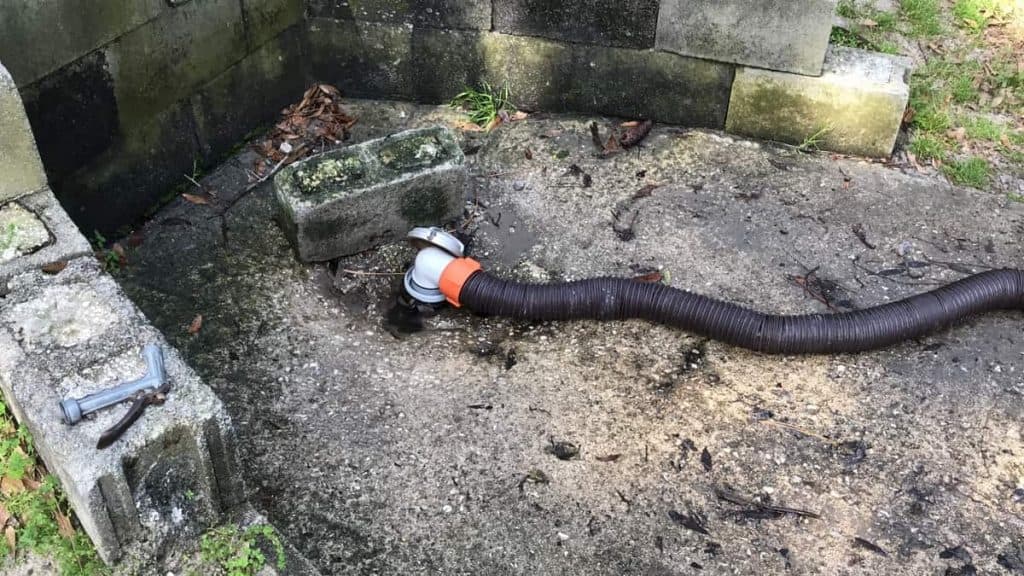 Bath Houses
While we had water and electricity hooked up directly to our RV we chose to use the bathhouses.
*Friendly Tip: If you use the campground water, grab one of these inexpensive water filters. While the water comes from a public water treatment facility and tastes fine, this will make sure it is filtered before you drink it.
Our campsite, number 110, was located just across from the bathhouse. With four of us, we found it easier to use the bathhouse for our main needs of showering and toileting.
We only used the RV when cooking and for relieving ourselves in the middle of the night. This allowed us to expand our time without having to visit one of the dump stations.
The showers and restrooms were kept clean so that was a big plus!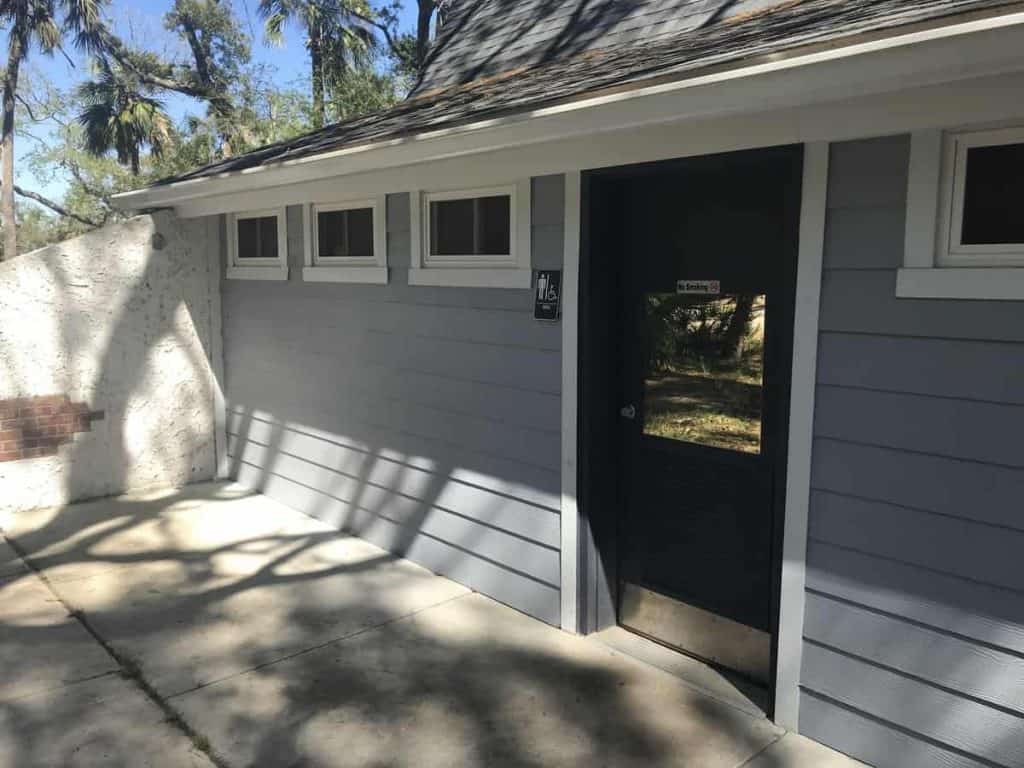 Onsite General Store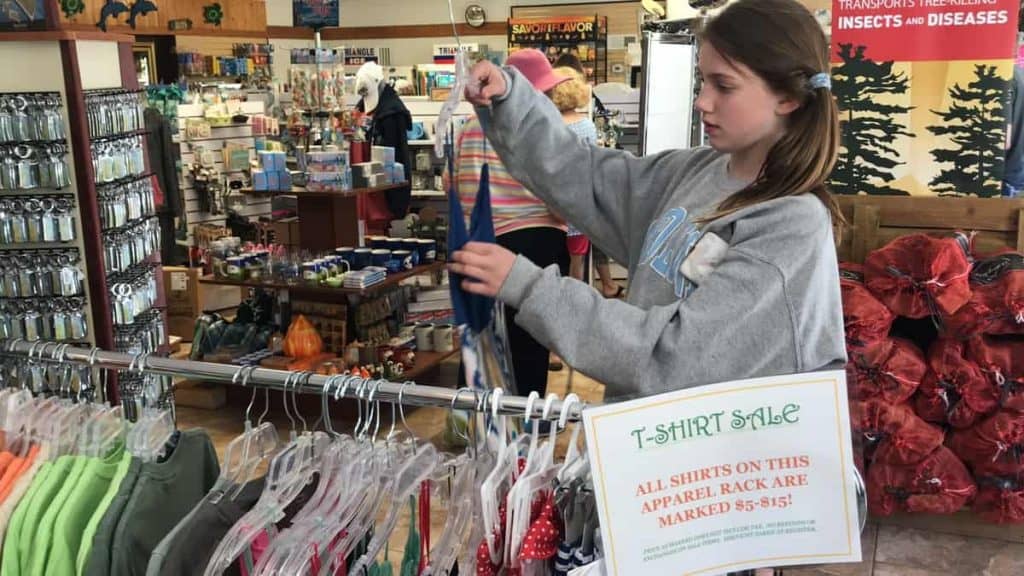 If you are visiting the lighthouse or the public beach access, there is a small gift shop and a few little stores, but they are nothing like the larger store located at the RV campground on Hunting Island.
The general store was great. You could buy t-shirts, sweatshirts, ponchos, umbrellas, basic food and snacks including ice cream!
After a hot day on the beach, walking over to the general store to get an ice cream treat was a good activity that everyone in the family enjoyed.
Firewood For Your Campfire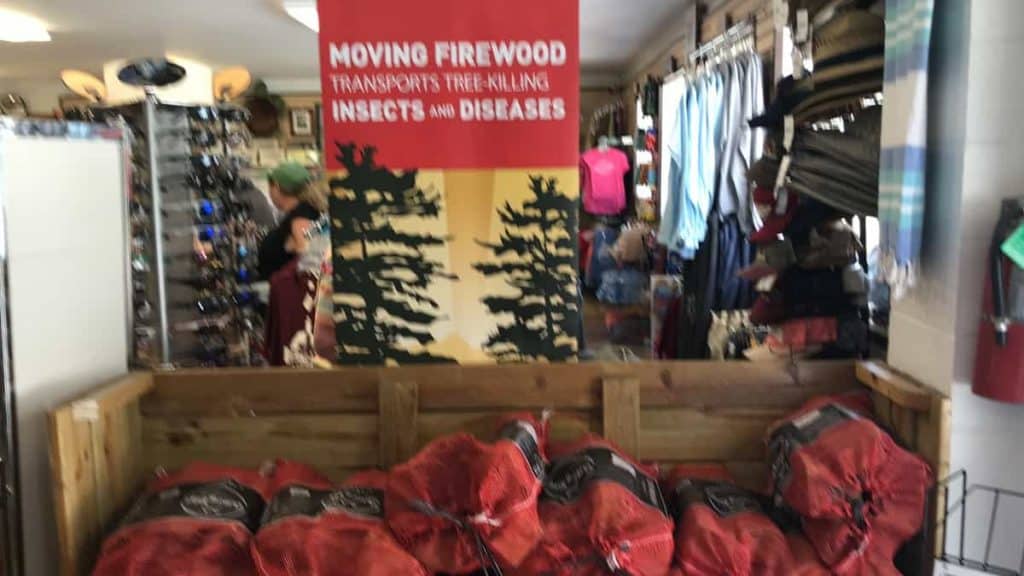 Often, state parks require you to only use their local firewood. Hunting Island has the same request.
As a result, the general store offers firewood for you to purchase.
Most campsites are equipped with a fire pit/grill for your use.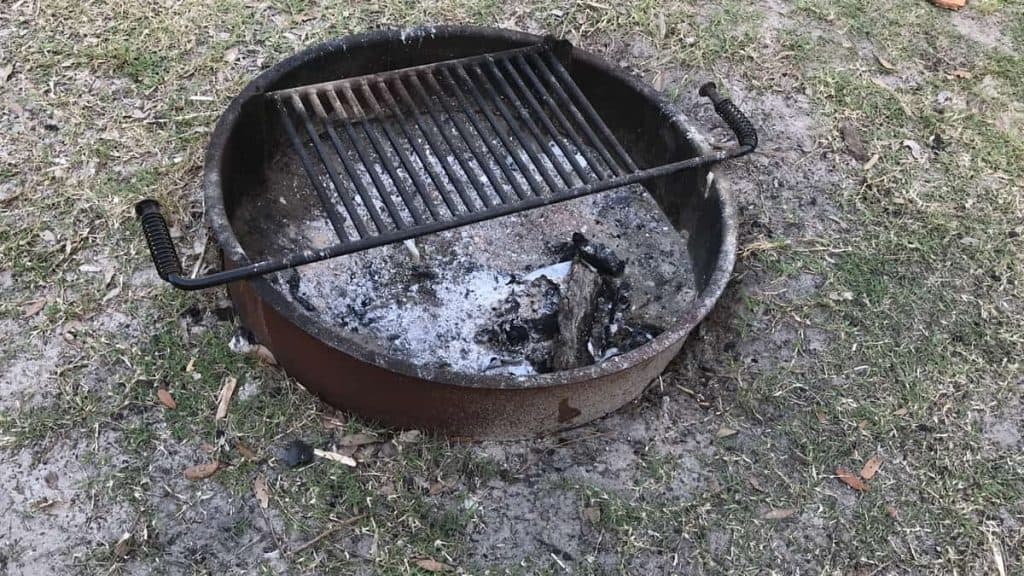 Needless to say, sitting around the campfire at night, making smores and talking was one of our favorite evening activities.
Did you see us roast a candy bar over the fire in the video?
What about restaurants near Hunting Island?
Restaurants: Where To Eat?
There are not many options for eating close to the Island, but there are two places you should consider.
You can also drive into Beaufort and there are plenty of restaurants to eat there.
This being said, we only ate out at a restaurant one time, but it was a cool place to visit. If I were you, I'd plan on making a visit too.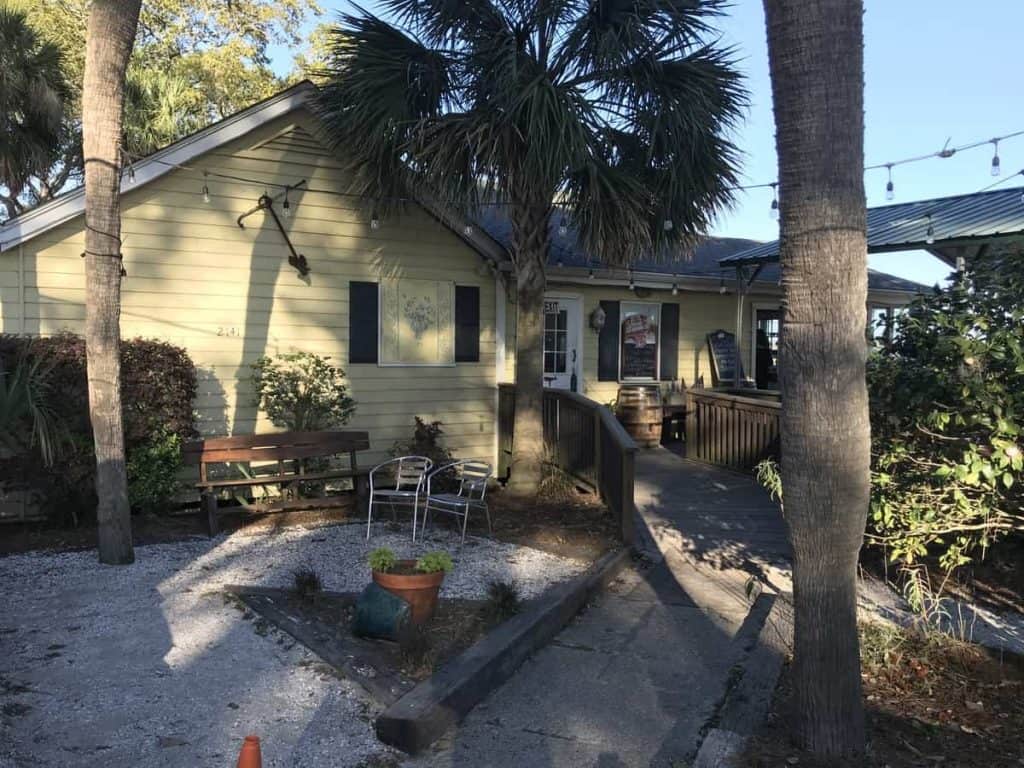 Johnson Creek Tavern was a cool local bar and restaurant. The place was packed so you should get there early. They have a great bar, so grab a drink and go sit out on the patio.
You will have a view of the water and marsh so there is always something to look at beyond people watching at the bar.
The food was very good and the portions for what we ordered were generous.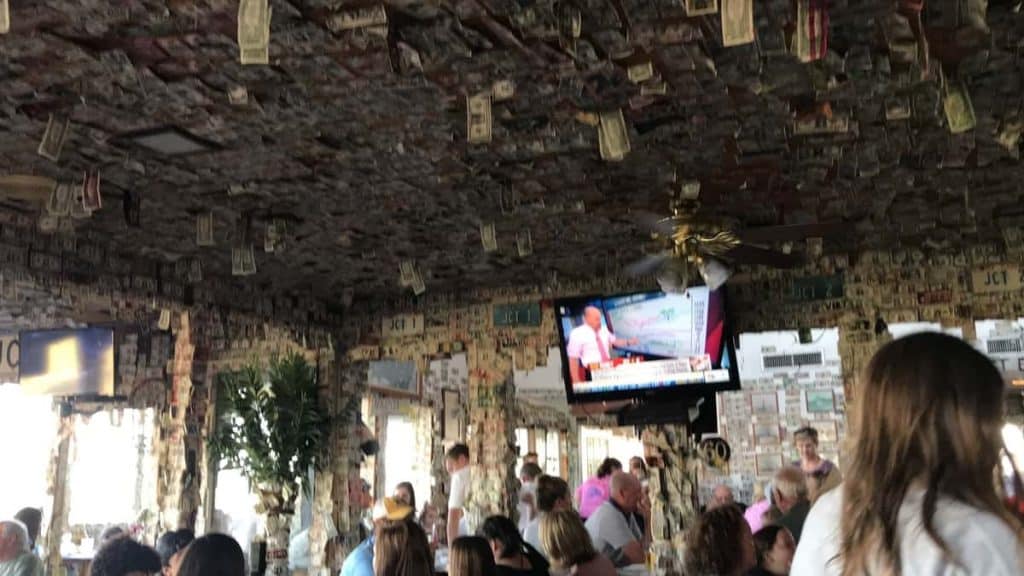 One of the traditions at Johnson Creek Tavern is to staple a dollar bill to the walls or ceiling. Of course, we had to participate in the tradition ourselves.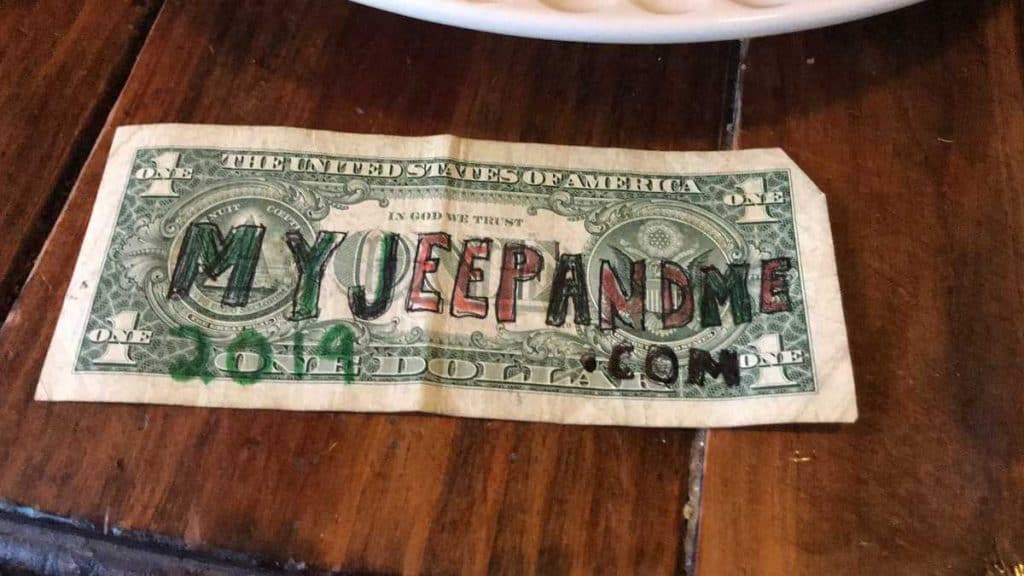 If you are sitting at the first table between the bar and main dining room, look near the window and see if you see the myjeepeandme.com dollar bill!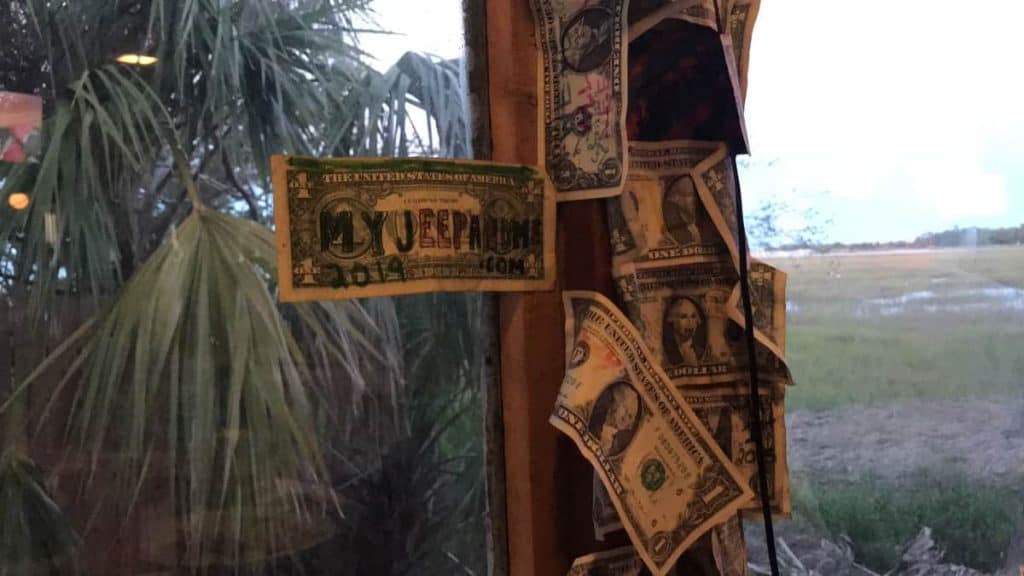 Closing Thoughts
If you are on the East Coast and looking for a location to go camping, I highly suggest checking out Hunting Island State Park as a potential destination.
It's a great place to get away from the city lights and just check out for a while. I should tell you though, that the campground does have free wifi, so you will not be completely disconnected and Verizon had a good signal there as well.
With all of this said, pack up your Jeep, your camper or RV… whatever your favorite way to camp, and book a camping site at Hunting Island State Park in South Carolina. I feel pretty confident you will have a fun time just like us!