Any Jeep vehicle with the Rubicon label will be a capable off-roading vehicle.
Since you will take this vehicle where few have ever driven, you want to make sure you purchase a reliable model.
What Are The Best Years For The Jeep Rubicon?
The 2018 Jeep Wrangler Rubicon is the best Rubicon year because it has many modern amenities paired with classic Jeep durability at a more affordable price. The second-best Rubicon was the 2003 model. This model year used classic Jeep details with increased off-roading abilities.
Jeep introduced the Rubicon trim package to the Wrangler collection in 2003.
However, the Jeep Wrangler has been around since the late 1980s.
Since Jeep has had plenty of time to perfect these models, it is not difficult to find a reliable Jeep Wrangler Rubicon.
Best Jeep Wrangler Rubicon Years
Which Jeep Wrangler Rubicon model year you consider the best will depend on your values.
For example, if authenticity matters more to you than advanced safety features and reliability, then older Rubicon models will rank higher than the newer ones.
However, if you want a Jeep Wrangler Rubicon reliable enough to carry you down the roughest of roads, then a newer, more capable model is the better choice.
Luckily, we've found three Jeep Wrangler Rubicon models guaranteed to suit both of these preferences.
Let's start with the most original model.
2003 Jeep Wrangler Rubicon
The Jeep Wrangler has been around since 1986.
The original Jeeps, used by the U.S. Army, had very distinctive looks. As time progressed, Jeep began experimenting with different looks.
For example, they abandoned the classic round headlights in the 1990s.
For many, these small details are what make a vehicle uniquely Jeep.
In 2003, Jeep introduced the first Wrangler Rubicon.
This model used many of the original Jeep details.
This attention to detail, combined with the increased capability of the Rubicon package, made the 2003 model the perfect vehicle for outdoor adventurers and Jeep enthusiasts alike.
According to the Kelley Blue Book, you can purchase a 2003 Jeep Wrangler for $9,500 to $13,000.
However, this vehicle is likely to have more than 115,000 miles.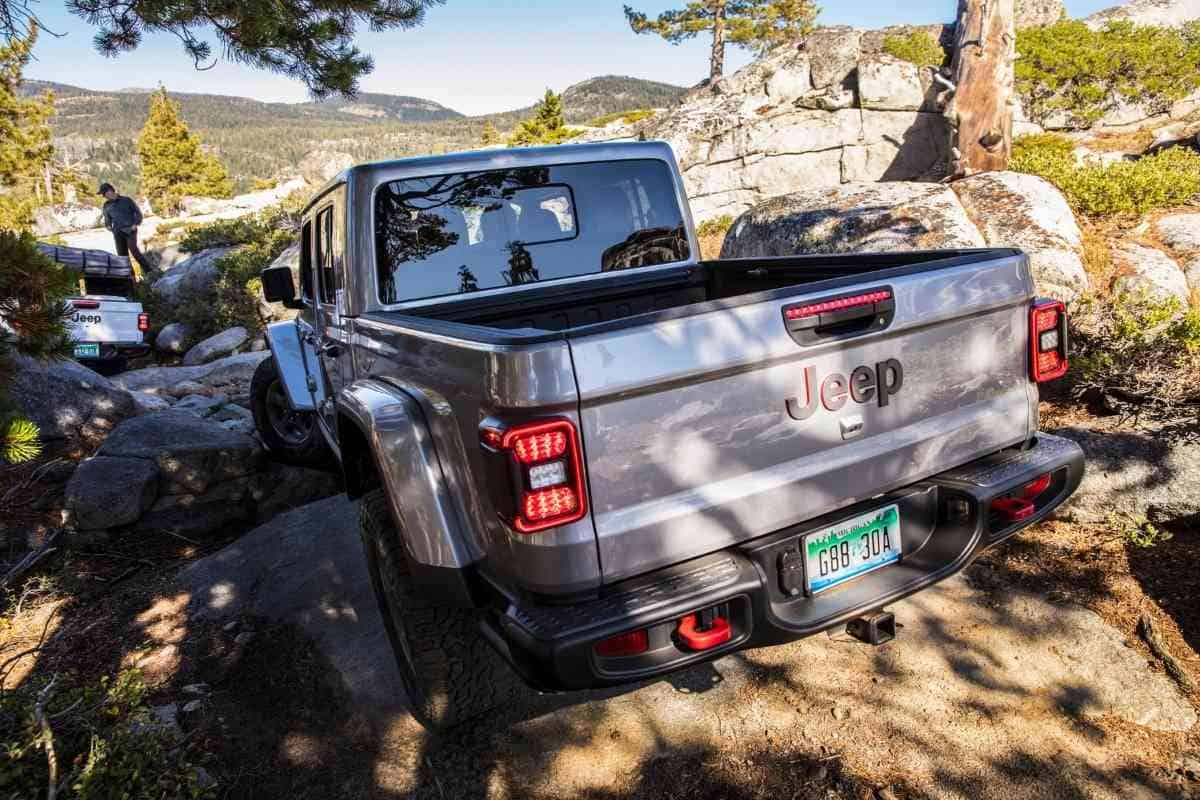 2018 Jeep Wrangler Rubicon
Since 2003, Jeep has tended to stick with its roots using the classic design features that drivers love.
In 2007, Jeep introduced the first Wrangler with four doors.
This expanded the cab space, giving drivers more space for passengers and cargo on their adventures.
As the years went on, Jeep focused more on durability, customization, and capability.
The Rubicon is especially known for being the most capable trim package for Jeep Wrangler.
The 2018 Jeep Wrangler Rubicon provides drivers with many modern amenities seen in other vehicles, such as assistive driving alerts, collision warnings, and more.
However, it still maintains many classic details seen in the first Jeeps (ex. round headlights and unique grille).
This newer model also boasts more durability than the older models.
However, this increased durability, as well as the age of the vehicle, means you're going to be spending a pretty penny on the model.
The 2018 Jeep Wrangler Unlimited Rubicon can be purchased for approximately $47,000, according to the Kelley Blue Book.
Rubicon vs. Rubicon 392 vs. Rubicon 4xe
Since Rubicon has been such a success, Jeep has introduced several spins of the classic model.
But what are the main differences, and what does each package contain? Well, let's take a closer look.
To this comparison, we will look at the 2022 Wrangler Rubicon, Rubicon 392, and Rubicon 4xe.
2022 Jeep Wrangler Rubicon
You can purchase a 2022 Jeep Wrangler Rubicon with two or four doors.
Regardless of the number of doors, this package features plenty of off-roading add-ons.
For example, this model is fitted with 33-inch all-terrain tires to help you crawl over the toughest of obstacles.
While you can upgrade to larger tires, this model already has between 10 and 44 inches of ground clearance, depending on the approach.
The windshield is made from Gorilla Glass to prevent rock chips while exploring.
For serious off-roading, the 2022 Jeep Wrangler Rubicon features front and rear locking differentials.
The 2022 Jeep Wrangler Rubicon uses a 3.6L V6 engine and a manual transmission.
Starting price for this model is $44,000.
2022 Jeep Wrangler Rubicon 392
The 2022 Jeep Wrangler Rubicon 392 has 17-inch wheels and the same ground clearance as the regular Rubicon model.
However, this Rubicon model is only available with four doors.
Another difference is that the Rubicon 392 model features a 6.4L HEMI V8 Engine and an automatic transmission.
This engine is much more powerful.
The Rubicon 392 package also includes a hydro glide air induction system, a dual exhaust system, paddle shifters, and black leather-trimmed seats.
You will also see the "392" logo printed on the side of the vehicle and in the seats.
This model only gets 13 miles per gallon in the city and 17 miles per gallon on the highway.
Starting price for the 2022 Jeep Wrangler Rubicon 392 is $74,800.
2022 Jeep Wrangler Rubicon 4xe
4xe is a new division of Jeep released in 2022.
4xe Jeeps all feature a plug-in hybrid engine.
More specifically, these vehicles are equipped with Jeep's 2.0L I4 DOHC DI Turbo PHEV Engine.
These engines improve performance and fuel efficiency.
For example, the 2022 Jeep Wrangler Rubicon 4xe gets 49 miles per gallon combined and 270 horsepower.
That's more than double what the standard Rubicon models get.
The 2022 Jeep Wrangler Rubicon 4xe uses the same tires as the other two models.
This model gets between 10 and 42 inches of ground clearance, depending on the approach.
Starting price for this Rubicon model is $56,230.
Jeep Gladiator Rubicon
Because the Rubicon models have been so successful, Jeep expanded the collection to cover other off-roading vehicles such as the newly reintroduced Gladiator.
Jeep reintroduced the Gladiator in 2020, featuring several trim packages.
However, Rubicon is the most notable package.
The 2022 Jeep Gladiator Rubicon features 33-inch tires all-terrain tires.
Drivers can choose between several hard-top and soft-top options for their Gladiator.
Although the standard interior includes cloth seats, drivers can opt for leather seats at an additional price.
The standard engine for the Gladiator Rubicon is a 3.6L V6 engine; however, for $4,000, you can opt for a Diesel engine.
Drivers can also choose between a 6-speed manual and tow 8-speed automatic transmissions.
Starting price for the 2022 Jeep Gladiator Rubicon is $47,260.