Jeep Wrangler Rubicon vs Sahara
Are you trying to decide between the Rubicon and the Sahara trim package for your Jeep Wrangler purchase?
It's not easy to make decisions like this when the packages are so similar. Overall, the Rubicon is slightly more expensive and a little bit more capable in its off-roading capabilities, so those will probably affect which you gravitate towards.
There is no right answer, there is simply a correct answer for your individual purchase. So let's get into it and get you the research that you need.
2020 Jeep Wrangler
The Jeep Wrangler is an amazing model that has a love for off-road adventures.
With that in mind, it's highly probable that you are looking for a model that can be used off-roading on a regular basis. That will start to give an edge to the Rubicon because it is the ultimate off-road model.
On the flip side, the Sahara is one of the premium four-door configurations in any vehicle across the industry.
These two models are very similar with only roughly $4,000 between them in the 2020 model.
With pricing that is so evenly matched, it is going to be hard to decide on the features that you need, and ones that you can discard to help your budget out
Sahara
The wheels on the 2020 Sahara are 18 inch polished wheels with gray spokes. All-season tires are equipped as well which leads to a pretty comfortable ride no matter where you're at.
The Sahara comes equipped with a premium tan Sunrider soft top with multiple options for upgrade available.
Moving to the interior, the Sahara has cloth low-back bucket seats that come in black or black & tan color schemes.
The Uconnect system that Jeep has become famous for offering is included here and also comes with a 7-inch display.
The Sahara has many packages available for purchase including:
Trailer Tow Electrical Group
Safety Group
Advanced Safety Group
Radio & Premium Audio Group
LED Lighting Group
Cold Weather Group.
These packages do a lot to add to the capabilities of your Sahara however they will also add to the price tag as well.
The engine is a 3.6L V6 that comes with a 3.45 Overall Top Gear Ratio.
All in all, the Sahara has a nice offering here and will compete well with the Rubicon even with a slightly lower price tag.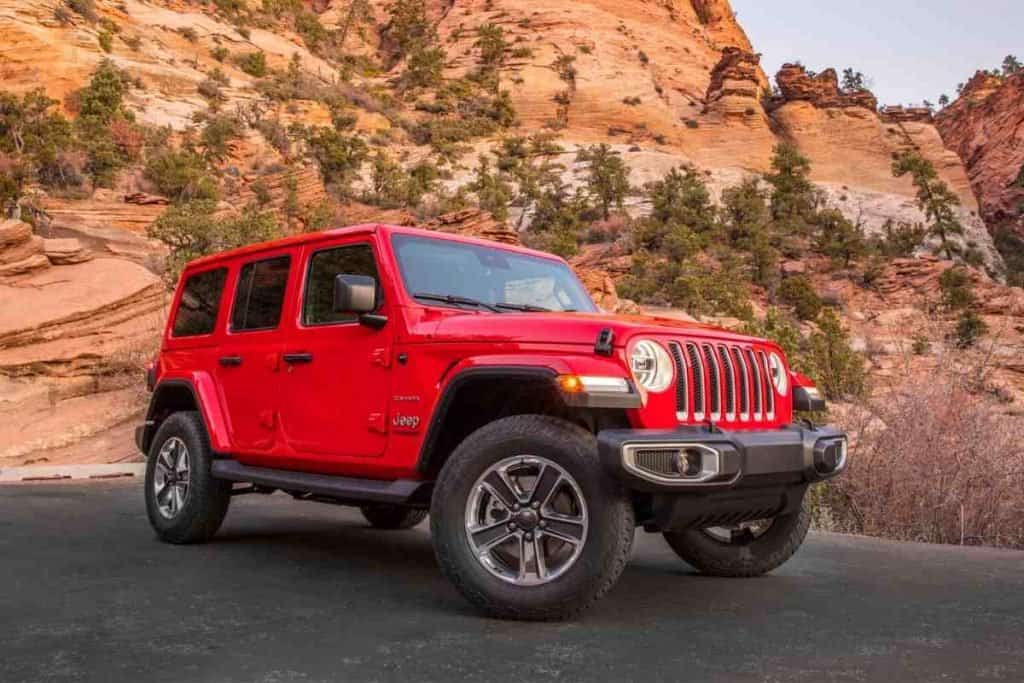 Rubicon
The Rubicon comes in a variety of beautiful colors for the exterior paint job. It's got 17 inch machined wheels with black pockets and comes with off-road specialized tires.
The Rubicon comes equipped with a Premium Tan Sunrider Soft Top with the typical upgrade options available at buyer's cost.
The interior has premium cloth low-back bucket seats that are only available in black. There are leather trimmed seat options for about $1,500 more.
The Uconnect 4 system does a great job with dashboard interaction and comes with Apple Car Play and Android Auto to connect your phone easily.
There is also an Alpine Premium Audio System available as well for better sound quality. Remote start and remote keyless entry systems are available for those who want to add them.
The Rubicon has a lot of packages available to be added on to the purchase cost.
The following Rubicon packages are available:
Steel Bumper Group
Safety Group
Advanced Safety Group
8.4 Inch Radio and Premium Audio Group
LED Lighting Group
Cold Weather Group
The 3.6L V6 Pentastar engine has ESS technology equipped and is a nice engine for a standard option in the Rubicon.
You can also upgrade to a turbo diesel engine option. The 4.10 Rear Axle Ratio is great for off-roading as is the Rubicon's focus.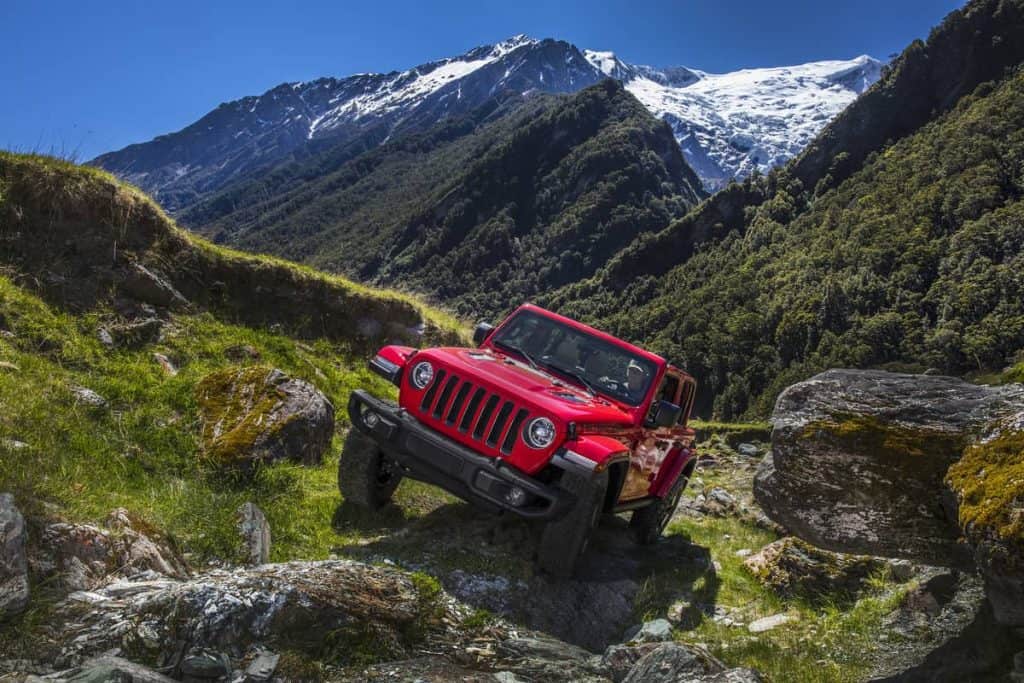 Head-to-Head
Honestly, the Sahara and Rubicon make great foes because they have so many similarities. While that is to be expected from two models so close in range, it still makes for a close fight.
The big changes are in the engine and in the tires. You've got some different add-ons and options available that make the Rubicon the better option for off-roading.
The Jeep Wrangler is known as a model for heavy off-road use, so for those serious enthusiasts, it would make sense to lean towards the more expensive model. The 4.10 Rear Axle Ratio is going to be a big deal for many people as well.
Many of the normal items that you would compare are all the same in the Sahara and the Rubicon. There is no difference in the quality of the seating or on any of the interior infotainment options.
The Uconnect system that Jeep uses is the same in both and the 7-inch touchscreen stays the same as well. That touchscreen works well as far as proportions and fit goes so both cars have a tie in that area which tends to lean in the Sahara's favor since any tie goes to the lower price vehicle.
The packages are another interesting determining factor. There are many useful packages that the Sahara and Rubicon offer, but neither make a push to pull away from the other.
For example, the safety packages and interior radio upgrades are the same on either vehicle.
You may want to increase the safety options on your Jeep, it's a great idea however it does not change the argument when looking at these two models.
The only package that the Rubicon has access to that the Sahara doesn't is a Steel Bumper Group which adds a Steel front bumper and a Steel back bumper to the vehicle for over $1,000.
While it doesn't seem like that would sway the argument for many, it may be something to consider.
Conclusion
These models are extremely close. If you are going to go off-roading constantly, it would make sense to pay a bit extra for the Rubicon.
IF you are an occasional off-roader looking for a model that has a lot of features and comfort to it, the Sahara will probably be fine for you.
Popular Jeep Wrangler JL & JLU Accessories
Bestseller No. 1
Savadicar JL Center Console Hanging Storage Box Organizer for 2018-2020 Jeep Wrangler JL JLU & Gladiator JT, Interior Accessories, Black
🔧 FITMENT -- Savadicar center console hanging storage bin is specially designed for 2018-2021 Jeep Wrangler JL JLU & Gladiator JT 2/4 Door.
🔧 EXTRA SPACE -- Create an additional storage space outside the center console to help jeep owner store phone, keys, lipstick, Hand cream and other small items.
🔧 MATERIAL -- This jeep jl storage accessories is made of high-quality ABS material, light, strong & durable, and washable. The thickness of 10mm will not disturb you open and close the armrest.
🔧 EASY INSTALLATION -- No need for messy glue and cutting, just simply place this jeep wrangler jl storage organizers on center console to complete the installation, simple and faster.
🔧 SATISFACTION GUARANTEE -- If you're not 100% satisfied with Savadicar armrest hanging storage box, simply return it for a full refund in 30 days, no questions asked money back and guarantee with 1-year warranty.
Bestseller No. 2
Rydonair Antenna Compatible with Jeep Wrangler JK JKU JL JLU Rubicon Sahara (2007-2021) | 13 inches Flexible Rubber Antenna Replacement | Designed for Optimized FM/AM Reception
VEHICLE FITMENT: The RYDONAIR rubber antenna fits Jeep Wrangler JK, JKU, JL & JLU 2007+ & Gladiator (All Jeep Wrangler models 2007 thus 2021, but not for older year models).
HIGH QUALITY: Allows shape memory so antenna springs back into shape when bent. This wrangler antenna is made of premium rubber which can sustain under extreme weather conditions.
STYLISH LOOKING:The Low Profile 13" antenna can Improve the look of your Jeep Wrangler by replacing your 31" long metal antenna. The real carbon fiber column on the bottom offers great looking and also helps the base holding onto the mount.
EASY INSTALLATION: No tool needed, the antenna can be easily screwed onto your antenna base within seconds.
RECEPTION PERFORMANCE: Through thousands of experiments, we worked out the preferable structure for short antennas that performs better in reception on either AM or FM bands. Compare with the other short antenna with normal structure, our 13" antenna is much closer to the OEM antenna in reception. If you're not satisfied with the performance, just simply return it and we will have you full refund!
Bestseller No. 3
Savadicar JL GearTray Gear Shift Console Side Storage Box Auto Transmission Side Organizer Tray for 2018-2020 Jeep Wrangler JL JLU & 2020 Jeep Gladiator JT, Interior Accessories, Black
🔧 PERFECT FITMENT -- Savadicar Gear Shifter Console Side Storage Box is design for 2018-2019 Jeep Wrangler JL JLU & 2020 Jeep Gladiator JT Trunk.
🔧 EXTRA STORAGE  -- Create extra storage for your stuffs, convenient for place smartphone, wallet, cigarette, keys, hand cream, coins, gloves, credit card, pens, maps, sunglasses,etc.
🔧 SIMPLE INSTALLATION -- No messy glue or drilling is required for installation, this jeep wrangler jk accessories is designed to install simply with the supplied 3M doubled sided automotive bonding tape.
🔧 HIGH QUALITY ABS MATERIAL -- Manufactured from high quality ABS, these jeep wrangler storage box are completed in a textured black finish for aggressive good looks. Strong and sturdy.
🔧 SATISFACTION GUARANTEE -- If you're not 100% satisfied with Savadicar Gear Shifter Console Storage box, simply return it for a full refund in 30 days, no questions asked money back guarantee with 1-year warranty.