What Are the Best Years for The Lexus UX?
This post may contain affiliate links. As an Amazon affiliate, I earn from qualifying purchases.
For over three decades, the Lexus division of Toyota Motors Corporation has been a leader in the design and manufacture of top-of-the-line luxury vehicles.
All the vehicles in the Lexus lineup are premium prestigious vehicles that are built for opulence and class in mind.
Over the years, Lexus has manufactured vehicles of different body types, but its lineup of SUV models has been the most prominent, particularly the UX.
Lexus UX is in high demand all over the world, thanks to their comfort, performance, and family-friendly design.
What Are the Best Years for The Lexus UX?
The 2021 Lexus UX is considered the best SUV with a J.D power predicted reliability score of 75/100. While the 2021 model is the most preferred, its 2019 and 2020 models are equally dependable and come with a host of standard features.
Lexus UX (Urban Explorer) is a subcompact luxury crossover SUV that was introduced in 2018.
It was the smallest crossover model in the Lexus lineup at the time. This SUV features a stylish exterior design and a rigid body with a low center of gravity for superior handling.
Lexus UX is one of the most reliable subcompact SUVs in the Lexus lineup, according to Consumer Reports and J.D Power rating.
The 2021 Lexus features smooth handling and a luxurious interior.
Under the hood, it comes equipped with a powerful engine that gives the UX excellent off-road capabilities.
The 2021 model has more refined ride quality and handling compared to its 2019 and 2021 counterparts.
This SUV boasts of a high predicted reliability rating that makes it a go-to vehicle for drivers who value the safety and dependability of their vehicles.
Super Performance and Handling: The Lexus Urban Explorer (UX)
The excellent performance and reliability of the Lexus UX are major because of its potent engine under the hood.
This SUV has a four-cylinder engine that offers 169-hp. It is mated with a continuously variable automatic transmission (CVT) and comes standard with an FWD drivetrain.
This powertrain allows for relatively fast acceleration that enables the UX to be quick and vivacious in highway and city drives.
It takes 8.9 seconds to accelerate from 0 to 60 mph. This is decent enough for a family vehicle.
The UX is an adventure-ready SUV that has the power and off-road capability to offer a pleasurable drive in any climatic condition.
The ease of handling of this SUV is one of the reasons why it scored a high reliability score and got more consumer recommendations.
The driving dynamics of the UX are well-balanced. It feels steady and composed while making turns.
It comes fitted with a very responsive steering wheel that is perfectly weighted, making negating narrow turning radius easier.
This SUV also offers a comfortable and quiet drive in the city.
Safety Features of the Lexus UX
The 2021 Lexus UX comes highly recommended because of the additional safety features that come standard with this model.
While the other Lexus SUV comes packed with equally good standard security features, the 2021 Lexus UX is a cut above the rest because of its additional blind spot monitoring system among other standard features.
Therefore, if you are split for choices from the many Lexus UX trim levels and models to choose from, the 2021 model year is the best.
Whichever trim level you choose, they all come with the blind spot alert as a standard feature.
This is one of the most outstanding features that has drawn people to the 2021 Lexus UX.
The Lexus UX compact SUV comes with many standard safety and security features that made it earn a five-star overall safety rating.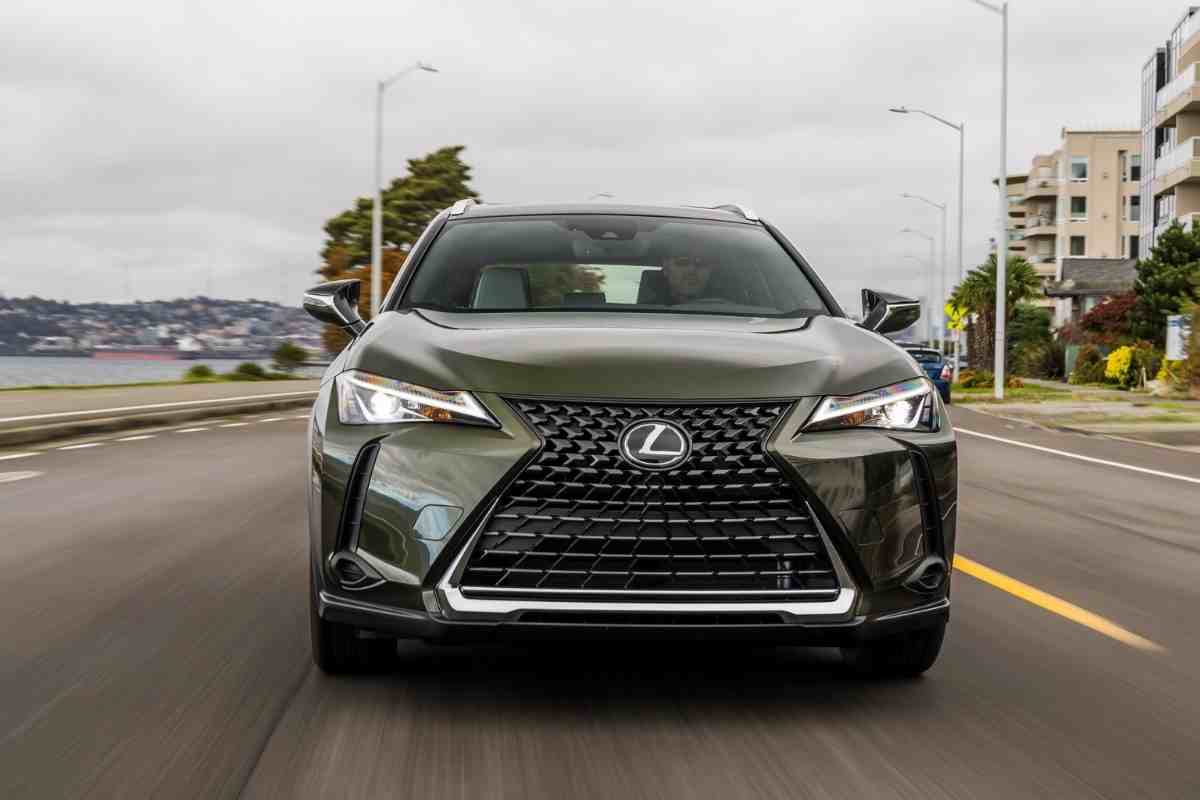 It also got a five-star rating on the side crash test and a four-star on the front collision test. This makes it a safe choice for a family vehicle.
Also on the top safety pick, the Lexus SUV's triple-beam LED headlamps that come with auto-leveling received a high rating.
Frequently Asked Questions (FAQ)
Is it worth it to buy a Lexus UX SUV?
Yes. Lexus UX is a decent luxurious subcompact SUV to buy.
This vehicle comes standard with a premium interior with comfortable front seats and a host of standard safety and security features.
It is offering a pleasurable driving experience in any terrain. This SUV is very stable and easy to handle with excellent steering and cornering abilities.
More so, because of its size, it is very easy to pack this vehicle.
Because of its high projected dependability rating and fuel efficiency, the Lexus UX lineup is the best for family-oriented drivers.
Whether you are planning to carry cargo or people, this SUV will offer the best driving experience.
For those people who love a quiet and efficient ride, the Lexus UX Hybrid is a great choice.
If you are shopping for a small luxury SUV that will give you the prestige that Lexus is known for at a friendly price, then the 2021 Lexus UX is a good buy.
This SUV is affordable and comes packed with high-tech features.
Lexus UX 2020 vs 2021: Which one is better?
Both the UX 2020 and 2021 are worth it, although the Lexus UX 2021 comes standard with blind spot monitoring.
This is a feature that was optional in the previous model years.
Therefore, if you are on a budget but would wish to experience the comfort and luxury that the UX can offer, used 2019 and 2020 models are still a good choice since they have reported a high-reliability rating over the years.
Is It Expensive to insure a Lexus UX?
Several factors affect the cost of insuring your vehicle. These include amount deductible, coverage level, and the kind of insurance selected.
Also, age, gender, region, creditworthiness, and driving record will influence the prices. These apply to any vehicle; it is not specific to Lexus UX only.
Between Lexus UX and NX, which one should I go for?
Both Lexus NX and UX are compact luxury SUVs. Despite the NX being a level higher than the UX, they both come with features that will fit a wide range of driving preferences.
These two SUVs ride nicely over rough terrains and perform admirably in terms of expected reliability.
Additionally, the two SUVs come standard with a slew of standard safety and infotainment features. But if you're on a budget but insist on getting a Lexus SUV, then the UX is your best bet.
It gets a better fuel mileage and is significantly cheaper than the NX. But for speed and more power and space for hauling people and cargo, then the NX is the way to go.
How many people does the UX carry?
Lexus UX is a five-seater compact luxury with two rows of seating. The front seats are plush and supporting, offering a very comfortable driving position for long distances.
This SUV offers ample headroom and legroom for passengers of all heights.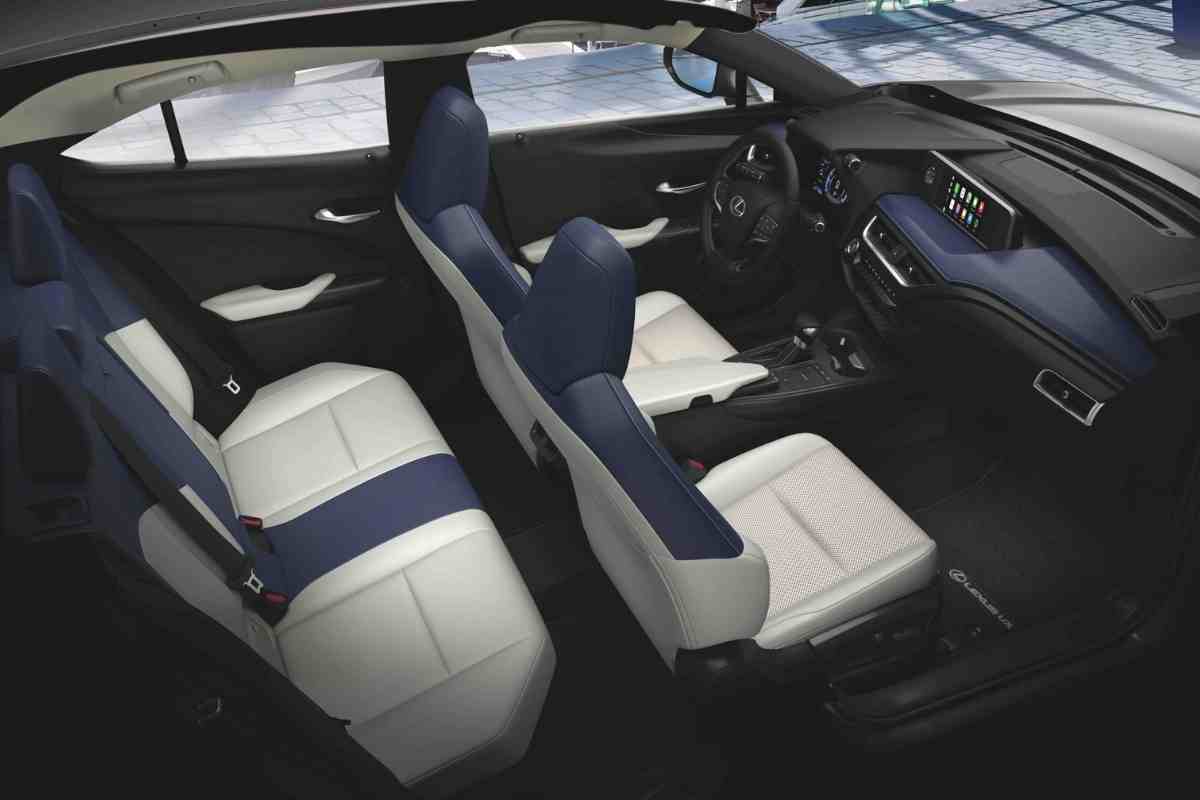 The back seats of the UX are spacious enough for two passengers to sit comfortably for prolonged drives.
It features synthetic leather upholstery and power-adjustable front seats that come standard on all trim levels. Ventilated and heated front seats are standard features of the F Sport trim level.
It also comes with wider side bolsters and a heated steering wheel.
Conclusion
Since its introduction in 2018, the Lexus UX has undergone some major improvement across its model years.
While the 2019 model was the all-new Lexus UX model, it was followed by the 2020 Lexus UX model that came packed with Android Auto that was added to standard features.
To top it up, the 2021 model came with even more enhancement. This model year is still the best so far, thanks to the additional safety features, especially the blind spot monitoring system that came standard.
Therefore, if you are on a budget and wish to buy a Lexus SUV that will give you a pleasurable user experience, the Lexus UX is the compact luxury SUV to go for. In terms of the model year, 2021 is the most recommended since it comes packed with all the standard safety and performance features.
But still, the 2019 and 2020 Lexus UX SUVs are a good buy. The Lexus lineup of SUVs will never disappoint you.