Which Crossover SUV is Best in Snow?
This post may contain affiliate links. As an Amazon affiliate, I earn from qualifying purchases.
When buying a crossover SUV for the snow, you will want to look for features that make it easier to drive in snow and cold conditions.
You'll want the car interior to stay nice and warm, while the tires and exterior are built to withstand snowy and icy road conditions.
The best crossover SUV for the snow is the Subaru Outback, the Nissan Pathfinder, and the Buick Envision. They all have remote start, heated seats, and optional All Wheel Drive (AWD). They each have unique features that allow them to drive through tough terrains and they are also great for snow.
If you are buying a new car, ask about the features you're looking for, especially if you plan to drive in the snow.
Things like heated seats, remote start, and All Wheel Drive are great features to get if you frequently need to travel over snowy roads.
2022 Subaru Outback
This car has a lot of great snow features.
It is made for adventures and driving in many various harsh terrains.
If you live in a place that gets lots of snow in the winter, then this car is a great option for you. (Source)
One of the most important things for a car to have if you plan to use it during the winter is a remote start feature.
People that live in cold areas know that you have to start your car and let it warm up before you start driving so that your car's engine and interior have time to get warm.
To make this easier, it is handy to be able to warm up your car while being away from it so that by the time you need to start driving, your car is defrosted and ready to do.
This car is known for driving safely in crazy weather conditions, and it is known for performing well in snow.
The latest 2022 model is no different.
It has been rated extremely highly by Kelly Blue Book and it is made for combating any road conditions you find yourself dealing with.
If you live in the snow, then this car is great for you.
It is made to be comfortable for every passenger and it drives safely over any terrain.
The suspension is also set at a great height so that you can drive over rocks and the car will be okay.
It's set high enough that you won't get stuck in most drifts.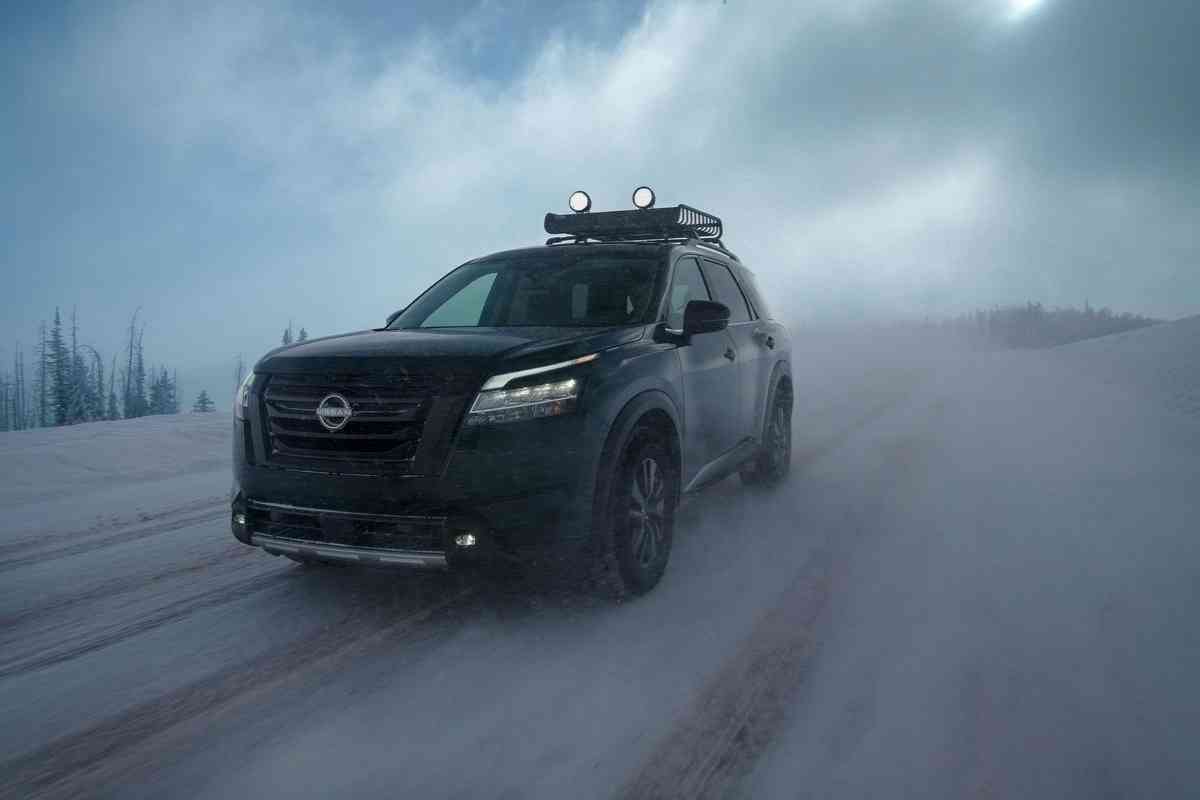 This car also has great features for the snow.
It has All Wheel Drive, heated seats, and a remote start. These features make living in the snow much better.
You can get your car started while you are getting ready inside your home.
Just turn on the heat and enjoy a heated front seat as soon as you open the door!
Nissan Pathfinder has a great drive performance over different terrains.
You can drive through dirt, snow, mud, and any weather you may face.
If you are going to be driving through the snow regularly, then this car is a great option. (Source)
In the winter, everyone drives slower to avoid hitting a patch of ice and spinning out of control.
Your tires have less grip on the ground in snowy conditions so in order to stop on time, people drive slower for everyone's safety.
You can also enjoy more visibility on the road when you drive this car.
The Nissan will beep at you when you are getting too close to another car, or when you are switching lanes and a car is in your blind spot.
It also has emergency braking that can prevent accidents.
Emergency braking might not be the best feature if you are driving in a snowstorm, but nevertheless, it can help when it comes to avoiding collisions on the road. This car has set modes depending on the weather conditions, so if you set the car to snow then the car will know how to respond to the road conditions.
Buick Envision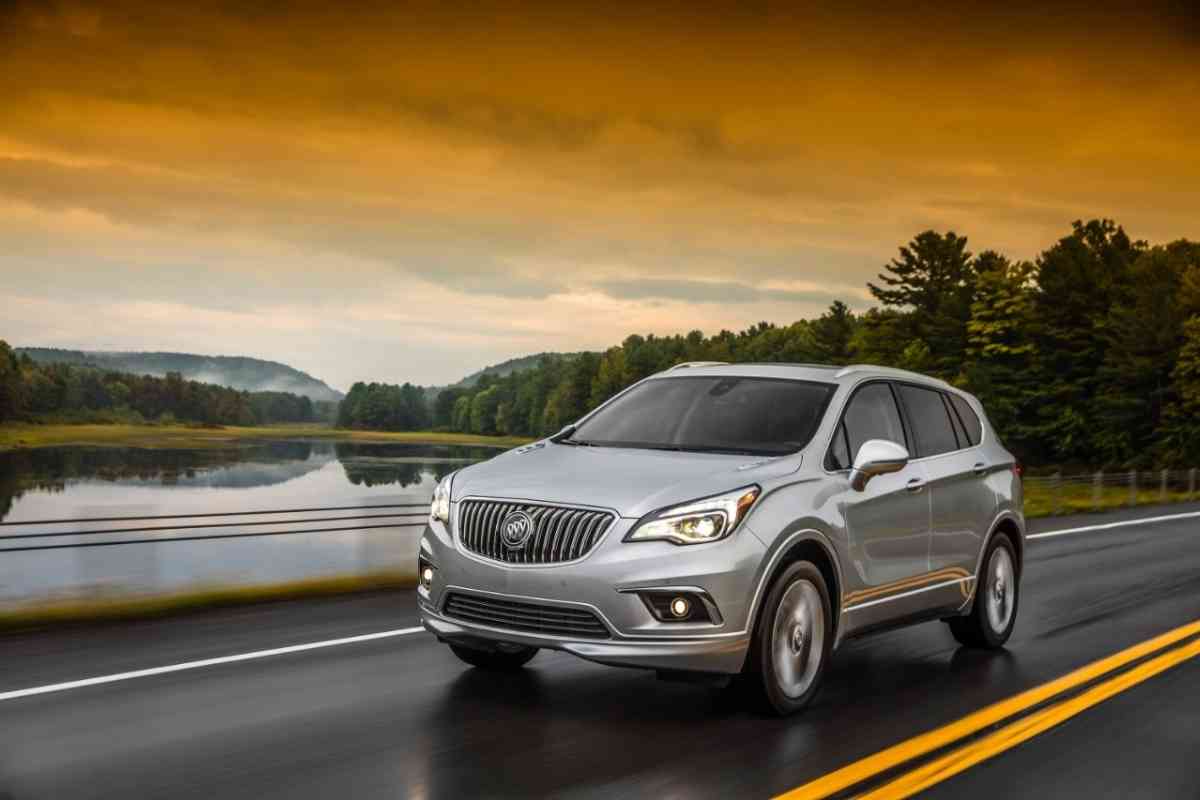 This car also has similar features that work great in the snow.
You can remotely start your car and it will be a lifesaver for those who can't stand getting into a cold car.
You might be able to add a heated steering wheel as an upgraded feature as well.
Just talk with your local Nissan dealership about that.
Steering wheels get cold in the winter and it can make it hard to drive. Having to hold onto a cold steering wheel is one of the bad parts of living in snow, but if you have a heated steering wheel then you can have a much easier time driving.
It not only makes you more comfortable, but it makes you safer because you can grab the steering wheel more firmly compared to trying to grab it lightly when it is cold in the winter.
This car is also great when it comes to visibility.
The safety features are up to standard like these other vehicles, but it also has amazing headlights that make it easy for you to see through any weather conditions, including thick snow. (Source)
This car has great outdoor weather features that also work well in the snow.
All Wheel Drive is a must for compact SUVs, and each of these cars has that as a standard feature.
Another great thing to include in modern cars is safety cameras. Being able to check your blindspots with cameras can make you drive safer. (Source)
Many cars have a backup camera as a standard feature now, but having the ability to see the other sides of your car is great when driving in weather that causes poor visibility.
If you need to move into another lane while driving in snow, there is a chance that you can hit someone simply because you couldn't see them.
To combat this, you can get the 2022 Ford Edge that also lets you see your blind spots on cameras.
This helps you to know if a car is on your side or not, and it can beep at you if you are about to collide with another vehicle.
This keeps you safer while driving in harsh conditions.