What is a Jeep Grand Wagoneer Worth?
This post may contain affiliate links. As an Amazon affiliate, I earn from qualifying purchases.
One of my favorite things to do is search for Jeep Grand Wagoneers for sale online. Every now and then I might just find a hidden gem. Trying to find these hidden gems and determine what it is worth "as-is" versus what the Jeep Grand Wagoneer will be worth if it is properly restored can become quite addictive. I have done my best to come up with a logical way to determine the value of Jeeps for sale online.
So, how much is a Jeep Grand Wagoneer Worth? The majority of quality Grand Wagoneers sell in the $19,000 to $25,000 range. Over the past year, the Top 10% of Jeep Grand Wagoneers have sold for over $30,000. The Bottom 10% have sold between $10,000 and $15,000.
These are mostly late 80's to early 1990's Jeep Grand Wagoneers in good mechanical and cosmetic condition. Recently, the highest-priced Jeep Grand Wagoneer sold for over $55,000. (keep reading to learn how these numbers were calculated)
Here is an example of a low mileage Jeep Grand Wagoneer that is in excellent condition and checks all of the boxes for a Jeep that would go for top dollar. This Jeep is listed for $45,000 on Craigslist: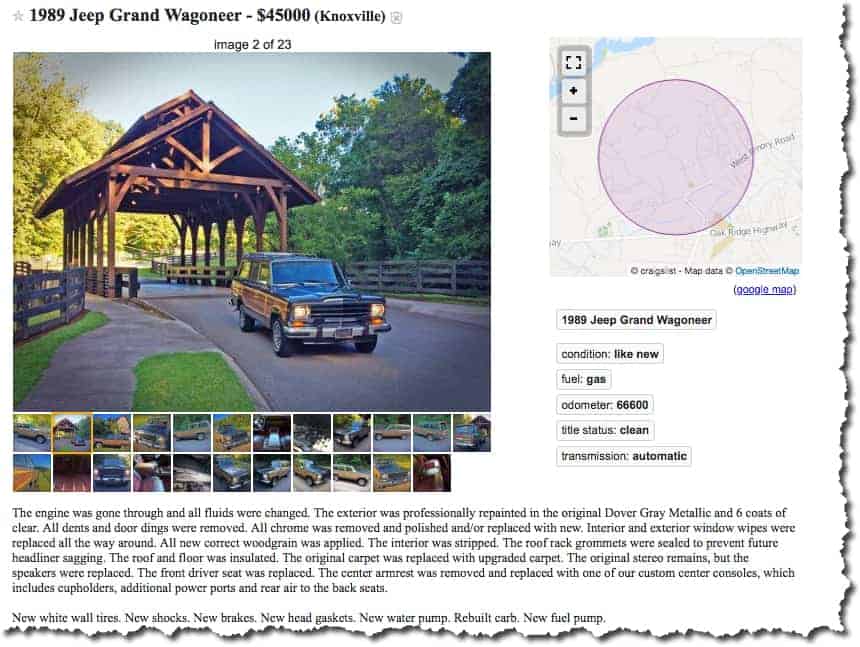 One of the most debated questions on the Jeep forums is, "What is My Jeep Worth?" I can already hear a few grumbles from people about these numbers. There are still some people out there who think all Grand Wagoneers should sell for $3,000 to $4,000 tops. Years ago, this may have been the case, but in the last decade, only Jeep Grand Wagoneers in need of meaningful cosmetic and mechanical restoration work sell for these low prices. Not to mention restoring a Grand Wagoneer can be very expensive and time-consuming!
Here is an example of a Jeep Grand Wagoneer that is listed in the $3,000 to $5,000 range: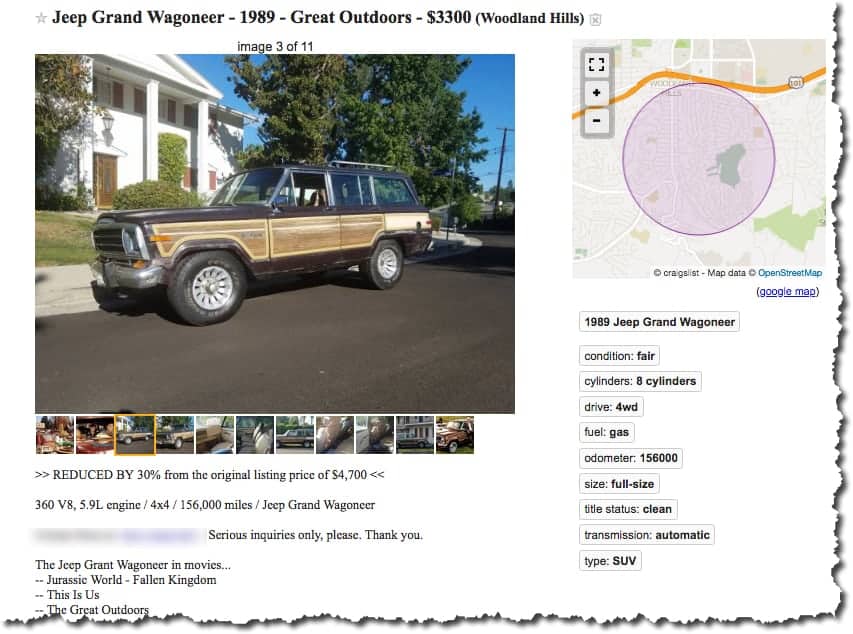 This is an example of a Jeep Grand Wagoneer for sale online for $16,200. It has a new engine and lots of work done, but the interior and paint definitely need some help to get it to sell for more.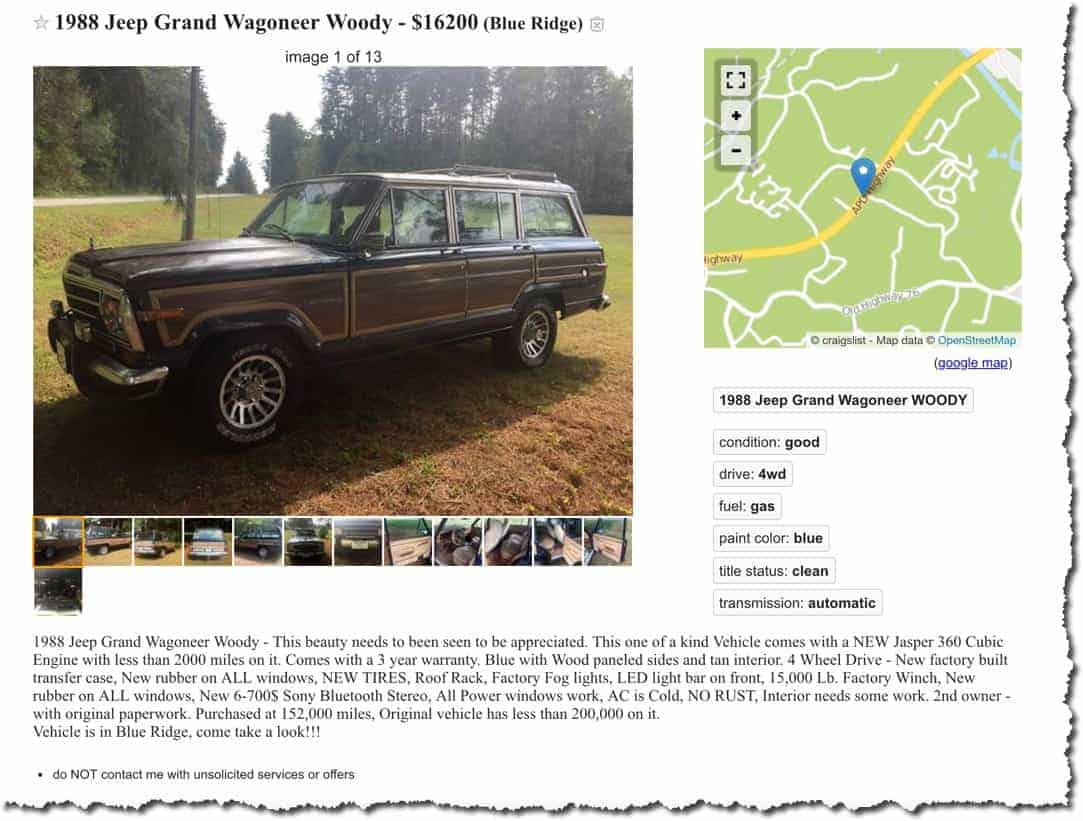 This Craigslist listing is an example of a fantastic looking $25,000 Jeep Grand Wagoneer for sale online with just 70k miles:
(This one could be undervalued in my opinion)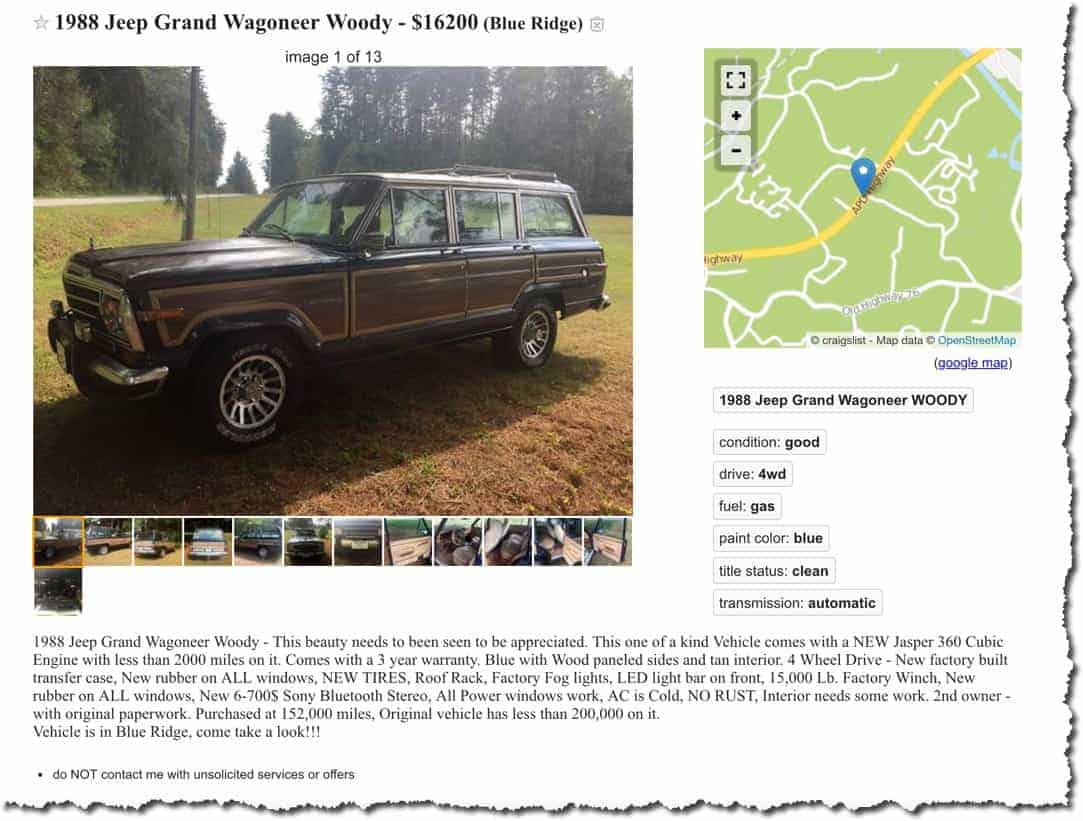 How Do I Know What My Jeep Is Worth?
Are you thinking about selling your Jeep Grand Wagoneer? I recently sold my 1987 Jeep Grand Wagoneer, and I did a lot of market research to determine the appropriate market range of prices. From my research, I determined a low "fire sale" price, a "realistic price" and a "make me sell" price which I felt was at the top of the price range for the condition of my specific Jeep.
Here are the figures I set for my Jeep Grand Wagoneer:
Fire Sale Price: $19,000 to $25,000
Realistic Price: $25,000 to $29,000
Make Me Sell Price: $29,000 to $35,000
From my market research and the calculation of my expenses, I set these three prices. I knew what I paid for the Jeep. I know what I spent restoring my Jeep based on all of my receipts.
I added a little for my labor costs because I spent two years working on the Jeep. I then conducted plenty of market research to understand what other people are willing to pay for a Jeep. Remember, your Jeep is truly only worth what someone else is willing to pay for it.
What Is The Market Paying for a Jeep Grand Wagoneer Today?
To determine a good ballpark figure for a clean Jeep Grand Wagoneer in good condition, I like to look at closed auction prices. I like eBay, but there are flaws in their auction process. eBay auctions close at a certain time, and it allows buyers to "snipe" bids at the very end and beat out other bidders. Someone may have been willing to pay more but did not get the chance since the bid ends at a set time.
So what is the alternative to eBay's bidding process?
The alternative is the auction bidding format over at Bring a Trailer (BaT). Let me just say, some of you will hate me for sharing this page with you. There are so many cool vehicles for sale on Bring a Trailer.
Okay, here is the Bring a Trailer Link. (I warned you! It can be addictive – lol)
I use Bring a Trailer to look at prior auction prices. I want to know what real people were willing to pay for Jeep Grand Wagoneers.
Why is BaT better than eBay for pricing information?
It is because of the way Bring a Trailer handles its auction bidding. You see, when an auction gets to the end, every time someone places a bid, the auction ending time is extended to allow other would-be buyers to place a counterbid. It is the equivalent of a bidding war at a live auction.
All interested buyers have the chance to outbid their competition until eventually everyone else gives up and exits the auction. Then, the true highest bidder gets the vehicle! Think about how much better this is for a seller versus listing their Jeep on eBay.
To figure out what a Jeep Grand Wagoneer is worth in today's automotive market, I use the sold vehicle pricing over at Bring a Trailer. I can see what the prior Grand Wagoneers have sold for, what month and year they sold, and I can read their listing to see what was done to improve the condition of the vehicles.
Through this research, I have found that the Top 10% of Grand Wagoneers have sold for over $30,000. The highest-priced Jeep sold for over $55,000 in 2017.
The bottom 10% of sales were under $10,000 but all of those were in 2017 or earlier. As of the time of this writing, no Grand Wagoneers have sold for less than $10,000 on Bring a Trailer. The last time a Grand Wagoneer was sold for under $10,000 was Q3 2017.
It is also important to know that Bring a Trailer charges a buyer's fee of 5% with a maximum fee of $5,000. If you use their pricing history, add 5% to the sale price to understand the true cost of the vehicle to the buyer. For example, if a Jeep sold for $25,000 multiply $25,000 by 5% and add it to the $25,000 closing price.
Here's the math:
$25,000 X 5% = $1,250
$25,000 + $1,250 = a true cost of $26,250 for the Jeep.
Then you would also need to factor in the shipping costs of $500 to $1500 on average.
Conclusion
We can say that in general most good quality Jeep Grand Wagoneers sell for around $20,000. Low mileage vehicles and vehicles in flawless original condition can sell for significantly more than this price. If you are looking to sell your Jeep Grand Wagoneer, check out Bring a Trailer, eBay and do a national craigslist search. You can use my little craigslist hack to find Jeeps for sale.
Once you have a good feel for the vehicles currently for sale, and you do an honest assessment of the condition of your vehicle, you can set your three price ranges.
Calculate your quick sale or "fire sale" price range, your "realistic price" range, and finally your "make me sell" price. If you are in no rush to sell, start out listing your vehicle in the make-me-sell range and gauge the market interest. You can always lower your price in the future. Oftentimes, when you drop the price it may catch someone's eye and spark their interest.
If you are a buyer of a Jeep Grand Wagoneer, it is important to know these numbers too. If you are able to find a solid Jeep below these price ranges and fix it up, you have an approximate budget for how much to spend on upgrades.
Consider this…
If you paid $13,000 for a Jeep with 90,000 original miles and put $5,000 worth of restoration work into the Jeep, you could probably sell the Jeep for around $20,000 and make a $3,000 profit.
$3,000 on an $18,000 investment is a 16.67% return on your money. Not bad for the pleasure of working to improve a classic American vehicle, and you get to enjoy using the Jeep Grand Wagoneer while you own it.