2021 New Jeep Wrangler: Best Prices Anywhere [16 Below Invoice Examples]
2021 New Jeep Wrangler: Best Prices Anywhere [16 Below Invoice Examples]
Did you know? 85% of ALL New Jeep Wrangler Buyers Pay Too Much!
As I sit here writing this post I am Jeepless for the first time in three years. Yes I know, it is sad. Don't worry it will not last for long. I have spent the past three weeks of "jeeplessness" researching how to get the very best deal on the new Jeep Wrangler JL. Now that I know how to get a new Wrangler for over 10% Off of MSPR, I thought I would share with you how to do it too…
First, let's discuss how much should you pay for a new 2019 Jeep Wrangler JL or JLU?Answer: You should be able to pay 6% below invoice plus tax, tags, and fees.
If you want to know how to get this pricing, or better, this blog post is for you. I will share with you exactly what you need to do to get this pricing.
What Jeep Wrangler Unlimited Models Are Available In 2019?
There are three Jeep Wrangler Unlimited models available for 2019. They are the Sport, Sahara and Rubicon trim levels.
For the purposes of this blog post, I will use the most expensive 2019 Jeep Wrangler JL, the Unlimited Rubicon. I am using this one for illustrative purposes because this is the vehicle I personally priced out. With this said,
6% below invoice price holds true for any Wrangler trim package you would want to buy.
Let's get started…
How Much Does A 2019 Jeep Wrangler JL Unlimited Rubicon (JLUR) Cost?
So how much does a 2019 Jeep Wrangler JL Unlimited Rubicon Cost? Answer: The base vehicle MRSP start at $41,545 and goes up from there. Many of the Rubicons on dealership lots are priced in the $52,000 to $57,000 price range based on the optional features on each vehicle.
Here is the factory build sheet showing the pricing table including the pricing of the 3.6L engine versus the 2.0L 4 Cylinder Turbo. So far, there has been no mention of the highly anticipated Eco Diesel engine that has been rumored to be in the works.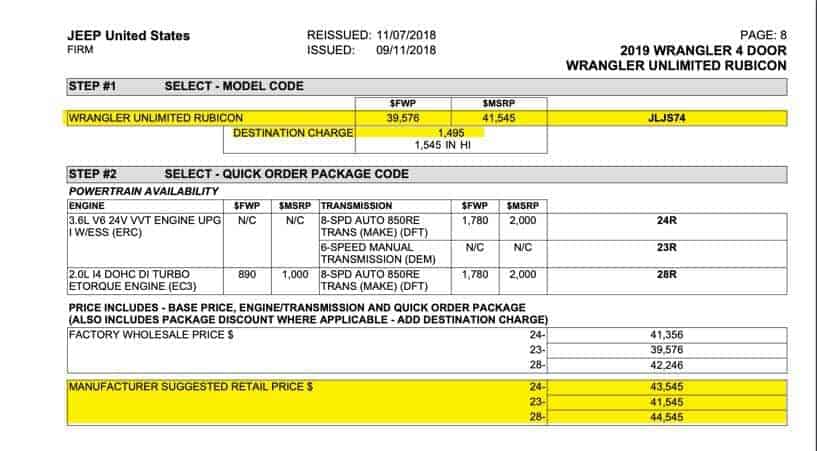 So, How Do I Get Over 10% Off On A 2019 Jeep Wrangler Unlimited Rubicon (JLUR)?
I thought you would never ask. LOL
Let me walk you through the process step-by-step.
Step #1 – Build And Price Your Jeep
We start by visiting Jeep.com. Go ahead and click this link. It will open the Jeep page in another browser window or tab.  Then you want to select the Jeep Wrangler.  You will need to click the BUILD & PRICE tab. This will allow you to customize the exact Jeep you want. Pick any version you want and follow along as I walk you through the process.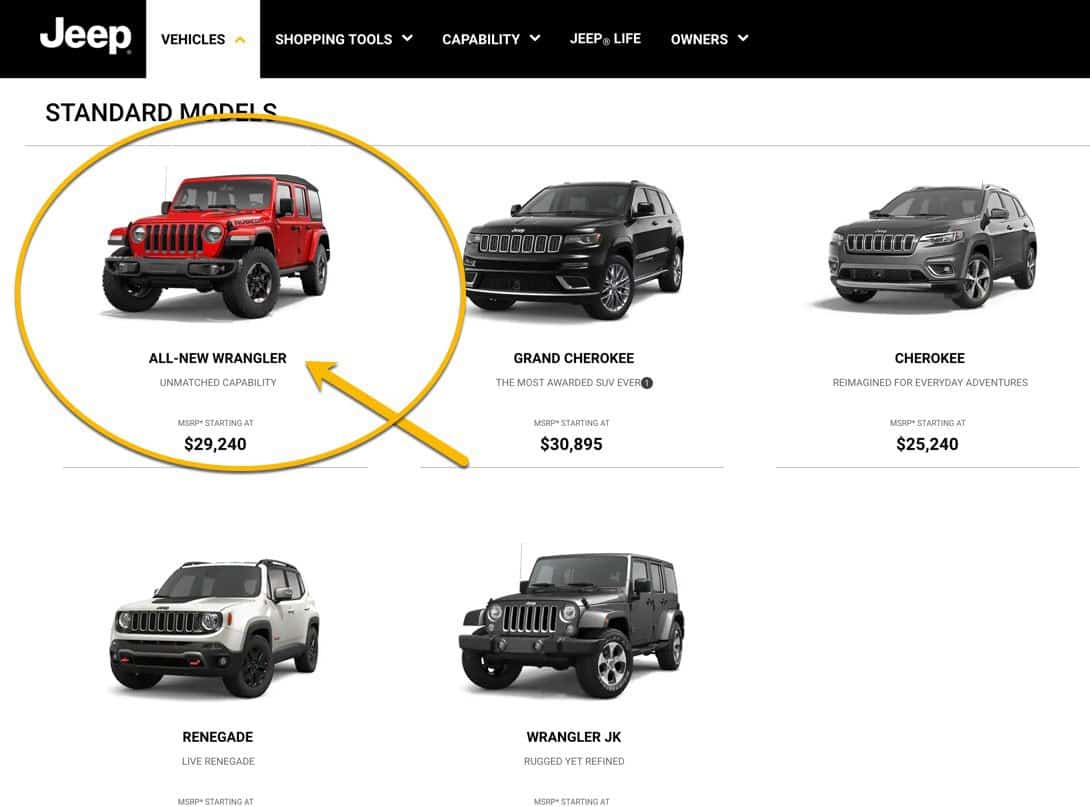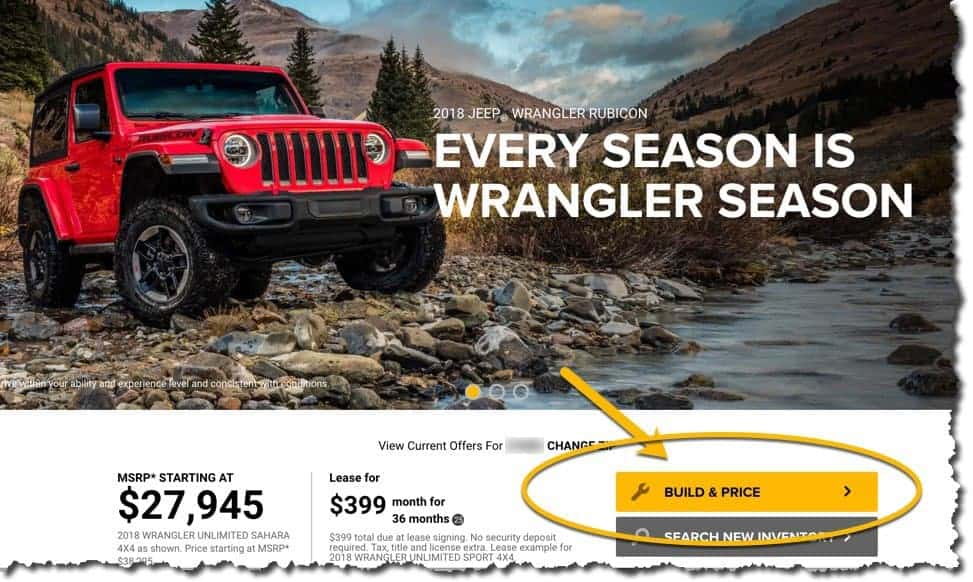 From here, you will want to go through your selected vehicle and research each of the options available. I am a little bit old school, so I got out a piece of paper and a pen and wrote down the features I wanted. With this said, you have the option of printing out your BUILD & PRICE report when you get done.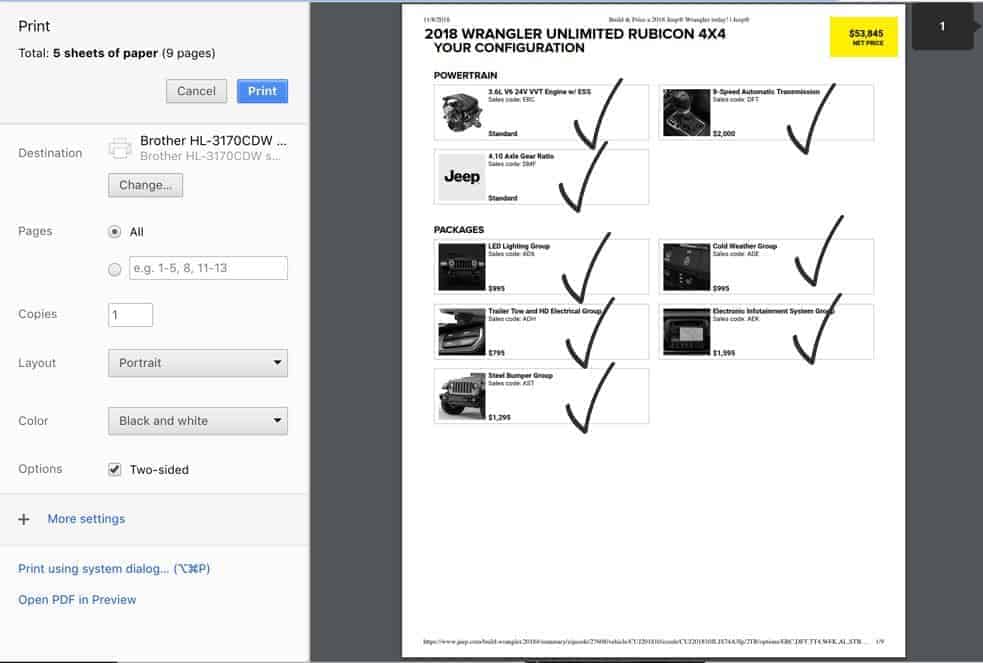 Now you know what the Manufacturers Suggested Retail Price (MSRP) is for the vehicle. For the Jeep Wrangler Rubicon that I priced out with plenty of bells and whistles, the MSRP came to a grand total of $53,845.
Don't worry, these next steps are going to show you how to get a big discount.
Step #2 – Get The Invoice Price Of The Jeep Wrangler (also known as the $FWP)
How in the world are we going to get the invoice price for the Wrangler? Websites like Edmunds, Cars, and CarsDirect provide a glimpse into invoice pricing on many vehicles, but for our purposes, we have something even better! We have the build sheet which specifically lists the $FWP (invoice) and MSRP price of every option available. Each month Jeep produces this document and it is the way you know what your price will be based on.
Here is the November 2018 issued document for 2019 model years.
This is a critical document to get the best price. Fortunately, you will see later where you will be able to get the most up to date build sheets with the $FWP and MSRP Pricing.
February 2021 FWP Wrangler SHEET
Step #3 – Compare Your Build Sheet from Step #1 With The Factory Build Sheet In Step #2
This is the step where it all starts coming together. It is also the step that will take the most effort on your part to get the best deal possible on your new Jeep. Because you will be armed with all of the facts, you will know for a fact you are getting a good deal on your Jeep.
Take the print out of the desired features you selected in step #1. We will go line by line through the factory build sheet to get the invoice price for each of the options.
Remember, if you are building a Sport or Sahara, your codes and prices will be different than mine, but the process is still the same.
Are you with me so far? Good.
I found this comparison easier to do in an excel file, but you can do it on paper if you like.
I created four columns: Features, $FWP, MSRP, CODE.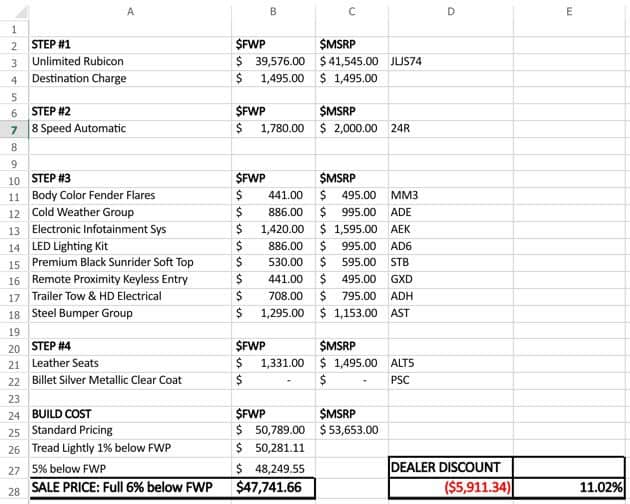 Make sure you get the codes in column 4 because you will need those if you chose to have the factory build your Jeep for you as a special order.
Add up the $FWP column and the MSRP prices and you will have your pricing.
Then we apply the discounts. A 1% below invoice Tread Lightly discount, and then a 5% below $FWP discount.
So where did we get the 1% and 5% discounts?
Step #4 – Get The Special Tread Lightly 1% Below Invoice Discount
This step is going to cost you a $100 discount to the non-profit organization, Tread Lightly. In exchange for your donation, you will get many special benefits, but the key one for buying a new Jeep is the 1% discount.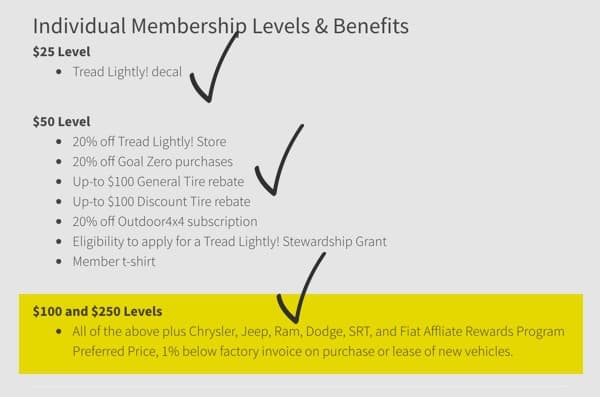 Just know, It can take several weeks to get your membership package in the mail which has your membership or affiliate code on it. This is the number the dealership will need to give you the 1% pricing discount.
Step #5 – Get You Dealership Discount
Steps 1 through 4 is the same for everyone. Step 5 is where you have to do a little bit of local legwork, but it is this extra effort that will provide the biggest discounts.
So far, we have established a base price of 1% below invoice from the Tread Lightly discount. Now we need to get a deeper discount and this will come from each dealership individually.
Any dealership can set their discount rate. There are many factors that go into a dealerships ability and or willingness to discount vehicles. Many of the dealerships near my home will not offer a 5% discount.
Where Did The 5% Below Invoice Come From?
I have another little-known secret. You see, other fellow Jeep lovers have been doing similar research to me. Through the collective knowledge and willingness of certain dealerships to offer deep discounts, this next tip will help you the most.
Before we go to the discounts, let's do a quick review of the steps leading up to this point…
Build Your Jeep
Get The Invoice Pricing
Organize Your Build Sheet
Get The Tread Lightly Discount
With your organized build sheet created in steps 1-3, and your tread lightly discount code, it is time to start contacting dealerships.
For Step #5, you will want to first use this site to locate a pre-negotiated discount on a new Jeep Wrangler. If your local dealership is on the list, contact the specific agent listed and provide them with your build sheet to get the ball rolling.
What if there is not a dealership near your hometown?
Well, you have a few options. First, I would start by contacting the sales manager at your local dealership, provide him with 3 other dealerships willing to provide a 6% discount and ask him to do a price match. Typically the sales manager is able to do this better than a sale rep. If the sales manager is unwilling to give you your price, you need to keep calling dealerships in the area until someone is willing to make you the right offer.
What if your local dealership will not meet or beat the price?
Then it is time for a road trip! Think about what a great story it will make that you traveled across three states to buy your new Jeep Wrangler JL. Then you have the ride home to get familiar with your new Jeep. By the time you pull into the driveway at home, you will know all about how your Jeep Wrangler handles and might even have a few upgrades already in mind.
To end this blog post, I told you I would give you seven dealerships across the United State willing to offer a New Jeep Wrangler below Invoice.
Here you go! This is from my research and the research of others but there is no guarantee they will continue to offer these discounts after the publish date of this article. However, I am willing to bet they will offer these deals going forward.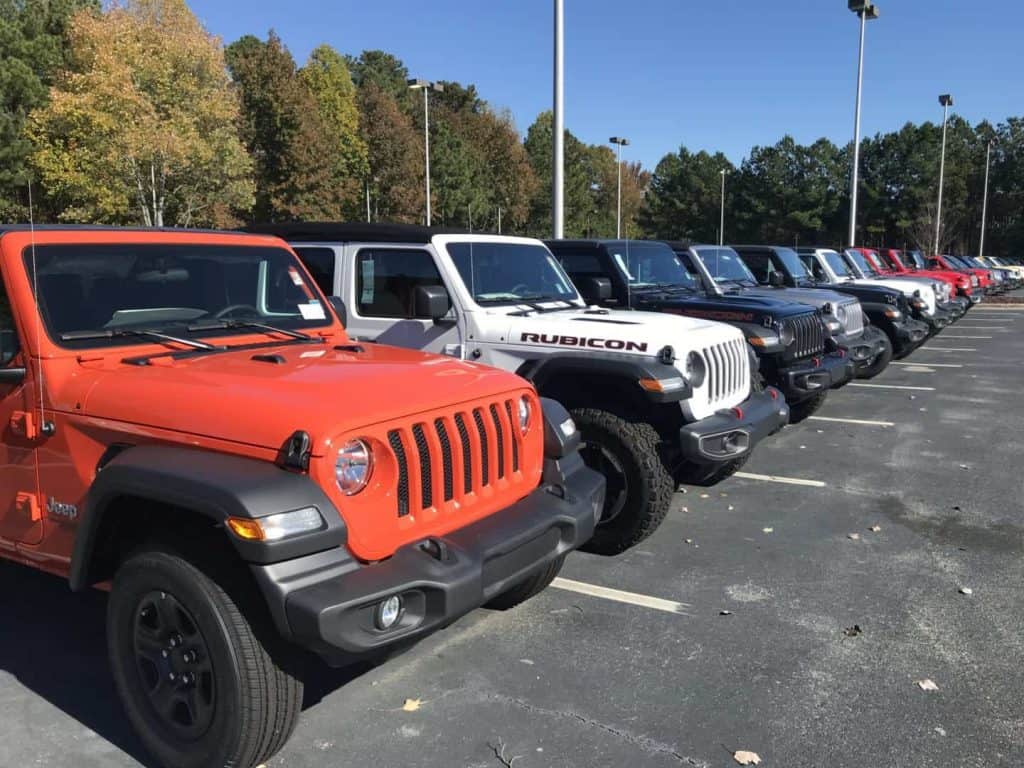 16 Dealerships Offering Below Invoice Prices On A New Jeep Wrangler
Jeep Wrangler Deals In California: Stewart Chrysler Dodge Jeep Ram (San Francisco) – Target 3% Below Invoice Pricing
Jeep Wrangler Deals In Nevada: Jim Marsh Chrysler Jeep Dodge (Las Vegas) – Target 5% Below Invoice Pricing
Jeep Wrangler Deals In Colorado: Groove Silverthorne Jeep (Silverthorne, Colorado) – Target 6% Below Invoice Pricing
Jeep Wrangler Deals In Washington: Budclary Auburn Dodge Jeep Ram (Auburn, Washington) – Target 5% Below Invoice Pricing
Jeep Wrangler Deals In Texas: Nyle Maxwell Chrysler Dodge Jeep Ram of Austin (Austin, Texas) – Target 7% Below Invoice Pricing
Jeep Wrangler Deals In Oklahoma: Fowler Dodge (Oklahoma City, Oklahoma) – Target 6% Below Invoice Pricing
Jeep Wrangler Deals In Illinois: Tyson Motors (Shorewood, Illinois) – Target 6% Below Invoice Pricing
Jeep Wrangler Deals In Ohio: Ken Ganley Chrysler Dodge Jeep Ram (London, Ohio) – Target 6% Below Invoice Pricing
Jeep Wrangler Deals In Michigan: LaFontaine Chrysler Dodge Jeep Ram of Clinton (Clinton, Michigan) – Target 6% Below Invoice Pricing
Jeep Wrangler Deals In Arizona: Earnhardt Jeep (Gilbert, Arizona) – Target 5% Below Invoice Pricing
Jeep Wrangler Deals In New York: Suresky (Goshen, New York) – Target 7% Below Invoice Pricing
Jeep Wrangler Deals In Tennessee: Freeland Jeep (Antioch, Tennessee) – Target 5% Below Invoice Pricing
Jeep Wrangler Deals In Arkansas: Superior Dodge Chrysler Jeep Ram (Conway, Arkansas) – Target 6.23% Below Invoice Pricing
Jeep Wrangler Deals In Florida: New Smyrna (New Smyrna Beach, Florida) – Target 5% Below Invoice Pricing
Jeep Wrangler Deals In Missouri: Royal Gate Jeep (Ellisville, Missouri) – Target 6% Below Invoice Pricing
Jeep Wrangler Deals In North Carolina: Tricity Chrysler Jeep Dodge (Eden, North Carolina ) – Target 6% Below Invoice Pricing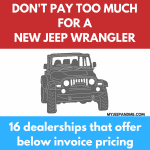 2019 New Jeep Wrangler: Best Prices Anywhere [16 Below Invoice Examples]