What Is The Best Used Diesel SUV?
This post may contain affiliate links. As an Amazon affiliate, I earn from qualifying purchases.
One of the best feelings we have probably all felt is having a full tank of fresh gas and not having to worry about filling up for another few days or even weeks.
SUVs are becoming more popular over time as families continue to grow and long-distance traveling becomes more common.
Diesel engine SUVs are much more fuel-efficient, saving you more time in between fill-ups, perfect for drivers who just cruise around town or go on long road trips.
But which are the best used diesel SUVs out there?
A few of the best-used diesel SUV's are the Hyundai Tucson, Mercedes-Benz GLE-Class, Audi Q7, Volkswagen Touareg, and GMC Terrain as they are higher in fuel economy, have better safety features, have higher safety ratings from IIHS, and are praised by widely trusted Kelley Blue Book experts.
Not every year from these models was given the same safety ratings by IIHS (Insurance Institute for Highway Safety), and the year each model was made may have different features that will pique your interest more than other SUVs.
Using the most trusted sites and experts, here are five of the best-rated used diesel SUVs.
The Hyundai Tucson is a small SUV that was redesigned in 2016, making it bigger, stronger, and safer.
It offers a front and all-wheel drive that gives an even split of power to the front and rear tires, making it safer in harsh weather and icy conditions.
It gives up to 33 mpg with its smaller engine, saving lots on gas!
Some convenient features include the Smart Power Tailgate and Yes Essentials Stain Protection.
The Smart Power Tailgate only requires the driver to have keys on their person and stand by the tailgate for a few seconds before it opens automatically.
The Yes Essentials Stain Protection ensures stains and odors will not harm the seats, which is perfect for busy vehicles.
Over the years up to 2019, the Hyundai Tucson gas mileage lowered to just 30 mpg.
The other additional features have held in place over the years as well.
The Hyundai Tucson went through the IIHS safety testing and received a Top Safety Pick+ rating on 2016, 2017, and 2019 models, and a Top Safety Pick rating on the 2018 model.
Mercedes-Benz GLE-Class
The Mercedes-Benz GLE-Class is a midsize luxury SUV that looks and feels expensive.
All models of the GLE have all-wheel drive and have impressive towing capacities of up to 7,200 pounds.
There are plug-in hybrid models that will save on fuel costs and emissions, and only need a few hours of charging time.
It gets up 29 miles per gallon, and some models have other fun and comfortable features such as heated massaging seats and heated/cooled cup holders. The 2020 model came out with new safety features such as steering and lane-keeping assistance, adaptive cruise control, and blind-spot crash prevention.
After going through the safety testing from IIHS, the 2016-2019 GLE models were all given the Top Safety Pick+ rating.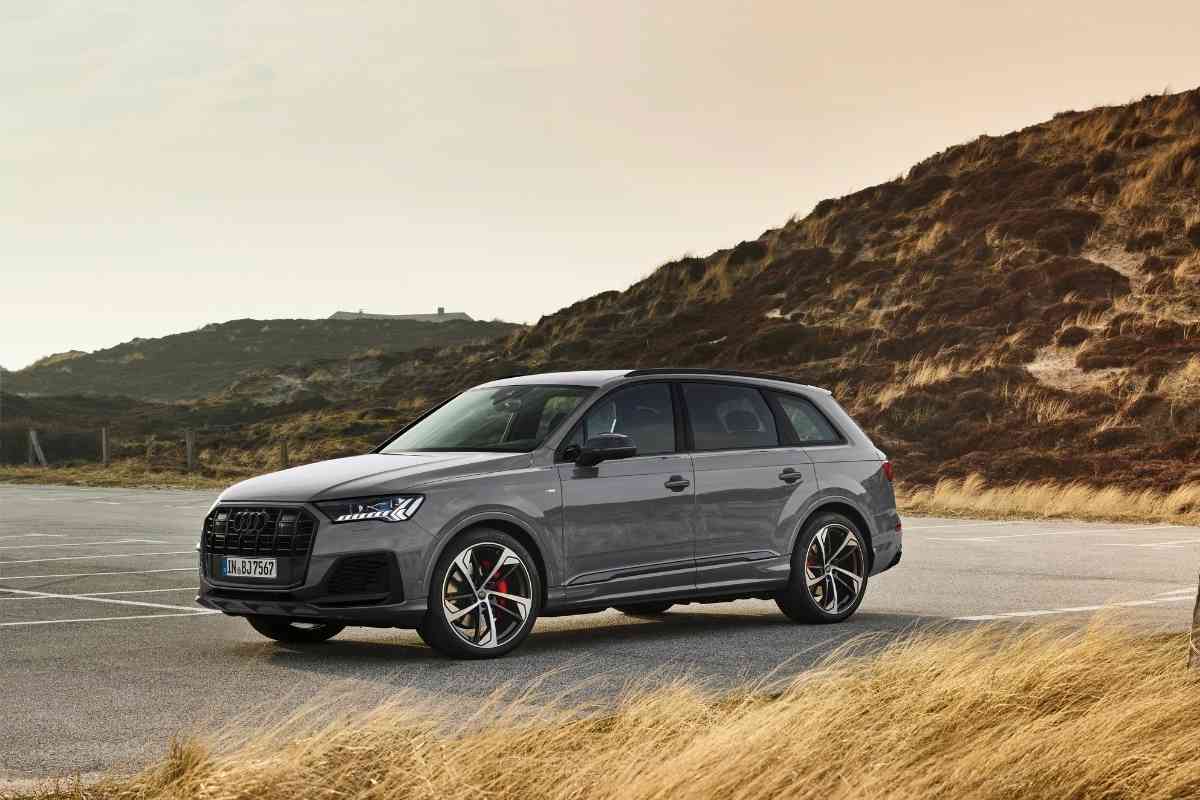 The Audi Q7 is a sleek-looking large SUV.
The 2014 Audi Q7 has a great gas mileage of 19 mpg in the city and 28 mpg on the highway. This car has amazing consumer ratings and people love the reliability of this car.
This car includes a keyless entry and a push-button start, and it has a 4.3/5 rating on Kelly Blue Book.
Consumers rate this car highly and the price of the car explains the level of quality this car is made with.
This car is worth about $19,000 as of 2021, and it has great ratings for comfort and style from consumers.
The drive is smooth and the interior is very well made.
It lasts a long time and people love the size of the car.
It is great for families and fits everyone in the car comfortably.
The car had optional AWD and that is a big reason why people love to buy this car second-hand.
In 2021, used cars are being sold at exponentially high rates, and a used car's price is much higher in 2021 than in previous years.
You might want to pay these prices for a car, but you might also want to wait out the high prices for when they drop.
Although it doesn't have as high fuel economy or gas mileage, its overall technology and performance are great.
It has FSI (Fuel Straight Injection) which gives a power boost when you most need it and improves the all-wheel driving system, and transmission, making it ideal for differing road and weather conditions.
It also has adaptive cruise control features making for a smoother, safer drive with cruise control for you and the other cars around you.
There is also the parking aid system with a rearview camera to help determine if space is big enough for parking and help guide through parallel parking.
Through IIHS safety testing, the Audi Q7 was given a Top Safety Pick for 2008, 2009, and 2017 models.
Although the newer models over time have come out with new and unique interior and comfort features as well as improved gas mileage, 2008, 2009, and 2017 models would probably be the better models to consider as they received higher safety ratings, which can't beat comfort and convenience!
The GMC Terrain is a midsize SUV with a wonderful fuel economy of up to 32 miles per gallon which stayed consistent for several years of redesigning starting in 2011! It has a moveable second row to customize backseat space, as well as heated cloth seats to keep you warm in the cold and won't betray you in the heat like leather seats.
The diesel power improved throughout time and came out with all-wheel-drive in 2015.
The 2010-2013, and 2015-2016 models were awarded the Top Safety Pick from IIHS while the 2014 model was awarded the Top Safety Pick+ rating, the highest and most trusted safety rating
Like before, picking from one of these models and prioritizing safety over convenience is always the best and wisest choice.