Which Large SUV Has the Best Bas Mileage?
This post may contain affiliate links. As an Amazon affiliate, I earn from qualifying purchases.
Buying a car is an important decision.
There are many different factors to consider, including gas mileage.
Keeping a vehicle in good condition and full of fuel is expensive, especially for larger vehicles.
For this reason, it is financially vital to find a vehicle that has the best gas mileage.
Which Large SUV Has the Best Bas Mileage?
The large SUV with the best gas mileage is the 2022 Chevrolet Tahoe with a diesel engine, which gets 21 miles per gallon in the city and 28 miles per gallon on the highway. The Cadillac Escalade, the Chevrolet Suburban, the GMC Yukon, and the Ford Expedition also have comparably good gas mileages.
The better a vehicle's gas mileage, the less expensive it can be to own long term.
It is also important to know more about the vehicle so you can make the best purchasing decision overall.
Let's look at what these models of SUVs cost to drive, maintain, and some other factors.
The Chevrolet Tahoe is a powerful large SUV.
This SUV was built similarly to the way Chevy built the Silverado and has been made since 1995.
It would be logical to expect this vehicle to get gas mileage similar to a truck, however, it is actually much larger than a truck which does impact its fuel efficiency.
But, when compared to other large SUVs, the Chevy Tahoe takes the cake.
Most large SUVs get from 15 to about 20 miles on the gallon, depending on where you drive them.
The 2022 Chevy Tahoe, on the other hand, gets between 21 miles and 28 miles from each gallon of fuel with the diesel engine.
"Tahoe with the 3.0L Turbo-Diesel engine offers an EPA-estimated 21 MPG city and 28 MPG highway, while Suburban offers up to an EPA- estimated 21 MPG city and 27 highway. It's no surprise that Tahoe and Suburban are the most fuel-efficient Large SUVs in their class."
The exact fuel efficiency depends on the engine selection.
Chevrolet allows Tahoe owners to opt for various engine types.
One of the options they offer is a diesel engine.
Diesel engines are more thermally efficient than regular engines.
This means that when a diesel engine burns fuel, it gets about 20% more power than a regular engine would.
This means you can become 20% more fuel-efficient with this engine type.
So, if you want the best SUV with the best fuel efficiency, then you will need to get the diesel engine with the Tahoe.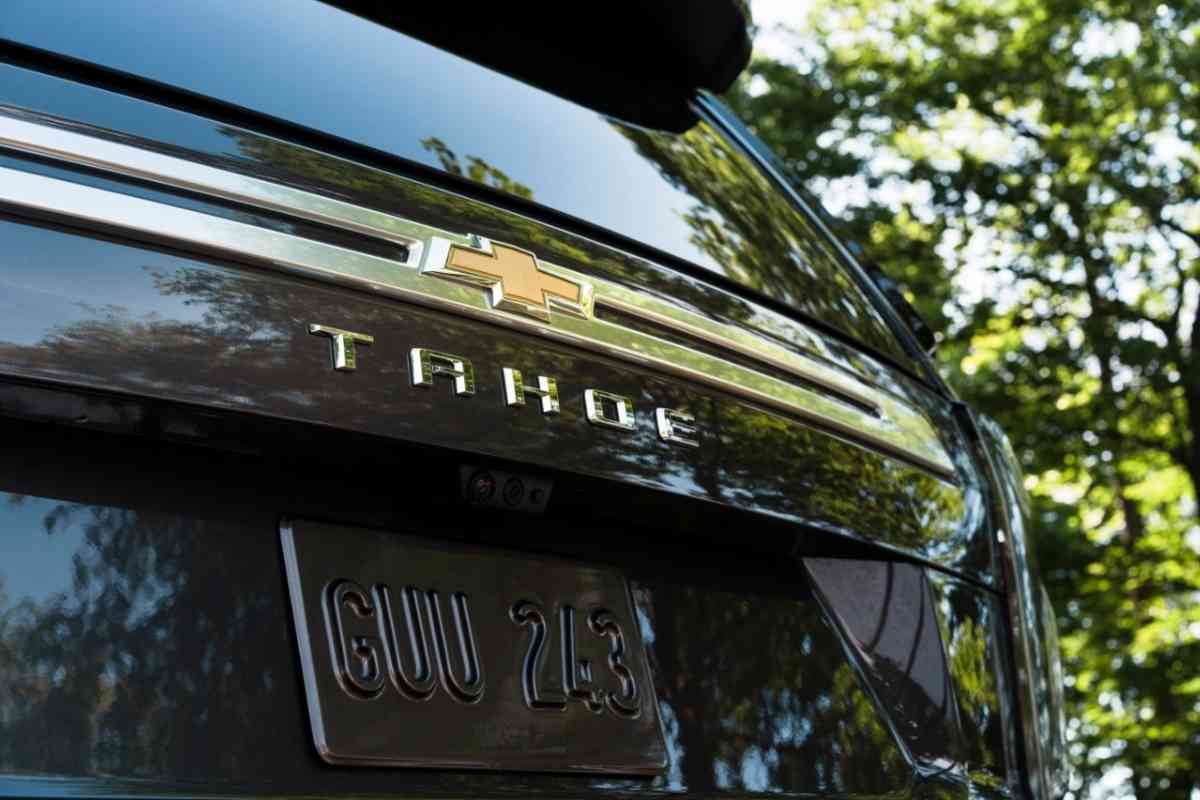 Without the diesel engine, the base model Tahoe with the standard 5.3L V8 engine only gets 14 miles per gallon in the city and 20 miles per gallon on the highway.
This is still pretty good, but not nearly as good as the efficiency that the diesel engine provides.
So, you should definitely consider upgrading to the 3.0L Duramax Turbo-Diesel engine.
The 3.0L Duramax Turbo-Diesel engine also gives you:
277 horsepower at 3750 rpm
460 lb-ft of torque at 1500 rpm
10-speed automatic transmission
There are many other benefits to this model besides just the impressive gas mileage.
One of them is that it has a comfortable interior.
The newest model of Tahoe has three rows of seats and can carry nine people.
The space in the vehicle is also impressive.
When you lay down the two rows of seats, you can have about 122.9 cubic feet of space.
It also is known for having a large towing capability of about 7,600 to 7,900 pounds.
There are also other functions that are impressive and worth noting.
The 2022 model has a plethora of technological advancements.
Some of the main highlights are remote start, rain-sensing window wipers, heated side mirrors, a programable teen driver key, and 3 zones for precise heating and cooling.
The best part? All of these functions are standard for the 2022 model, so you aren't paying extra for them.
The Chevy Tahoe also costs less than the average large SUV in overall costs.
When it comes to reliability and repair costs, the Chevy Tahoe is average.
It scores a 3.5 out of 5 on reliability, with average annual repair costs coming in at $744 every year.
Most owners of a Chevy Tahoe have to visit the shop for repairs on their vehicle 0.3 times per year, according to Repair Pal.
This may seem like a lot, but in reality, the fact that SUVs have large annual repair costs isn't too surprising.
Suburban vehicles are known for having more problems or having problems more frequently than other cars.
This usually means that they need to be taken into the shop for maintenance or repairs every other year.
All in all, the 2022 Chevy Tahoe is a great pick for a large or midsize SUV.
Other years to consider:
| | |
| --- | --- |
| Year | Gas Mileage |
| 2021 | 21 city / 28 highway |
| 2019-2020 | 15 city / 22 highway |
| 2015-2018 | 16 city / 23 highway |
| 2014 | 15 city / 21 highway |
| 2011 | 15 city / 21 highway |
Now that you know all about the Chevy Tahoe, let's discuss some other excellent competitors for the large SUV with the best gas mileage.
You might even find that one of these other options is better suited for your needs.
The Cadillac Escalade is another option for those with a higher-end taste in SUVs.
It does come with quite a large price tag, about $76,000 to $100,000.
However, it does come with the amenities and features to back the high price.
The 2022 model has features like a hands-free driving system, night vision assistance, and impressive audio and visual systems within the car.
It does get better gas mileage than almost all of its peers, especially when compared to other luxury models.
It can get up to 27 miles on every gallon of gas in optimal conditions.
It usually gets an average of 24 miles per gallon, with some makes of this model getting just 18 miles per gallon.
One of the reasons for the discrepancies in gas mileage is the different engine options.
One of the options is a diesel engine, which we have seen does significantly better with fuel efficiency than regular engine types.
But even the other options with a more standard gas mileage are still comparable and competitive with other SUVs.
There are a lot of other benefits to having a Cadillac Escalade.
It is marked a luxury model for a reason! The car offers comfort and security while also providing a host of different features.
Interested parties can purchase the Cadillac Escalade in two different lengths.
Regardless of vehicle length, both have a large interior and an advanced technology system.
When it comes to other cost factors, the Cadillac Escalade doesn't have too much to brag about.
This SUV scores only a 2.5 out of 5 on reliability and has repair costs that can exceed $1000 annually.
Each repair will likely cost you more than it would on a different car.
But it is important to note that the average owner of a Cadillac Escalade will need to take it into the shop less frequently than other cars.
Dependening on your income, the high repair cost might not be too problematic.
But if you are trying to live frugally, this car wouldn't be a great choice for you.
The Chevy Suburban is also a hugely popular choice for people who are looking to buy a large SUV.
There are many reasons for its popularity.
Some of the main reasons it is so popular is its size and reputation.
The nine seats and the good reputation that this car has among SUVs help people choose to buy a Suburban.
Overall, the size and reliability of this vehicle make it a great choice.
When it comes to gas mileage, the Chevy Suburban is competitive with the other models previously mentioned.
This model gets between 21 and 27 miles per gallon.
This makes it a strong pick! This was a little surprising to discover because this model is actually larger in size than the others.
Usually, the larger size would decrease its fuel efficiency.
However, this simply speaks to the quality and efficiency of the engine that makes the gas mileage higher than expected.
When it comes to reliability, the Chevrolet Suburban comes out comparable to the Chevrolet Tahoe with a score of 3.5 out of 5 on reliability.
But it has annual repair costs upwards of $900, which is about $156 more than the Tahoe
It is important to consider that part of this cost difference is likely because of the size difference.
If you want a large SUV, it is important to consider the pros and cons of how large the vehicle is versus the costs.
As can be expected of any GMC vehicle, The GMC Yukon is closely related to its Chevrolet competitor when it comes to gas mileage.
The GMC Yukon matches the mileage of the Suburban exactly, with each vehicle getting about 23 or 24 miles from each gallon on average: 21 miles per gallon in the city and 27 on the highway.
This isn't surprising, as GMC and Chevrolet compete on many fronts.
When we look at the GMC Yukon, there aren't many differences between this model and the Chevrolet Suburban.
But one of the biggest and most important differences come from repair costs.
The GMC Yukon costs about $200 less every year to maintain and keep in good repair.
This is mostly caused by the lower frequency of mechanical issues that the Yukon has yearly.
On average, Yukon owners only need to take their SUV to a mechanic once every three years.
This is significantly less than having to take your car in every two years.
One of the main reasons for this difference is that the Yukon has fewer transmission issues than the Chevy Suburban.
This fact is an important aspect to consider when you are buying a car.
If you are having transmission problems often with your vehicle, you will end up taking your car in and having to go without a car for a decent amount of time.
Beyond the inconvenience of not having a vehicle, transmissions are not a cheap thing to replace and repair.
It would be good to keep this in mind in your SUV search.
The GMC Yukon should definitely be an SUV to consider!
The final large SUV we will discuss regarding its high gas mileage is the Ford Expedition.
Compared to the other vehicles, the 2022 Expedition gets less mileage, with an average of about 20 miles per gallon: 16 miles per gallon in the city and 23 on the highway.
A big reason for this comes from the engine and the purpose for which it was designed.
The engine is designed to produce more power.
The Ford Expedition needs the heightened power to be able to tow things that have a significant amount of weight.
The towing capacity of the Ford Expedition can be as much as 6,000 pounds! This is a significant amount for an SUV.
If you are looking for a vehicle that can tow a decent amount but still gets good gas mileage, this vehicle would be a contender.
The Ford Expedition also has the second-lowest repair costs of SUVs on this list.
Ford Expedition owners pay about $861 annually in maintenance and repairs.
One of the other benefits of having a Ford Expedition is that it has the lowest frequency of needing repairs, so not only do the repairs themselves cost less, but they also happen less often.
The Expedition is known for only needing to take it into the shop every four years on average.
This is definitely something to consider.
If you only have to take it in every four years and the repairs are much cheaper than other SUVs, that will help you significantly financially speaking.
Considering these factors, the Ford Expedition is a strong option when considering other popular large SUVs even though it isn't the best in terms of fuel efficiency.