What Is the Best Year For the Chevy K5 Blazer?
This post may contain affiliate links. As an Amazon affiliate, I earn from qualifying purchases.
The Chevy Blazer is a popular full-size SUV that was on the market from General Motors between 1969 and 1994. They are the smallest SUV models in the Chevrolet family, and for some of the early years, they sported full convertible, removable tops for versatility.
Later models used a half-cab design, which helped to minimize leaks and was safer during a rollover. The Chevy K5 Blazer was available in both 2- and 4-wheel drive options throughout the years, with the 2nd and 3rd engine models offering a Diesel alternative.
What Is the Difference Between a K5 and Blazer?
So, what are the main differences between the K5 models and the Chevy Blazer? When looking at the models General Motors offered, the Blazers split into three generations, including:
1st Generation: 1969 – 1972
2nd Generation: 1973 – 1991
3rd Generation: 1992 – 1994
The 1st and 2nd generation models included the K5 in their name, while Chevy dropped it for the 3rd generation line of trucks and was known only as the iconic Chevy Blazer.
The engine styles did vary with each generation, making some distinction between the K5 and the 3rd generation Chevy Blazer.
1st Generation Engine Options
250 in3 4.1-liter Straight-Six engine
292 in3 4.8-liter Straight-Six engine
307 in3 5.0-liter V8 engine
350 in3 5.7-liter V8 engine
2nd Generation Engine Options
250 cu in 4.1-liter Straight-Six engine
292 cu in 4.8-liter Straight-Six engine
305 cu in 5.0-liter V8 engine
307 cu in 5.0-liter V8 engine
350 cu in 5.7-liter V8 engine
379 cu in 6.2-liter Detroit Diesel V8 engine
400 cu in 6.8-liter V8
3rd Generation Engine Options
350 cu in 5.7-liter Small-Block V8 engine
395 cu in 6.5-liter Turbocharged Detroit Diesel V8 engine
Other distinctions between the K5 and the 3rd generation models include a change in its convertible roof, moving to steel construction. In addition, later models sport a 5.0-inch longer wheelbase to provide more interior room and offer a 4-door model than the original 2-doors you will find in the 1st and 2nd generations.
The 2nd generation models included a wider variety of transfer cases than the 1st generation, providing more versatility for serious drivers.
Are Chevy K5 Blazers Reliable?
If you prefer the older style of the Chevy K5 Blazer, you may wonder if they are a reliable vehicle. Thankfully, vehicles like the 1989 Chevy K5 model have an improved fuel injection system and better galvanizing.
These SUV models are still around today with proper care and preventative maintenance, giving their owners a stable and terrific ride even well past 200,000 on the odometer. So, if you are looking at a reliable retro SUV for your garage, the Chevy K5 is a terrific option.
There is a reason why these SUV models were so popular years ago and had a loyal following. They were highly reliable, excellent choices for off-roading or towing, and still compact enough to haul the family around during the week for activities.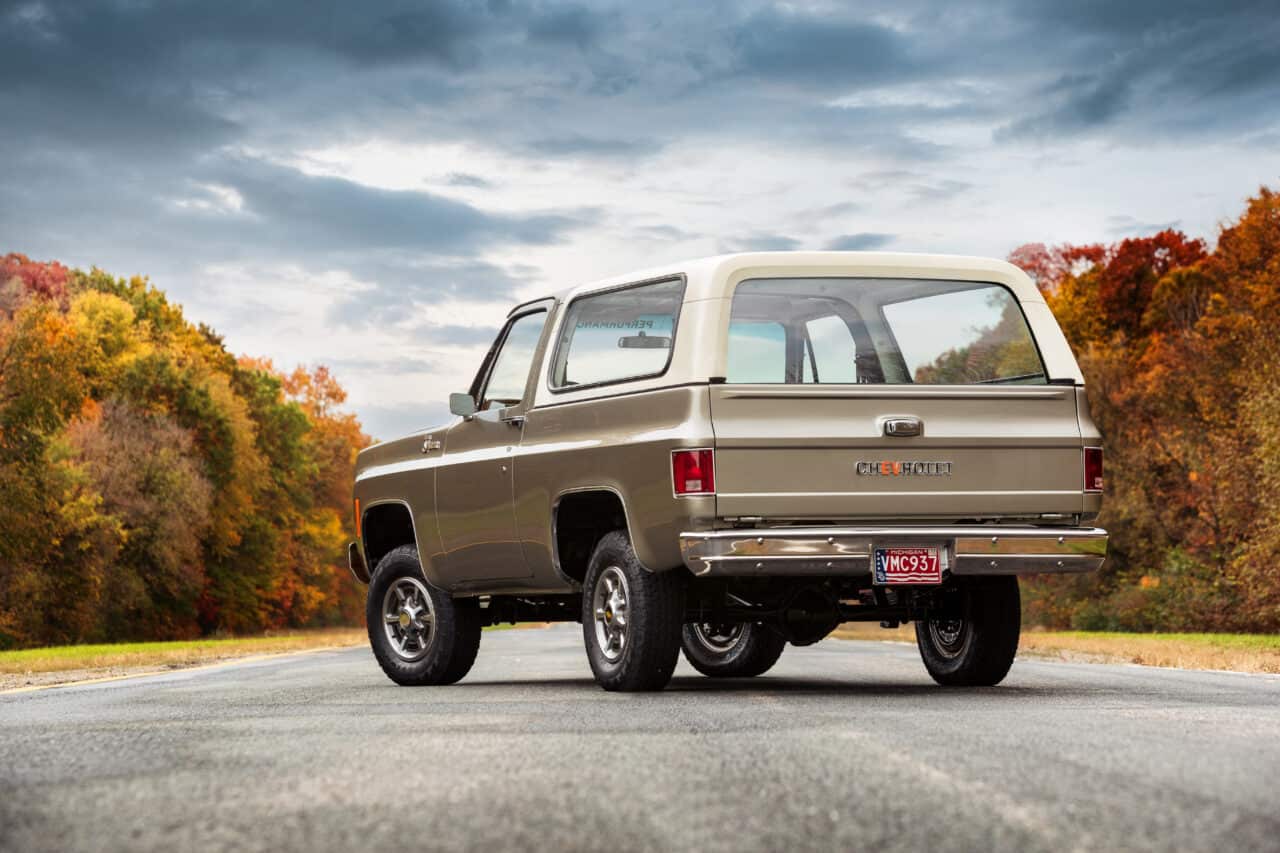 The Best Year for the Chevy K5 Blazer
With such distinctions between the 1st, 2nd, and 3rd generations of Blazers, it can be challenging to determine the best year for this iconic vehicle. Many factors come into play when deciding on what makes a great full-sized SUV.
Engine size and performance
Towing capacity
Off-road capability
Fuel economy
The overall style and look
Additional features
If you ask anyone who loves older SUV models, you may get mixed reviews. Some individuals prefer the original 1st generation look and feel of the Chevy K5 Blazer with the 2-door style and removable top. Alternatively, some Chevy enthusiasts will profess that the later 2nd generation models are the best because of their fuel injection system and galvanized steel construction.
Several aspects can help you determine which K5 Blazer is best for your needs. For example, do you need a 4-wheel drive for off-roading, or will it be strictly for in-city driving? Would you prefer two or four doors? Are you partial to the convertible top?
If you want a completely retro-style Chevy K5, the best year would be one of the 1st generation models.
For Chevy fans who need four doors or are looking for more engine and transfer case options, the later 2nd generation models will be your best bet. These models offer more interior space with a longer wheel-base than the 1st generation styles.
What Was the Last Year For the Chevy K5 Blazer?
General Motors stopped producing the Chevy K5 Blazer in 1991 while retaining the Blazer model name in this truck until 1994. Then, they continued to produce the standard Chevy Blazer until 2005, when they discontinued offering this model to consumers. 
Years later, General Motors reintroduced the Blazer 2019 and, a few years later, gave the entire model a complete overhaul, making it visibly distinct from the models of the past. While still under the SUV classification, they sport a smaller 4-cylinder or V6 engine and have front or all-wheel drive.
The Chevy Blazers of today are more reminiscent of the Camaro body rather than a full-sized SUV truck. They also do not have the same towing capacity that older models can achieve. These models are more sporty and you can easily flat tow them behind your RV when you need.
In Conclusion
The Chevy K5 Blazer is a symbol of adventure and versatility. Looking back on the history of the Blazer, it is easy to see why this model from General Motors was popular for many SUV owners back in the day.
With exceptional construction and various options, including two or four doors, convertible tops, and engine size, finding the best year for this model will depend on what you want to do with your K5 model. No matter which generation you choose, you are sure to be happy when you hit the road in your Chevy K5 Blazer.