What is the Best Year for the Kia Sedona?
The Kia Sedona is a great option for a used minivan.
However, which Kia Sedona model year is the best?
What is the Best Year for the Kia Sedona?
The best year for the Kia Sedona is the 2010 model. This model received 4.2 out of 5 stars from Kelley Blue Book experts and has features like a strong engine and a backup camera. The car can get a combined 19 mpg. Kia made this model comfortable for both children and adult passengers.
The Kia Sedona is a great-sized car that is perfect for a family.
If you want a vehicle that will fit your family and you want to keep it for a long time, then the Kia Sedona is the car to invest in for your family.
2010 Kia Sedona
Kia made the 2010 Sedona easier for driving with friends or family.
It keeps everyone safe while providing comfort for the driver and passengers.
There is lots of space for packing things in the trunk as well as plenty of legroom and shoulder space.
That way, you are not crammed in the seat with your shoulders touching the person next to you.
This car has a great engine too.
The horsepower is 244 at 6000 RPM.
So it is strong enough to hold people and be fully packed.
For people who go on road trips, you'll enjoy the tow hitch and an overhead carrier for extra luggage.
When purchasing secondhand, you might find a Sedona with these additions on them already.
So, this is a great option for those adventurous families that need a van to take them to their destinations while keeping everyone comfortable.
The 2010 Kia Sedona costs $5,700.
This is extremely affordable for a vehicle with so much space.
If you're shopping on a budget, then the 2010 Kia Sedona is the best model year.
Because this model year is older, expect more miles on the vehicle's odometer.
While this model has fewer miles left on it, you can keep it running for decades to come with proper maintenance and repairs.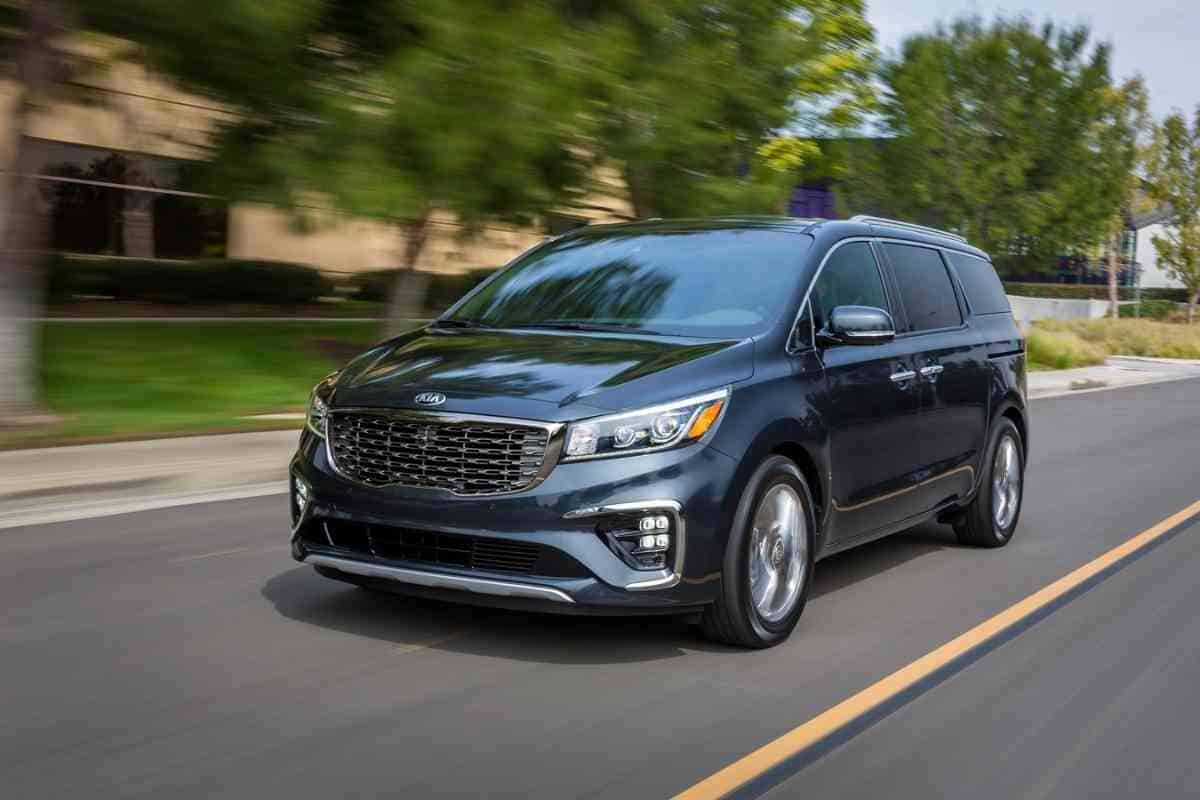 2017 Kia Sedona
The 2017 Kia Sedona is a great model to invest in as well. The car is great and has amazing reviews from consumers.
It has a 4.3-star consumer rating and a 4.4-star expert rating on Kelly Blue Book.
There are minimal issues with the car, and all are easily solvable.
People love the design, smooth ride, keyless entry, and the space it offers.
One issue people found is the automatic sliding doors struggle to open in cold areas.
If you get snow and ice during the winter, consider parking the Sedona in the garage.
However, those without a garage may want to reconsider purchasing a 2017 Kia Sedona.
Unfortunately, the frozen shut sliding doors are not specific to just the 2017 Kia Sedona.
If you live in a colder area, plan on manually opening the door in the winter, or avoid purchasing the vehicle at all.
This model also includes automatic emergency braking.
This is a great safety feature that is in almost every new car now.
If you are looking at this car, then you will be getting a safe, reliable, and updated car.
The 2017 Kia Sedona costs $17,000.
This is significantly more expensive than the 2010 model but has modern safety features.
2018-2021 Kia Sedona
These are the latest models of the Kia Sedona.
The 2018, 2019, 2020, and 2021 models all have 4.3-star ratings on Kelly Blue Book and virtually zero complaints.
If you want a newer car that is reliable and fits a family then Kia Sedonas from these model years are especially good choices.
The gas mileage on these models is great.
The 2018 Kia Sedona gets a combined 20 mpg, and the 2019 through the 2021 model gets a combined 21 mpg.
Gas is one of the most expensive aspects of owning a vehicle.
Since the Sedona gets good gas mileage for a vehicle its size, you won't have to spend as much on fuel in the long run.
One thing to look out for is the recalls for a vehicle.
or these years on the Kia Sedona, the 2021 model does not have a recall announced yet.
The 2020 model has one recall associated with the alternator terminal nut.
This nut may become loose cause connection problems.
This isn't a severe problem, and Kia will fix it at no cost to you.
If you are buying this car secondhand, then ask about the recall and see if it has affected the vehicle you are looking to purchase.
Both the 2020 and the 2021 Kia Sedonas are practically brand new are therefore the most expensive models.
Both models cost just over $30,000.
These models are not the best for budget buyers; however, they are the perfect choice for families interested in having modern amenities and features in their vehicle.
The 2019 Kia Sedona has one recall; however, it is a minor issue. Some 2019 Kia Sedonas had improperly installed seat belts.
People who have this issue with their car can go to a Kia dealership and have mechanics fix the seatbelt for no cost to them.
The 2019 Kia Sedona costs $28,000. While this is expensive, these vehicles will likely have low mileage.
In other words, the vehicle will have plenty of miles left on it.
Lastly, the 2018 Kia Sedona has two recalls for different problems.
Whe first one is the power sliding door may not auto-reverse.
Meaning, if something is in the way of the door, it might not automatically reverse and could lead to injury.
This is not the worst problem to have on a car but it is not safe, especially for children.
The second recall is for the occupant detection system wire harness.
This system may break, and the airbag may not deploy in the event of a crash.
While these are dangerous problems, they can be fixed at no charge with a quick trip to the dealership.
The 2018 Kia Sedona is similar in price to the 2019 coming in at $22,000.