What Is The Most Reliable 7 Passenger SUV?
There are so many different 7 passenger SUVs that you could get for your family.
All of them have different benefits that protect, entertain, and provide plenty of comfort for those riding in the car.
But because of the array of choices the question it brings up is: what is the most reliable 7 passenger SUV?
The most reliable 7 passenger SUV is the 2021 Infiniti QX80. It has many features to keep all the passengers comfortable, especially during long road trips. It is also built to monitor all sides of the outside of the vehicle with various other safety add ons to make your ride safe.
Below, we'll go into detail about the 2021 Infiniti QX80, as well as other reliable 7 passenger SUVs.
2021 Infiniti QX80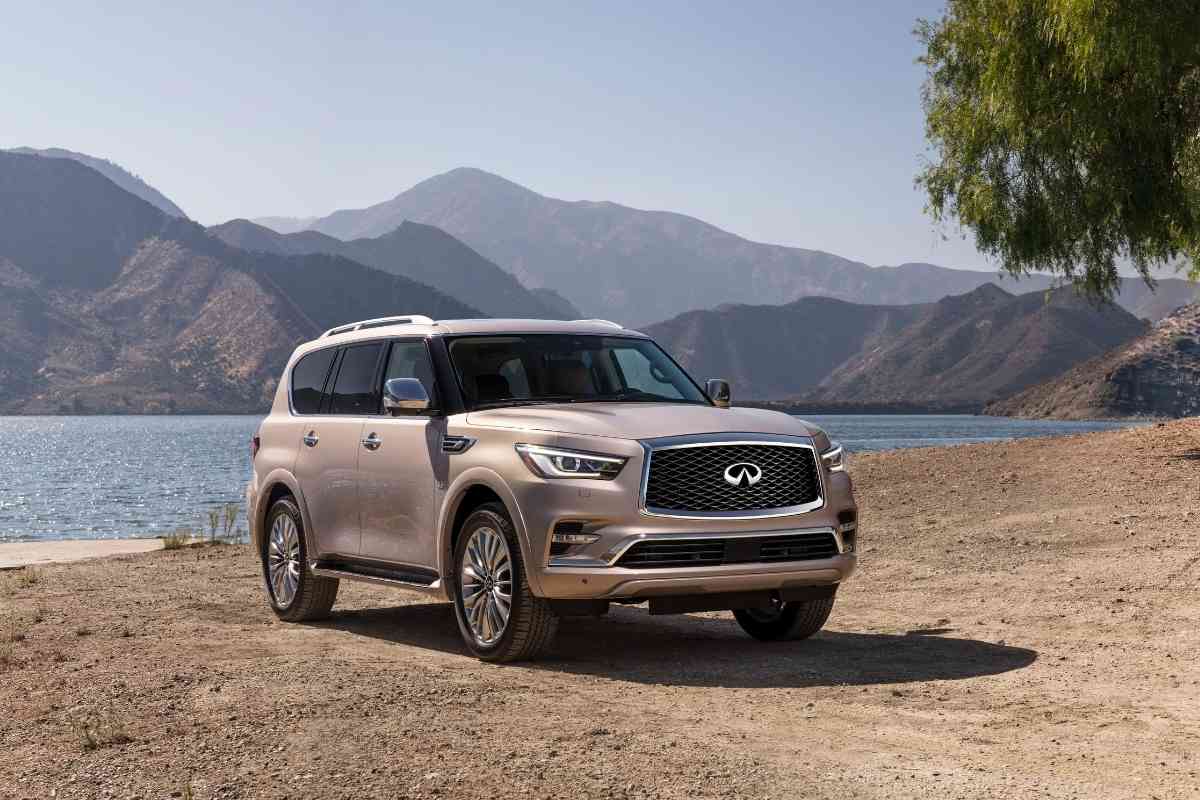 The Infiniti QX80 is a powerful vehicle, built to last and made for your big family adventures.
Its engine is very powerful with about 400 horsepower.
It has great suspension all around to make those family camping trips a whole lot smoother.
You don't have to worry about not seeing what's on the ground while driving because you can view what is all around your car with the smart rearview mirrors and your back camera has a wider angle.
One of my favorite things about this car is that the windshield wipers will automatically time themselves to match the rainfall on the windshield.
Now you don't have to worry about them moving too fast or slow compared to other's windshield wipers.
On the inside, you have three wonderful rows of seats, two of which can fold down for some extra cargo space if you need it.
The third row can even recline if they need to take a nap on your road trip.
Each row has control over the temperature of their row, making everyone more comfortable.
There is apple car play so your family can blast their perfect curated playlist while navigation is visible for the driver.
The most important cargo is your loved ones inside, and they are protected by various safety features such as the forward collision warning.
This is an amazing 7 passenger SUV made for you and your family.
Overall, these features make the Infiniti QX80 the best and most reliable 7 passenger SUV on the market.
It is a vehicle that will be great for a large family or even a small family.
2021 Cadilac XT6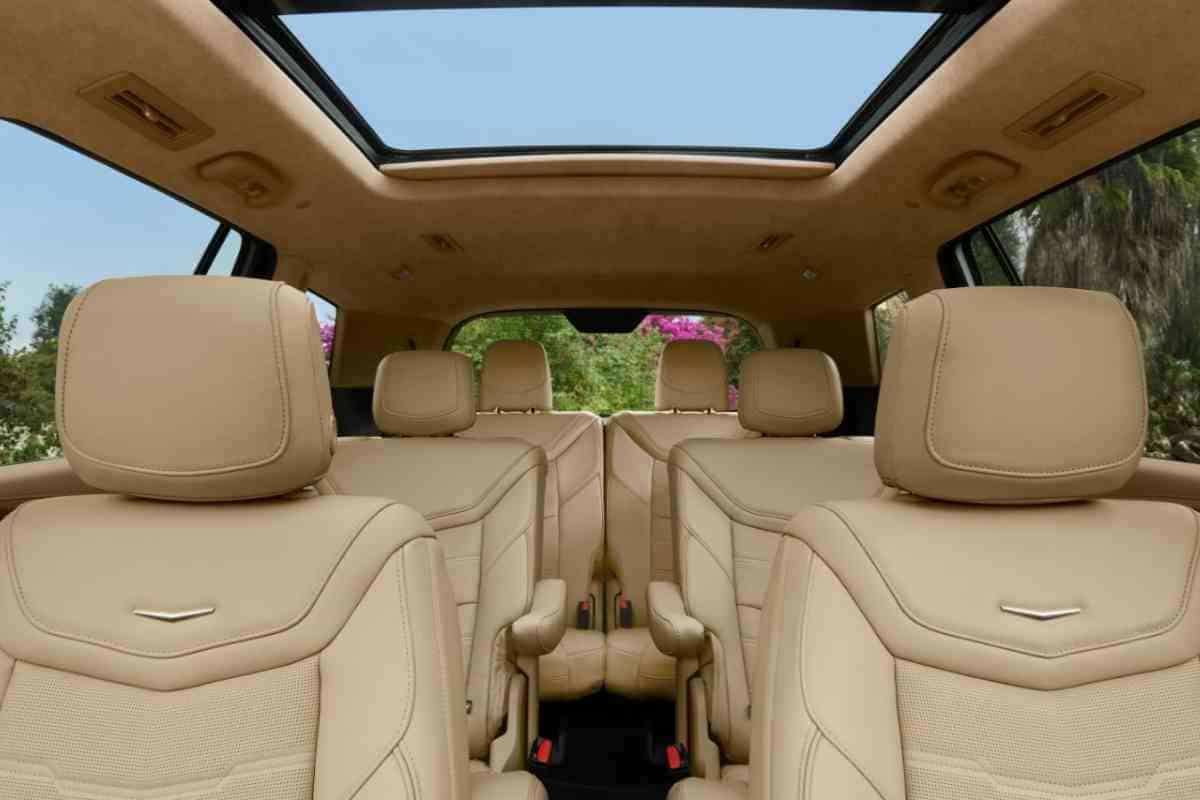 The 2021 Cadillac XT6 is my second pick as the most reliable 7 passenger SUV.
It has a 9 speed automatic transmission, which makes this vehicle more fuel efficient and gives more operating conditions for your driving.
It has LED headlamps to make it easier to see at night and on foggy days.
It also has all-wheel drive and has the ability to tow up to 4,000 pounds.
On the inside, you have access to a variety of gadgets to make your ride more comfortable.
You have access to their voice-powered display screen that connects to your phone.
You can also wirelessly charge your phone in the front-middle compartment of your vehicle.
Both the front row and middle row have heated seats to keep you warm on those wintery days.
To keep everyone inside safe there is front pedestrian braking installed, as well as forward collision alert, lane assistance, rear traffic alert, seat belt tightening, and you can add on night vision to help you see pedestrians and animals in the dark.
Some uses have been skeptical about the seat belt tightening which automatically adjusts your seatbelt to your body once the car starts.
This is to make sure you are secure in your vehicle and won't go flying out of the car in the event of a major collision.
2021 Audi Q7
The Audi Q7 is a fairly reliable car and made it on this list for one main reason, it only has two seats in the third row.
This means that if you are one of those people sent to the back of the vehicle, you aren't going to be as squished and don't have to fit next to two other people.
This is going to make the ride a whole lot more comfortable for all the passengers because everyone has the room they need.
This vehicle has a pretty strong engine at 335 horse power.
It can tow 7,700 pounds, making it great for big camping trips where everyone brings everything but the kitchen sink.
It has plenty of safety features such as automatic braking and forward concision warnings.
It also has lane assistance and adaptive cruise control to keep you on track while using cruise control.
2021 Dodge Durango
The 2021 Dodge Durango also has a two-seater back row and has extra leg room, making the back row the row of luxury in the Durango.
A good back row can make a big difference in a family road trip, if it isn't comfortable in the back, there will be a bunch of complainers and fights over seating the whole way.
On top of that, it also has a Blu-Ray player you can add to the middle row, for better car ride entertainment.
If you are going on a big road trip, you'll need to tow a lot of luggage for all 7 people in this vehicle.
Luckily, the Durango has an 8,700-pound towing capacity so you can include the kitchen sink on this road trip.
It also has trailer sway control so you don't lose anything on the trailer and it makes turning a whole lot easier.
It has strong LED lights to ensure you see at all times while driving.
To keep all your precious cargo safe, the Durango is built with the best safety precautions such as adaptive cruise control, blind-spot monitoring, stronger brakes, rain-sensing windshield wipers, strong traction control, and forward-collision warning.
When I say stronger brakes, I mean that these are made to stop quicker, stop safer in rain, will stop for you if necessary, warn you if you need to brake, and will brake smoother.