What Is the Best Used Infiniti SUV to Buy?
Anybody who knows cars well knows that Infiniti is a well-renowned, luxury brand of car that is just as good when used.
The only problem is that there are quite a few different models to choose from, and buying a car is not a decision that can be made lightly.
If you are wondering what type of used Infiniti SUV is the right one for you, you have come to the right place!
The best used Infiniti SUV to buy is the 2019 Infiniti QX50. Buying it used instead of new can save the customer $24,356. The 4-Cyl Turbo 2.0 Liter VC-Turbo engine and 24/31 mpg gas mileage make the 2019 model the number one choice. Other excellent models include the Infiniti 130 and the QX series.
You undoubtedly have quite a few questions as to which Infinity is the right one for you, so, read on for some information on each car as well as its pros and cons.
Hopefully, knowing these things will help you to decide which Infiniti is right for you or if you need to look elsewhere for a new car!
Infiniti QX50
Not only does the QX50 have a solid powertrain, but it is the most popular of Infiniti's SUVs.
The newer models come equipped with two-liter turbocharged engines with 286 horsepower.
That gives the car superb handling capabilities.
And that's without even mentioning the 280 pound-feet of torque!
The QX50 is a remarkably comfortable car with two rows of seats.
Those rows are very spacious and will accommodate even the largest of passengers.
There is no point in having two rows of seats unless those rows are truly comfortable for everybody to use.
You can count on a smooth, relaxing ride with the Infiniti QX50!
For an SUV, the 2019 QX50 has a decently good gas mileage, getting 24 mpg in the city and 31 mpg on the highway.
This is even better than the 2021 model, so in this case, used is definitely better than new! Buying the Infiniti QX50 used can save you $24,356, which is quite a large chunk of cash.
The 2016 and 2017 years for the QX50 are also excellent and should not be forgotten when looking to buy a used car.
Best Used Infiniti SUVs
As mentioned earlier, there are several other Infinitis that you can buy used that are perfectly good.
There are plenty of options, so take your time in making a decision.
Here are a few of the best options you could go with while you're searching the used car lot for an Infiniti.
Hopefully, one of these cars will be a slam dunk for you!
Infiniti QX60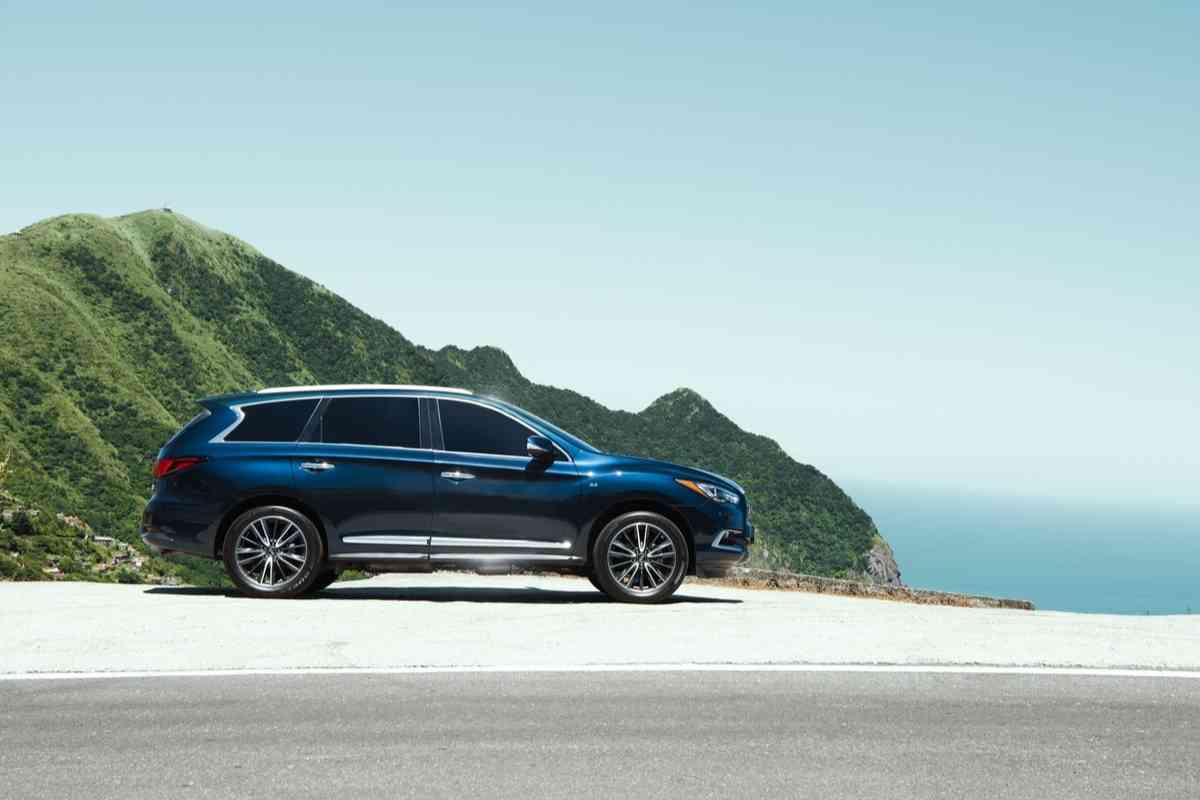 One of the nicest things about the Infiniti QX60 is the stunning look.
The interior is chic and modern, and the exterior is gorgeous, so if car style matters deeply to you, the QX60 is the car for you! With its smart features and elegant stylings, the QX60 has made quite a statement in the world of luxury cars.
It is because of this model that Infiniti is such a contender in the world of luxury vehicles.
Additionally, the Infiniti QX60 makes a great family car.
All of the seats, including the back row(s), are upholstered in standard leather material, and the front seats are heated.
Plus, there are 8-inch screens built into the headrests of the front chairs, and the mobile wifi has a three-month free trial.
This is one of the easiest ways to keep your kids entertained on long road trips.
No more "are we there yet's" for you!
The only downside to having a QX60 is the fact that the design makes the rear-view rather difficult.
This can be a slight safety hazard if you cannot adequately see behind you.
There are blind-spot notifications and sensors, but those do cost quite a bit of extra money.
Plus, if you are buying your car used, you may not have the option of changing that.
However, if you can manage to overlook that, the QX60 is a great choice for you!
Infiniti QX70
If you are looking to get a sporty-looking car for less than you'd find some other competitors' cars, the Infiniti QX70 is the car you've been looking for.
It has a slightly smaller seating space, but there is still room for five passengers as well as plenty of cargo space.
This car is what puts the "sport" in SUV.
One of the Infiniti QX70's most redeeming qualities is the huge amount of customizable features that you can choose from to make your car look and sound exactly the way you want it to.
Of course, you must keep in mind that this may not be as easy an undertaking if you purchase your car used, but there are still add-on options for you to choose from.
This is the definition of getting the car of your dreams.
However, if you choose to purchase a used QX70, you must keep in mind that this is not a car that will accommodate large groups of people.
It is a very sporty vehicle, but it is fairly limited in its passenger space.
This means it is not the greatest family car out there because the small cab means cramped seating.
It all depends on how you feel about passenger space.
Infiniti 130
The 130, unlike the ones in the QX series, is an older model, but it is quite reliable.
It has plenty of fun features including a V6 engine, 227 horsepower, a sunroof, climate control, amongst others.
It has two different trim packages available.
This means you can have your pick (though this can be tricky if you are buying used cars) and customize your car the way you'd like to.
Unfortunately, because it's older and has no manual transmission, the 130 has a pretty harsh ride quality.
This doesn't bother some people, but if you value your ride quality, you had better go with a different model.
Some trim packages will help with this, but not always. Plus, as always, buying a used vehicle has its risks and limits.
However, if you are confident in your abilities and your choice, you will be good to go.