What is the Most Reliable Year of the Nissan Titan?
This post may contain affiliate links. As an Amazon affiliate, I earn from qualifying purchases.
The Nissan Titan is, by far, one of the best pickup truck options on the market, offering sleek comfort as opposed to the rough and tough interiors of most American pickup trucks. On top of that, the Titan is well renowned as one of the more reliable pickup trucks on the market, which is especially important when it comes to the high-intensity needs that pickups are used for.
What is the Most Reliable Year of the Nissan Titan?
When you compare different years of the Nissan Titan and their various features, safety ratings, and longevity, the 2021 Nissan Titan is clearly the most reliable option. It has relatively low repair costs, positive J.D. Power and U.S. News ratings, and few recalls.
But, what makes the 2021 Titan such a reliable vehicle, and how does it compare to other models? We'll dive into all these questions in this article.
Why is 2021 the Most Reliable Year for the Titan?
Since the Nissan Titan is a highly reliable car, you are generally in a good position to buy whatever model is available.
However, based on various metrics, the best year for the Nissan Titan is 2021.
The 2021 Titan had a lot going for it when it was produced.
It hit dealerships years after the 2007 Titan—regarded as the most unreliable model of the truck—and in that time, Nissan engineers were able to work out the 2007's many kinks.
While the older model suffered from numerous issues, including in its brakes, drivetrain, axle seals, and more, the 2021 is a highly sophisticated piece of auto-engineering.
A testament to this fact is its J.D. Power Quality and Reliability rating of 85, which places the 2021 Titan above average for reliability.
In comparison, most other Titan models have received average or above-average ratings from J.D. Power, making the 2021 the clear standout.
In terms of raw numbers, a 2021 Titan that receives proper care should be able to drive for up to 300,000 miles before needing any major repairs, which means that, assuming the average yearly mileage of around 13,500 miles, a 2021 Titan can drive for over 22 years.
In other words, the 2021 Titans on the road may still be there in 2043!
Furthermore, the 2021 Nissan Titan sports a number of auxiliary features that tend to stand the test of time.
On top of its spacious, comfortable cabin, the 2021 Titan sports an excellent heating/air conditioning system, power steering remote locks, and a towing capacity of 9500 pounds.
All in all, it's an excellent choice for any would-be pickup truck owner.
How Reliable is the 2021 Nissan Titan?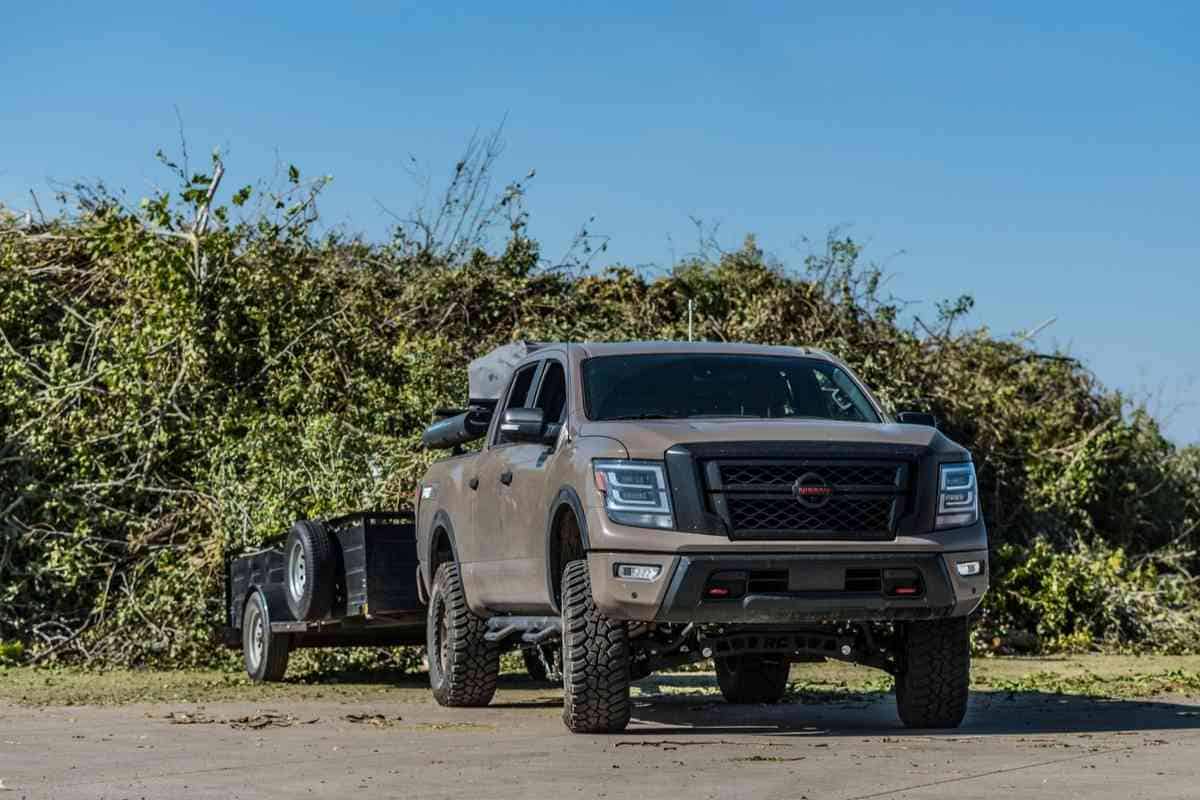 In addition to a powerful V8 engine and a roomy, comfortable interior, and well-refined driver-assistance technology, the 2021 Titan is able to keep up with competitor vehicles because it maintains an advantage in reliability.
Reports indicate that the average annual cost for repairing the 2021 Titan is just over $550, which is below the average price for full-sized trucks—a whopping $936—and for all vehicles- a more modest but still relatively expensive, $652.
Additionally, the 2021 Nissan Titan has the advantage of relatively few instances of necessary maintenance and even fewer instances of significant maintenance.
According to RepairPal, the average number of times the Titan needs unscheduled maintenance is .3.
If that number is confusing (how could you possibly take in a car .3 times, after all?), it's because of the magic of statistics.
The key thing is that the .3 is an average, calculated by adding up the average number of instances of unscheduled maintenance and dividing them by the number of people surveyed.
Because some people never need to take their car in, the average can be below 1.
In this case, most people didn't need to take in their Titan for unscheduled maintenance.
In comparison, that .3 is average for pickup trucks but below average for all vehicles.
Finally, the 2021 Titan ranks highly for reliability due to the fact that its repairs tend not to be severe.
RepairPal reports that the probability of a repair being for a significant or severe issue is 16%.
While this rate is slightly more than the average rate for all cars (12%), it's lower than the average probability of severe repair for all pickup trucks (which stands at 18%).
What About the Recalls?
You might have seen that the 2021 Titan is subject to recalls, but don't worry! It's not at all unusual for a car to be subject to a recall.
In fact, the National Highway Traffic Safety Administration issues hundreds of recalls each year (over 880 in 2020), not because all cars are death traps but because they opt to be thorough.
In the case of the 2021 Titan, there are two active recalls.
One is directed at the front turn signals, which can potentially crack and fail to illuminate.
The other is directed at the tires, some of which were overcured during their protection and are thus vulnerable to air loss or belt edge separation.
However, these issues do not affect all Titans, meaning that they do not necessarily represent a ding against the car's rating.
On top of that, Nissan offers free repairs for affected vehicles, making it easy to restore a 2021 Titan to full capacity.
Frequently Asked Questions (FAQs)
Check out these commonly asked questions about the Titan if you're still on the fence about which model to buy.
Is the 2021 Nissan Titan a safe car?
In addition to its general reliability, the 2021 Nissan has the added advantage of being an exceptionally safe car.
It received a stellar score of 9.2 on its safety scorecard from U.S. News, which took into account the vehicle's excellent front-crash prevention technology and its strong capacity for side impact, rear impact, and roof strength prevention.
As a result, the raters at U.S. News awarded the 2021 Titan five stars in Side Crash protection, four stars in rollover protection and frontal crash protection, and four stars overall.
All that's to say that if you're looking for a pickup truck that can keep you and your family safe on the road, look no further than the 2021 Titan.
What are other reliable years for the Nissan Titan?
Given that it's a relatively new car, it's possible that the 2021 Titan may not be in your price range or that it's simply not available (after all, with current supply chain issues, anything is possible).
We are particularly fond of the 2011, 2012, 2014, and 2015 models of the Nissan Titan, all of which pair the Titan's comfortable interior (plus bonus features like standout steering) with relatively low incidences of unforeseen maintenance.
Should you be in the market for a used pickup truck and have your heart set on a Nissan Titan, you can't go wrong with any of those models.
Wrap Up
The 2021 Nissan Titan has a lot of positive attributes and exceptional ratings from various sources. There are other reliable models you could buy, but this one ranks the best out of them all.