What Truck Can Fit 3 Car Seats?
This post may contain affiliate links. As an Amazon affiliate, I earn from qualifying purchases.
When you are young and have a growing family, it's hard to decide what kind of car to stick with, especially if the car you need/want is a truck.
Most trucks and SUVs are comfortable and spacious enough, but they cannot, sadly, fit very many passengers at a time.
So, the question is, what truck(s) are capable of fitting three car seats, and which one is going to be the right choice for me?
Two of the best trucks that can fit three car seats are the Nissan Titan and the Chevrolet Silverado 1500 crew cab. These trucks have plenty of space in the backseat to fit multiple car seats. Other options include the Ford F-150 super cab and F-150 XL, the Honda Ridgeline, and the Toyota Tundra.
Believe it or not, there are plenty of options for you to choose from if you need a truck that will accommodate your kids but that will still give you all the benefits like towing, strong towing capacity, 4WD, and more.
Here you will find a good list of trucks that can accommodate three car seats without too much hassle.
Hopefully, this will help you to decide which truck is the best option for you!
Best Options for Three Car Seats
For those of you out there who want to keep your sporty, rough, and tough truck but still need to haul your kiddos around, you can rest assured knowing there are some great choices available to you.
Here we have listed a few different car dealers and the best options you can choose from each of them.
You can't go wrong if you choose any one of these!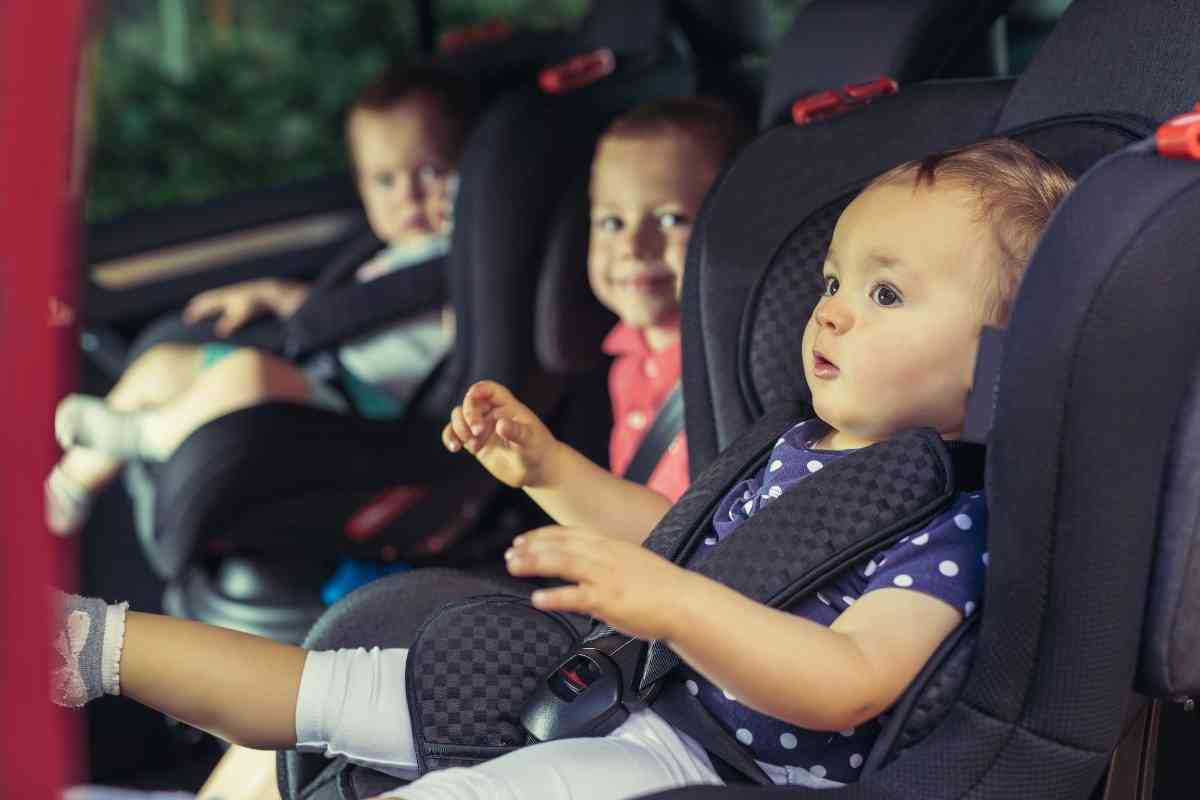 After speaking to a salesperson from Chevrolet, we learned that the Silverado 1500 with a crew cab is one of the best options you can go with.
The Silverado is a sturdy, reliable truck that has incredible off-roading capabilities and, of course, a towing capacity of 9,700 pounds or more.
The crew cab option is the most expensive, but it will be worth it if you want to keep your truck and still be able to drive your kids around comfortably.
The Chevrolet Colorado is also a pretty good choice if you are looking into getting something a little smaller.
You have to be careful to choose the crew cab option because anything smaller will not likely fit three car seats with ease.
The Colorado has a relatively flat bench that makes it extremely easy to set three car seats up in the back row.
The only thing to note about the Chevy Colorado is that the tether anchors can often be difficult to find.
This subsequently results in parents forgetting to use the anchors, which is not a safe practice.
Additionally, if you have to fit infant seats in the backseat, you will likely have to move the front seats forward to accommodate them.
This could get tiring and inconvenient as well.
If you are a Nissan fan, there are several options you can choose from as well.
The Nissan Frontier is a good option, but like the Chevy Colorado, it is on the smaller side as far as trucks are concerned.
You could run into the same problem with the cab being too small, so make sure you purchase the crew cab option.
If you do that, you should be able to fit three car seats across the back with no problem.
If you'd like something on the larger end of the scale, you can always go with the Nissan Titan.
This truck is quite a bit bigger and has a very sporty look.
Plus, the Titan has some serious off-roading capabilities that are nice to have, especially if you are a camper and adventurer at heart.
The Titan will comfortably accommodate you as well as your three little ones.
Other Excellent Options
The Ford F-150 super cab is another great option.
The tether anchors are extremely easy to find and even easier to use, which makes it an ideal choice for car seats.
Make sure to get either the crew cab or super cab option for the F-150 because anything smaller will likely be too small to fit the car seats you need.
If you want something even roomier, you can also try the F-150 XL.
This trim package has a much larger backseat space and will accommodate any kind of car seat.
This includes infant car seats which will not require you to move the front seats forward to have enough room.
This vehicle is perfect for those who have extra long legs.
Next, let's talk about the Honda Ridgeline which, like the Ford F-150 XL, has enough room in the backseat that you don't need to move up the front seats, at least not too much.
The nice thing about this is that the Ridgeline isn't too big, making it slightly easier to drive for some people.
Additionally, smaller trucks are usually a bit less expensive so it's easier on the wallet as well!
The Ridgeline has some of the easiest tether anchors to find, so you won't ever have to worry about difficulties with strapping your kids' car seats in.
The only problem with the Ridgeline is that the seat belt buckles are springloaded and have to be held down to be buckled in.
This will be a difficult feat for small children in booster seats.
Toyota
Last but not least, let's talk about Toyota.
There are two options here, the Tacoma and the Tundra. For big truck lovers, the Tundra is a perfect choice.
The cab is incredibly roomy and has very comfortable leather seats that can easily accommodate three car seats.
Plus, leather seats make it easy to clean up any messes caused by little ones.
The Tundra's only flaw is that the tether straps are often hard to reach because of how the seats are set up.
For those who favor smaller trucks over big ones, the Tacoma is a great choice.
Despite its size, the Tacoma will comfortably fit three car seats with no problem.
Additionally, the bench is shaped in such a way that car seats will fit perfectly across the bench.
The buckles are fitted on fabric straps, which makes them difficult for kids in boosters to use, but this is a minor problem for most people.