Tundra vs F150 Reliability: Which Is More Reliable? [Toyota or Ford]
This post may contain affiliate links. As an Amazon affiliate, I earn from qualifying purchases.
Ford and Toyota are both great companies when dealing with their cars, trucks, and vehicles in general. They have perks, but as for their most purchased trucks, and when compared to each other, which one is best? Which is more reliable, the Ford F-150 or Toyota Tundra?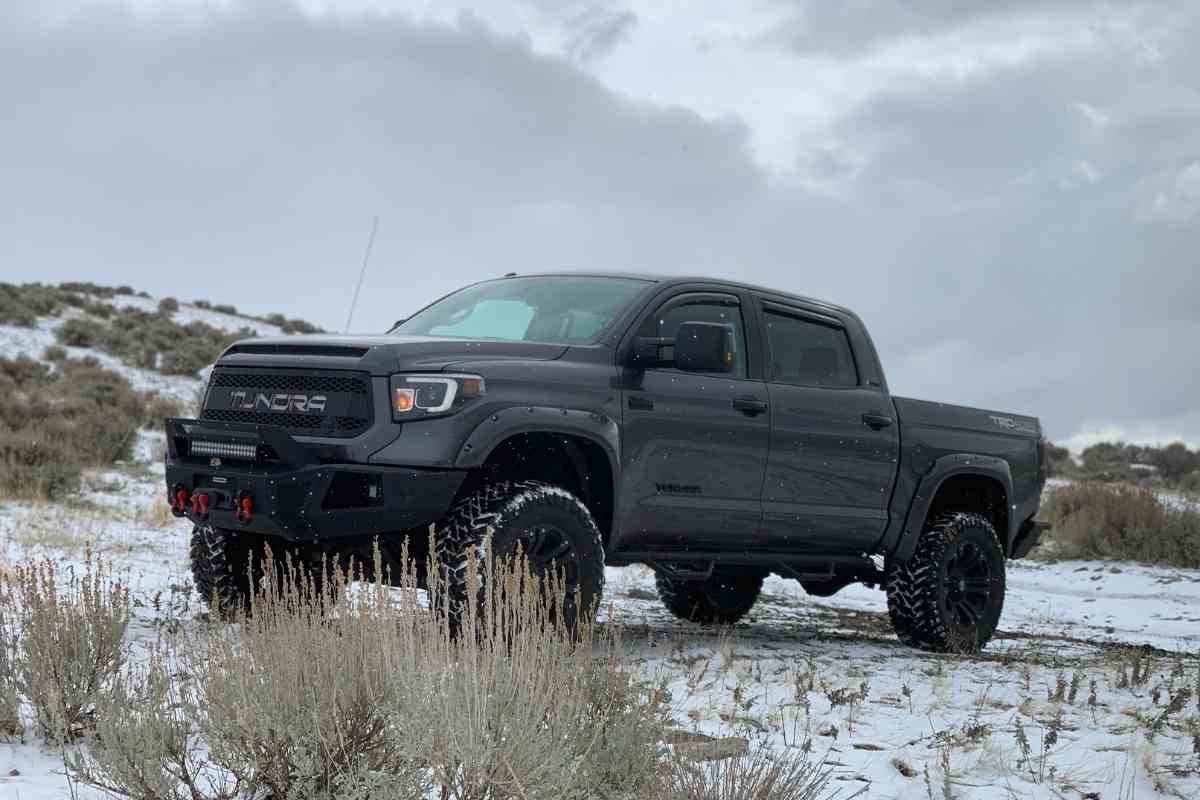 When it comes to overall reliability, the Toyota Tundra is more reliable than the F150. It is cheaper, and comes with better engine functionality. Toyotas, in general, are known for their reliability, giving them high resale value. Plus, the Tundra is built for off-roading whereas the F-150 is not.
Both trucks are reliable and a direct comparison of these trucks would not give a correct evaluation, as each offers something different. But, let's read further to discover what makes each truck great.
The Ford F-150
Let's start with the Ford F-150. To start with, the F-series that Ford put out became the best-selling vehicle by Ford in 1982. For the last 30 years, the F-150 has been the best-selling vehicle in the United States and has been the best-selling pickup truck for the last 40 years. So, obviously, these trucks are reliable. Who would continue to buy these trucks if they weren't?
The following data comes from the F-150 models in general but may include some of the later model's characteristics and not some of the older models.
What It Has
The F-150 is a very reliable truck with many added accessories which are nice such as memory seats, giving the seat memory for positions of where it should be for different drivers. It has heated and ventilated seats and some of the later models even have positionable pedals.
All of these are meant to give the most comfort to the driver. These are not the main attractions though.
Sensors
Like most newer vehicles, Ford F-150s come with sensors all over the truck – this includes blind-spot indicators, front braking indicators, and rear driving indicators. Most have backup cameras as well.
These sensors help prevent damage to drivers and to the truck.
Ford has been in the industry for over a century and knows how to keep its customers safe. Ford was actually founded 34 before Toyota, in the year 1903.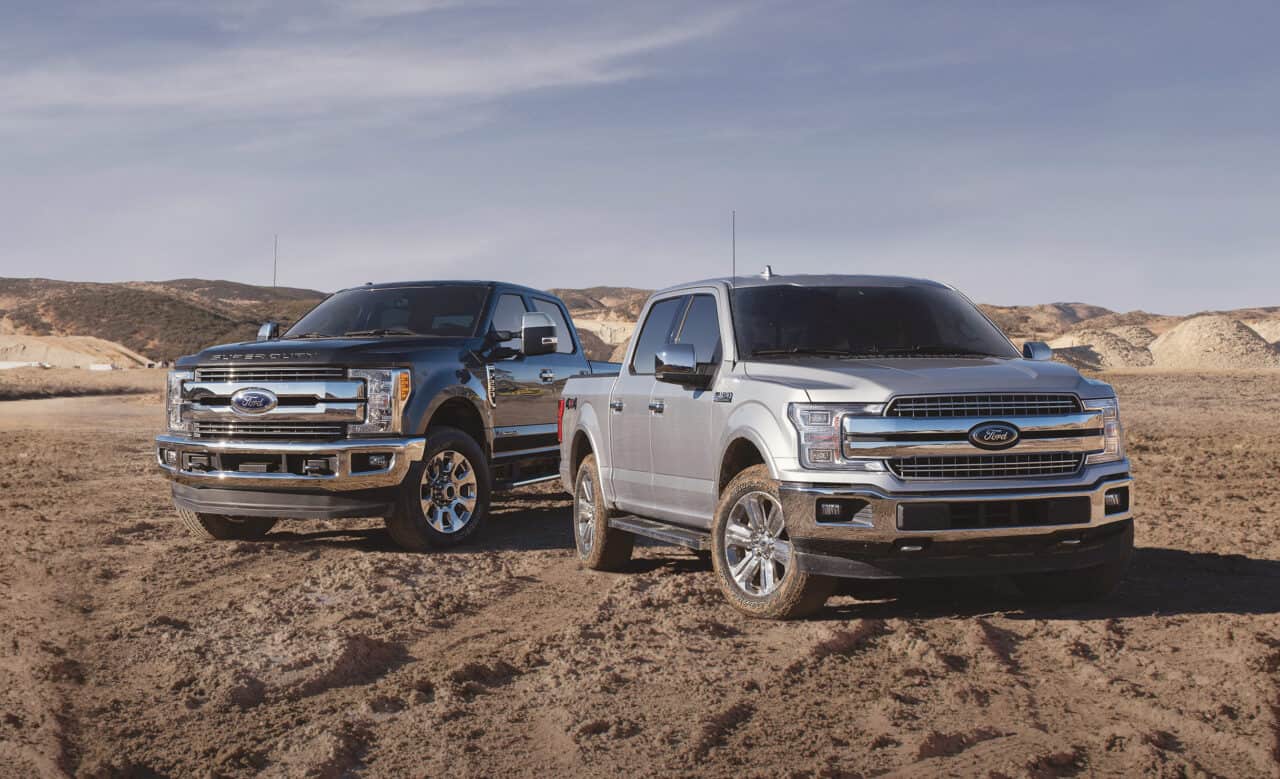 10-speed Transmission
Ford doesn't just want to cater to the safety of their customers, they also are very keen to make their trucks what those customers want.
Their factory base models come with a 10-speed transmission, meant to help optimize the power and proficiency behind the truck while creating a better fuel economy. Ford patented this design and had it in their 2017 trucks.
Engine
The factory model engine has 375 horsepower, which is among the higher end of the average for trucks in its industry.
If you don't know, a "horsepower" is a unit of measure that actually doesn't mean what you might think. One unit of horsepower is defined as the power to move 550 pounds 1 foot in 1 second. In fact, a horse actually has the capability of 14.9 horsepower at optimal strength.
That number of 550 pounds moved 1 foot in 1 second has recently been converted to be 746 watts of energy.
Ford understands the customizable factors at play when it comes to the F150. They know that some won't appeal to certain engines, so they have designed their later F150's with a large front hood. This is to maximize the space if a different engine is requested to be put in the truck.
This keeps the uniform look of the truck body but allows Ford to put 5 different engines in the truck based on which one the customer wants. This is rather unique, providing the F-150 different options to power. Their biggest engine can get up to 395 horsepower.
Not only do the different engines give the truck options with fuel economy, proficiency, and power. But the Truck for the amount that it can tow we will stick with the normal engine from here on out. The F150 can tow 7,000 pounds, giving it a good functionality to pull everyday trailers, but it is not super impressive compared to some other heavy-duty trucks with the ability to pull up to 10,000 pounds.
4×4
The F-150 does have 4×4 or 4WD, it is even written on the side of their trucks, proclaiming that they have the ability to use 4×4. But, often the truck will be in 2 wheel drive unless it is being used in areas that need the 4 wheel drive system such as snow or mud.
What It Doesn't Have
But despite having 4WD, Ford does lack the ability that many Toyota trucks and off-road vehicles have: The 4WD TRD pro series.
I will dive into more detail with this system when we get to the Tundra, but just know that TRD stands for Toyota Racing Development and it is a department that specializes in making the Toyota trucks more reliable in different areas.
Without this 4 wheel drive system, F-150 trucks, though they can handle offroading, are not as capable or reliable in that department.
Another nit-picky thing to mentions is that most F-150 truck beds are a good size but their tailgate does not have a hydraulic system that allows the gate to open slowly. This can cause wear and tear on the be of the truck and may cause it to fall apart if not treated with care.
It does have a thick cable used to keep it in place, but repeated use of dropping the tailgate can be stressful on the cable.
The Toyota Tundra
Alright, so you are probably wondering as to the TRD system which was mentioned in what the F-150 doesn't have. But to start, the Tundra does have 4-wheel drive capabilities which are a part of the TRD Pro series. This TRD system optimizes the ability to maneuver through rough terrain with little to no trouble.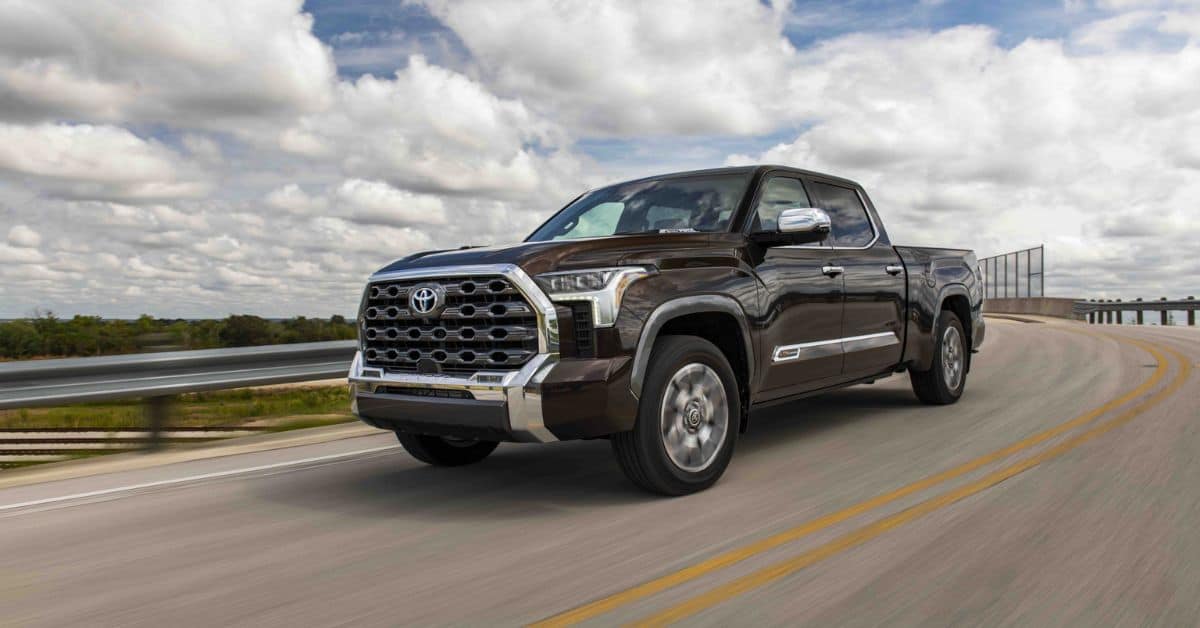 "Every 4WD TRD Pro Series vehicle includes" (but not limited to):

"- Bilstein high-performance off-road shocks

– TRD-tuned front springs

– Heritage-inspired "Toyota" front grille

– TRD graphic floor mats and shift knobs

– Black alloy wheels"

source
This gives the Tundra maximized off-road capabilities which demonstrate the reliability of the car itself. It is built to be off-road, so the less it is used off-road the more it will capitalize on the roads. But this is not the only way that the Tundra is more reliable than the F-150.
What it Has
Toyota creates a front radar system that alerts and notifies the driver of an obstacle, whether that be a stopped car, a passing pedestrian, or even a kid running after a ball. This will both keep your car safe, and others safe around you. The radar system is being used in all the latest models and has been working to make the system better.
Brakes
Another great detail about the Tundra shows how reliable they are in the use that it has in its braking systems. The braking rotors in the Tundra are some of the largest in the market, looking to maximize the ability to brake and not have to replace those brakes too often.
The larger rotors are much more durable, and though the brake pads, as in all vehicles, will have to be replaced as they are used. Plus, the radars on the truck itself allow for an automatic braking system or an ABS.
Maintenance
When looking at all that has been mentioned about the Tundra, it may seem like they have unique parts that are reliable, but if they ever did go out, who is to say that the parts could be found.
But the good part about Toyota is that once they use a part that works and is reliable, they keep it around.
So, the parts that go out should be pretty accessible at a Toyota dealership and even at some auto shops. This makes the Tundra very accessible to replace parts if they ever needed to be replaced.
Recommended Reading:
Toyota Tundra Reliability: A Comprehensive Guide by Generation and Year
Towing Capacity
The Tundra has a towing capacity of 9-10,000 pounds. Basically 3,000 pounds more than the F-150. The Tundra is meant for towing and can pull much more heavy-duty trailers. Because it can safely pull more, it won't struggle and potentially give out sooner.
If you tow a camper, trailer, or other toys, this is the truck you want.
What It Doesn't Have
The Tundra does not give as much customization as Ford, giving the Tundra the accessories it has and not changing those too much.
So the Tundra does not have the option to put 5 different engines in, but the engine that it does come with has 381 horsepower and the ability to tow a ton, so it doesn't need to be customizable.
The Decision
We have looked at two trucks, which were produced by, designed by and, made by two very notable companies who have been around for years. There are good things about both trucks, each is a reliable truck that could be used in many different instances.
They have high functionality in pulling, one more than the other, but not too much.
They are both reliable trucks, but after looking at the details of the trucks, it's clear that the Toyota Tundra is a more reliable truck.
This truck is very durable, with a system that can maneuver the off-road better than the F-150, and a shock system that keeps it level. It has great brakes, a good engine with high horsepower, and the ability to tow a lot of weight.
The Tundra maximizes on the durable areas, not necessarily giving many customizing options for customers, but plenty of room to sit in a truck that will be with them for years to come.