Which Luxury SUVs Take Regular Gas?
This post may contain affiliate links. As an Amazon affiliate, I earn from qualifying purchases.
If you are in the market for a new car and you want a nice one, you're in luck. Quite often, luxury SUVs cost a fortune, and then there are gas prices on top of that. 
Most luxury SUVs require premium gas, but despite common belief, there are a good few out there that will function with regular gas. But which luxury SUVs take regular gas?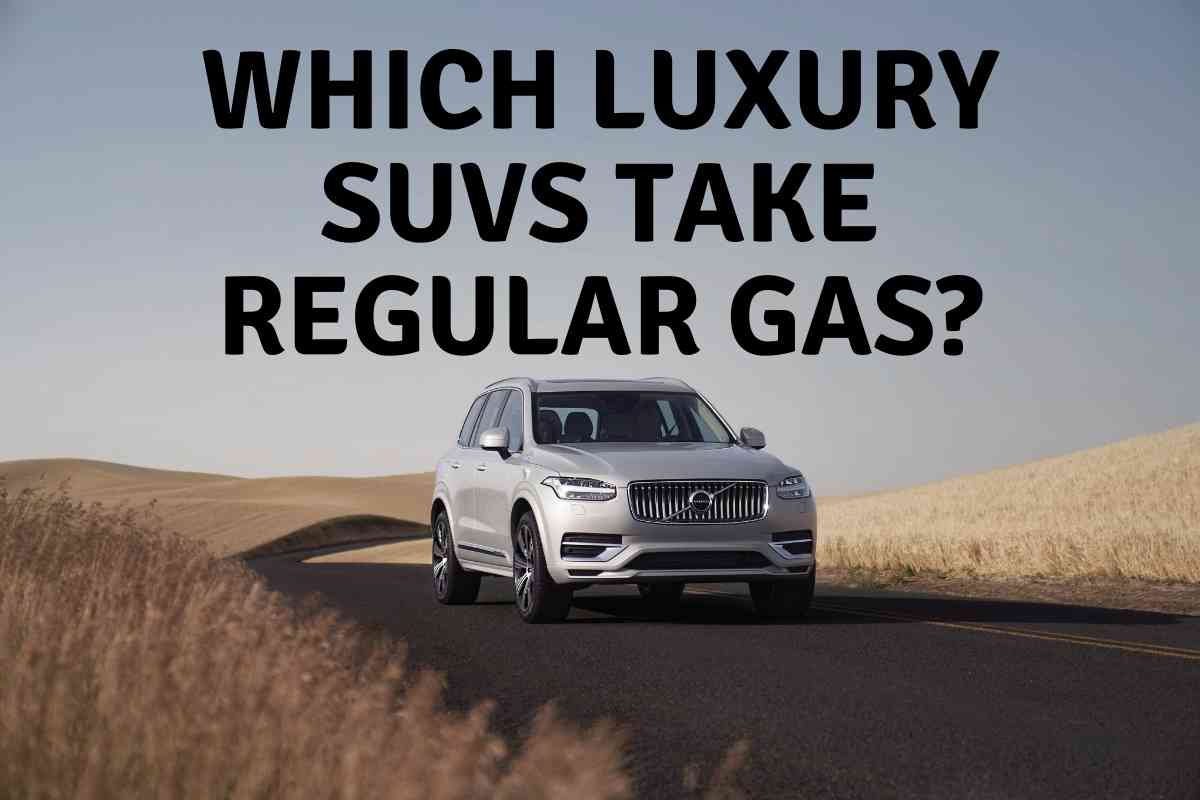 Table of Contents
A few of the best luxury SUVs that take regular gas are the Volvox XC90, Lincoln MKS, Infinity M37, Cadillac ATS and CTS, Lexus ATC, and the Buick Lacrosse. It's important to pay close attention to the particular year of each of these luxury SUVs as some model years switched to using premium gas.
Below is a list of a few SUVs that will function fine with regular, unleaded gasoline.
Each of these is a luxury SUV so you likely won't have to worry about quality, performance, or efficiency in any way.
Hopefully, by the end, you will have been able to knowingly decide which car might suit you well.
Despite its ability to handle regular gas, a Volvo XC90 does carry a pretty hefty price tag.
However, most people are willing to put up with that price because there is a long list of fun features that will come along with it.
The interior is upholstered with stunningly comfortable faux leather seats (which are also heated!) and a high-quality sound system.
On top of that, there are plenty of other customizations you can choose to outfit your car with.
This makes the XC9 a fun and stylish choice!
The Volvo is reliable to be sure, but if you had any previous fantasies of taking your vehicle off-road, you had better forget about them.
This car is stylish and handles well on the asphalt to be sure, but if you try taking it off the road, you will likely find yourself stuck.
Plus, you could risk ruining many of the fine features of the car if you have chosen a particularly rough terrain.
The Lincoln MKS is also like the Volvo in that it is most assuredly a luxury car.
However, the MKS has a much lower starting price than many of its competitors, making it an ideal choice for those who would like to avoid spending a fortune on a nice vehicle.
The price will be even lower, thanks to the fact that it runs on regular gas.
This means that not only is the car cheaper upfront, but you won't have to spend a whole lot of money on the fuel.
The only real downside to choosing a Lincoln MKS is that the interior and design are a bit outdated and less engaging than many of its competitors.
For example, a BMW is much more engaging to drive than an MKS.
However, if you can look past that, you shouldn't need to worry about the MKS's appearance whatsoever.
2013 Infiniti M37
Rather than being modern and sharp, the Infiniti has a sense of sophistication and elegance to its design.
This makes it an excellent choice for those who prefer a lovely design for their car.
Additionally, the cabin is comfortable and will provide all the passengers with a smooth ride.
You will still, of course, feel the gentle clunk of any bumps or potholes you may encounter but it will only be the tiniest interruption to your ride.
The M37 is great if you are good with buttons, but if not, you may consider looking at a different car.
Many customers have complained that this particular vehicle has too many gadgets in the front that make it rather complicated and overwhelming to operate.
Plus, the fuel economy isn't as good as that of its competitors.
2013 Cadillac ATS
This Cadillac is popular among luxury cars that run on regular gas.
This is mostly due to the new and improved safety features which include airbags, radars, stability control, collision alert, and plenty of others as well.
This makes it a prime choice for those who value safety above all else.
Plus, since it takes regular gas, it won't break the bank.
The only issue with the Cadillac ATS is that it has somewhat limited cargo and passenger space.
The seats in the rear of the car can be folded down which, in turn, will make more room.
However, for its class, the amount of space is somewhat low.
Sadly, the small space in the back seat might make it somewhat uncomfortable for certain passengers.
Most Lexus cars are known for their sleek and shiny appearance and the CT is no exception by any means. It has a sharp exterior that is eye-catching for everybody.
In addition, the CT handles remarkably well, especially as a car that runs on regular fuel.
You won't have to worry about being in danger of poor handling while you're driving a Lexus!
Unfortunately, however, the Lexus CT has been reported to be inconsistent as far as design and build are concerned.
Test drivers have reported that some models have stiff braking, others have smoother braking.
This means that buying a CT can be something of a gamble as far as that is concerned.
However, if you feel you can take the risk, then go for it.
2012 Cadillac CTS
Cadillacs are renowned for their comfortable and plush design, but as of late they have been a bit more focused on creating cars that are swift and fun to drive.
The CTS is one such vehicle. You can honestly drive the CTS as though it were a sports car.
It handles beautifully and has been referred to as a nimble car.
The only thing wrong with this is that the backseat is unbearably small.
This may not be a bad thing for some, but anybody with long legs will probably find it to be uncomfortable.
Additionally, the price is usually a bit high.
This car can run on regular fuel, but the upfront price is still going to be a bit high.
2014 Buick LaCrosse
Finally, we have the Buick LaCrosse, which is one of many Buicks that can run with regular gasoline.
This car has some outstanding features, a few of which are the handling capabilities, plenty of passenger space, and efficient performance.
If you are looking for a well-rounded vehicle, the LaCrosse is most definitely it!
The only thing you may want to consider is the trim and luxury options.
These are plentiful of course, but not as much with the lower trim packages.
If you are interested in luxury features and customizations, you will likely have to pay top dollar for these things.