Can a Jeep Wrangler Soft Top Go Through a Carwash?
This post may contain affiliate links. As an Amazon affiliate, I earn from qualifying purchases.
Owning a Jeep Wrangler is a rite of passage for many that love to live an active life with a vehicle that can handle nearly any terrain. With spring already here, there are finally temperatures where we can finally take our soft top off in order to feel the wind in our hair. Regardless if you live in a temperate climate year-round or just a few months a year, nothing beats taking the top off of your Wrangler. Your soft top is going to need to be maintained and washed in order to maximize its lifespan.
The issue becomes whether you should take your soft top to the carwash as the high-pressure water is a concern. The chances are that you will encounter various carwashes whether they include brushes or touchless washes.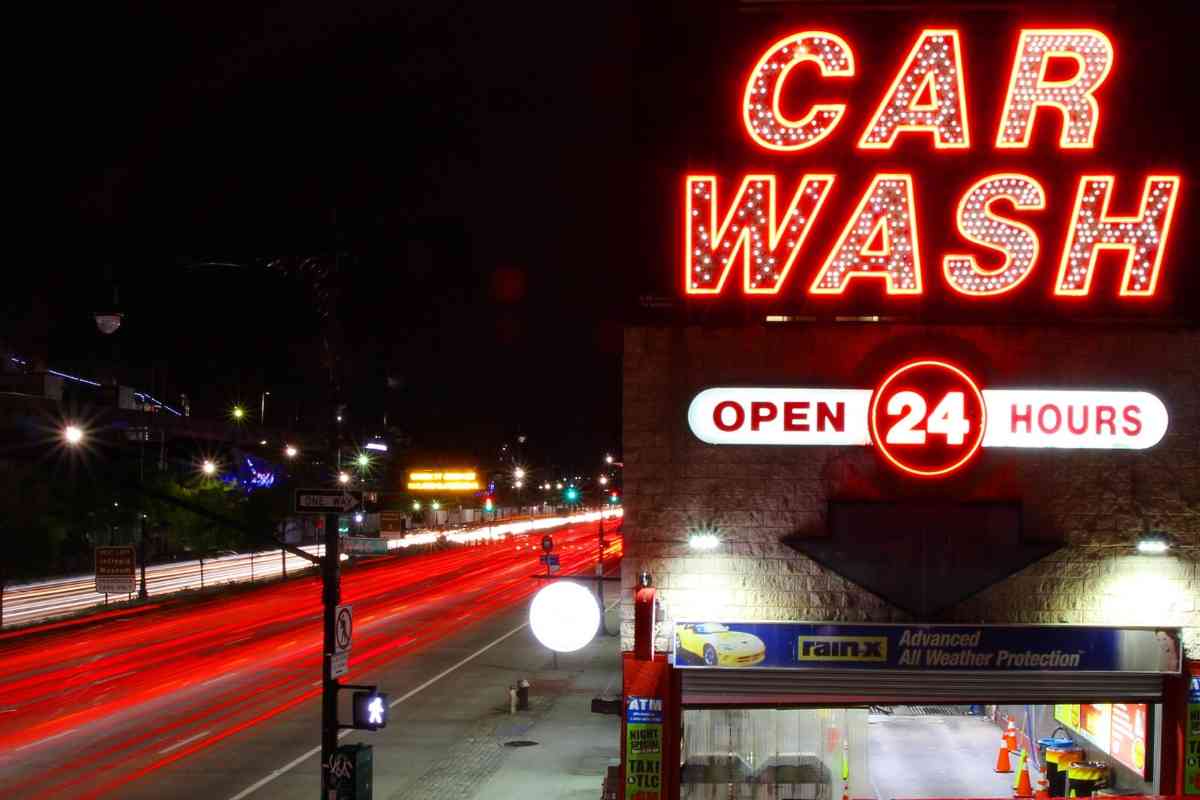 Table of Contents
Can a Jeep Wrangler Soft Top Go Through a Carwash?
No, a Jeep Wrangler should not go through a carwash. If handwashing is not possible for your Wrangler, then a touchless carwash is a better option. The spinning brushes in traditional carwashes can damage a Jeep's soft top.
Types of Jeep Wrangler Soft Tops
There are various materials that offer different benefits for the owner of a Wrangler. The following are a few of the many tops that can be an option for those that want to own a Jeep Wrangler soft top:
Vinyl is what many people think as the first stop top material for the early models of the Jeep. People that own the older YJ Wranglers or a CJ will likely have this as the soft top material that came stock. The ease of cleaning and resistance to various conditions makes this a great option.
Denim which feels and has an appearance of denim jeans and offers a classic look for a soft top. This came stock for many TJ and YJ Wranglers so a number of Jeeps on the road are sporting this material. Along with vinyl, denim is another affordable soft top option for those keeping the budget in mind.
Twill is superior to other soft top materials and is an option for those that want to spare no expense. If you want the same material that a luxury car has then this is the option for you. Most people that own a Wrangler have become used to a bit of noise while driving. Twill reduces this noise to very low levels due to the material being layered for maximum noise reduction.
Sailcloth is a high-quality material that many owners of Wranglers opt for. This was the premium top type before Twill was developed but is still seen as quality. Two layers are used for weather control and noise prevention. The material is a bit more on the expensive side when compared to vinyl. The 2001 TJ Wrangler was the first Jeep to sport this material and was considered a marvel of its time.
Picking the right material for your top is going to be an important decision depending on your personal needs.
For those that drive long distances, Twill or Sailcloth can allow for a quiet ride so you can really relax on the open road. The budget could be the most important aspect for vinyl is the top that they will go for.
Jeep Wranglers offer some of the best materials stock so the possibility of your Jeep coming stock with a great soft top could become a reality.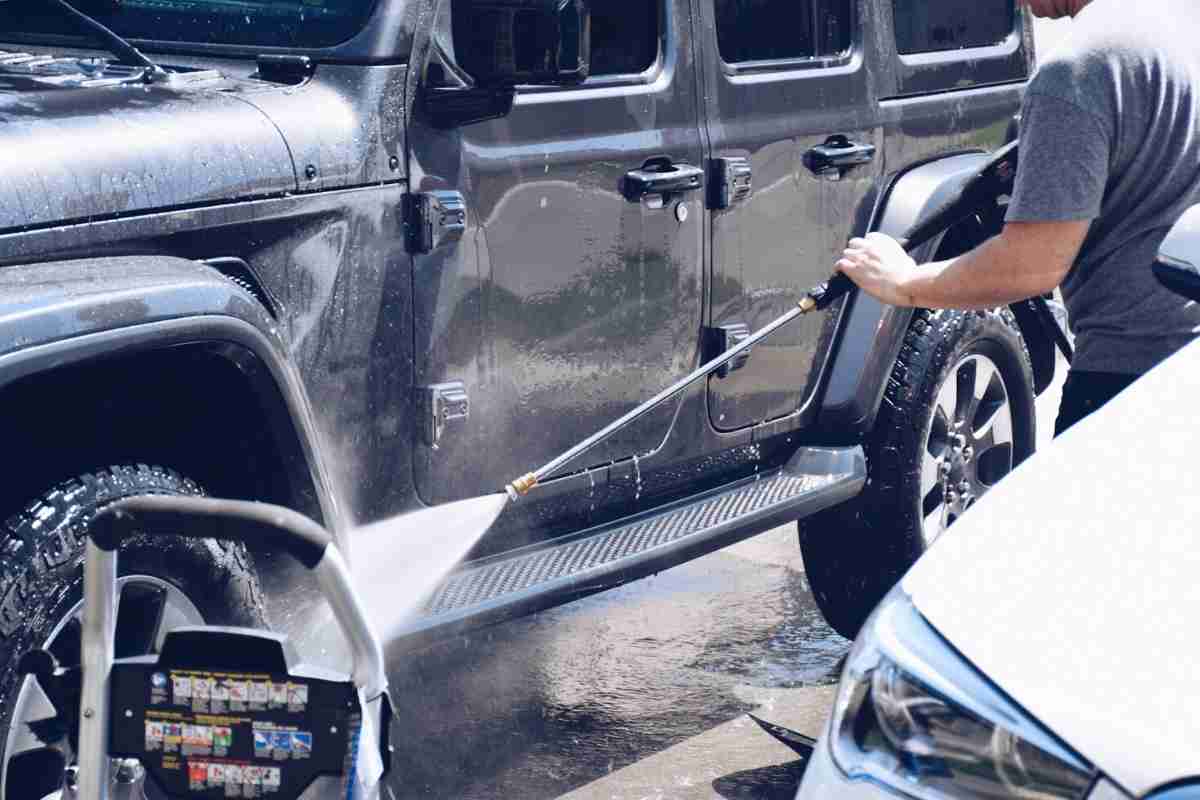 Washing Your Soft Top Jeep by Hand is Recommended
Nothing beats washing by hand when it comes to your soft top on your Jeep Wrangler.
The last thing you want is to notice a leak along your zippers when it is pouring rain. Washing and inspecting the soft top periodically needs to be done in order to care for certain areas that might be wearing out faster than others. And auto experts agree that using high-power tools is a bad idea too.
High-pressure sprayers can damage seals so washing by hand reduces the chances for a tear or seal being damaged.
Why you should hand wash your soft top Jeep
Below are a few reasons to only wash your soft top by hand on your Jeep Wrangler:
Reduce the chances of one of the numerous brushes puncturing the soft top with their hard bristles.
Get those little bits of dirt that only the eye can see.
Keep seals on the soft top safe from high-pressure sprayers.
You might be able to find tears or holes in the top before being rained on.
Washing by hand might not always seem like a convenient option but it will reduce the chances you will have to prematurely replace your soft top. The most important thing to remember is to be realistic about your soft top and its condition.
You should never risk any other method of washing besides by hand if your top is a bit older or has taken a beating from the elements/your adventures.
Hard Top Convertible Jeep Car Wash
Hardtop convertibles have an advantage in a certain way when it comes to carwashes. There is still a risk that the seals can be damaged by high-pressure sprayers or big brushes can lead to scratches.
The more rigid the top the better in terms of carwashes that utilize large brushes. The most important aspect of this is to listen to the manufacturer's advice when it comes to maintenance.
The vast number of automated washes have numerous convertibles washed per year. The chances that something bad happens are very low as most automatic car wash services are designed to be safe for any type of vehicle.
The varying pressure is important to note as the tires take the highest pressure sprays at a majority of automated car washes.
Jeep Soft Top Touchless Car Wash Risks
A touchless carwash can be an option for a Wrangler owner in a pinch but it is recommended these be hand-washed. Brushes simply offer a better wash of the top but cannot be predicted at a traditional wash.
Risking your top ripping in some way can be a costly mistake regardless of the material that is made out of. There are going to be specific spots that an owner could get after using a touchless carwash although this might be overkill.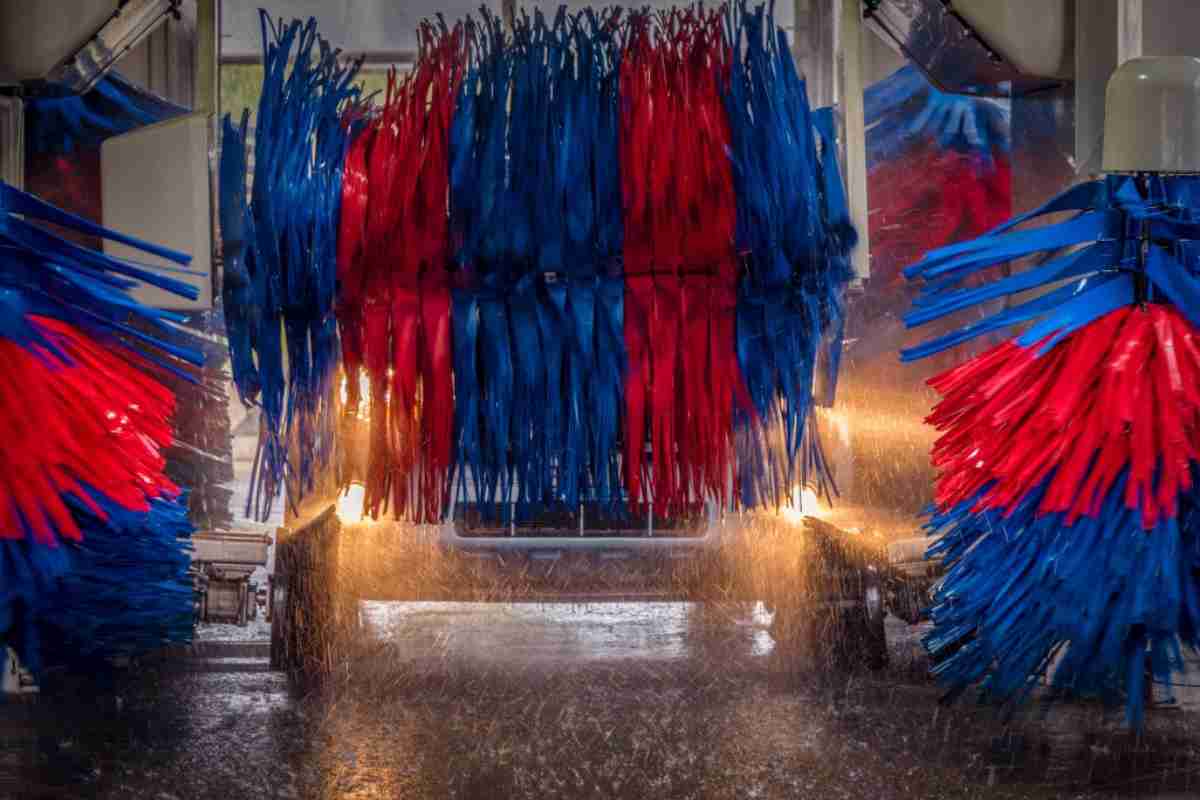 Jeep Soft Top Car Wash Risks
Going into a traditional carwash can be risky for a Wrangler owner with a soft top. The last thing anyone wants is a brush to tear the top leading to hot water and wax dripping on the driver and passengers.
A malfunction is possible although very unlikely. The last thing that you want to do with your older worn Jeep Wrangler soft top is to try out a traditional carwash in the area for the first time.
The touch carwash will scratch the plastic windows leading to damage that might not be able to be repaired in a budget-friendly way.
Restoring Jeep soft top windows is possible though with the Product Plastx by Megulars can help make your soft top windows look at good as new.
Utilize an up and down motion rather than the side to side motion that is used with car wax.
Soft Top Jeep Car Wash Tips
Below are some tips to clean your Jeep Wrangler soft top to the best of your ability:
Set aside around 25 minutes for this process as shortcuts should not be taken.
Use a pressure washer or hose that has a decent amount of pressure. This will remove the debris and grime on the top and will lubricate the fabric getting it ready for soaping.
Cover the entire soft top with the designated shampoo depending on the material your soft top is made of.
Set aside a bucket of warm water and a detergent mix. The ratio of water to saop may be different depending on the type of cleaner.
Brush up/down rather than side to side. The harder the brush that is used should vary depending on the level of grime you need to get off.
Remove any contaminants stuck in the threads and seams.
Rinse the soft top completely to make sure no excess soft is left on the material.
A towel should be used that differs by material to help dry off the top without leaving residue.
The windows need to be a part of this process as well but a different cleaning solution will be required. Avoid alcohol or ammonia as these might be great for household use but not for your Jeep windows.
If wanting shine, put a solution on the Jeep and follow the directions. Wiping off these solutions with a special microfiber towel or soft cloth can maximize shine.
If there are scratches look into solutions that can help remedy these as well. Plenty of people make the mistake of taking their Jeep through a carwash with brushes leaving an immense number of scratches.
You want to keep your Jeep Wrangler as clean as possible as this investment should always be looking the best it can. Appearance are important in many areas of life including dating and as well as in professional scenarios.
A dirty jeep can make you look like you do not take care of things which can be a bad look if you are in client management or another role that requires you to be detail-oriented.
Part of owning a quality vehicle like a Jeep Wrangler is to maintain this beautiful automotive machine. Take the time to wash your soft top by hand in order to make sure the job is done right.
This shouldn't take too much time with a quality cleaner for both the top and the windows/windshield.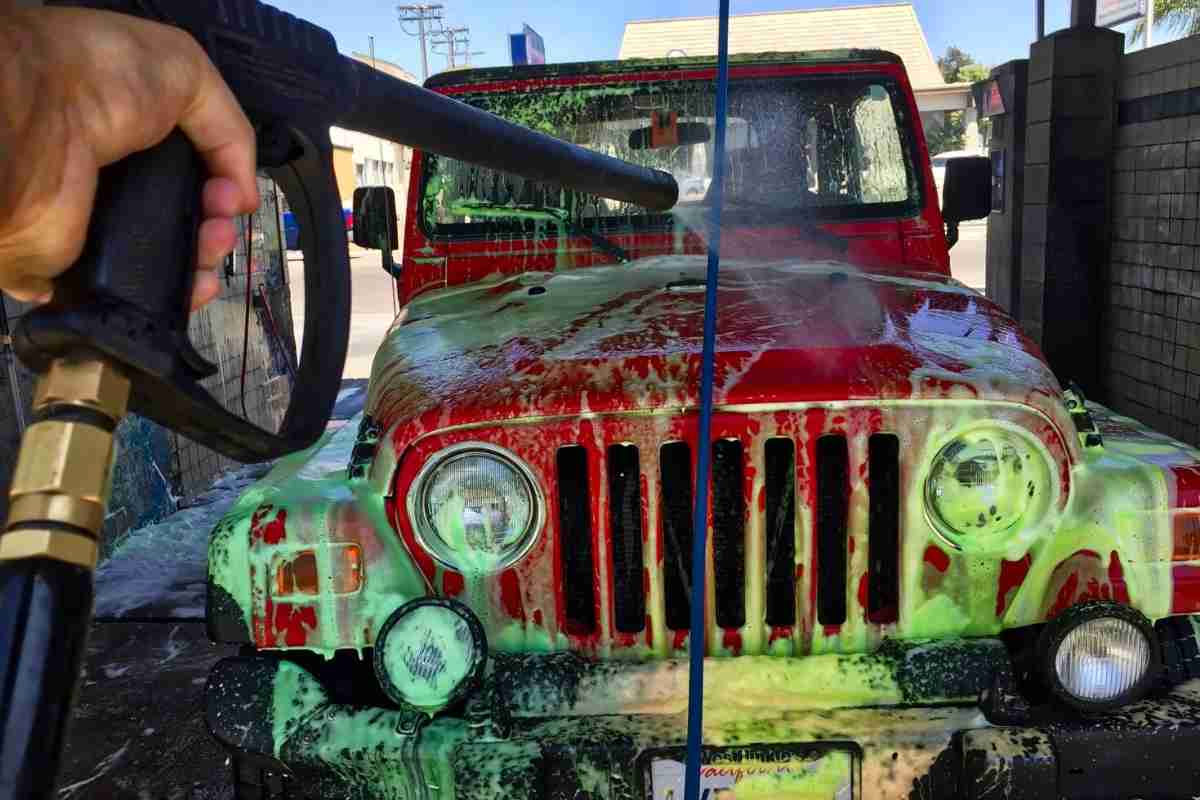 Soft-Top Jeep Wrangler Wax
Here are my 3 favorite car waxes for added water-tightness! If you have not tried these, you are missing out.
McKee's 37 MKCS-160 Hydro Blue PRO SiO2 Spray & Rinse Ceramic Coating & Top Coat Sealer for High...
COLLINITE No. 885 Fleetwax Paste Wax, 12 Fl Oz - 1 Pack
Meguiar's Hybrid Ceramic Liquid Wax, Meguiar's Hybrid Ceramic Wax with Advanced SiO2 Hybrid...
Last update on 2023-09-20 / If you click this affiliate link and make a purchase, we earn a commission at no additional cost to you.