Can A Kia Sorento Be Flat Towed? (Explained!)
This post may contain affiliate links. As an Amazon affiliate, I earn from qualifying purchases.
Kia Sorento strives to offer more than what other crossover SUVs offer. It is a small SUV that has the third row seating to accommodate more passengers. Over the years, Kia has alternated between two and three row seats, but they seem to be more focused on making the third-row model work.
The current model received a redesign in 2021 to offer more cargo and passenger, offer more power, and introduce a hybrid and a plug-in hybrid option. I love the Sorento; it is everything that I need in a small SUV, including comfort, space, and performance. But can you flat tow the Sorento behind a motorhome?
Can A Kia Sorento Be Flat Towed?
No, you cannot flat tow a Kia Sorento behind a motorhome or behind any other car. The manufacturer did not engineer the car to tow on all the four wheels on the ground without a trailer. If you dinghy tow it, you will end up with a damaged transmission system.
This presents a challenge when you need to travel on an adventure. Most of the other Kia models are also not dinghy-towable, and you have to dolly tow them when you need to carry it behind your motorhome.
What should you do with a Kia Sorento if you want to tow it?
What is the Alternative to Dinghy Towing Your Kia Sorento?
If you need to tow the car in case of an emergency or when you are going on an adventure, you can use a wheel dolly or a flat bed. For the 4WD model, you should tow it on a flat bed with all the wheels off the ground. Towing the vehicle with the wheels on the ground will damage the transaxle and can also damage the drivetrain.
If you have a 2WD model, you tow the car with its two wheels on the ground – all you need is a towing dolly under the front wheels. You should not dolly tow the vehicle with the rear wheels off the ground, it should always be the front wheels.
For vehicles with side and curtain air bag, set its ignition to ACC or Lock mode during the tow. If the ignition is left on, the air bags might deploy as the car detects the dolly tow as a rollover.
If you tow the vehicle backwards, with the rear wheels off the ground, you will end up damaging some components of the vehicle. Again, you should avoid towing with a sling-type equipment as the wheels need to rest and not hang. Instead, use a flat bed for the 4WD or a wheel lift so that the wheel travels when resting off the ground.
If you do not have wheel dollies, and you need to tow your Sorento, you need to set its ignition switch to ACC and set the transaxle to Neutral position. Release the parking brake and tow the vehicle. If you fail to set the transaxle to Neutral (N) position, you might end up with a damaged transaxle.
Why is Dolly Towing Not Ideal for Adventure?
A motorhome gives you the comfort of a home when you are traveling and camping. The only challenge with a motorhome is that it is a huge vehicle that does not offer easy maneuverability. Once you get to the camp ground, and you still need to explore the surrounding area, you need a smaller car.
The motorhome will also not fit in the small parking space in shopping malls. The dinghy-towed vehicle allows you to explore the surrounding area and go to shopping malls without the need to bring your large motorhome.
One of the challenges with dolly towing is that your motorhome is not engineered to dolly tow. You can pull a trailer behind it with ease, but a tow dolly will give you challenges connecting it to your vehicle. If you want, you can tow your vehicle on a flatbed as the trailer will be easier to connect to the motorhome.
The trailer and the tow dolly equipment will add to the weight that you have to pull behind your motorhome. Instead of pulling the Sorento alone, you will also pull the trailer, which can be more than 1,000 pounds in weight.
Every added pound means more fuel consumed pulling the trailer. Although your motorhome will have enough towing power for the Sorento and the trailer, you may have to sacrifice bringing other cargo as overloading might affect the performance of your vehicle.
Not only do you have the challenge of dragging more weight behind you, but you will also need more space in your campsite to store the trailer and towing gear. If you are going in a small RV park with restricted campsites, you may not have enough space for the trailer.
What are the Features of a Kia Sorento?
If you can bring the Sorento on an adventure, it will be a great addition to your trip. The model is in competition with the Mitsubishi Outlander and the Volkswagen Tiguan.
The Sorento comes in six trim levels, including:
LX
S
EX
SX
SX Prestige
SX Prestige X-Line
All the trim levels, except the two trims, come standard with front-wheel drive and an optional all-wheel drive. The SX Prestige comes standard with front-wheel drive without an optional all-wheel drive. The SX Prestige X-Line trim level comes with all-wheel drive as standard. There is also a Sorento hybrid, which offers more efficiency.
The LX comes with a standard 2.5L 4-cylinder engine that generates 191 horsepower and 181 pound feet of torque. This engine mates to an eight-speed automatic transmission. If you go for the EX or higher trim level, you will have a 2.5L turbocharged four-cylinder engine that generates 281 horsepower and 311 pound feet of torque. This engine pairs with an eight-speed dual clutch automatic transmission.
Other features that the LX offers include:
Selectable drive modes
17-inch wheels
Heated mirrors
LED headlights
Eight-inch infotainment touchscreen display
Height-adjustable driver seat
Six-speaker audio system
Apple CarPlay
Android Auto
The car also has a suite of safety features such as forward collision mitigation, which warns you when there is an impending collision. This system can apply the brakes autonomously in case of an accident. Another feature is the drive attention monitoring which warns if the driver looks drowsy or fatigued.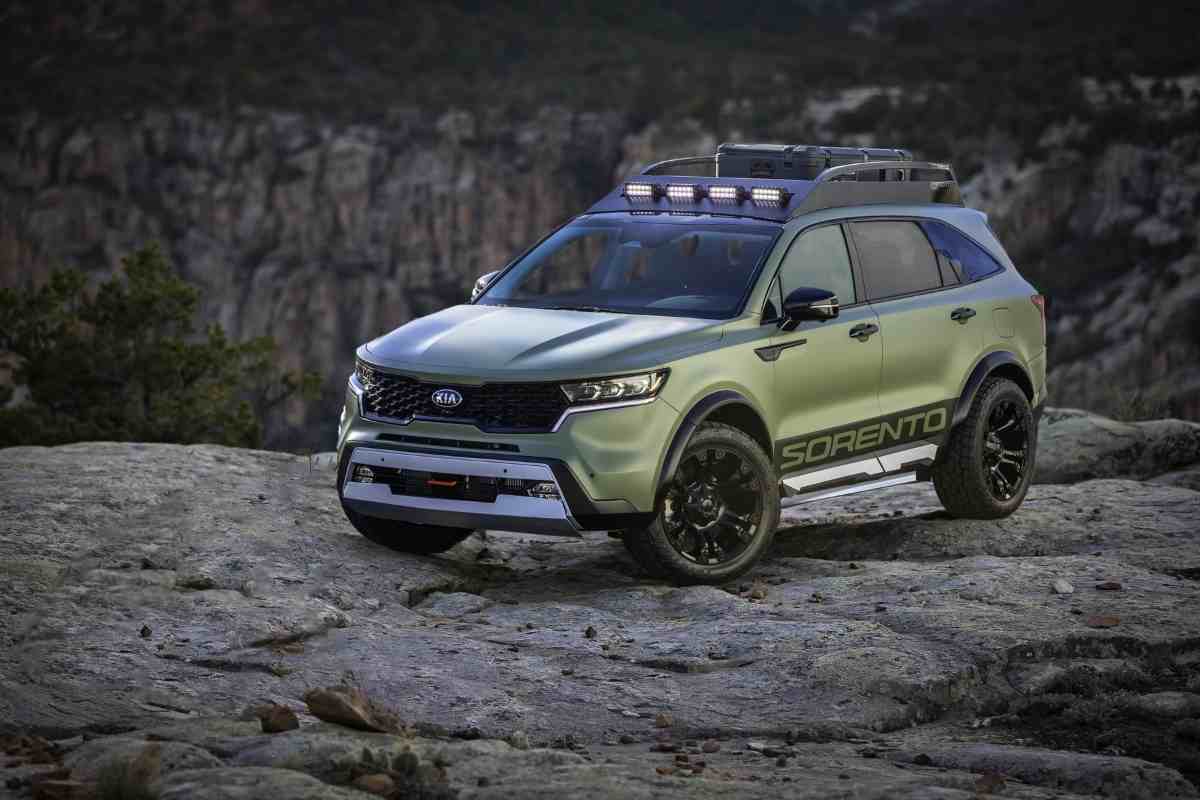 Lane departure mitigation is also available, and it gives a warning when you depart from your lane. The feature can steer your car off the wrong lane if you do not take any action after the warning. Further, the Sorento has a low speed lane keeping assist, which makes minor steering corrections to help keep your vehicle on the lane.
If you go higher on the trims, you will get more features. The S, for instance, offers additional features such as remote engine start, roof rails, leather-wrapped steering wheel, simulated leather seats, dual-zone climate control, blind spot monitoring, and keyless entry. You will also have rear parking sensors.
The SX Prestige and the SX Prestige X-Line trim levels offer several luxury features. They also perform better in different conditions. True to modern Kia vehicles, the Sorento has comfort and convenience features that you need to explore beyond the pavement.
Can the Kia Sorento Tow?
If you cannot tow the Kia Sorento behind your motorhome, you can tow a camper behind it. A small popup camper will not offer the same convenience as a motorhome, but if you really want to enjoy camping without missing out on exploration, you can tow a camper behind your Sorento.
The Kia Sorento can tow at least 2,000 pounds with the base engine. This is enough to tow a small popup camper behind. If you have the more powerful engine, you can tow up to 5,000 pounds behind your Sorento.
Closing Thoughts
Most Kia models are not flat towable. You may find that some model years of the Soul are flat towable, but all the new models do not allow flat towing, and you have to either tow them on a flat bed or dolly tow it.
If you have to tow your vehicle in case of an emergency, you can dolly tow it, as long as you do not use a string-like equipment to hang the front wheels and instead use a wheel lift. If you want to travel on an adventure, you can tow your Sorento on a flat bed. The flat bed will add to the weight of your vehicle, but it is a better option when you are traveling.
Sorento is a good crossover SUV with advanced features for adventure. I love the power the car offers and the fact that I can bring the whole family or a group of my friends. If you really want to bring your Kia, and you do not want to use a trailer, you can tow a camper behind the Sorento and have the same fun as you would in a motorhome.
I recommend that you get a different car if you really want to dinghy tow as this Kia model will not meet your needs as a dinghy tow.