Kia Models Can You Flat Tow (Explained!)
Kia is a brand that gives you practical, reliable cars that have just a bit of a funky personality. Models like the Forte and Soul not only look great but handle the part. Plus, they're light and economical, and with the summer in full swing, they seem like great vehicles for flat towing. In this article, we're going to discuss this topic in detail.
Which Kia vehicles can you flat tow?
Currently, you can flat tow both the 2021 Kia Soul Turbo with dual-clutch automatic transmission (DCT) and the 2021 Kia Forte GT with DCT. Plus, there are older Kias that you can use as dinghy vehicles. Due to the DCT design, you can shift the transmission into neutral, which allows for safe flat towing.
Kia has risen the ranks to become a serious competitor in several segments, and the compact SUV is no exception. As we'll explain later, the Soul comes with plenty of features that make it practical and fun. Likewise, the Forte is no exception, and the GT version comes with a 7-speed DCT and 200 horsepower for a fun, cheap option.
But it's not only the latest versions that you can use as a dinghy vehicle. Some of the older models are capable of such roles, as well. We'll discuss all of them in this article.
But first, we must discuss what flat towing is and why it's key to choose the right car for the job.
What is flat towing?
Flat towing, otherwise known as dinghy-towing, is when you pull a car behind your RV or motorhome. As the name states, the vehicle that you're towing is flat. All four wheels are touching the ground and rolling.
RVs can be uncomfortable to navigate through small city streets, drive-throughs, and parking lots. So, many people take a smaller vehicle with them.
The towed car hooks to the RV through a specialized hitch. So, for all other purposes, it's rolling at the mercy of the tow vehicle. Even the braking comes from the RV.
Whenever a vehicle is rolling on the ground, parts inside it are in motion. The wheels drive the axles, which in turn, move the differentials and shaft.
In some vehicles, there's no way to unplug the shaft from the transmission.
So, with the rolling, the transmission could rotate in a direction opposite to its original design. This can accelerate wear and even create irreparable damage.
Some vehicles can disconnect the transmission from the shaft simply by shifting into neutral. So, this configuration can be better for flat towing. But, this doesn't mean that all vehicles with manual transmission can go through this.
Also, where the engine sends the power is essential. So we can say there are three general configurations, which are front-, rear- and all-wheel-drive.
In front-wheel-drive (FWD) cars, the engine sends power to the front wheels. It does this through a transversal transmission and a differential located in the front. While you can safely tow many of the FWD cars with a dolly, you can't flat pull all of them.
This is because the front differential could suffer damage due to the forced rotation and lack of lubrication. In addition, the engine is usually turned off during flat towing. So, there's no oil circulation, increasing the heat and compromising lubrication. This happens in all configurations.
RWD vehicles also have the same problem. But, the main difference is that you shouldn't tow most RWD with a dolly. If you can flat tow an RWD vehicle, it's only when you can shift it into neutral, which happens in a manual transmission.
AWD and 4WD vehicles are much more complex. Usually, you cannot flat tow them unless they come with a transfer case in which you can shift into neutral to disengage the transmission.
It's always best to check the manufacturer's specifications and instructions for flat towing. Some dealerships might not include flat towing into the warranty. But with Kia, it's different, as there are some models that you can flat tow.
So, in the next section, we'll discuss them. Plus, we're going to go back in history and look at some of the older Kia models you can flat tow.
These are the Kia vehicles that you can currently flat tow.
Currently, Kia offers a wide array of sedans and SUVs, from compact to full-size. Fortunately, amongst that group, there are some that you can flat tow. So let's start with the smallest option, the Kia Soul.
Kia Soul GT
The Kia Soul entered the market in 2008, being a different subcompact crossover SUV for those looking for fun looks and practicality. From the start, it was a commercial success. But, also made a reputation for itself for being fun to drive and having excellent interior dimensions.
There have been three generations, the second entering the market in 2013 and the third in 2019. Currently, this latest iteration comes with several options for transmissions. You can either opt for a six-speed manual, a six-speed automatic, or a seven-speed DCT, available only on the GT.
The Kia Soul GT is the ideal option for flat towing as the DCT can disengage into neutral. Plus, it weighs 2,800 pounds, which makes it light. Therefore, any RV can easily pull it.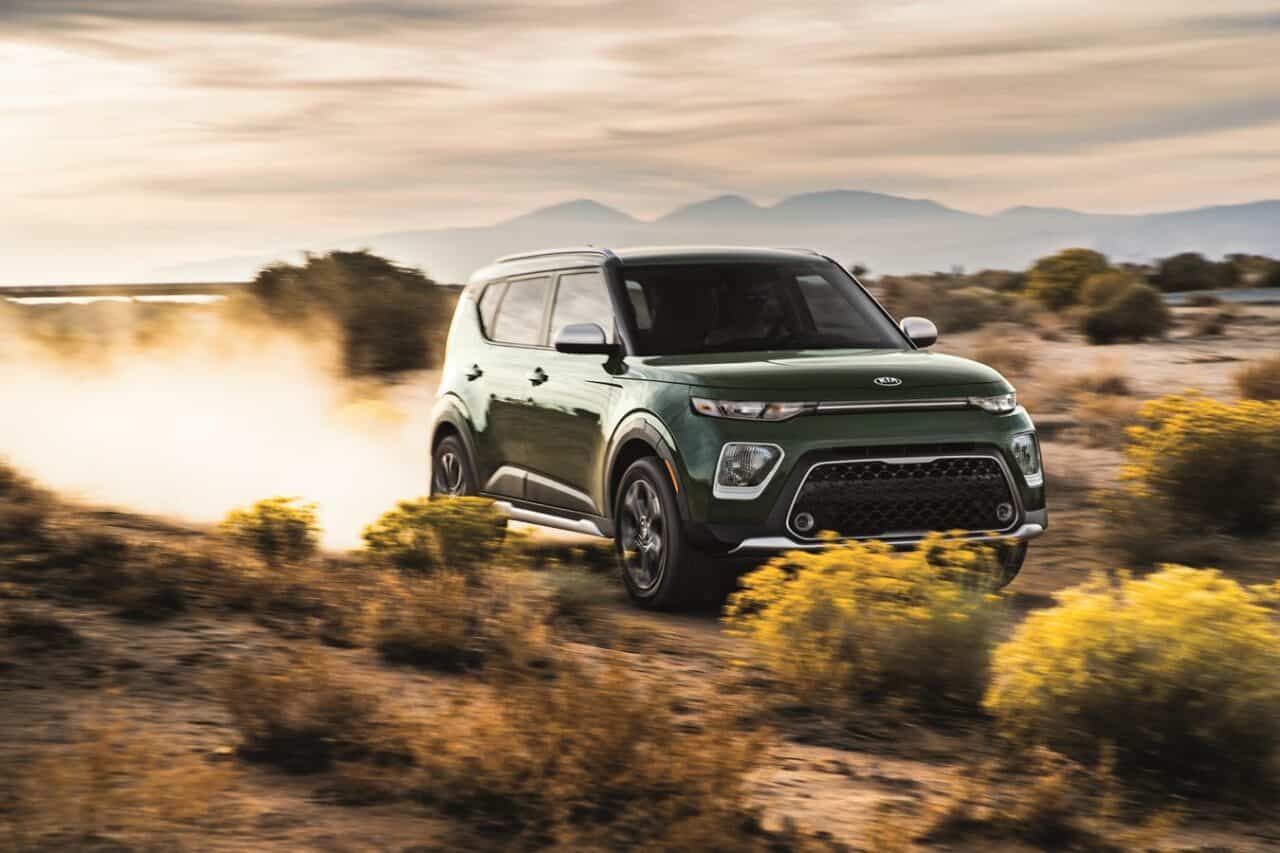 Interestingly, in this vehicle, the Soul with a manual transmission isn't on the list for cars you can flat tow for 2021.
But, as we'll see further down in this article, this can be due to several reasons.
Kia Forte GT
Like the Soul, the Kia Forte entered the US market in 2008 as a cheap, compact sedan that was economical and had no frills. But, as Kia's identity changed throughout the years, so did the Forte. More aggressive styling and more powerful engines turned it into a fun, funky compact that pleased many.
As with the Soul, it's been through three generations. The most recent iteration came to the market in 2018 and a 2019 model in the US market. With it, the Forte gained new transmissions and more robust construction and the introduction of the DCT.
In 2020, Kia dropped the S trim level and the six-speed automatic transmission. Instead, the Korean company introduced the GT, which came with the newly introduced DCT.
With a 1.6L inline-four-cylinder gasoline engine putting out 200 horsepower, the Forte is an excellent option for a backup car. And, thanks to its lightweight of 3,100 pounds, all RVs can easily tow it.
But if you don't have a new Kia, don't worry. There have been older models that you can flat tow, which we'll see in the following section.
These are some older Kia models that you can flat tow
It might come as interesting to some readers that, currently, only the Kia Soul GT with a DCT can be flat towed. But, Kia still produces the Soul with a manual transmission, so why does this happen?
Some manufacturers choose to remove their vehicles from the list of flat towable vehicles due to warranty issues. They also look to avoid any possible disagreement with the customer. Unfortunately, it's common to see this happen, and Kia is no exception.
In fact, when we went through several towing magazines, we came upon exciting discoveries. This section will go over past guidelines that involved the Kia and see what's changed.
2020 Towing Guides
Interestingly, in many 2020 guides, you will not find any Kia vehicles. But that's no problem. You can flat tow the Soul and Forte from this year, as long as they come with the necessary characteristics, including a DCT.
2019 Towing Guides
In 2019, you could find several guides recommending the Kia Rio LX with manual transmission for flat towing. But, you cannot find it in more recent guides.
This is because Kia dropped the manual transmission from the US market. Instead, it only offers an Intelligent Variable Automatic Transmission (IVT), which can't shift into neutral.
Also of interest is that, in this guide, you only find the Kia Soul base model with a manual transmission. Does this mean that you can also flat tow a 2021 Kia Soul with these characteristics? Well, you might. But no one will cover the damage if something goes wrong.
2018 Towing Guides
In 2018, you could find the Forte in both trims, the S and the LX. But these didn't appear in the 2019 edition. The only requirement was that both had a manual transmission.
The Rio LX with a manual transmission is also on the list and the Soul Base.
2017 Towing Guides
Not much changed in his year's guide, but it did include that discontinued Forte Koup. The only requirement is a manual transmission.
2016 Towing Guides
The list remained the same for 2016, with all models requiring a manual transmission. But, it's worth highlighting that, throughout the years, there are no speed or distance limits. This makes Kia vehicles an excellent option for flat towing.
But Kia offers several SUVs, can you flat tow them? Let's find out in the following section.
Can you flat tow Kia SUVs?
In short, Kia doesn't recommend that you flat tow its SUVs, even if they come with a manual transmission. However, we wanted to answer the question in more detail. So, it's essential to explain a bit more about these vehicles.
There are two Kia SUVs that, at some point, came with manual transmissions: the Sorento and the Sportage.
The Kia Sorento is a mid-size SUV that entered the US market in 2002. It came with an option of either a five-speed manual or a four-speed automatic. It impressed the world with its ability to tackle offroad terrain (when fitted with 4WD), reliability, and comfort.
But the manual transmission was short-lived, as Kia dropped it from the US market in 2006, offering only the automatic transmission. The Sorento came with either RWD or 4WD, and you couldn't flat tow neither.
The owner's manual specified that you could flat tow the Sorento only in emergency situations and never exceeding 55 mph. These restricting conditions make flat towing the Sorento unadvisable.
The Kia Sportage was a smaller SUV aimed at those looking for practicality and versatility. Unfortunately, it came into the United States market in 1995, and it didn't impress. It was basic, at most, but you could opt for a 4WD with low-range gearing.
You could flat tow these earliest versions since it had a two-speed transfer case. You had to limit to 55 mph and have a manual transmission.
But, as the Sportage grew up, it shed some of its rough features and became a more mature small SUV. Though it still came with option low-range gearing, no RVing magazine listed it as flat towable.
What if I have a Kia that can't be flat towed?
This is a common occurrence. Kias are reliable and fun to drive, so it shouldn't mean that you can't go on a trip with them. The best alternative for fixing this problem is to have a trailer. Not only will you ensure that there's no damage, but the trailer comes with all necessary connections to ensure a proper tow.
Plus, most trailers aren't heavy. This fact, combined with many of Kia's low weight, means that most RVs will easily tow the trailer and vehicle combination.
It's essential to keep in mind that this combination will surely be over 1,500 pounds, which is the maximum weight for having no brake lights. This means that you will need an electrical connection.
If you want to know more about towing weights and some of the legal requirements, be sure to check out our article on the topic.
Also, this applies to both flat towing and using a trailer. It's recommended that you use a supplemental braking system. It distributes the stopping load and helps your RV stop better.
Closing thoughts
With summer in full swing, there's nothing more fun than hitting the open road with your RV. But navigating these vehicles through small streets is a hassle. So, having a dinghy vehicle is usually an excellent option for those short trips.
Kia is a popular brand that makes small, practical, and economical vehicles. So, many wonder if you can flat tow any vehicle from this brand. Fortunately, you can! As we've seen in this article, the Kia Soul GT and Forte GT are flat towable.
Thanks to their advanced DCT, you can shift into neutral, allowing for safe dinghy towing. But, you must use only these transmission options.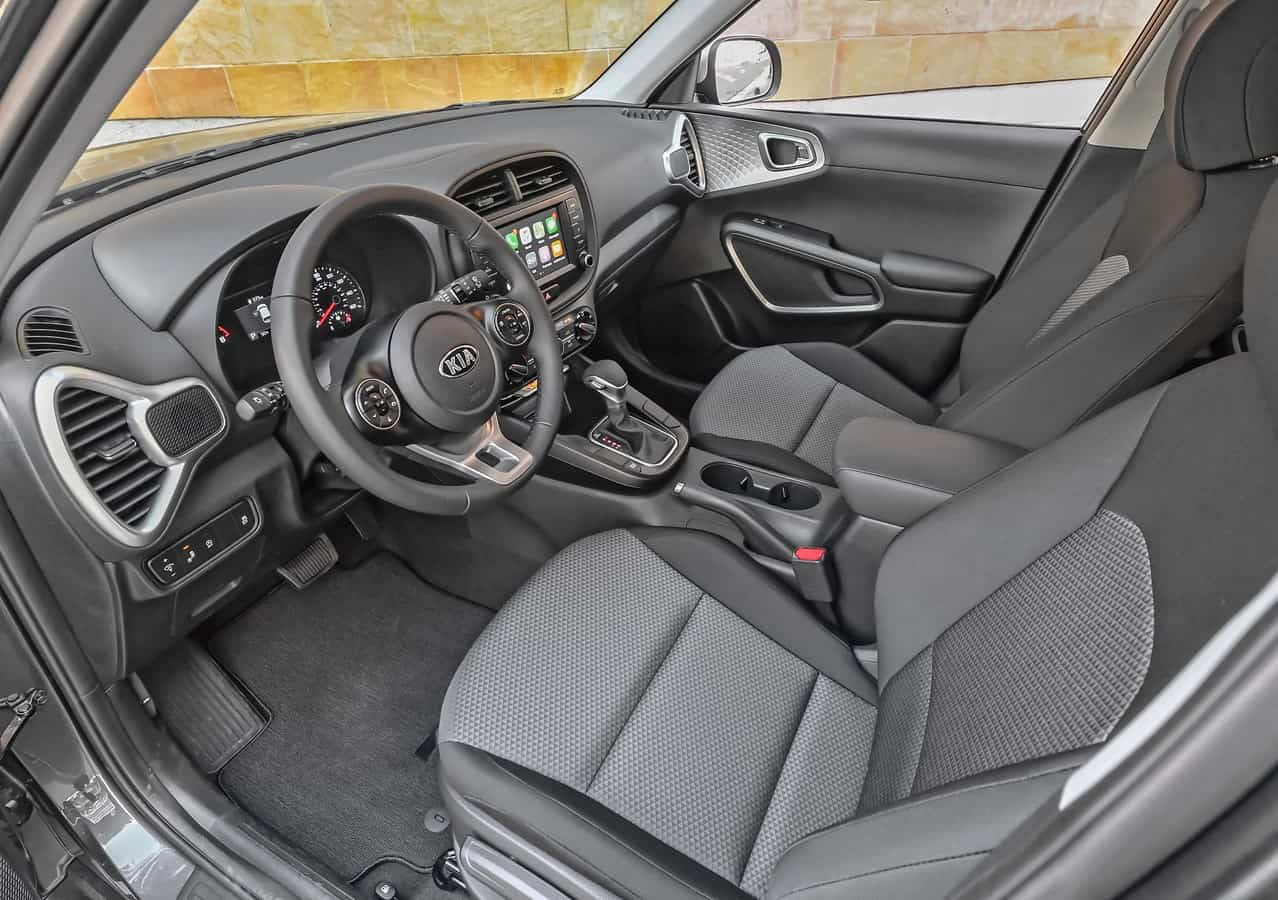 In past towing guides, you could find lists that included the Forte, Soul, and other models like the Rio and the ForteS. Due to several reasons, Kia dropped them from the flat towable list. IF you have models within the years mentioned in this article, you can flat tow them. Be sure to follow the manufacturer's guidelines for the best results.
Kia makes several SUVs. But you cannot flat tow them due to components like the transmission and drivetrain configuration.
Hopefully, this article provides you with the information you need to flat-tow a Kia safely. In no time, you'll be hitting the open road.