How Much Weight Can A Jeep Roof Rack Hold? How To Hold More!
This post may contain affiliate links. As an Amazon affiliate, I earn from qualifying purchases.
When you drive off-road on Jeep adventures, you will be hauling gear. This is why you need to know how much weight a Jeep roof rack can hold for support. Overloading your roof and roof rack could cause significant problems to your vehicle, like permanent damage. It is best to be aware of the weight capacities that apply to your Jeep to avoid any of these issues.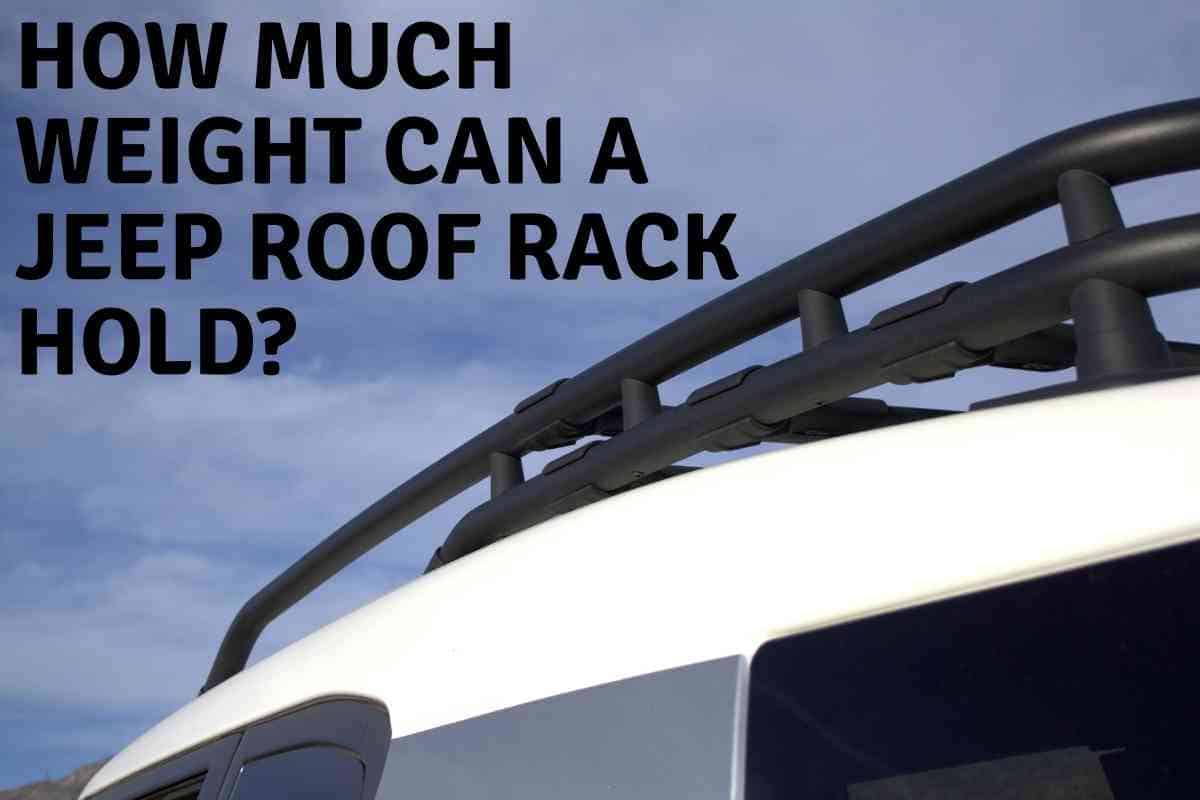 Table of Contents
How Much Weight Can A Jeep Roof Rack Hold?
On average, you should expect your Jeep's roof rack to hold between 50 pounds and 200 pounds of cargo, but it varies depending on your particular year and model Jeep and the type of roof rack you have. The average Jeep roof can hold 150 to 200 total pounds while driving too.
A Jeep roof rack is a popular accessory for those who enjoy the outdoors. Whether camping, surfing, or just cruising around the neighborhood, an aftermarket roof rack is a great way to bring your tent, bike, surfboard, and all your other bulky gear with you.. But you should know how much it can hold, and we answer this question in this guide. 
The weight of the items carried by the roof rack will depend on the type of rack and the size of the vehicle. Between manufacturer research and testing top-rated Jeep racks, we came up with this information to provide the most accurate analysis you will find.
How Much Weight Can A Jeep Roof Rack Hold?
The weight capacity of a Jeep roof rack depends on the type of roof rack. On average, you can expect between 50 to 200 pounds of support. This is ideal for hauling gear for longer trips.
You must understand the dynamic weight rating of your Jeep's rooftop too. This is more of a determining factor about the total weight your rack can hold than the rack's weight rating itself.
The weight capacity of a roof rack is determined by the manufacturer and varies from one model to another. You should expect 50-100 lbs of support from a cargo basket rack and a two-bar rack. 
The full-length type of roof rack is more durable and made with better materials. These racks can hold up to 200 pounds.
How Much Weight Can A Jeep Roof Hold
The Jeep roof has a limited weight capacity too. It is not only the rack that you need to worry about. The weight limit varies by Jeep type.
You should expect most Jeeps to hold between 150-200 pounds. This is true for both the Jeep Cherokee and the Jeep Wrangler.
What Happens If You Overload A Jeep Roof Rack?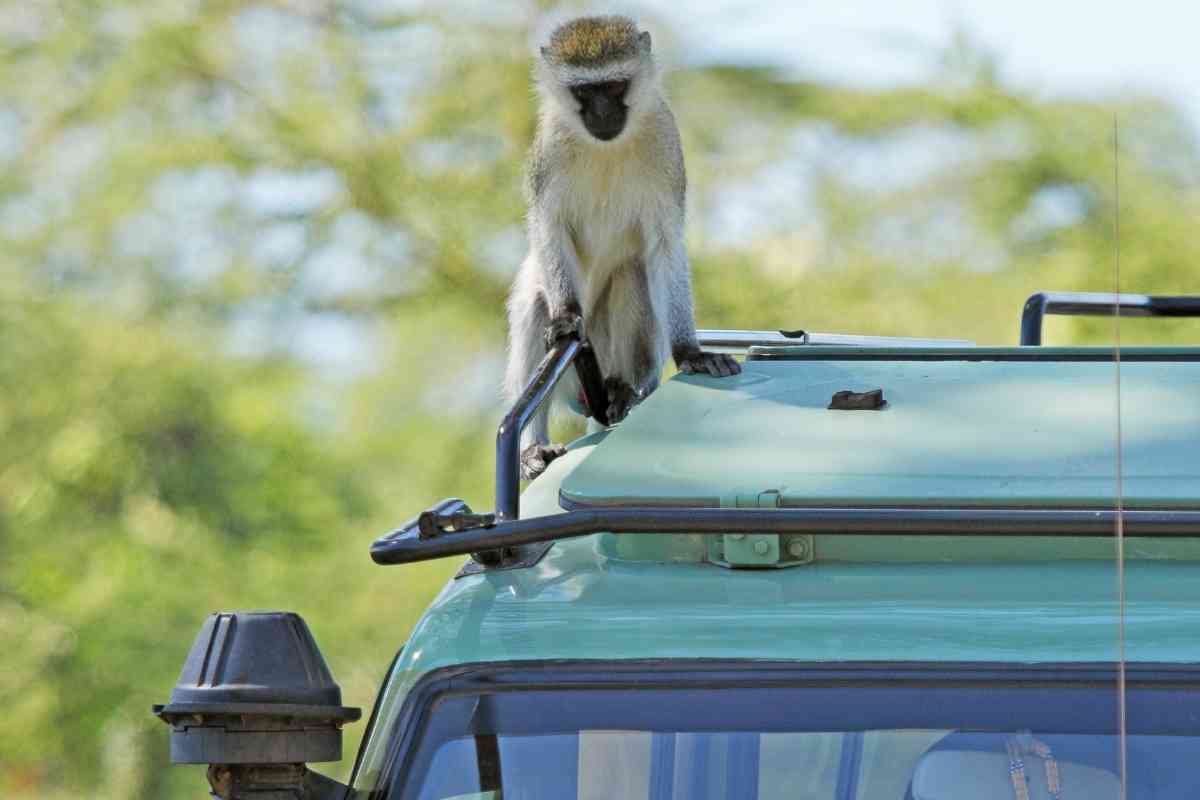 The weight of the load on the roof rack will cause a decrease in vehicle performance if you overload the vehicle. Before putting any heavy loads on your roof or roof rack, you should understand the risks of exceeding your roof weight limit.
For example, it could sag and contact the vehicle's frame on a soft top Jeep roof type. This will cause damage to the car, including the hood and windshield. Roof racks work best on hard top Jeeps.
You can also expect worse vehicle handling. The added weight will create an uneven distribution, impacting your steering and vehicle response. This also means you have a higher rollover risk.
Decreased Vehicle Handling
The increased weight of the roof rack can affect the handling of your Jeep. The vehicle's ability to stay on the road will decrease as you overload it.
This is why it is important to know how much weight you should be carrying on your roof rack. You should only load it with what you need and not exceed its capacity.
Lower Fuel Efficiency
If you overload your roof rack, you can expect worse fuel efficiency on your Jeep. The weight of the cargo on top of the car will cause the engine to work harder and use more fuel.
The extra weight will put more pressure on the tires, lower PSI levels, and force you to use more fuel to do less.
Types Of Jeep Roof Racks
There are many different types of these racks, each with benefits and drawbacks. They also have other use cases, like a kayak rack for your Jeep if you are transporting your gear.
Full-Length Roof Rack
The Full-Length roof rack will cover the entire roof with an extended basket or multiple bars to support your gear. These racks are made from high-quality steel with a powder coat finish for added durability.
Two-Bar Roof Rack
A cheaper option would be the Two Bar roof rack. This is simply two bars separated by some space to hold long gear like skis or snowboards.
The two-bar design is excellent for sports use because they act as a wind deflector to avoid using extra fuel. They also make the least amount of noise when driving at highway speeds.
Cargo Basket Roof Rack
Another budget option is the Cargo Basket roof rack. This is half the size of the full-length rack and holds smaller items.
This is the choice by many beginners because the design is similar to the full-length rack, but it is much smaller and does not hold much cargo.
How Much Does A Jeep Roof Rack Cost?
A roof rack is a good investment for any vehicle. It is made to carry gear and other items to help you on your adventure.
The cost of the rack itself is just one part of the equation. You'll also have to factor in installation costs, shipping costs, and any necessary accessories you'll need to use your new gear properly.
A Jeep roof rack can cost anywhere from $50 to $1,000, depending on quality and brand type. Consider the features below that you get at each price point to determine your roof rack budget.
$50-$100
You won't find any roof racks in this low-level pricing range that blow you away with excessive features. However, they tend to be reliable enough to get the job done.
These racks are mostly small cargo basket racks to hold smaller gear. They cannot hold anything over 150 to 200 pounds depending on the exact price, brand, and design type of the rack.
$100-$250
If you are willing to spend a little more, you will start to see a return on the investment because racks get significantly more reliable. They also can carry heavier loads to protect your roof and allow for more cargo.
These racks provide enough of an aerodynamic feel to avoid slowing you down on the road. They will be easier to install, and this price range includes many two-bar racks and lower-quality full-length racks.
$250-$500
Once you get above the $250 threshold, you will begin looking for more specific differences like material type, quality, and noise reduction capabilities. These racks are quieter and lightweight while providing 300 pounds of support for gear.
You can also look at the mounting techniques on these racks. A majority of the racks worth this amount of money are full-length and fit all types of jeeps to improve the weight capacity on your roof slightly.
$500-$1,000
This price range is a bit excessive for even hardcore Jeep enthusiasts. The products will provide the best long-term durability, and the designs are slim and provide a highly refined exterior look on top of your Jeep. 
You can expect to see the highest graded material possible on these racks too. However, if you only need to improve your roof's weight capacity, you probably won't need to spend this much money on a roof rack.
How Much Weight Can A Jeep Carry?
The Jeep is one of the most popular SUVs on the market and ranks as one of the best-selling vehicles because of its excellent off-road ability and weight capacity. There are not many SUVs with this type of versatility and strength.
Depending on the model, it can only carry between 500 to 2,500 pounds, so it can serve as the ideal vehicle for every situation. For example, the Jeep Wrangler's payload capacity is between 880 and 1361 pounds.
If you're buying a vehicle for off-roading and carrying heavy items, the Jeep is one of the best options.