The Best Kayak Racks for A Jeep Wrangler
This post may contain affiliate links. As an Amazon affiliate, I earn from qualifying purchases.
Your Jeep Wrangler is the perfect vehicle to take on outdoor adventures, but driving your Jeep shouldn't mean leaving your big sports gear behind.
Kayaks, in particular, can be tricky to mount on a Jeep Wrangler.
Whatever the design specs of your Wrangler, you need a roof rack that gets the job done.
Luckily for you, we've done the work for you and found the best kayak racks to fit your Jeep and your lifestyle.
What Are The Best Kayak Racks For A Jeep Wrangler?
The best kayak racks for Jeep Wranglers include the Thule Hullavator, Rhino Rack Aero Bars, the Trail FX J029T Roof Rack, the Rugged Ridge Sherpa 11703 Roof Rack, and the Yakima JayLow J-Style Fold Down Roof Rack. These are all great, but the right one for you depends on your particular model of Jeep and kayaking needs.
You can't go wrong with this selection of kayak racks for your Jeep Wrangler.
Get ready to strap your kayak up top and hit the road!
5 Best Jeep Wrangler Kayak Racks for 2022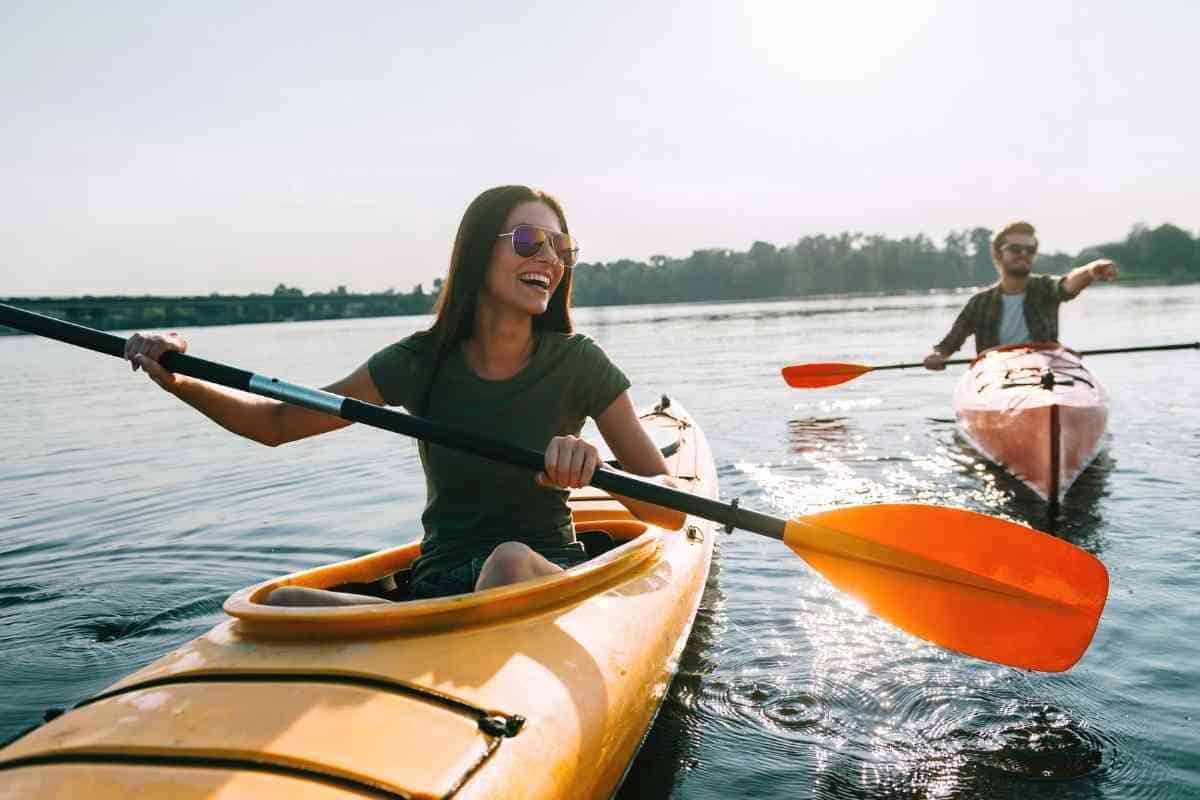 You look for the best blend of quality, functionality, and affordability in your vehicle.
So, you need vehicle accessories that meet the same standards.
Kayaks are often long, and some are even longer than your Jeep.
Their shape also puts unique demands on a mounting rack.
You'll also want to consider your lifestyle when selecting the best kayak rack for your Jeep Wrangler. J-style racks are easier for loading and unloading kayaks, for example.
On the other hand, full coverage roof racks might make more sense if you routinely transport more than one kayak.
When selecting the best kayak roof racks for Jeep Wranglers, we factored in cost, durability, and ease-of-use.
After all, even the most high-end roof rack might be useless to you if it isn't designed for kayak mounting.
Though it didn't quite make our list, the Rhino Rack T-Loader is also a great option for mounting kayaks on a hitch rack.
Thule Hullavator – Best Overall
Last update on 2023-06-01 / If you click this affiliate link and make a purchase, we earn a commission at no additional cost to you.
The Hullavator offers the best security for long treks with a kayak of any size.
Fully padded and with bow and stern tie-downs, the Hullavator keeps a firm grip on your kayak, even across the roughest terrain.
Pros
Gas powered lift-assist struts
8 padded touch points
Aluminum and double-coated steel construction
Tie-down straps for bow and stern
75 lbs load capacity
Cons
Carries only one kayak
Expensive
This roof rack also provides lift assist perfect for heavier kayaks, even up to 75 lbs. Understandably, these features tip this Jeep Wrangler kayak rack into a higher price range than some competitors.
However, for a single kayak, the Thule Hullavator is the gold standard.
Rhino Rack Aero Bars – Best for Hard Top
Last update on 2023-06-01 / If you click this affiliate link and make a purchase, we earn a commission at no additional cost to you.
Budget-friendly and compatible with your hard top Jeep Wrangler, the Aero Bars are a great option for anyone looking for a low-profile, lightweight kayak rack.
Though straps must be purchased separately, the bars themselves may be easily adjusted to match your needs.
Pros
Easy installation
Compatible with all hard top Jeep Wranglers
Theft deterrent hardware
Anodized aluminum construction
Compatible with other roof racks
Affordable
Cons
Straps not included
Only two points of contact
Perhaps the greatest advantage of the Aero Bars is their ability to support other types of kayak racks.
If your current gear rack doesn't fit your Jeep Wrangler, for instance, you may be able to use the Aero Bars underneath it.
Trail FX J029T Roof Rack – Best for Multiple Kayaks
Last update on 2023-06-01 / If you click this affiliate link and make a purchase, we earn a commission at no additional cost to you.
Anyone who needs to transport more than two kayaks on their Jeep Wrangler should consider the Trail FX.
In fact, the Trail FX is a great choice for transporting any combination of outdoor sports gear.
The crossbars on the Trail FX easily support multiple kayaks or bikes, because this rack covers the entire cab, rather than securing to the roof of your Wrangler.
This makes it an option for soft tops, too.
However, the Trail FX is not a kayak-specific rack, which means you will also need to acquire straps to secure your kayak.
Pros
Complete coverage wall-mount rack
Extra space
Protective anti-rust coating
Soft top compatible
Cons
Mid-range pricing
Straps not included
While not the priciest option out there, the Trail FX isn't the most affordable kayak rack for your Jeep Wrangler either, falling in the middle range.
Still, the sturdy design and sheer space make it well worth the price for anyone mounting more than two kayaks or other sports equipment combinations.
Rugged Ridge Sherpa 11703 Roof Rack – Best for Soft Tops
Last update on 2023-06-01 / If you click this affiliate link and make a purchase, we earn a commission at no additional cost to you.
Also at the higher end of the cost spectrum, the Sherpa is designed specifically for soft top Jeeps.
Though not a roof-mounted rack, the Rugged Ridge Sherpa doesn't require you to drill any additional holes in your Jeep Wrangler.
Instead, it bolts securely into place.
Pros
Tilt features to adjust mounting
Compatible with 2-door and 4-door models
Light bar with auxiliary lighting tabs
Rust-resistant e-coating
Securely bolts to frame
5 year warranty
Cons
Crossbars sold separately
Straps not included
82 lbs. total weight of rack
Though the Sherpa weighs more than roof-mounted racks, it also supports a greater load capacity, making it a solid option for multiple kayaks.
Anyone with a soft top Wrangler who wants to mount other sports equipment in addition to their kayak should consider the Sherpa.
Yakima JayLow J-Style Fold Down Roof Rack – Best for Side Loading
Last update on 2023-06-01 / If you click this affiliate link and make a purchase, we earn a commission at no additional cost to you.
In addition to being easier on your wallet than some other roof racks, the Yakima JayLow is a side-loading roof rack.
This design, which incorporates a cam lever, makes it easy to make adjustments to your vertically mounted kayak.
The JayLow also supports up to two kayaks, making it a great choice for kayaking couples or anyone who loves adventuring with a friend.
For added security, you can also apply locks to the JayLow.
Pros
Vertical cam lever
110 lbs. load capacity
Supports two kayaks
J-cradle, fold-away design
Same-key system
Heavy-duty bow and stern tie-down straps
Budget-friendly
Cons
Requires crossbars (not compatible with all Jeep Wranglers)
Higher rise than other roof racks
Locks sold separately
The Yakima JayLow is one of the easiest racks to install on your Jeep Wrangler since it arrives fully assembled and ready to use.
Installation should take less than 10 minutes!
Choosing the Best Jeep Wrangler Kayak Rack for You
The best choice of kayak rack for you will depend on the demands of your lifestyle. While we selected a few of the best options, the rack you choose should be compatible with your Jeep, with your routine, and with your wallet.
Compatibility
Before purchasing any kayak rack, it's important to confirm the rack specifications are compatible with the features of your Jeep Wrangler.
Different Wranglers come with different options, including 2- and 4-doors or hard and soft tops.
Functionality
Consider the type of wear and use your Jeep Wrangler kayak rack will receive. If you only occasionally go on solo kayaking excursions, an easily removable single kayak rack probably makes the most sense for you.
On the other hand, if all your friends like to pile in your Wrangler for a weekend paddling, a sturdier multi-kayak rack is probably a smart choice.
Budget
While we would all love to be able to splurge on the best of the best accessories, it's worth considering which features are most important to you.
You want your kayak rack to match your lifestyle and budget.
The Best Overall Jeep Wrangler Kayak Rack
Our choice for overall best kayak rack for your Jeep Wrangler is the Thule Hullavator, with its combination of features designed specifically to keep your kayak riding securely.
Though its price point matches its high-quality design and construction, the Hullavator is sure to keep your kayak well protected, no matter how rough the offroading gets.
During holiday season, keep in mind that kayak racks also make great gifts for the Jeep Wrangler owner in your life!
If that Wrangler owner is you, then get ready to get back on the road with your kayak safely mounted overhead.
FAQs (Frequently Asked Questions)
Finally, let's wrap up with some commonly asked questions others have about getting kayak racks for their Jeep Wrangler.
Can you put a kayak rack on a Jeep Wrangler?
Yes! Jeep Wranglers are compatible with many kayak racks.
How do you carry a kayak on a Jeep?
A roof rack, wall-mounted rack, or hitch-mounted rack are all options for carrying a kayak on a Jeep.
How do you put a kayak on a Jeep without a rack?
It's safest and most secure to use a rack to mount your kayak on your Jeep.
Can you fit a kayak in a Jeep Cherokee?
Shorter kayaks may fit inside a Jeep Cherokee, but longer kayaks will need to be mounted on external racks.