9 Jeep Gladiator Features Owners Love
This post may contain affiliate links. As an Amazon affiliate, I earn from qualifying purchases.
In my last article covering the Jeep Gladiator, I highlighted 7 Jeep Gladiator Features Owners Hate! In this article, I want to focus on the many benefits that Gladiator truck owners love about their mid-sized trucks. We will discuss 9 Jeep Gladiator Features Owners Love.
Throughout my research, I must tell you that owners overwhelmingly are pleased with their Jeep Gladiator trucks. It is obvious that Jeep designers put a lot of time and thought into their Gladiator design and most of what they produced seems to be on point with their target market.
In this article, we will cover the most common features that Jeep Gladiator owners said they loved about their trucks.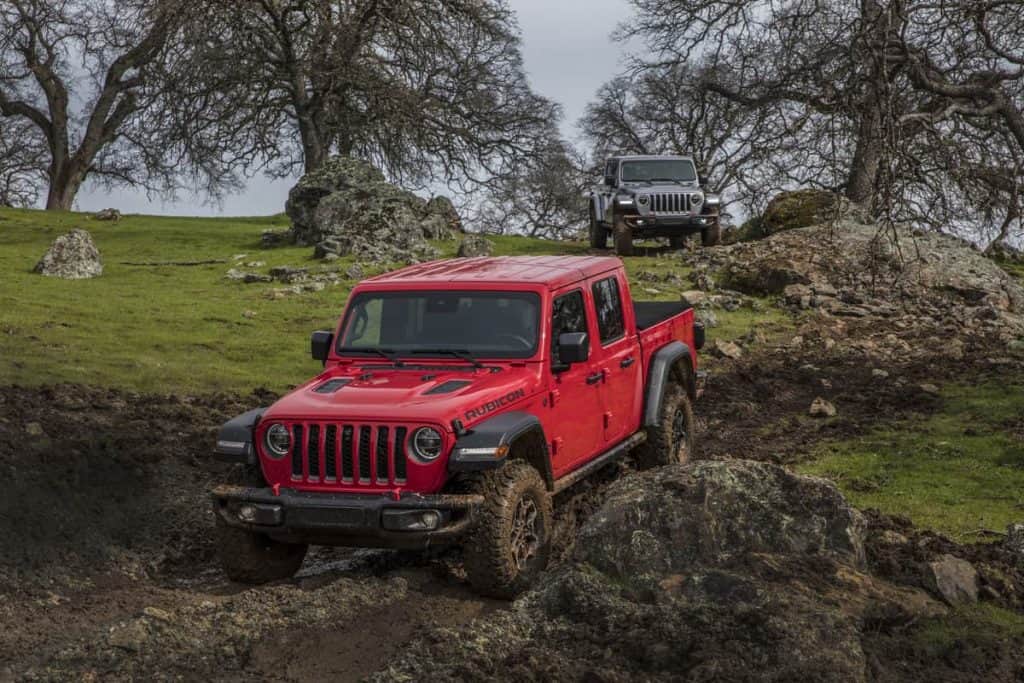 9 Jeep Gladiator Features Owners Love
Information Screen – It gives you so much information including pitch and roll while offroad and the oil temp while towing. It is a great collection of user information all in one easy to read screen.
Fuel Door and Gas Cap – unline the new JL Wrangler, the gas cap tether is long enough to get the fuel cap out of the way when filling up with gas (and soon Diesel).
Good Gas Mileage – Some owners have complained about the fuel efficiency, but most of those have much larger tires. A Jeep Gladiator Sport with a small lift and 33″ tires is getting 20 mpg in routine daily driving behavior.
Max Towing Package – The max towing package allows the Jeep Gladiator Truck to have the best towing capacity in its peer group.
The Doors and Roof are Removable – This is the only truck on the market that allows you to remove the doors and roof. It makes the truck a lot more fun when you can change it up. It's not just a truck, but something you can modify and enjoy great weather with the top and doors down while still towing a camper or trailer.
Heated Steering Wheel – If you live in colder climates, the heated steering wheel is a nice feature. This comes as part of the cold weather packing if this is a feature you might want on your Gladiatory.
Multi-Directional Folding Rear Seat – This is a feature not many people have considered about the Jeep Gladiator! The rear seat is a split-bench design that folds flat to allow good cargo room in the cab. What's even more impressive is the fact the seat bottoms and backs fold up vertically giving you full access to the floor. This would be great if you needed to put a big screen TV box or another similar sized item in the back of the Jeep without having to load it into the truck bed.
LED Lights In The Truck Bed – The next time you are carrying items to the truck at night, you will be really glad Jeep installed these LED lights into the truck bed. With many competitors trucks, you have to carry a flashlight or install aftermarket lights to be able to have this feature.
Closing Thoughts
I published my article about the features Gladiator owners hate first because I knew the positives of the new 2020 Jeep Gladiator far outweigh the negatives.
I probably could have added a dozen more items to this list, but these are the features I most commonly found prized by Jeep Gladiator owners.
Did I miss something? Should something else be added to this list? If so, let me know on social media @myjeepandme.
I am working on a full buyers guide on the Jeep Gladiator but it is not quite ready yet. I will come back and add a link to it when it's done.
Until then, let me leave you with this bonus tip about how to get any Jeep below invoice at participating Jeep dealers! Enjoy.
Bonus Tip: If you are looking to buy a new Jeep Gladiator, be sure to follow my guide to getting the best deal on a new Jeep. The headline says Wrangler, but it works for multiple Jeep models. I am confident this buying guide will save you hundreds if not thousands of dollars when buying a new Jeep vehicle!