Is a Jeep Cherokee Good in the Snow?
Many consumers' first concern is whether or not a certain car drives well in Winter conditions. Today, we're taking a look at the Jeep Cherokee's performance in the snow, ice, and cold.
Jeeps are known for selling high quality products that last a long time and have high ratings across the board. Does it stand up to the test when faced with roads that contain dangerous wintery conditions?
Many indvidiuals are looking for a vehicle that can deliver them or their families' safely across any kind of environment. Let's break down what the Jeep Cherokee has going for it so you can make the best decision possible.
Is a Jeep Cherokee Good in the Snow?
So, is the Jeep Cherokee good in the snow? Yes, the Cherokee does its job quietly and performs well in the snow – all while giving you the awesome Jeep look and the adventurous possibility of hitting some off-roading.
All About the Jeep Cherokee
The Jeep Cherokee has gone through some changes in the past few years that have made the car's design look better than ever.
On top of that great new look, the Jeep Cherokee does a great job at being a comfortable vehicle that is also capable of tackling some trails.
It's a stand-out offering in the compact SUV category and will attract a lot of buying attention. The Cherokee is a mix between sporty and high-tech and will surprise a lot of people with its towing capacity.
The mix between comfort and power will make it a popular pick for those looking for a suitable SUV in Winter conditions.
You've got some engine options when it comes to the Jeep Cherokee. The default offering is a regular four-cylinder engine but you could also upgrade to a V6 or a four-cylinder that is turbocharged.
Both of those engines are strong performers although the turbocharged four-cylinder has a slight edge. At the end of the day, for an SUV its size, the Cherokee has around 4,500 pounds of towing capacity which is an awesome number.
When you're considering Winter conditions, you will want to opt for a package that includes all wheel drive as this is the best system you can use to make sure that all tires are able to get traction in slippery situations.
Moving to the interior, the Jeep Cherokee simply feels comfortable to ride in. It's got the new standard of Apple Car Play and Android Auto.
Jeep has a Uconnect infotainment system that is sure to be a hit for families or really with anyone who's looking to control their car system in an easy way.
Jeep has taken no shortcuts when it comes to safety features either. There are plenty of options here including adaptive cruise control which is a great plus on longer trips.
You have forward-collision warning with automatic brakes that can help you if there is a dangerous situation up ahead of you that you couldn't plan for. You also have blind-spot monitoring among a few other features in this category.
The Cherokee does its job quietly and performs well – all while giving you the awesome Jeep look and the adventurous possibility of hitting some off-roading.
The Jeep Cherokee offers 5 trim packages:
Latitude
Latitude Plus
Limited
Trailhawk
Overland
The standard engine on the Cherokee really isn't that great with a rating of 180 horsepower.
You do have 2 options to add on to that and most people will select to go with the 2 liter turbocharged four-cylinder that comes in at 270 horsepower.
That's a reasonable upgrade from the standard model. All engines are standard automatic transmission so you won't have to worry about learning to stick shift.
All of these trims are available in all-wheel drive which is what is recommended if you're going to be worried about driving in the snow – that gives you the best traction and is better than front-wheel drive for sure. 
They also have technology options where you can add tons of safety features which is nice of Jeep to do so that everyone can be confident that they are secure when they are driving.
The Latitude comes with some automatic LED headlights which is a nice plus for driving in dark and adverse conditions. The 7-inch touchscreen and audio system is definitely passable and will keep you happy when listening to songs.
When upgrading to the Latitude Plus, you're going to be happy with the leather upholstery. Most of the other features are related to the electronics like an extra USB port and standard satellite radio.
Where the Latitude Plus becomes really impressive is with some of their extra safety features. You get an awesome blind-spot warning system that lets you know if you're missing anything when you need to shift lanes.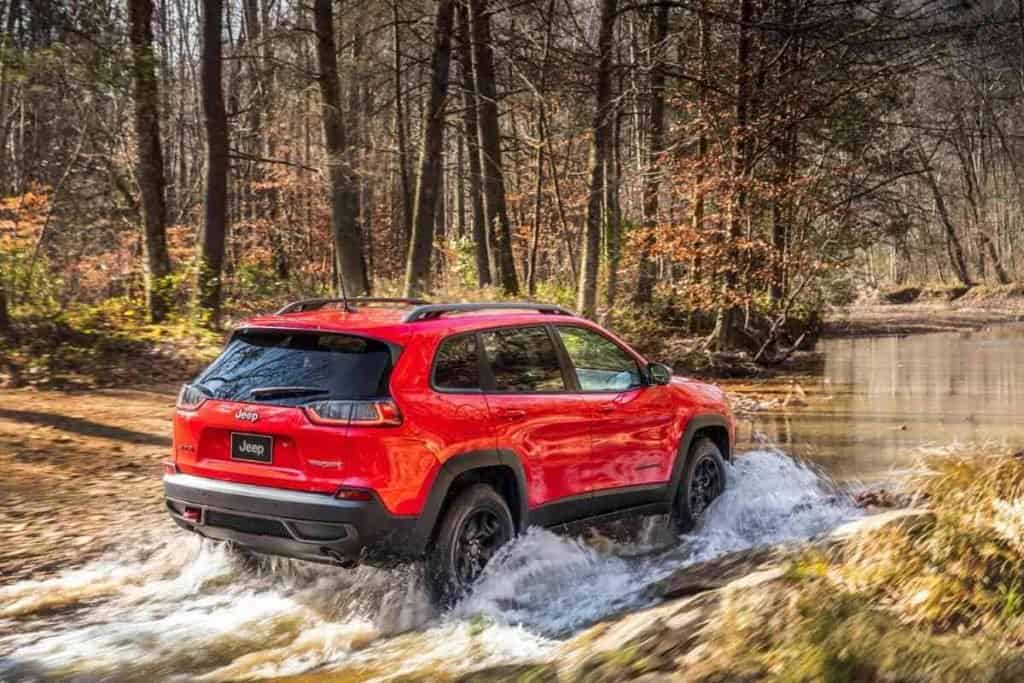 While some may not be impressed by this, you also get the option to add a remote start system and a power liftgate just to make things a bit more easier in your life.
The Limited system adds on to the basic Latitude package and features leather upholstery while also adding some changes to the driver display which really makes things easier to see.
The Trailhawk is probably the most interesting package that is offered with the Cherokee. This package is completely unique to all of the others.
This thing is an absolute beast that is specifically made for off-roading. The advanced all-wheel drive system will keep that thing moving regardless of the trail or weather.
On top of that, you'll also get an upgrade to the wheels, all-terrain tires, and a completely modified suspension system that is designed for off-roading. It's safe to say this vehicle model has one thing in mind.
The Overland is actually considered to be above the Trailhawk and it definitely leans towards the luxury side of things.
The windshield and front windows are essentially sound-proofed and the driver seat includes memory functions so that your driver will always be comfortable right away.
You get the extra comfort of heated rear seats, ventilated front seats, and the exterior trim and wood inserts look really great.
Is It Good In the Snow?
To discuss a Jeep Cherokee, you have to start with the interior comforts that keep you warm.
Most trim packages have front or rear heated seats available which is a big plus for warming up cold passengers who may need a boost.
If you've never experienced heated seats, it's quite a luxury. If you can combine these seats with a remote starter package; you would be well on your way to never being cold.
The fact that Cherokee models are all able to have all-wheel drive is a big step from transitioning from the inside comfort to outside safety.
All-wheel drive is extremely important when trying to grip the road when there is snow or ice or even slippery conditions. This is a great aspect of buying a Jeep Cherokee to make sure you stay safely on the road.
Other drivers also offer problems when driving in the snow. Luckily, the Jeep Cherokee has a lot of safety features that come standard and even more than you can add on if you feel the need for more confidence.
One of the most important of these functions is the Full-Speed Forward Collision Warning system. If you are travelling and for some reason don't see a sudden stop situation up ahead, this is going to brake your car for you and keep you safe.
This system isn't one that is only for unsafe drivers though; these kind of things can happen to anyone especially when driving at night or in dark conditions. If it's not easy to see, you definitely want a detection system looking out for you.
Safety features are nice to have on any vehicle, however if you are worried about the snow and ice then they become even more important because they will help protect you from the environment and from other drivers.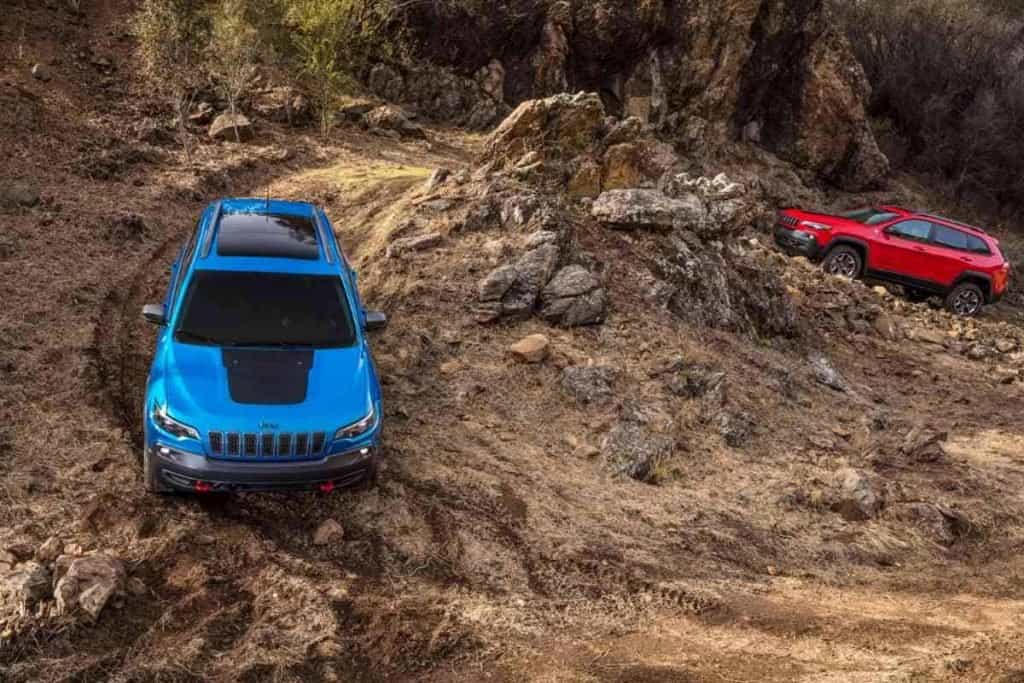 Summary
The Jeep Cherokee is definitely a good choice for a vehicle that drives in the snow or ice.
Whether you're looking for some quick heat and shelter from the brutal cold outside or you're looking for great handling and a lot of safety features, the Cherokee is a good choice.
The trim packages that are available with the Cherokee have a lot to offer depending on your budget and what you are willing to pay.
Some of them can be quite different like how the Trailhawk is completely tuned to be an off-roading beast.
When looking for a winter vehicle, you want to make sure that you have good traction, engine capability, safety features, among other items. The Cherokee does a good job of meeting the bar on these items.
Jeep has done a great job adding in a lot of safety features to make sure you stay safe at all times no matter what the environment is.
Features like their Full Speed Collision Warning System and Blind Spot Detection are ways to stay aware of other drivers that may be making mistakes when driving in poor environments.
Overall, a Jeep Cherokee will get you from Point A to Point B; even in the snow and ice.
Popular Jeep Cherokee Accesories
Last update on 2023-11-15 / If you click this affiliate link and make a purchase, we earn a commission at no additional cost to you.
Is a Jeep Cherokee Good in the Snow?