6 Amazing Campers You Can Tow With A Jeep Grand Cherokee!
This post may contain affiliate links. As an Amazon affiliate, I earn from qualifying purchases.
One of the best benefits of owning a Jeep SUV is having the great outdoors right at your fingertips. There are so many amazing natural parks in this country, and it would be a shame not to have the appropriate equipment to stay out in nature for days and even weeks at a time. If you are wondering, can a Grand Cherokee can tow a camper, you have come to the right place.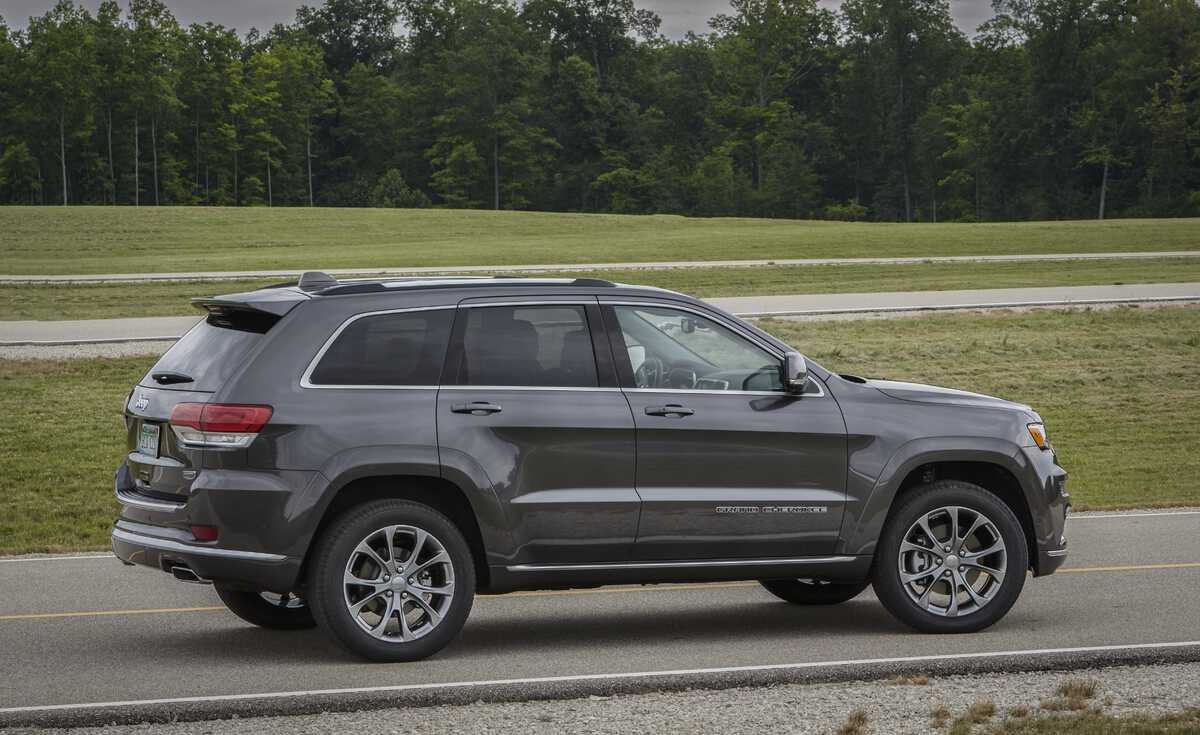 Table of Contents
Can A Jeep Grand Cherokee Pull A Camper?
A Grand Cherokee can tow a camper and gear up to 7,200 pounds depending on trim and year. That means Cherokees can tow pop-up campers, hybrid trailers, teardrop trailers, and some traditional travel trailers.
The Jeep Grand Cherokee is up to the task of hauling not only your family but also all your cargo and towing your camper, all in one luxurious and comfortable vehicle. Jeep Cherokees may not have a flatbed, but they do have the towing capacity to bring what you need for your family's next adventure.
Keep on reading for more information about your Jeep Grand Cherokee and its towing capacity, as well as a list of the best campers for this range of towing capacity.
While the Jeep Grand Cherokee does not have the towing capacity or overall horsepower of other Jeep models like a Jeep Gladiator, we are sure that you won't be disappointed with your options.
Jeep Grand Cherokee Camper Towing Capabilities
We know you are anxious to start looking at the different campers that you can take on your off-roading adventure with your Jeep Grand Cherokee. But the towing capacity of the Jeep Cherokee you have will depend on the trim model and whether it has any upgrades, like a tow package, turbo, heavy-duty engine.
However, it is important that we discuss the differences in the Jeep Cherokee tow capacity so you can be absolutely sure that you won't cause unnecessary damage to your vehicle.t
While we are only going to discuss the trims on the 2020 Jeep Grand Cherokee, it is very important for you to know that towing capacity can also change based on the year of your vehicle.
You can check with your dealership or Jeep's website to determine the towing capacity of your older vehicle.
You also need to be sure that your Jeep Grand Cherokee is properly equipped to hit its maximum towing capacity.
If you have shoddy towing accessories, you will not be able to tow the maximum weight, which could be detrimental to the safety of you, your passengers, and your vehicle.
Jeep Grand Cherokee Towing Capacity By Trim Level Chart
| | |
| --- | --- |
| Trim | Towing Capacity |
| Trackhawk | 7,200 lbs |
| SRT | 7,200 lbs |
| High Altitude | 6,200 bs |
| Trailhawk | 6,200 lbs |
| Summit | 3,500 bs |
| Overland | 3,500 lbs |
| Limited X | 3,500 lbs |
| Limited | 3,500 lbs |
| Altitude | 3,500 lbs |
| Upland | 3,500 lbs |
| Laredo E | 3,500 lbs |
| Laredo | 3,500 lbs |
As you can see, there are many different trims of Jeep Grand Cherokee, and even some of the most expensive options don't have the heaviest payload capacity.
But, never fear, our list of travel trailers and camper options will be full of options for every towing capacity.
When it comes to your Jeep Grand Cherokee being properly equipped, there are many different options that you may be able to purchase from the dealership with your new vehicle.
If you already own a Jeep Grand Cherokee, don't worry!
You can also find aftermarket options that ensure that you are reaching your maximum towing capacity.
If you need more information about the towing specs for a Jeep Grand Cherokee, make sure to check out our article, which goes into the nitty-gritty of what you can do with your new vehicle.
Best Campers For Jeep Grand Cherokees
We finally get to show you so many amazing camper options for your Jeep Grand Cherokee. So, let's not delay, here are a few of our favorites:
Pop-Up Camper For Jeep Grand Cherokee
A pop-up camper is an affordable and accessible option for novice off-roaders who desire maneuverability as well as versatility.
Pop-up campers are becoming increasingly popular, meaning there are a ton of state-of-the-art options on the market that will work with your Jeep Grand Cherokee. Here are a few of our favorites:
Air Opus Pop-Up Camper
The Air Opus Pop-Up Camper has everything you need for a comfortable camping trip.
It includes an electric heater, a 2-way refrigerator, comfortable seating, gas stove, and even running water. This camper is perfect for someone who wants something supremely easy, all you have to do is a flip a switch once you're at your campsite and your pop-up camper sets itself up.
We call that a win.
Important Specs:
Capacity: 6 people
Length: 18.5 feet
Dry Weight: 1557 lbs
Aliner Somerset Camping Trailer
This luxurious pop-up camper includes a stove, refrigerator, water heater, furnace, toilet, and electric water pump.
If you are the kind of person, or you have one in your family, that can't sacrifice the creature comforts, this is definitely a great pop-up camper you will love for years to come.
They even have a trim option specifically for off-roading adventures.
Important Specs:
Capacity: 2 – 6 people
Length: 19 feet
Dry Weight: 2,700 lbs
Hybrid Campers For Jeep Grand Cherokee
A hybrid trailer is a great option for those that want all of the benefits of a more traditional RV while still being able to have a vehicle to take out and about while they leave their trailer behind at the campsite..
While a lower trim of Jeep Grand Cherokee will have trouble towing a hybrid trailer, we will discuss more options in the other categories below.
These options are usually heavier than the pop-up trailers we discussed earlier, so it is important to calculate the weight of your gear in addition to the dry weight of your hybrid trailer when deciding which one is the best option for you.
Here are the best hybrid trailers for your Jeep Grand Cherokee:
Forest River Rockwood Roo Travel Trailers
The Rockwood Roo features a driftwood interior, so off the top, you know this one is built with luxury in mind.
This attention to detail is one of the reasons we have mentioned the Rockwood Roo in other posts. It is simply an amazing option if you are looking for luxury for years to come.
While it comes with a hefty price tag, we can't speak highly enough of this trailer and the joy it will bring to your family for years to come.
This trailer comes with a mounted LCD tv to ensure your sanity on rainy days when the kiddos are bored. It even comes with a carbon monoxide detector and a Water-Pur filtration system.
Important Specs:
Capacity: 6 people
Length: 21 feet
Dry Weight: 3895 lbs
Dutchmen Aerolite Travel Trailer
If you are into the look and feel of airplanes, then the Aerolite Travel Trailer could be the perfect option for you.
This high-tech option is for the adventurer who likes to have technology at his or her fingertips, even when they are off-roading.
This retro-looking travel trailer comes with a u-shaped dinette that converts into a bed, which is sure to impress any camping companions you may bring with you. The Aerolite Travel Trailer even features a tub that you can take a shower in.
Important Specs:
Capacity: 9 people
Length: 29.5 feet
Dry Weight: 6282 lbs
Teardrop Campers For Jeep Grand Cherokee
If you have one of the lower trim options of the Jeep Grand Cherokee and were feeling kind of left out while we discussed hybrid trailers, don't fret, teardrop trailers are another great option for you.
If you are picturing those old teardrop trailers you used to see in overgrown lots, go ahead and erase that image from your mind. These are not your grandma's teardrop trailers.
In fact, these easily maneuverable and often very affordable options are updated for 2020.
You will find options that are perfectly instagrammable, have tons of high-tech gadgets, including solar power, and even have kitchenettes in the back.
While these aren't the best options for large families, teardrop trailers are perfect for the single person traveling the country or the newlywed couple looking to take romantic long weekends hiking through their favorite national parks.
Here are our top picks for teardrop trailers for the Jeep Grand Cherokee:
Escapod Teardrop Trailer
The Escapod is the perfect teardrop trailer for the Jeep Enthusiast. It has been designed to travel over highly technical terrain – meaning you can take it anywhere your Jeep Grand Cherokee can go.
Unlike most teardrop trailers, the Escapod actually has an option to sleep more people. You can buy an additional rooftop tent that sleeps an additional three people.
The cool exterior of this teardrop trailer and its versatility will impress all the camping buddies you load up in your Jeep Grand Cherokee
Important Specs:
Capacity: 2-5 people (with rooftop tent add-on)
Length: 18 feet
Dry Weight: 1600 lbs
Polydrop Teardrop Trailer
This ultra-modern teardrop trailer is the perfect option for weekend beach trips and impressing your girlfriends.
This beautifully designed and lightweight teardrop trailer has a 100W solar system, an outdoor kitchenette, and a sleek minimalistic sleeping area.
We have discussed the Polydrop Teardrop Trailer before, and that is simply because it is so beautiful.
Designed by an architect and limited edition, this is the instagrammable teardrop trailer dreams are made of.
This trailer only sleeps two, so you'll have to store additional gear in your Jeep Grand Cherokee.
However, for single people or couples looking to get their outdoor adventures started, this affordable camping trailer is an amazing start.
The best part of the Polydrop teardrop trailer? It only weighs 760 pounds. That's right.
You absolutely don't need to do any calculations with gear included for this teardrop trailer, no matter what trim level of the Jeep Grand Cherokee you own.
Important Specs:
Capacity: 2 people
Length: 12.5 feet
Dry Weight: 760 lbs
Jeep Grand Cherokee Towing Campers
While not every trim level of the Jeep Grand Cherokee comes with great towing capacity, there are plenty of options from pop-up campers to teardrop trailers that will work for any trim.
Pick your favorite, get a trailer hitch and a hitch receiver, take the plunge, and enjoy your next outdoor adventure!