Everything You Need To Know About Jeeps and Lockers?
If you are considering purchasing a Jeep, you may be reviewing various features offered by Jeep models. While some are considered to be more of a luxury vehicle, others are meant for offroading adventures. One feature that can change the functionality of a Jeep is a locker.
What Jeeps Have Lockers?
What Jeeps have lockers? The only Jeep that comes with a locker that has true locking differentials from the factory is a Wrangler Rubicon. Lockers can be installed onto many different models, though, so you may select a more preferred model and install this feature to get the best of both worlds.
Lockers help to transition your vehicle to its most advantageous mode: one that implies safety as well as adventure- two highly sought after traits for most Jeep enthusiasts.
Whether you are unfamiliar with Jeeps and lockers or are just wanting to learn a little bit more about how to get the most out of your vehicle, this article is sure to help.
Read on to learn about what lockers are used for, how to add them on, differences in automatic versus manual, popular types, and installation recommendations.
What is a Locker Used for on a Jeep?
As their name implies lockers, also known as locking differentials, are used to lock the axles together so that wheels move in synchronized speeds to prevent slipping during drives on uneven surfaces – such as rock crawling.
Where one wheel would normally slip on sand, ice, or snow, it now continues to spin at the same speed as the wheel that is still stable on the ground.
Installing lockers onto your Jeep will turn your sport utility vehicle (SUV) into an even safer model- one that can truly excel at providing a great ride regardless of the terrain. Lockers can, therefore, be used to enhance your vehicle in both safety and sport.
Can You Add Locking Differentials to a Jeep that Does Not Have One?
Absolutely. Locking differentials can be added to any Jeep Wrangler as well as a variety of other vehicles (generally applied to SUVs). By adding locking differentials, either automatic or manual, you will be able to transform your Jeep model of choice into one that sports the same feature that the Jeep Wrangler Rubicon boasts of.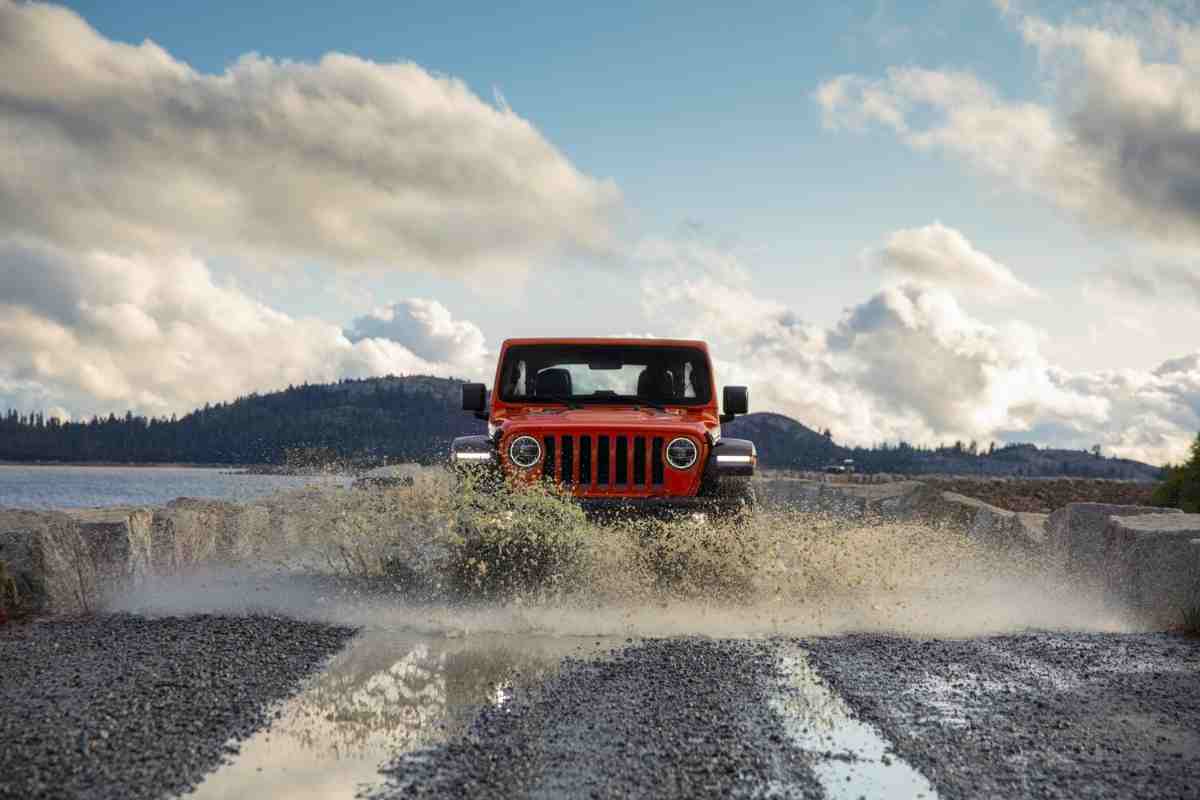 Differences Between Automatic and Manual Locking Differentials
There are some differences between automatic and manual locking differentials. While these can both work similarly when the situation requires, they have some key differences that may sway you towards one or the other for your own Jeep.
Considering the information below, you should be able to tell the difference between the two in order to make the best decision for your Jeep locking differential needs.
Automatic Locking Differentials
Automatic locking differentials are, as the name implies, automatic. This means they are always ready to be used and are engaged electronically without any user input required. This makes them much easier to use, and therefore better, for beginners who are off-roading to not need to mess with turning the locking differentials on and off depending on the terrain.
Another benefit to automatic lockers is the price tag. Automatic lockers will run you considerably lower prices than their manual counterparts, which is also very enticing. Thus, many people choose to purchase automatic locking differentials to be installed onto their vehicles because of the financial gains in comparison to manual locking differentials.
Because automatic lockers are always engaged when driving, they also come with some cons. On roads, they may make your Jeep less suitable for your average drive. Turning your vehicle with lockers on will make the turn a little stiffer, and you may even have a tire jump up slightly or skid on sharp turns.
Another con to consider with automatic lockers is that you may also experience a clicking sound when driving and turning. This can be considered annoying to some, and therefore not worth the automatic feature.
The last con to automatic lockers that I will include is that the driver never needs to learn the terrain which would make switching to a manual locker later on more difficult for you. If you plan to engage in a manual locker, you might as well just install that one from the start.
Manual Locking Differentials
Manual locking differentials are the other side of the same coin. While they perform the same task on rough terrains, they are able to be manually disengaged by the driver making them more flexible than the automatic locking differentials.
Manual locking differentials give you the best of both worlds – locking when needed and open the rest of the time. This means on-road handling will be just as good as if you did not have the locker installed.
While the manual locking differential comes with a lot of benefits, there are a couple of cons with it as well. Firstly, the price is going to be a lot higher for these. This alone is a large deterrent for many people. Do consider, though, that if you ever plan to switch to manual locking differentials, you will save money by just installing them in the first place rather than installing automatic and then switching over.
There is also more risk of damaging this type of locking differential such as if you forget to disengage it. If this were to happen, you may end up damaging your axle with on-road driving.
By default of human input in manual locking differentials, you are exposed to the possibilities of human error impacting the overall success of using this device on your vehicle.
What are the Most Popular Types of Aftermarket Locking Differentials
If you are looking to install lockers on your vehicle that does not automatically come with this device installed, you may need to consider the pros and cons of various types.
Here are a few things to consider with manual, automatic, and air lockers.
Manual Locker
For manual locking, Yukon makes quite a few different locking differentials to fit your needs. You can get their locking hub conversion kits at a reasonable price especially when considering the cost of most manual locking differential kits.
These locking hub conversion kits will include everything you need to do the upgrade for your vehicle – no extra purchases will be required. Yukon kits are very durable and have lasted me many years, so you should not have to worry about replacing the parts/device any time soon.
On top of this, the manual style reduces wear on other components and helps keep gas mileage up. Thus, you may consider how the costs of installation for the manual locker is overall beneficial when considering the long-term (financial and other) benefits that it provides.
Automatic Locker
When it comes to automatic lockers, few brands come close to the Aussie lockers. These lockers were created in the outback of Australia and are perfect for anything off-highway. In fact, this locker brand is what has inspired many of the other models that you will find across the board.
While many automatic lockers tend to have more difficulty in snow, ice, or just on-road driving, Aussie lockers were tested on every possible surface and tweaked to make sure they are top-notch. While I suggest manual lockers whenever possible, if you need to go automatic for any reason, Aussie is the way to go.
Air Locker
Air lockers are a newer type of manual locker that you might consider as a sub-group to this model. Instead of an electronic switch that allows you to turn them on and off, the switch of an air locker utilizes compressed air to hold the collar inside in a locked position.
A benefit to air lockers is the speed in which they engage. Air lockers work almost instantaneously and can be activated at any speed or time. ARB is the standard brand for air lockers, although the Yukon Zip is generating a lot of buzz for being a close contender on the market.
Through the purchase of an air locker, you will receive the benefit of the manual locking components as well as the additional speed of execution. The air locker is going to be a bit pricey, but you may consider the long-term benefits in your cost-benefit analysis for this purchase.
Is It Better To Install A Locker Yourself or Hire A Professional?
The only answer here is that it depends. If you are handy with cars and have many of the necessary tools to raise it for work underneath, installing yourself can save a lot of money. If you are not confident in your ability to work on cars, consider hiring a professional to do it for you. There are also differences in whether you are installing an automatic locker or a manual locker.
If you are looking to save money on the initial purchase of your locking differentials, the Aussie automatic locker can be as affordable as $300 and is easy to install (assuming you know what you are doing). In general, any automatic locking differential is going to be easier to install as it is just replacing the hardware itself.
For manual lockers, it is probably best to have a professional do the installation for you. Manual lockers require a lot more setup and can, therefore, be a bit more complex than a non-professional can safely manage. Air lockers also have many components – tiny hose, seals to hold the air, and battery-powered features, so these should also be installed by a professional if you want to guarantee safety for your vehicle (and yourself).
At the end of the day, hiring a professional to install your locking differentials will be an investment well-spent. You will rest easy knowing that the parts were all placed correctly, that you can count on the lockers working, and that your safety is not in jeopardy due to an installation error on behalf of non-professional skills.
What Jeeps Have Lockers? [Automatic, Manual or Air Locking Differentials]