Best 33-inch Tires for Jeep Wrangler
This post may contain affiliate links. As an Amazon affiliate, I earn from qualifying purchases.
Finding the perfect tires for your car is difficult, especially if you have a very capable one like the Jeep Wrangler.
You want tires to match their capabilities and their style and you don't want to compromise.
Look no further: we've got a list of the best 33-inch tires for Wranglers.
The title of the best 33-inch tires for a Jeep Wrangler depends on what one is looking for. For style, GLADIATOR X Comp M/T tires are a great choice. If you prefer off-road capability, go with BFG KO2s. For a combination of style and substance, Federal Couragia tires are the best.
In this article, we'll discuss a few great 33-inch tire options for your Jeep Wrangler.
Remember that there are so many options out there, so if none of these do it for you, don't give up!
The Federal Couragia M/T Off Road/Mud Terrain Tires are our top pick for the best 33-inch tires for the Jeep Wrangler.
These tires are fully loaded and they fit a variety of rims: from 9.5-10.5 inches, with the sweet spot being 10-inch rims.
What we love about these tires is their traction, which is great for on- and off-road performance.
Additionally, Federal's design of these tires is awesome.
They have such a great style and tread design that will have heads turning.
As if they could get better, these tires also come highly recommended by Jeep Wrangler owners, have incredible durability, and can withstand anything that you'll put them through.
This quality is a must for an adventuring car like the Jeep Wrangler.
The first thing that anyone with eyes would notice about the GLADIATOR X Comp M/T Tire is the design.
For anyone who wants a mean-looking tire, look no further.
When you finally look past its style, you'll find that these tires are great on the road, great off-road, and are super durable.
It's even quiet on the road, which might be surprising after you take look at them.
Although these tires aren't rated as the very best for Jeep Wranglers, they're still highly rated and would be a great choice if they're what you're looking for.
Cooper AT3 4s LT Tire
Recommended highly by Wrangler owners from the East Coast to the West, the Cooper AT3 4s LT tires are yet another fantastic choice for a Jeep Wrangler.
Cooper is a great brand, which you'll see later when we cover the other Cooper-brand tire on this list.
The Cooper AT3 4s LT tires balance easily, which is a great feature.
They ride quiet, nice, and soft on the road, and are great for off-road performance as well.
These tires are equipped with maximum grip and handling for great performance in any type of weather.
Speaking of the weather- these tires are rated for severe weather, so if you're in a place that snows, these tires would be a good choice to add to your Jeep Wrangler.
Crosswind puts up another great contender when it comes to Jeep Wrangler tires.
They're great in the mud, and they're all-season, so owners don't have to worry about switching them out when it gets cold.
Like many of the others on this list, the Crosswind M/T Mud Radial tires ride quietly on the road, but they're geared towards off-roading.
If you're not big on off-roading, these tires probably aren't quite the right match for you, but they do perform as well as you'd expect on the road.
If, like most Wrangler owners, off-roading is definitely your thing, these tires are a great choice because off-roading is their calling! With optimized tread grooves, the Crosswinds can hold up under any situation.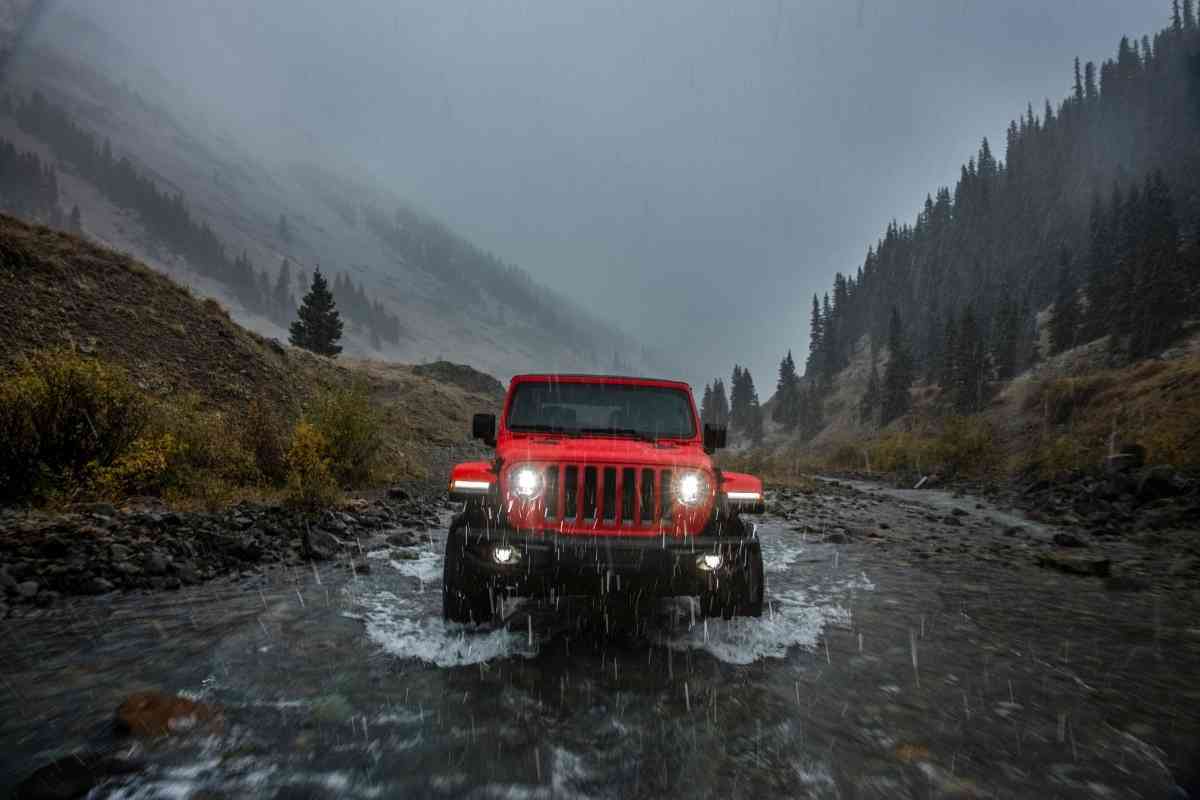 The Falken Wildpeak AT3W All-Season Radial tires are another excellent choice for your Jeep Wrangler.
These tires are equipped with heat-diffusing tech and at their price range, it's hard to beat them, especially when you consider how advanced they are.
These tires are also very durable so they're able to hold their own against the elements and anything else the great outdoors throws at them.
They're also some of the more stylish tires on this list with a rugged tread pattern that enhances grip.
In addition to this, the Falken Wildpeak AT3W All-Season Radial tires have great traction, which, again, proves the point that they're just fantastic all around.
Goodyear offers a tempting option with all-terrain and all-season capabilities.
But if you're looking for a mean, stylish vibe, these tires aren't quite right for your Jeep Wrangler because they are a bit more understated.
However, they're still a great option for those who want a more neutral tire.
The tread design on these tires creates a great grip between the tires and the road, especially in the snow, which is fabulous.
Along with this, these Goodyear Wranglers are equipped with DuPont Kevlar to reinforce the high-tensile belts.
Not only that, but to live up to their name these tires are great for off-road performance.
The second option offered by Cooper on this list, the Discoverer STT Pro All-Season Tire is another great option to consider! These tires are super durable, and they perform very well on-road and off.
Another great thing about these tires is their distinct design.
Cooper also offers a 45-day test drive on their tires, so if at any time during those 45 days you decide you don't like them, you can return them.
The BFGoodrich All-Terrain T/A KO2 tires are the last on our list but are definitely not the worst. Though everyone has their own opinions on all tires, these ones seem to have the most divided views, with some owners swearing by them and some swearing against them.
However, the BFG KO2s are quiet on the highway and really great off-road, which makes sense, because they're designed for this purpose.
They're durable, stylish, and have a tread pattern that's made to maximize off-road traction.
However, owners do report traction problems on the road, especially in rain, packed snow, and ice.