What is the Difference Between a Ford Expedition Limited and Platinum?
Discover the key distinctions between the Ford Expedition Limited and Platinum models in our comprehensive comparison guide, exploring their unique features, performance, and luxury offerings to help you make an informed decision. Dive in to understand how these remarkable SUV trims stand apart and which aligns perfectly with your preferences and needs.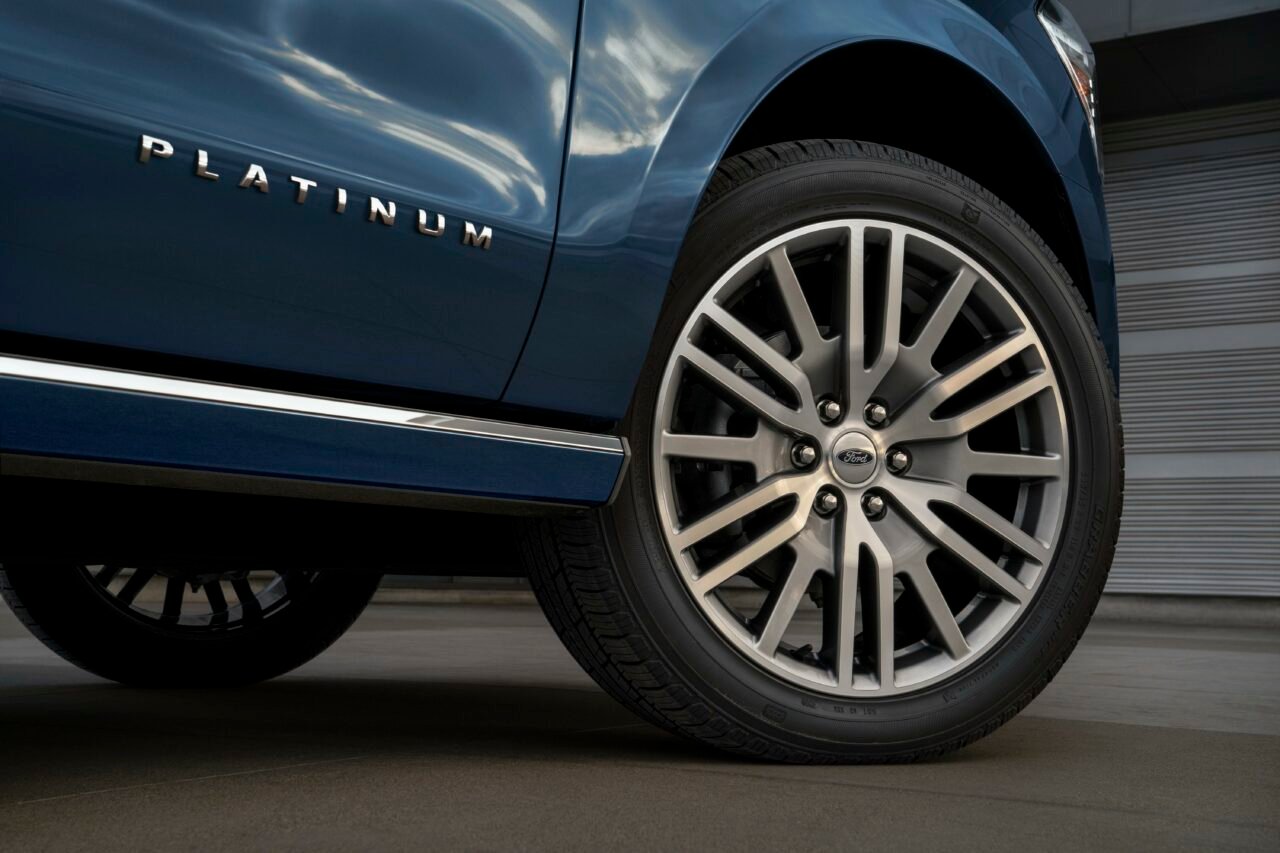 What is the Difference Between a Ford Expedition Limited and Platinum?
The middle of the line Limited lets you swap in second-row captain's chairs and includes Ford's Co-Pilot360 Assist. The line-topping Platinum trim level equips a stronger twin-turbo V6 engine that produces 400 horsepower and 480 lb-ft of torque. It also comes with more high-end features, such as active noise cancellation and upgraded leather seating.
Is the Limited's equipment just right for you? Or would the Platinum's bevy of luxury-oriented features be more to your taste? Does one have more overall value than the other?
Read on to learn what all comes standard on this line-up as well as what distinguishes these two trim levels from one another.
The Ford Expedition Standard Equipment and Specs
Let's start things off by talking about what you should expect to find on any Ford Expedition, and we will go by what is equipped on the 2021 model year. 
Mind you, there are not too many big changes from 2020, only Co-Pilot360 Assist being optional on the XLT and the XL base trim being introduced.
Standard across the entire Expedition line-up is a 3.5-liter turbocharged V6 engine, which only gets tweaked to be a more powerful twin-turbo on the Platinum trim level.
The base version gets 375 hp and 470 lb-ft of torque whereas the Platinum's variation puts forth 400 hp and 480 lb-ft of torque.
It clearly is not a huge boost in power, but it gives slightly more 'oomph' to the acceleration time.
Paired with the V6 engine is a 10-speed automatic transmission and rear-wheel drive (RWD).
Buyers can opt for four-wheel drive (4WD) on any trim level they choose, which is certainly a nice option if you live in a cooler climate or intend on doing some moderate off-roading.
Behind the third row of seats is 20.9 cubic feet of cargo space.
Fold the third row down to get it to 57.5 cubes or max it all the way out by folding the second row down for a total of 104.6 cubes.
This provides ample space for toting your camping gear, helping a friend move, or just laying down and going to sleep for a few hours in the back.
Most buyers want to know how the Expedition does on fuel economy. With RWD equipped, the Expedition gets about 19 miles per gallon combined.
That is pretty much on track with what other SUVs in this segment achieve, although real world estimates show these numbers to be slightly lower.
Buyers should also keep in mind that there are excellent used Expeditions available on the market as well. Available Trim Levels
There are a total of five trim levels available on the 2024 Ford Expedition line-up:
The base XL
XLT
Limited
King Ranch
Platinum
Since we will compare and contrast the Limited and Platinum below, this section will focus on the three other trim levels and what they offer.
First, the new XL base trim is a tad light on features but comes at a more modest price. The XL has only two rows, and it rides atop 18-inch wheels. Fog lights come equipped on the front fascia. 
Inside, you get a leather-wrapped steering wheel, a driver's seat with power adjustability, and push-button start with the keyless entry system. 
Also, you get a 4.2-inch infotainment screen and 4G LTE Wi-Fi hot-spot connectivity for all your on-the-go connectivity needs. Driver aids get bundled into the Ford Co-Pilot360 suite.
This suite includes automatic high beams, blind spot monitoring with rear cross-traffic alert, automatic emergency braking, and lane keep assist.
Before this model year, the XLT was the base trim.
Now, it sits second in the line-up. It has all of the XL's features but adds a few more to the list.
Also, this model seats eight people with its three rows of seats.
This trim level comes with three-zone automatic climate control, parking sensors for the rear, and an auto-dimming rear-view mirror.
The Ford Sync 3 system also gets slapped on, offering smartphone app integration via Apple CarPlay and Android Auto, voice controls, and an 8-inch touchscreen display.
The Limited comes after the XLT, and after the Limited comes the King Ranch.
It offers quite a few trim-specific features, including its own badges and emblems.
It only comes with a Stone Gray exterior trim color, and it sits on 22-inch wheels.
Inside, you get unique leather upholstery, and the power-folding captain's chairs take seating down by one to seven people.
You also get a panoramic glass roof, park assist, and a 360-degree surround-view camera system that shows a top-down view of the vehicle and what is right around it.
The Limited Trim
Now, here is where our comparison really starts.
The Limited takes the XLT's offerings and amps them up a notch. This trim rides atop 20-inch wheels and comes with a hands-free power liftgate for easy access to the rear.
There are also power-deployable running boards that assist with simplifying entry into and exit from the vehicle.
Inside, you get power-adjustable pedals and sleek leather upholstery. Add to that heating for the second row of seats.
If you don't want the second-row bench seat, you can get the captain's chairs equipped. 
The Limited also has parking sensors for the front of the vehicle and windshield wipers that can sense rain. Additionally, the side mirrors are power-folding.
Music lovers will likely enjoy the standard 12-speaker Bang & Olufsen sound system.
The Limited sees driver-aid upgrades as well, with the inclusion of Ford Co-Pilot360 Assist. 
Its full-speed adaptive cruise control adjusts the speed to maintain a safe following distance from the car in front of the Expedition and works right down to 0 mph.
To top that off, built-in navigation is slipped into the bundle.
The Platinum Trim
As already mentioned, the twin-turbo V6 variant is one thing that differentiates the Limited from the Platinum, although you might have a hard time telling which engine is which.
Buyers say that they perform about the same.
So do not buy the Platinum, expecting there to be a huge difference in its performance.
Instead, the Platinum really is about aesthetic upgrades. Just check out its exterior.
The satin aluminum exterior trim should clue you into this trim level being a little more luxury-oriented than the others.
Up top, you get crossbars with the roof rails.
Inside, you will find more upgrades, such as a mixture of wood and leather interior trim.
The front seats come with ventilation and a massaging function for additional comfort.
And both the second and third rows of seats have a power-folding function for easy fold-down. 
Active noise cancellation further reduces the wind and road noise entering the cabin, keeping it well muted from outside intrusions.
Is the Limited Or The Platinum Trim Better?
While the Platinum trim is truly borderline luxury, the Limited trim level is far more practical in nature. 
It gives you a lot of desirable features (including that 19-speaker B & O sound system) for a more doable cost than the Platinum. 
The Platinum's focus is, like we said, on looks.
The twin-turbo has no significant power upgrade, and the performance feels pretty similar overall. 
You can save more money by going middle-of-the-road and getting the Limited trim.
Closing Thoughts
The Ford Expedition is a line-up that keeps expanding and improving. The past few years have shown how much Ford is embracing advancements in this segment. 
The new XL base trim is a nice addition for those on a strict budget, and the Platinum is certainly a beauty to behold. But, truthfully, the mid-tier Limited trim offers a lot of in-demand features without going up too high in price for the average consumer.
This is the trim to get on the Expedition, hands down.