What To Look For In A Used Ford Expedition? (8 Things to avoid!)
The Expedition is Ford's biggest SUV currently, and it's a popular one, as well. This SUV excellent towing capacity, third-row seating, and a comfortable interior. It might be a nuisance to park or navigate in the city, but the Expedition is surely in the heart of many. But, if you're looking for a used one, there are some details that you need to look after. This article will discuss them and other things you need to know before buying a used Expedition.
What to look for in a used Ford Expedition?
The most crucial aspect to look for in a used Ford Expedition is the condition of the engine. Many of the older models used Ford's Triton V8. Unfortunately, this powerplant can have catastrophic spark plug failure and challenging maintenance procedures.
Other important aspects include corrosion, excessive engine vibration, and electronic issues. We'll discuss all of these in detail in this article.
The Ford Expedition entered the market in 1997, replacing the Ford Bronco. It made a name for itself as a comfortable and powerful full-size SUV. Throughout the generations, buyers have been able to choose between two- and four-wheel-drive. As a result, the design and engine choices have changed over the years.
The first generation went from 1997 to 2002 and, from the start, it was a commercial success. In its first full year, 1997, the Expedition sold 214,000 units and kept up until 2001, when sales decreased.
There were two engine choices, the Triton V8 in 4.6L and 5.4L displacements. As we'll see later, these are famously troublesome powerplants. If you want to know more about this engine and which other Ford engines you should avoid, read our article on the subject.
The second generation saw a boxier design and came with similar configurations. One of the noticeable changes was the introduction of the 24-valve 5.4L Triton V8 as optional.
It had everything: increased towing capacity, off-road performance, and interior comforts.
This Expedition proved to be a commercial success. However, as Ford wanted to improve on mechanical issues with the next generation, it would have a short life. So, it only lasted from 2003 to 2006.
From 2007 to 2017, the third-generation Expedition was a significant improvement. It saw the introduction of new mechanics, including a new platform, and one of Ford's most significant changes in recent years. In addition, this model introduced the 3.5L V6 EcoBoost is optional, which would become a mainstay in the blue oval for the future.
The aesthetics did change. But this generation came with new transmissions and engines. Plus, it included improved driver aids and better highway performance. But, some critics did notice that off-roading capabilities diminished.
The V6 EcoBoost performed well, though it had its share of doubters, who preferred the more traditional V8. Ford, however, stuck with it, as it promised better fuel mileage and, with two turbos, good power.
The fourth generation entered the market in 2018 with even more mechanical improvements. The 3.5L V6 now mates to a 10-speed automatic transmission. Plus, a heap of driver aids and electronic features make the Expedition one of the most complete full-size SUVs out there. But, it has gained quite a lot of weight, and a frequent comment from critics is its size hampering driving in smaller streets and parking lots.
But parking lots and narrow asphalt aren't the Expedition's party piece. With the adequate towing package, this SUV can tow an impressive 9,300 pounds. Such performance sets it above the competition. If you want to know more about SUVs and their towing capabilities, check out this article we wrote on the topic.
This is a brief summary of all the Ford Expedition generations. While older-generation models are still out there, it's hard to find models with low mileage and in good condition. However, as we'll see further down in this article, there are still some key issues to look out for.
But, first of all, we're going to see what some things are you need to look for in newer Expeditions.
Things to look for in a used Ford Expedition
All used cars have issues. But the Ford Expedition's problems center around essential components like the engine. This list provides some of the critical issues. But always remember that you can do more research before buying any previously-owned vehicle.
Spark plug service and history
Ideally, you should ask for a complete service history with any used car. But, with the Expedition, you must do so. Especially if it's between 2004 and 2008.
The Triton V8, during these years, came with a complex two-piece spark plug that would tear off and get stuck in the cylinder head. If this happened, services were expensive and usually not covered by the warranty.
This problem can be a delayed service, which can cause the plug to cake with carbon buildup. But, unfortunately, Ford didn't give out adequate information regarding the issue.
Mechanics have seen that if they replace the plugs at about 30,000 miles, there shouldn't be any problem. Ford, on the other hand, recommended the service be every 100,000 miles.
This is a critical source of potential problems for an Expedition. Check on the service manual, and if there is no detail on spark plug service, you can assume that there hasn't been any and replace them. It's an expensive job, but it can lead to costlier damage.
Spark plug ejection
You read that right: spark plug ejection. As we saw in the previous point, Ford's spark plugs can be very problematic. But, with this situation, it's due to another reason. Many experts coincide that the threads in the plugs were weak. So, due to the excessive vibration and low-quality materials, they lost grip and eject from the engine head. Some mechanics also say that the aluminum head is also the cause of this problem.
This problem could lead to loss of power, or worse, engine fire. Unfortunately, it's a common occurrence in Expeditions that come with the family of V8s, including the 4.6L and 5.4L powerplants.
Model years most likely to experience this problem include Expeditions from 1999 to 2003. Other years that can also be affected include 1997-1998, 2004-2008 Expeditions.
There are many solutions, but most are temporary. For example, this problem typically occurs at about 100,000 miles. So, always check for complete service history. If there's no evidence of replacement, you can have a mechanic check the aluminum head and sparks.
Loss of power and shaking with the 3.5L EcoBoost V6
While the 3.5L V6 is Ford's mainstay engine, it doesn't mean it's perfect. Some users reported a loss of power and the engine shuddering.
Others have even said the Expedition lost power and went into "limp home" mode, which gives out just enough power to bring it to safety.
It's worth pointing out that this situation is more frequent in humid conditions. Ford, and experts, have both agreed that the problem may be due to the engine taking in more condensation than it should.
Turbocharged engines need to have the air-cooled before it reenters the powerplant, which happens with an air cooler. But some coolers can't eliminate the excess moisture, and it builds up inside the tubing.
Excess moisture condenses with gasoline which causes misfires and less power. However, it can get to be enough to stall the car and enter "limp home" mode.
This was a common occurrence in Ford Expeditions going from 2011 to 2013. As a result, Ford changed the air cooler for newer vehicles.
Hood corrosion
Sure, it's only the hood. But corrosion in this place can lead to many issues. For example, Expeditions between 2000 and 2007 suffered from extreme rust in the hood.
This situation was due to improper insulation. Ford faced a class-action suit and had to replace many of the hoods. If you're buying an Expedition within these years, be sure to check it thoroughly for any signs of damage.
Check engine light and stalling
Drivers have noticed a series of events in Ford Expeditions with Triton V8 engines. First of all, they saw the engine sputtering and losing power. Then, the "check engine" light appeared. The reason for this issue is the Mass Airflow Sensor (MAF), which had incorrect readings. Other possible causes include deteriorated air filters or leaking housings.
When test driving a Ford Expedition, you can feel the acceleration and idle. So be on the lookout for any vibrations or loss of power. While this issue is uncomfortable, it's not the most expensive to fix, with the cost reaching around $300.
Unfortunately, this is a problem that plagues many Expeditions. Therefore, you should be careful with vehicles from 1997 to 2014.
Rough idling
A clear sign that something is wrong with the Expedition is rough idle, especially in high mileage models. This problem is caused by an EGR sensor failure, which can send the incorrect amount of fuel to the engine.
This issue plagued vehicles ranging from 1997 to 2007 and 2012 to 2017. It should occur on vehicles with more than 170,000 miles. Other symptoms include exceedingly high fuel consumption and loss of power. If this is the problem, then you have to replace the EGR sensor and fuel valve.
Transmission failure
This problem is particular to the 2003 and 2004 Ford Expedition. Many users complained that the vehicle started presenting issues with shifting into the right gear. Interestingly, this problem presented at relatively low mileage, around 76,000.
It's an expensive repair, averaging $2,500. Some of the symptoms included noisy and aggressive shifting and a whining noise.
As we've seen, many of the Expedition's problems revolve around the engine. Most of these can be solved quickly, but some might be expensive and time-consuming. So be sure to do a thorough check of all the vital engine components.
But, does this mean that you should avoid all used Expeditions? Well, not exactly. Some years are less prone to issues. In the following section, we'll talk about the best years to buy a used Expedition.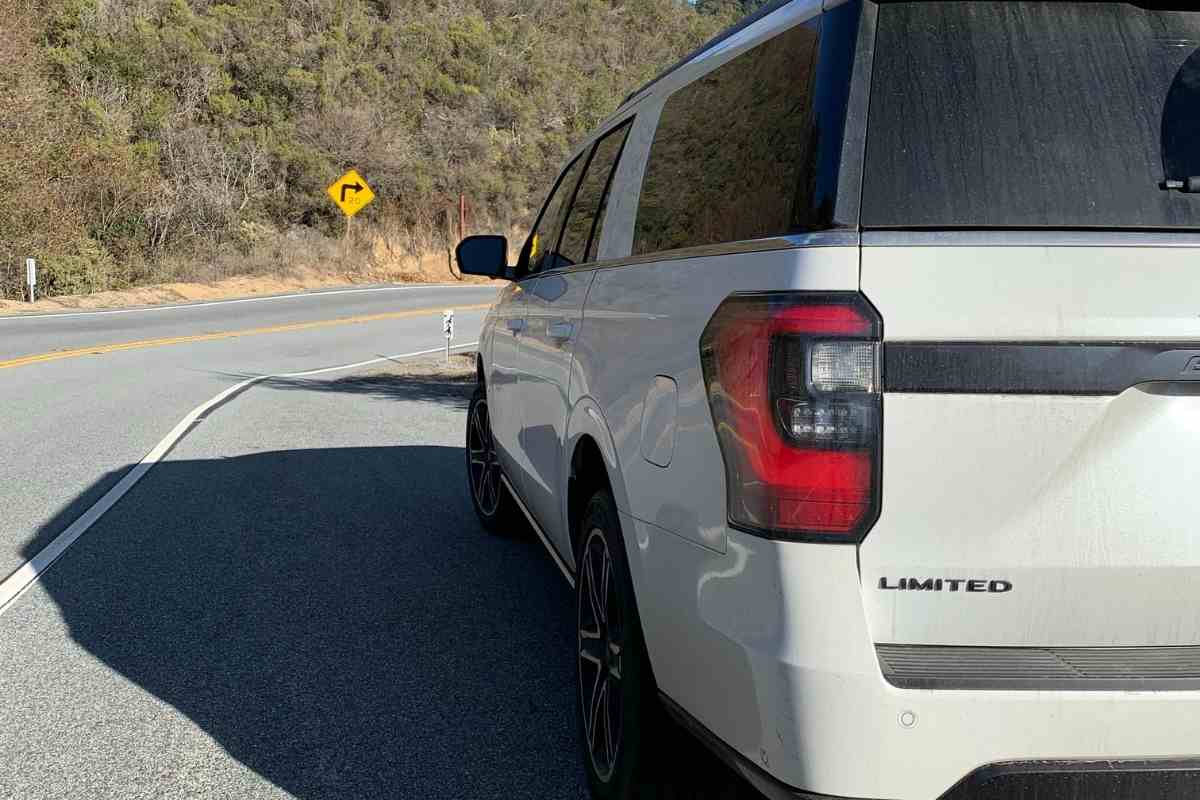 What's the best year to buy a used Expedition?
While it seems that engine problems have plagued most of the Expedition model years, some have performed well enough to be on this list. The information here includes reviews and ratings from Consumer Reports, JD Power, and sites like Car Complaints.
Fourth-generation Expedition, 2018-present
The fourth-generation Ford Expedition has seen fewer issues than its older counterparts. Of course, it seems logical that this is due to the relatively young age. But there are few complaints even with the 2018 model. Plus, you have the advantage of having an easier time looking for one with low mileage.
Third-Generation Expedition, 2016-2017
These years have seen very few issues. Ideally, you should look for a 2016 or 2017 Expedition with low miles and the 3.5L V6.
Be sure to check for engine issues that we've mentioned and service history in detail.
Third-Generation Expedition, 2008
This particular year has shown above-average reliability. Though finding a sample with low mileage is more challenging than those mentioned beforehand, it's still possible. As with other third-generation Expeditions, always check the common trouble spots.
What's the worst year to buy a used Ford Expedition?
Now, it's time to look at the other end of the spectrum to see the worst Ford Expeditions you can buy. As with the list above, this includes references from multiple sites, such as Car Complaints, JD Power, and Consumer Reports.
Second-Generation Expedition, 2006
This is one of the most troublesome Expeditions out there. It not only has a high number of complaints but presents a flurry of engine problems. As a result, it's best to avoid even models with low mileage.
Third-Generation Expedition, 2011
The problems continued with this particular model year as more engine and transmission issues arose. As a result, it has racked up a considerable number of complaints, and it's best to avoid this year in particular.
Third-Generation Expedition, 2015
Again, this particular year showed many problems, including those that we mentioned with engine fires. So, while you might find some with low mileage, it's best to avoid them.
Any Triton-powered Expedition
While this might seem a bit extreme, it's best to avoid this troublesome engine unless you fully know what the service has been. Then, of course, it's always essential to have a mechanic go over the engine. But, if service records aren't clear and the vehicle has higher mileage, it's best to avoid them.
Closing thoughts:
The Ford Expedition is a full-size SUV that can haul plenty of passengers and tow impressive loads. Since its introduction in the late '90s, it's been a popular choice for large families and boat-owners alike.
But it has also faced several mechanical issues, some of which are serious. As a result, buying a used Expedition can be a great experience, and it can also be a costly one.
Ford had many problems with sparkplugs in their Triton V8 engines. Yet, ironically, the company put this powerplant into many of its vehicles. As a result, multiple generations of the Expedition had it.
So, it's best to avoid Triton-powered Expeditions. But, it's also essential to know which signs to look for.
As we saw in this article, there are plenty of symptoms that should be red flags. Always do a thorough check on the vehicle before making a purchase. It's best to have a mechanic help you.
If you're looking for a full-sized SUV that can tow boats and campers, then a used Ford Expedition is a great vehicle. Hopefully, this article gives you enough information to make an informed decision.