How Big Of A Trailer Can I Tow Without A CDL?
Towing large trailers is a challenge, and sometimes, you might not understand the rules that tell you what you can and cannot pull with your regular license. Plus, not all results on a google search are precise. So, in this article, we aim to answer how many pounds you can tow on your trailer without needing a Commercial Driver's License (CDL).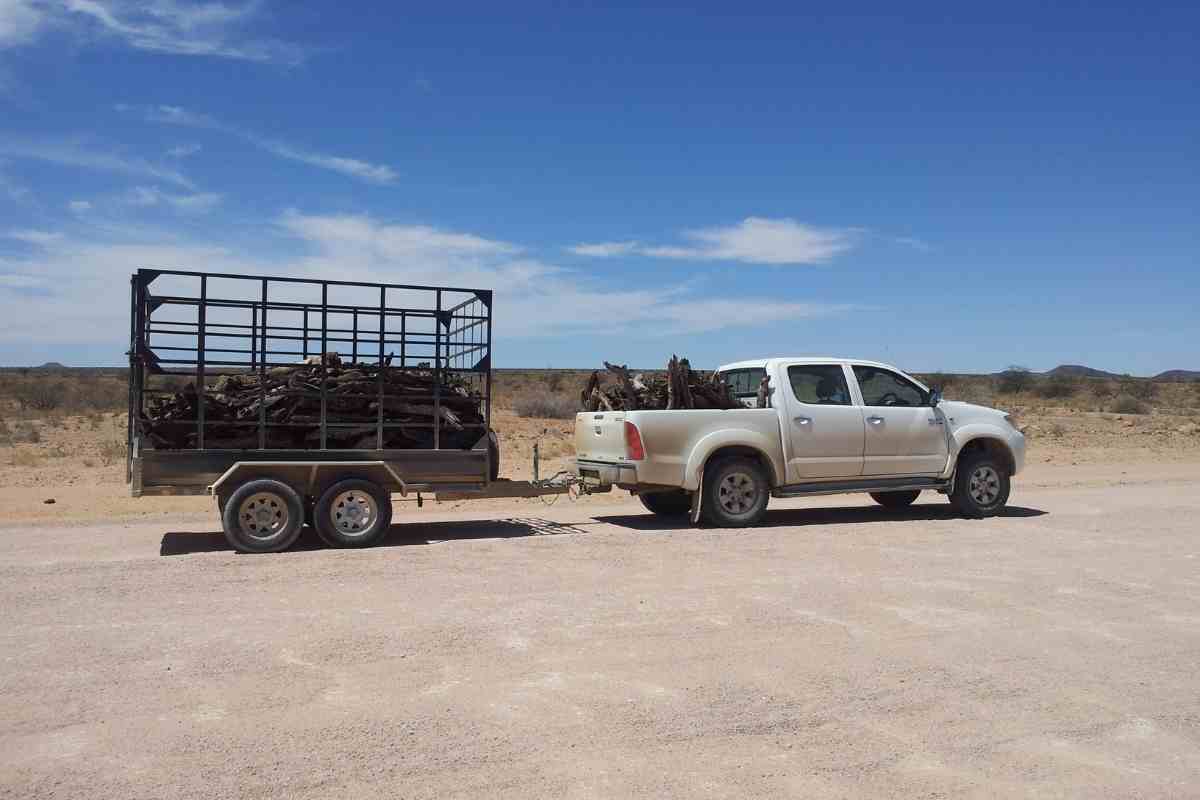 Table of Contents
How Much Can You Tow Without A CDL?
Without a CDL, you can tow a trailer or vehicle that has a gross vehicle weight rating (GVWR) of up to 10,000 pounds. Regardless of your usage, you'll need a commercial driver's license to tow more than 10,000 pounds.
Any vehicle or combination of vehicles with a weight rating of up to 26,000 pounds is a non-CDL set-up, regardless of usage. A truck with a weight rating in excess of 26,000 pounds and no trailer (or a towed unit with a weight rating up to 10,000 pounds) is a class B CDL and any combination of vehicles (tractor/trailer) exceeding the 26,000 pound weight rating would require a class A CDL.
Source: https://www.fmcsa.dot.gov/registration/commercial-drivers-license/drivers
A CDL endorsement is a Commercial Driver's License, and it allows you to operate Commercial Motor Vehicles (CMV) of many shapes and sizes. There are, generally speaking, three CDL classes, which are A, B, and C. Each of them allows you to drive different commercial vehicles. This article aims to provide the basic rules that apply to Federal Laws, but some states might have more specific requirements, such as Texas.
The following table explains the differences between the three CDL classes.
Commercial Drivers License Class Chart
| | | |
| --- | --- | --- |
| License Class | When you need it | Examples of vehicles you can drive |
| CDL Class A | You need a Class A CDL if any combination of vehicles has a Gross Vehicle Weight Rating (GVWR) of 26,001 pounds and the towed vehicle weighs more than 10,000 pounds. | Tractor-trailers (examples include 18-wheelers and Semis), Tanker Vehicles, Livestock carriers, Flatbeds. |
| CDL Class B | You need a Class B CDL when you're operating any single vehicle that isn't hitched to a trailer (CMW that an attached cargo and cab) with a GVWR greater than 26,000 pounds, as well as trucks with a detached towed cargo vehicle weighing less than 10,000 pounds | Large buses, such as city buses, school buses, and tourist buses. Segmented buses, box trucks, straight trucks, dump trucks with small trailers. |
| CDL Class C | You need a Class C CDL when you're operating a single vehicle with a GVWR of less than 26,001 pounds, or a vehicle towing another vehicle that weighs less than 10,000 pounds or transports 16 or more passengers. | Double/Triple Trailers, Buses, Tank Trucks, hazardous materials (hazmat), or other special vehicles. |
If you're using your truck to tow trailers, boats, and other loads with no commercial intent, you may still be required to have a CDL license depending on your state requirements. If you want to know if you may qualify for a personal use exemption, I suggest evaluating this article from the FMCSA.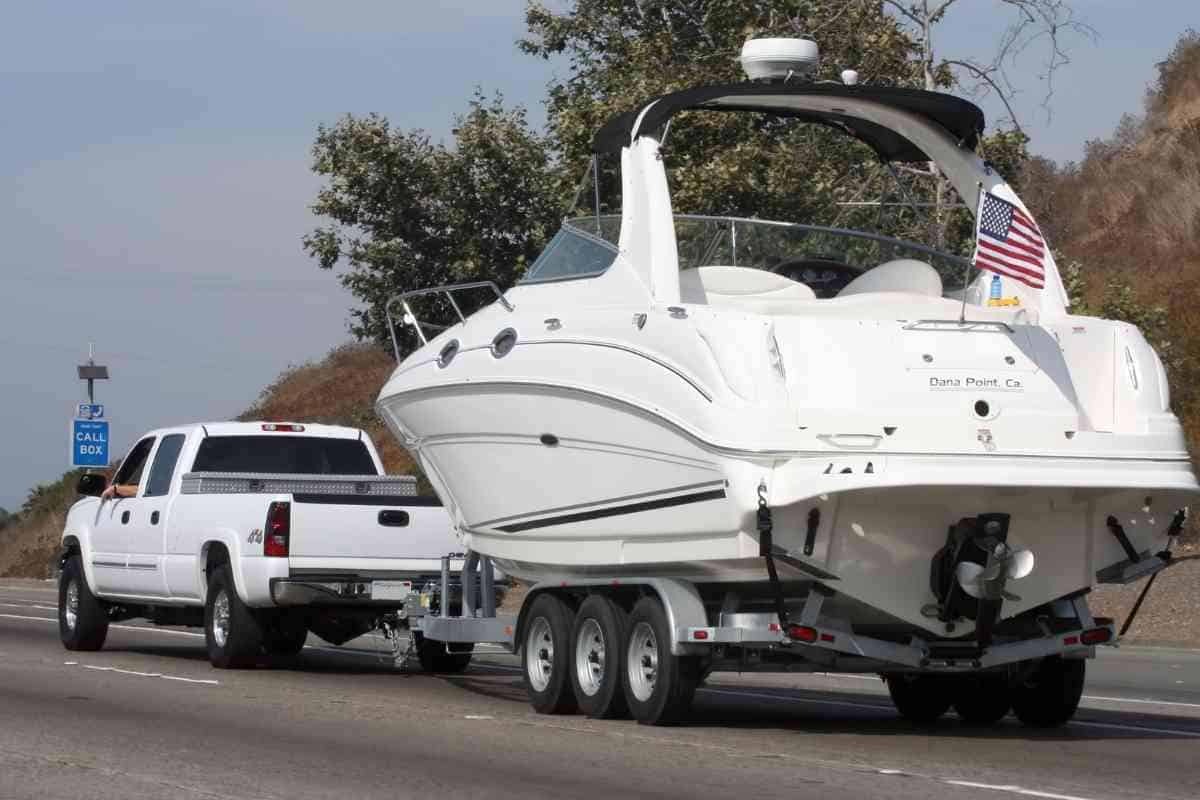 It's essential to keep this information on hand because several trucks are out there with superior towing capability. We have written about how the 2020 Ram 3500 Heavy Duty and Chevrolet Silverado can both tow up to 35,500 pounds, but if you plan to do so, you need a CDL.
Note that we're not talking about the trailer's length, and that's because size doesn't necessarily equate to weight. In this past article, we spoke about the requirements for towing a 40-ft camper, for example. Many of these models, though massive, weigh about 8,000 pounds.
It's also important to understand that CDLs apply, in general, for combination vehicles, which can have multiple trailers. So, to further clarify whether you need a CDL or not, let's move to the next point.
How To Tell If You Need A CDL?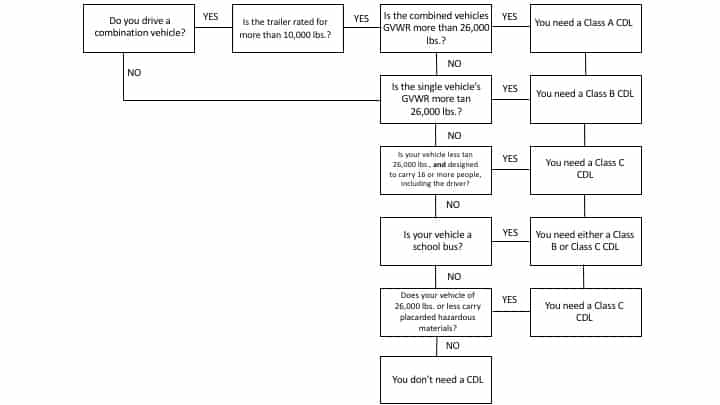 You might hear multiple sources that tell you when you need and don't need a CDL. The chart and information that we've presented above but other tools can help you understand whether you need one and which kind. Below, you will find a flowchart that answers your questions, step by step:
And, as you can see, the vehicle's GVWR is key to knowing whether you need a CDL or not. So, let's understand what they mean.
What is GVWR, and why is it important for CDL?
According to the vehicle manufacturer, your Gross Vehicle Weight Rating or GVWR is crucial because it's the maximum pounds your vehicle or vehicles can weigh. Any weight above that can be dangerous for you and others on the street.
But that's not the only rating that you should be aware of when towing and the CDL. You should also take into consideration the GTWR. This variable is the maximum recommended weight of a fully-loaded trailer.
Below you will find these and other important terms when it comes to towing and CDL:
Gross Vehicle Weight Rating (GVWR): usually expressed in pounds or separated by class. It's the vehicle's maximum total weight.
Gross Combined Vehicle Weight Rating (GCVWR): usually expressed in pounds or separated by class. It's the recommended maximum loaded weight of your vehicle and your trailer.
Gross Vehicle Weight (GVW): usually expressed in pounds. It's your vehicle's weight, alone, without the trailer, when fully loaded.
Gross Trailer Weight Rating (GTWR): usually expressed in pounds or separated by class. The maximum recommended weight for a fully loaded trailer. This number is the maximum towing capacity.
Tongue Weight (TW): usually expressed in pounds. This is the maximum weight on the hitching point between the trailer and the truck. It's an essential value for stability.
Curb Weight (CW): usually expressed in pounds. This is the vehicle's weight when there are no passengers or cargo. But it does take into consideration fuel and the fluids necessary to operate.
Dry Weight (DW): usually expressed in pounds. This is similar to the CW but removes the weight from fuel and the fluids necessary to operate.
Using weight ratings as a standard for towing, you can safely estimate what your car can tow before putting it to the test. For example, we've covered how SUVs can pull cars and tiny houses if they follow the safety guidelines and stick to their ratings.
All this information is readily available from your truck's manufacturer, so knowing what's necessary to tow without the need for a CDL is easy. But, another question might arise.
Do I need a CDL for just one time?
The short answer is yes. Let's elaborate on this situation. If, for example, you're going to help out a friend who needs to tow cargo that's heavier than 10,000 lbs., and the GCVWR exceeds 26,000 lbs.; you know your truck is capable of pulling such weight, and it's a short trip. If, during that short trip, you run into a weighing station or a policeman pulls you over, and you don't have a CDL, you can get into trouble.
It doesn't matter if you aren't using your truck as a CMV. Neither does it matter that it's just once. In theory, you should have a CDL for that particular moment since you exceed the weight limits established by law.
There are some exceptions. For example, some states allow farmers to work within a defined range of their homes (usually 150 miles) without a CDL, as long as the driver doesn't exceed this distance.
Since federal tickets for driving without an appropriate CDL start at $2500 and go up to as much as $5000 and could include jail time, it's best to inform yourself of the laws affecting you directly. Plus, you could face a license suspension of 90 days, so it's not worth the risk.
Law enforcement takes this very seriously. It's important you follow all federal regulations and state laws.
Also, please take into consideration that some states might have slight differences when it comes to regulations. All states follow federal rules and regulations, but some might allow for more flexibility while others might be stricter.
Closing thoughts:
This article aimed to answer how big a trailer you can tow without having a Commercial Driver's License or CDL. We explained that the most critical factor is weight, as the combined vehicle weight (including the trailer and the truck) cannot exceed 26,000 lbs.
To say it a different way (maybe easier to understand), As long as your power unit (truck) is less than 26,001 lbs GVWR your trailer weight isn't limited until the combined GCVWR exceeds 26,001 lbs.
We also explained three different CDL classes—A, B, and C—and when you might need one. This article explains the necessary conditions for each category and when you don't need one at all. Except for unusual cases, most users will see that they don't need a CDL.
Additionally, we can see that some trucks can pull beyond their license class, and if you're towing anything below 10,000 lbs., you will not need a CDL.
But, if you want to take full advantage of your truck's towing capabilities, read up on your local and state regulations, as you might need a CDL. It's most likely that you will need a CDL only if you intend to develop a CMV career, such as semis, buses, livestock transport, etc.
When you search online for information about CDL requirements, you might feel overwhelmed with the excess of opinions on the matter. Hopefully, this article has provided all the answers to your questions regarding towing heavy loads.